"tic tac toe" - Results #6, "with Bret Hart"

Jan 28, 2003
8:45pm

Katrina Update
A big THANKS to everyone who has sent their well wishes to Katrina and to those who have contributed to her travel and funeral expense fund. I found out today that she learned last night that her mother left NO provisions for funeral expenses, which everyone involved thought had been handled.
Katrina will be establishing a memorial fund when she gets to Kentucky to receive donations for her mother's funeral fund. In the meantime, contributions sent to Katrina as described below will be directed by her to the funeral fund and to her travel expenses. A number of you have asked about sending flowers, which is a lovely idea. I would, however, like you encourage you to consider donating the money you would have spent on flowers to the funeral fund as it is anticipated that this will be quite an unexpected financial burden for Katrina and her brother. She sends her heartfelt thanks, as does Edward, her brother, for the love and donations and well wishes that have been sent her way. She has read every letter and while she will not have the opportunity to respond to them personally before she leaves, she offers all of you her gratitude and sincere appreciation for the outpouring of kindness.
Katrina' s mother's name is Judith Miller. She is at the Glenn Funeral Home in Owensboro, Kentucky. The funeral is Saturday at 1pm. The address is:
Glenn Funeral Home
900 Old Hartford Road
Owensboro, Kentucky 42303
(800)453-6662
Again, thank you for the wonderful donations and suggestions. Katrina has promised a journal tomorrow to bring us all up to date on things. Again, she, Ed and I all appreciate the love and good wishes sent her way during this tough time.

Judith Miller.

And an older one when she was a little younger than Katrina is right now:

Love,


Jan 28, 2003
6:30am

Request for Katrina, My Best Friend (Besides Kurt) and EOS Webmaster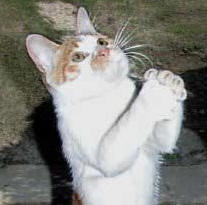 OK, Folks,
In the past 24 hours since I wrote yesterday's column, I've started worrying a lot less about Eye on Soaps sticking around or not. Yes, of course I am dedicated, as I have been for a long time now, to doing everything within my power to keep it on the net forever. Hell, if I win the lottery or become independently wealthy, you'll never see another of those wretched, freakin popups on this page again (and thanks to everyone who is so gracious about those damnable monstrosities...we will do our best to continue to be a site that is worth hacking through those brambles to get to). We have gotten a couple of contributions in since yesterday and I'm sure that we'll make this coming month's bills one way or another. My concern about Eye on Soaps has paled in comparison to my concern about my friend at this time and I hope all of you get a chance to read this before she gets nutty and decides to take it down (this part of the column, not the whole site).
I've got bigger fish to fry than EOS today. As a few of you know, my dear Katrina (without whom, the Net Sage would not be! She is the one who convinced me - plied me with liquor, actually, which is the very best way to get Sage to do anything...OK, you could ply me with candy also - to do this column a couple of years ago), experienced the death of her mother yesterday. She's having quite a hard time of it, as am I if the truth is to be known.
As many of you know, Katrina and her family are just coming out of a tough year in which her husband, who is their primary wage-earner, was unemployed for several months. They have been climbing out of the madness created by that unemployment and are just starting to get caught up, but the financial situation left them at a point where she was unable to go back home when her mother was dying (it all happened very quickly). She was able to speak to her mother on the phone and although her mother was unable to respond to her verbally, people in the room at the time were certain that she understood what Katrina was saying, so at least she got some closure even if she couldn't personally be there.
I would like to get Katrina back to Kentucky for her mother's funeral. When I spoke with her last night, immediately after her mother's death at 6pm PST, she did not anticipate being able to go back and was going to have her sister-in-law read something in her stead at the funeral. I want to make sure she can read it herself.
Mom and I are contributing what little we can into the kitty to cover Katrina's flight out to Kentucky (she is in California) and any expenses she incurs while she's there for a few days, as well as assisting with the funeral expenses. Where ever Katrina needs to use it in regard to this situation is fine with us. She has a place to stay while she's out there (thanks to one of our wonderful readers local to that area), as well as transportation, so the hotel and car rental issues are handled.
I don't want her to have to take out a loan and have to deal with a payment when she gets back if we can avoid it. Her uncle is involved with the Salvation Army and he is checking to see if they can assist with the flight if funds are available. He wasn't very hopeful, but he's going to try. We are also looking into bereavement fares to cut the airline costs.
If anyone feels inclined to contribute to the fund to get Katrina to her mother's funeral, you can do at at the usual Eye on Soaps PayPal address (please annotate on your PayPal correspondence "For Katrina" so that she doesn't just throw it into the EOS fund) or by sending contributions directly to Katrina. If you write to me, I'll give you her address. Donations sent by mail probably won't get her to before she has to leave, but at least they'll be here when she gets back to help cover any out of pocket expenses she experiences.
I hate to ask and darlings, I even appreciate the few minutes it took for you to read this far!! I also appreciate any good thoughts you are able to send out to her and her family. If you can't contribute financially to my quest, it would be lovely if you could just pause for a few minutes and imagine her there safe and sound, then returning safe and sound without financial hardship or dealing with any worries or crap beyond the enormity of losing her mom. I'm absolutely determined to get her out there without her family having their finances wrecked (again) and I have a feeling some of you might be willing to help me do that.
Thank You, My Friends,


Ooooh. Ooohh. Ooooh!! More on Emily! Well, sort of...
That Valentine's due date for delivery of our bouncing baby Emily, like everything else in SoapLand, is not in stone and it looks as though A) it is either shifting back some or B) the powers that be are doing their spindoctor thing yet again to try and throw the fans off course. Since they are being so secretive about it AT is being so vague, I'm becoming more and more convinced we might just get the real Emily back! I almost hope they DO pull off a coup and surprise us with her!!
There is STILL no word I can find on the return of Finola Hughes to GH next month (taping, not airing), but I am trying like mad to keep digging on it.
No, I have NOT heard word of Tony Geary blowing ship anywhere soon. I fully expect that he will be on the scene until May at least, and is actually considering another long-term contract.
I am still hearing that Courtney and Jason will be ended around the last of February. Sonny will likely be instrumental in it, which will cause a huge rift between Jason and Sonny.
The rumor of Mike dying in February is, at this time, said to be false.
Robin Christopher is also NOT leaving GH. In fact, she will continue to be front and center for quite a while yet.
The buzz is about that Sonny and Carly are finally going to get that baby, but the sources on the set wax and wane between mum and outright denying it. Guza does NOT like to work with pregnancy stories and is opposed to the idea. I know he must be fully aware that if he tries another


"soap opera history" - Results #2
Now, when you click on result #2, which starts off "brought to you by for now and forever," do two things in particular. One is to click on the section at the top that says, "Television." The next is to scroll down to the bottom right corner and click on "The World of Soap Themes."

CLICK HERE TO GET THIS WEEK'S SOAP COLUMN
---