June 16, 2002

GH


Confirmed! Rick's back!!
Chris Robinson has already started taping and will air for three months beginning June 27th. We hear that Rick may not be the same person he was when he left PC with Ginny (although it is the same actor).
Despite rumors to the contrary on other sites and in SOD, we are still hearing that Genie Francis is staying on into November IF she leaves at all. ABC is throwing money, reduced schedules and Tony Geary's pen her way (he will be participating in L&L story development from here on out) to encourage her to stick around. We are told that if she goes, it will be temporary and in November, there might be another disappearance of Laura with the door open for a return. Tony Geary is nailed down through 2003.
Watch for Zander and Jason to become roommates, at least for a day, as the two share a jail cell. Brilliant acting and mucho macho appendage waving should be in store (not the literal, salad tossing type of waving, but the figurative, posturing, YoMomma, whatup, pissing around Elizabeth to mark your territory kind of waving).
Our very best source tells us that Roy might soon have issues in the form of Larkin coming back for revenge and/or Jerry Jacks returning for the guy who tried to put him away! Lots of mob and "guy" stuff is in the future. I mean, what do you expect with guys writing it?

---
June 12, 2002
11:30am
DARLINGS! You have been so patient waiting for me to finally get the good, gossipy, girl-talk column together and I love ya for it. I've been waiting on some confirmation info before I commented on a few things and baby, it just came through, so let's get some ice cream and hard liquor and DISH, sweetheart! Your Daddy of Dish is ready to serve! Get rowdy, get crazy and let's make a lot of noise so they wonder just what the hell we're doing in here!!
AMC


Wow! Little Rosa gets frisky!
AMC and OLTL are both such tight-assed shows that it's hard to pry a word out of them, so these gossipy things are always so sadly off balance with GH being a flood of info in contrast. I do have a couple of tidbits for ya, tho.
Rumors are again flying around that Mark Pinter will be leaving the role of Roger for good. Personally, I like having a snake in the grass besides David, but I guess the powers that be are running out of things to do once he has finished shagging Simone. Speaking of wondering if the screwing you're getting is worth the screwing you're getting, look for Simone to stab Fun Boy Rog in the back in a big way.
Word is that Eileen Herlie, our beloved Myrtle, is ready to hang up the keys to her boarding house and retire out. Since she's been in the biz for nearly 60 years, one can hardly blame her. She starred opposite Laurence Olivier (playing his mother, even though she was years younger than he was) in the 1948 version of Hamlet, which won the Best Picture Oscar for that year. So check out sexy Myrtle, Baby!! Rrrroowwwllll! She could definitely be one of my Ho's.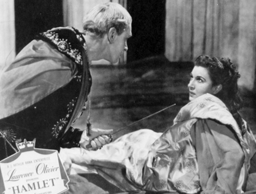 Why oh why are we bringing MORE long lost Devanes to Pine Valley? Partly, to apologize for the abysmal handing of Eric Dearborn's character, Gabriel (which does nothing to get Dearborn out of the soup line), but also because they just don't have a friggin clue what to do with Anna other than have her fight with David over whether or not to procreate and buy foliage. God knows she's worthless as a police chief (the curse of Soap Police who basically have limp night sticks and serve as the town doofuses – doofi? Whatever) and her scene with Leo and Greenlee was just sad and painful. FH can definitely act (although I still think the baby is keeping her up nights because she often looks wickedly tired) and it's a shame that she's pretty much rattling around town with nothing to do.
Ain't no grave gonna hold that body down cause Maria is coming back to town soon to save Endzone's life and wreck Edmund's romance. As if the herald hadn't already blow His trumpet, now we have Brooke telling Tad to get bent, a sure sign that cupid is about to pop our toothy little friend a good one right in the ass. Oh Brooke, recycle means paper, plastic or aluminum, not men! Doh!
Don't feel too bad for Bianca yet! Although my instincts said it was just a bullshit rumor, looks like her lost love Sarah might actually be coming back to town after all.
Back to town was obviously rumor for Skye after net hounds spent a couple of months trying to figure out why she'd be returning to the valley. False alarm, chickies!
God was listening, loveys and it sounds like Mark C really is going to be gone for an indefinite period of time.

We heard 'leaving' first, then only for a month and now it's 'to pursue a film career and investigate other options.'

Wonder if we'll be ready to let
Kurt Caceres go when MC decides he's ready to limp (with the emphasis on 'limp') home?

Maybe KC can singlehandedly redeem the Santos family in my eyes because I've never had any use for any of them, although a wonderful site, The Pine Valley Bulletin, has some incredible pictures of little Rosa Santos looking way more grown up than her family would ever let her be.

Her portrayer,
Alana De La Garza, crawled right out of that school girl uniform and showed a lot of skin in Maxim magazine.

She could also be one of my Ho's as long as she doesn't try to talk!

Just scroll right on down to the June 9th entries.

Rrrooowwllll again!

OLTL

Did Colin or Troy or both put one over on us?
Not everyone got to go on location to Maui for the Hawaii shots. Sam, Blair and Starr were still firmly ensconced on the East Coast while Todd, Tea, Keri and Antonio got to romp on the real beaches.
Sounds like the rustling may be true and Skye's paternity might be in question after all! GH'ers, listen up! Through some round about writing, AJ and Skye might be a go if Courtney and AJ don't work out!
Been wondering just what it is that Troy's hiding? A little birdie told me that Troy and Colin actually traded places a long while back and the Colin that cheated on Lanie and terrorized Llanview was really Troy and the Troy we're seeing now is the real Colin, which is why the fingerprint ploy was a success! Emily knows things that only she and Troy know about, which is why Colin/Troy is so worried about her being around. Watch for Emily to mention memories that Colin wouldn't know and be suspicious when Troy evades!
As much as it is unthinkable that Clint, some Clint, any Clint, wouldn't be all up into this issue of having a new daughter, don't look for a comeback of the character anywhere soon. More's the pity as it corrupts the story for historians to think that Daddy Buchanan wouldn't be patriarching this situation hands on rather than from remote London. Tomlin and Clint Ritchie aren't able to reach an agreement since Tomlin doesn't know what to do with Clint beyond a temporary return and Ritchie wants full contract or nothing. Tomlin won't recast at this point, unfortunately.
Word is that Catherine Hickland and Barbara Garrick have been LOVING their work together and it shows in their sterling scenes. Garrick is no stranger to having a leading lady, having portrayed lesbian-returned-from-the-dead, DeDe Halcyon Day in "Tales of the City" and "Further Tales of the City." Last year, she wow'd theater goers in "A Thousand Clowns" opposite, mmmm, Tom Selleck. Catherine Hickland is just pleased as punch to be paired up with a character who is even more twisted, self-involved and malicious than Lindsay!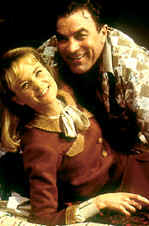 Barbara Garrick and
Tom Selleck
Look for the Bo and Gabrielle story to unwind slooooowly as Tomlin works to make the audience cheer for a relationship that should be garnering jeers. They won't finally be together until about August.
Viewers around the world are asking "Huh?" about the Seth recast, grouping it with the ill-fated, ill-advised recasting of Al and the piteous work of Jessica Morris as Jennifer. Does Gar just not know teens or is he out to punish them all through bad representation? Thank God for Melissa Archer, Erin Torpey and David Fumero to keep the whole teen scene from heading down the crapper. The jury is still out on John-Paul Lavoisier who is slinking around as the new addition, Sexy Rexy.
I'm still telling you to look for a Roxy Makeover. We don't know yet who's going to do it, but I can tell you, I'd love to get my can of WD-40 and take it to that frizzed out haystack! Cut it off! Cut it off! Moisturize!! Color and frost, baby! Ilene Kristen whipped out "These Boots" like she was an old pro and she is! Many fans don't know that Kristen has appeared in several stage musicals, including the original "Grease" as Patty Simcox ("Isn't that the most? To say the least?" "Call me! Heee heee." This was in 1972 with Barry Bostwick and Adrienne Barbeau.
As you are about to see, this time the Tuc Watkins Official Site was right, no Tuc for Hawaii as rumored. *sniff* And here Sage was hoping to get lei'd by Tuc if he showed up.
GH

Looks like Chris Robinson and Denise Alexander might actually resolve that missing Lesley-Rick link up!
So much to dish and so little time to dish it! Where to start?
Word has reached my royal ears, and honey, I wanted to confirm it from a couple of people before I voiced it to you, that Genie Francis has decided to stay with a reduced work load rather than leave. Her incentive, as you may have already read on message boards, is that Chris Robinson has agreed to come back for the L&L wedding in November. It is not thought that his stay will be permanent, but GH would be foolish to not provide us with some dynamic scenes between Robinson and Denise Alexander, as well as Leslie Charleson. Mine that History Cave, baby! Genie will be taking her usual vacation in tandem with Tony Geary's summer off (he's already gone…the Niagra Falls shots were pre-taped), but the two will return a few months before tying the knot, just in time for the great mystery of just what the complete hell happened to Laura's dress and next, her engagement ring! Sounds like Helena is up to The Devil's Business again (still) and the Cassadine-Spencer conflict is far, far from over! Since Jacob Young is being begged to stay on (by ABC, not by fans) for a short extension to his contract and rumor has it that it will be just long enough to have Helena kill him off for good this time! The other idea is that he could come back and Jonathan Jackson and we could be told that ThisLucky is a clone Helena created and controlled through the Ice Princess (and just where IS that damned thing since EndGame?) and OurLucky was never really brainwashed at all! THAT's why he can't feel his love for Elizabeth because you can program thoughts, but not emotions! Further rumors say that maybe JJ would be willing to return just long enough to wrap up the story and send him on his way again. Can those rumors of Laura being killed off. Ain't gonna happen.
Rumors started last winter that a newbie wouldn't make it through the summer, then we heard that a Cassadine would die, then we heard that Sarah was leaving and everyone was confused! The first two involve Kristina meeting an untimely (as in not soon enough!) demise and the last is still true…Sarah is expected to leave town by fall and her rumored connection with Lucky as hubby or *whatever* from the past is thought to be that, just a rumor. Do look for more info about her poor deceased husband, however, as that story isn't finished just yet.
Speaking of Cassadines, Nikolas will be getting creepier and creepier as he dons Daddy's ring and gives Laura a bit of the chills. He starts to see that Dad's way of doing things might be the only way to get things done. That cover shot for Tempo Mag? Bought and paid for with Cassadine funds. Gia isn't going to be hot on his continued manipulations, so I'm sorry to say, it doesn't look like they will ever fully make it to the altar, even though you can expect Nikolas to start to push that idea in the near future.
It was mentioned also in the winter that we'd see two pregnancies. You've got one and it's thought Courtney will be sharing good news soon.
Carly is going to go into overdrive to get pregnant and is dismayed to learn that due to complications from her previous baby loss, she will not likely carry another baby to term. Does bad news EVER stop Carly when she wants something?
In other baby worlds, it looks like Guza, the King Herod of soap babies, will swing his sword yet again. Although the official word is not in, the general consensus among sources is that Sonny sees Ned and Alexis cuddled together, presumes them to be more intimate than they are and when Alexis turns up pregnant later, he doesn't see more than he wants to see. The baby is passed off as Ned's, but is lost, (gritting my teeth here) supposedly through Mob warfare. So it looks like all you heartless jerks who wrote to me begging for Alexis to miscarry will get your evil wish. My stance is still that it's a really shitty thing to wish on anyone, even a fictional character, just so you can feel sweet and safe about your favorite fictional couple. That is NOT going to change. A pox on all of you. Write to me if you want to, totally assured that you are the special one who can convince me that it's for the best storyline, that it has to happen so that ONE particular couple on the show can be happy and that Alexis deserves to lose her much loved baby because she dared to curtsey on the Mighty Corinthos Staff. I still maintain that it's a rotten, selfish thing to wish one anyone, even a fictional character. I would have to say that the majority of those who wrote letters like that have never experience that particular heartbreak or they would even suggest such a thing. Shame on all of you. None of this is set in stone (except my opinion of the baby killing masses) and won't be until it is taped.
In other worlds, or actually another part of the same world, Ned and Alexis do grow quite close during their time of pretending to be together and there will be a wonderful reunion. Sonny and Carly will have a fairly good run of it with the usual ups and downs and backs and forths. They will probably stay together about as long as any soap couple ever does, despite some good sized chuckholes in the pavement along the way. As you can already see, Guza is fleshing out the mob side of Sonny again and as Alexis comes to terms with the reality of who and what he is, so does the audience and so does Carly, as you saw when she said, "How about if I just hold you." Carly is well aware of the ramifications of being Sonny's wife (yes, look for a remarriage as well) and has definitely accepted that in this reunion that follows her last, ill-fated attempt at bailing them out into a "normal" life in the witness protection program. Her reaction to his day solidifies her acceptance of the life she has chose, although you can expect some pretty rough waters over the beating down of Zander. My opinion is that she will ultimately understand that Zander could have and should have ended up dead for his betrayal.
The audience reaction to Liz and Zander's scenes was so positive that the powers that be are no undecided as to whether it will be a Liz and Jason or a Liz and Zander pairing when the dust settles, so write those letters and let them know how you feel as the story progresses. Try to go at it with an open mind, despite prior allegiances, and as I've said a million times, just hesh up and watch!! There is some WONDERFUL stuff coming up with this triangle as Jason comes to terms with his feelings and Liz feels chemistry with both. In an eerie recreation of her early time with Jason, Liz takes Zander to her studio to recover where they grow close bonding over their lost loves. Her attraction to Jason is absolutely intense, but will be compromised when she learns who beat the crap out of Zander. It will be back and forth until summer's end and the decision will be largely based on story development (even they don't always know what direction a story is going to take sometimes until it takes it) and viewer response. The situation could be further complicated when/if Amber Tamblyn returns for Leslie Charleson's 25th anniversary on the show! There is also continued rumor of a Kim McCullough return, but her camp isn't commenting.
Speaking of returns, I'm warnin' ya, no matter how much the scoops heat up, DO NOT believe or invest in a Vanessa Marcil return until you see it on the screen. Trust me.
Who is the third party? A couple of folks have nailed it. Put your money on Edward Quartermaine both as the contact behind Roscoe and the Carly Corpse. Bring down Sonny and bring in Michael.
Heads up, Skye fans. If you didn't read the OLTL scoops above or don't watch, a mystery man from Rae's past with exactly the same "his family didn't approve and he dumped me" story is on the canvas. Could it be that history is going to be jacked around so that Alan isn't Skye's father after all and AJ isn't her brother? It's possible!
Why aren't we seeing Luke and Laura now when there should be a fantastic rekindling romance on our screen? A number of reasons: one is that GF and TG both, as stated, are prepping for or are already on their lengthy light-of-the-year vacations. Another is that Guza is the guy who gave you the destruction of L&L via a vicious history rewrite in the first place and has never "gotten" nor appreciated the super couple. The final reason is that a focus on L&L would take away from valuable air time for Sonny and Carly, AJ and Courtney and Lucky and Sarah.
Speaking of Courtney. . .stripping for cash? Yep.
Look for Ned to get back into gear with ELQ again as Jax poises for the corporate raid of a lifetime. Their friendship will probably remain intact (and Jax may have some brotherly assistance behind the scenes!), but there will be some fierce rivalry between these two corporate pirates!
The latest news is that Stephen Nichols says he was never approached by ABC to return to GH. Interesting since the powers that be are still telling the staff that he was! Sorry, I'm siding with Steve, who has never lied to me as compared to the years of lying ABC has under their belt. Silly bastards.
So here's my suggestion. I think that since we are already committed into watching GH for an hour every day, we should do one of two things. The first is to divide the hour into two separate shows. One will focus on Carly, Sonny, Liz, Lucky, Sarah and Jason. A half hour a day should be plenty of time to tell their story. The other half hour would be for Ned, Alexis, The Cassadines, The Quartermaines, The Other Spencers and the rest of the cast ("the rest" meaning all those people who never get a story...ever). My alternate suggestion is to stop pretending and let go the entire "rest of the cast" who have become lost in the cracks and relegated to the status of stage props. I feel it would be more merciful for them to be canned rather than further insulted with these continued cameo appearances. Many haven't had a story in years. More's the pity.
See you soon!

---
More of the Bender Saga
A lot of you have written for the Bender story and oh, don't EVEN get me started! OK, so I'm already started. I thought it was all well and done when Ginger took Bender and they left the Mothers Day dinner in disgrace, he having been bested in the great debate about whether or not TV rots your brain and she regretting ever bringing her little weasel boyfriend into the world to interact with real people. My parting points were that as with ANYthing, moderation and discrimination is the key and that too much of ANYthing, like, well, elitism let's say, or jabbing little bunnies in the eyeballs with Maybelline or, I dunno, inhaling too many statistics at one time, is not healthy. I suggested that it was a bit highhanded to maintain an all or nothing, black and white point of view and that maybe he should broaden his mind to accept that not everyone who watches TV is a dim-eyed drool box, bobbing cheez balls from their feed bag and that TV might accidentally have something to offer that HE wouldn't know about since he boycotts the medium all together and is about the last person qualified to offer an opinion. Shortly after that was when they left, so I put on my Victory Crown and did my Victory Dance around the house before settling down for my Victory Joint and Jack (Daniels, not "off"). I figured that was that, you know? His tail was between his legs when he left, so I couldn't imagine him pressing the issue. >:< Press, he did.
A couple of days later, I got a package in the mail, which was when I learned that his name is "El-i-ot" Bender. Eliot. (Like id-i-ot) After I thought of 'idiot,' I wondered if perhaps he was missing some "L's" and "T's" here and there and figured his parents must have been pretentious assholes as well. Anyway, I thought it was nice of him to send an apology gift, but when I opened it, there was a thesaurus with a note that said, "So that you can state your case with multi-syllable words next time." ??!! I thought on that for a day or so, then sent him a TV Guide with a note that said, "So you can know what the f$%k (I did not use the symbols) you're talking about next time." A few days later, I got a package containing a canister of cheez balls and a baby's burp cloth. I sent him a little satin pillow and told him it was to cushion his butt when he fell from his ivory tower and off his high horse. He sent me a Harlequin romance and little package of tissues (I *thought* they were for the tears I might work up - hmmmm). I sent him an enema and a crochet hook and told him the hook was to get the stick out of his ass and I'd bet even he could figure out what the enema meant…and so it continues. Ginger called mom whining about it and told her to make me stop. I mean, he started it! Puh-lease! So mom started to act like I should make a move to make peace and I told her if she EVEN was going to press that issue, she could kiss her tato skins good-bye and eat whatever Ginger and BenderOver were willing to cook for her. She told Ginger to snap out of it and that's kind of where it stands now.
There's a big juicy gossipy column coming tomorrow. I've been working on it for a few days now, but I'm waiting on one more confirmation before letting it roll. I just wrote this to tell you the Bender story and to cleanse the palate from the other writing. See you tomorrow!!

---
The Tale of Sage's Conflict With Bender The Anti-TV, Incredibly Anal-Rententive, Judgmental, Snooty, High-Browed, Tight-Assed, Right-Brained-Devoid, Insensitive Jerk
Just sit right back and you'll hear a tale,
A tale of a fateful trip
That started when this little nerd
Gave the Mighty Sage some shit.
The nerd was an uptight science man,
But Sage was brave and sure.
He waded in with defense of soaps
His intentions high and pure.
The conflict started getting rough,
The scientist was cross,
If not for the courage of the fearless queen
The contest would be lost, the contest would be lost.
The nerd had been to coffee shops and learned pretensions there
With engineers,
And beatniks too,
With yuppies and their wiiiiiives,
A research freak
In Ivy League and wearing tweed
Here in Sage's home turrrfffff.
The nerd said TV rots your mind,
And curled his lip most snide,
The rumorqueen held strong his stance
And slowly turned the tide.
The nerd was nowhere near his league,
And quickly was subdued,
Resorting to the insults that,
Were quickly getting crude.
No soaps, no fun, no romance here
Not a single comedy,
No A&E biography,
As primitive as can be.
So the fight continues on my friends,
For a nerd can't say he's wrong,
To attack someone with different tastes,
So I'm slamming him in a sonnnnnnggg!!!!!
~~Stupid Bender~~
(Click here for the Bender Story if you missed it)

---
June 3, 2002
1:30
OLTL
TROY: "After a 15 mile back ride, I feel like a new man." NORA (panting): "So do I..." MISSED OPPORTUNITY: "...so I'm going to go find one."
Lindsay is being awfully touchy feely with Allison! Could they actually go for not needing men at all? I mean, I wouldn't think so. There haven't been many as purely hetero characters as Lindsay, but hey, she's an adventurous girl! Interesting thought. I doubt they'll pursue it and don't really care one way or another, but hey, it's interesting!
GH
First, my sources confirm what Gedstern is saying. I got the call this morning to say that the location shot is going to be soundstage instead of remote. Budget cuts are cited as the reason.
As I was reading Geddy's latest offerings, I had a flash of "WOW!" that I didn't have the first time I read one of her rumors: "Luke and Laura will have to deal with a cruel twist of fate soon...it may just effect their whole summer. Can they weather this latest hellfire?" Considering the rumors that Helena will exact her ultimate revenge this summer in a brand new Endgame, coupled with the rumor that Jacob Young is strongly considering NOT renewing his contract when it expires this summer...one has to wonder if Lucky is going to die for real (well, as read as Soap Dead can get) this time!! Whoa! We also hear that Sarah will leave this summer AND that there will be a murder mystery! This could all come together in one MONSTER summer sensation story for Guza this year! He really is going for that statue next year, isn't he! Good news for us! Maybe he was the conflicts between Guza and ex-EP Wendy Riche that screwed up the show during his last reign! One can hope!
ALSO, Gedstern has joined the esteemed ranks of those of us who just don't give a damn about what those peabrains on the message boards say about who scooped what and their nasty little badmouthing ways. You should read her incredible rant in the Gedstern Lounge. I loved EVERY minute of it!! Just further proof that GEDSTERN ROCKS! We have our people, the ones we really write for and we will always keep sight of that. Everyone else can get bent!
Also, on our Message Board (link on the banner above), I am taking suggestions for designs on items at the Sage Stores! Click on the Sage Store link above to get the idea, then chip in your suggestions!
LOVIN YOU!