Sage Bourland is our rumor technician here at Eye On Soaps. Sage will be combing the message boards, rumor pages, soap mags and set leaks for all of the choicest tidbits to pass along to you. Got a good rumor? Send it to Sage! Please remember, rumors are just rumors and reflect what is being said around and about. They are NOT to be taken as spoilers or fact! It's all just girl gossip! Sage welcomes your letters and comments, but please, check any nastiness at the door. Sage is a peaceful warrior.
If you don't see the most recent Sage Column, hit "refresh" or "reload" on your browser and there I'll be! If this doesn't help, you are probably with aol, who takes forever to update their system cache's so that their members can see new material. In that case, keep checking and it will update soon.

A reader writes:

"Just an FYI for your AOL users...... I've found that If I right click on the actual
webpage and click "refresh" from there....... the updated page comes up."

REMEMBER!! If you have not been receiving your update notifications, it's because our old mailing list died and you have not yet signed up for the new one! Click here to do so on the TOP list!

February 24, 2002
9:30am
I just received this from Katrina, forwarded from one of the co-presidents of the Roger Howarth (OLTL) Fan Club:
Kristine, MrsDrBean@aol.com
Co-President, Roger Howarth OFFICIAL Fan Club
OFFICIAL RHFC

RUMORS have been circulating for quite a while now about whether or not Roger Howarth was going to leave OLTL this May. Well we are here to tell you that YES, he will be leaving the role of Todd Manning late spring. Roger is taking his contracted option out and will leave the role we have come to love him in. His contract officially ends in May, but he has agreed to stay on thru June to tie up storyline for the show and his character.

We are here to tell you as Roger's one and only OFFICIAL fan club site that this is an exciting time for Roger. When he leaves the role, he will take a much needed few months off and then he and his family will head out to California where he will start auditions for prime-time and feature films. While we will all miss him in the role of Todd Manning, this is such a great opportunity for Roger and we are looking forward to the opportunities that await him. We would like to thank him for the awesome shows he has given us and will continue to give us in the future!

Since Roger will be auditioning for a PRIME TIME role, his manager has asked us as a fan club to start a letter writing campaign for him to help him get noticed. We will be starting a petition soon for those who are interested. Below is the information needed, such as names and addressed for where to send your letters. Get busy everyone, this is VERY important and this is how we can show Roger how much we appreciate him and support him. For those of you that have websites or mailing lists, we ask that you post the information or mail it out to as many people as you can to ask their help in this matter. The information will also be posted at the website and we invite everyone to visit.

One more thing, we would also like to thank Bob McGowan for giving us the confirmation and all the wonderful help!

If you have any questions, please do not hesitate to contact one of us! Thanks for helping and we look forward to future announcements of good news and new roles!

ABCTV email address: ABC
ABC, Inc. 500 S. Buena Vista Street Burbank, CA 91521-4551

Stacie, EMAIL Co-President, OFFICIAL Roger Howarth Fan Club
Kristine, EMAIL Co-President, OFFICIAL Roger Howarth Fan Club
Although Eye on Soaps does not endorse any campaigns as a site, Katrina encourages her writers to support any that they feel passionate about and this is one I'd like to get behind. If anyone else wishes Roger the best on the outside, please write those letters!
In other worlds, ABC is fiercely denying those rumors that time slots will shift to work in their new reality TV show!
Love,

February 21, 2002
7pm
Darlings!!
WHAT a week that WAS!! A little background (yes, yes, yes, weíre going to talk about the soaps, but since I bust my little ears and fingers to the bones to bring you the best gossip, you guys can humor me a bit): I got my cosmetology license in February of 1976 (Honey, it was so much the Bi-Centenial, complete with commemorative RC Cola bottles!) and a promised myself that I would log in 25 years behind the scissors and that would be it. I started out in a little local shop and then the woman who owned it retired and it closed down, I took my clients with me. Iíve kept a closed client list since then and I do so love my ladies, but I wanted to be true to what I promised myself and it was time to retire anyway. I started putting back money and making some investments from the first week on and I have enough now to take care of mom and me for a while. Itís going to be good to have my time to myself and to be more available to take care of mom and spend time with her.
It was emotional, I wonít lie to you. My ladies had a giant party for me over the weekend and I was a total dancing-on-the-tables-with-a-lampshade-on-my-head plastered bastard. Iím only now coming back to my normal self again and able to interact in the world again. Mom and all of the girls came in, ALL of the girls (which was a big surprise).
They all got in their last haircuts and styles because Iím not ever picking up a pair of scissors or curling iron again.
So Iím back in the land of the living and pecking away at the keyboard again.
AMC
Weíre finally going to get to find out what Dr McMillian (Lauraís skulking psychiatrist Ė the one Greenlee tried to scam) is up to with Simone (psst: rumor has it heís her father). Heíll be back on the scene March 4th. McMillian is played by Ruben Santiago-Hudson, who has been seen in Another World (1990-93), Blown way, Shaft, the remake of Rear Window (starring Christopher Reeve), Spawn and The Devilís Advocate.
Most of you have probably heard that Mark Pinter is coming back to the role of Roger Smythe in a few weeks. We last saw Roger stumble out of the Crystal Ball into oblivion (even Greenlee doesnít seem interested in finding him). His return should lend some light to his connect with Vanessa, as well as how he got to be Davidís guinea pig.
Cady McLainís last airdate as Dixie on a regular basis is February 27. She should be stumbling back in from time to time, with or without baby has not yet been determined.
A hot rumor says that Chris will be in a situation where he sacrifices his safety for Ryan, taking a bullet for him.
For Miss Katrina, I have a picture of Anton to go with her Ask Katrina column for last week.


rrowlll
OLTL
Instead of one episode, as previously announced, we have heard that OLTL will be airing totally live for an entire week. I am greatly looking forward to this event and know it will serve up some fantastically funny moments!
Later this year, looking like spring, it is rumored that OLTL will be shooting scenes with Blair, Todd and David Vikers (YUM!) in Hawaii! Sounds like beachwear to me!
I heard from a reliable source that the rumors are true. Roger Howarth is unlikely to renew his contract when it is up in May. RH has left and returned a few times before, when Todd took bullets for Patrick Thornhart and again when he left on the jet with his alters. Good-bye for RH doesnít always mean a forever good-bye to Todd. Itís been known forever that RH gets bored after a while and particularly dislikes playing Todd as a romantic lead. Since that is where heís being written, Iím not surprised to see him go. As much as I will personally miss him, Iíd much rather he was doing something he loves and I wish him well.
Speaking of the Mannings, Kassie DePaiva has submitted herself for a Daytime Emmy in the Best Supporting Actress category. She will have strong competition from fellow castmate Catherine Hickland.
EXCELLENT!! One of my personal favorites, Tonja Walker, will be returning to her role of Alex Olanov (Stewart? Haha) next month for six weeks. There is never enough Alex on the screen as far as I am concerned!
Two new faces should eventually be showing up in Llanview. Both are presently uncast. One is a new love interest (at last! Sheís too fine on an actress to be wallowing in Jessicaís men, past and present) for Natalie. Also, for reasons I cannot fathom, the role of Will Rappaport is supposedly being recast.
Looks like Dr Rae may be (deservedly) hanging up her couch for a while. Rumor has it of a long-term relocation to General Hospital for Linda DanoÖ (grumble grumbleÖas if those people arenít screwed up enough in the head already).
GH
Donít blow it off too fast! Rumor of a time change for the ABC shows is gaining credence and momentum. Supposedly, GH would jump to 12:30, followed by AMC, OLTL, PC and a reality TV show they are pitching. To show how delusional the powers that be are, they really seem to think that GH can take on The Young and the Restless. Pfft. Whatever. Iím more than happy for the change if there is ANY chance that my cable company would bring on PC!!! Gimme sum Lucyeeee!! Meanwhile, in other worlds, I have to wonder WTF Iím going to have to endure from 12:00-12:30?? I mean, itís not like Iíve got A SYSTEM GOING HERE OR ANYTHING!! Iíve got to find something to fill the hole between Judge Joe Brown and GH now. Sheesh. Wait!! Another possible bonus! Could it be that the lameassed show ďThe Other HalfĒ will get canned or moved to 3am if this happens?? I've always thought I'd love to be friends with Dick Clark, just so I could say things like, "Get me a beer, Dick" and "What are you talking about, Dick?" and "Dick, if I want your opinion, I'll give it to you" and not have it be overtly rude. Well, maybe that last one would carry a bit of an edge. Anyway, if someone doesnít give Danny Bonaduce a doggie downer (LENORE!! GET THE KEY!!) soon, Iím going to have to give up seeing Dr Jan and Mario just to keep my blood pressure down!!
Speaking of keeping things down (like lunch), Iíve just heard that the Roy and Felicia romance is a go. Ew. Why canít she hook up with Tony? They were always cuddly anyway. Maybe even AJÖsomeone, anyoneÖjust not Luke or Roy. And why does she suddenly have a Texas accent now that sheís on the plane?
I wonder what it would look like if GH key players sat executive producer, Jill Farren Phelps, down for a little heart-to-heart talk? Maybe something like this??
See you guys later. Lovin YOU!!

February 12, 2002
9:30am
Just speculation. Just a thought. Nothing whatsoever to back it up. A LOT of people have been writing to me asking exactly why the powers that be at ABC would let GH continue to go in the toilet and the ratings to keep falling so drastically when it would be an easy fix to bring them back up for sweeps. Get Sonny and Carly back together, have the Luke and Laura reunion and throw in some spice to the rest of the stories.
I've been thinking on this and it's my personal conclusion that ABC may NEED the plummeting ratings and dying show to absolutely justify getting rid of JFP & Co. I think it makes good sense and they would be willing to sacrifice a fan base that leaves temporarily to be able to oust the hackmeister. I say temporarily because anyone who bails is going to come back the minute they hear that the show has new management, their couple is reuniting and the pizzazz is back in GH. That's my theory, anyway.
Just wanted to share,


February 11, 2002
10:45pm
DARLINGS!!!
Pfft. As usual, thereís not much to dish about except GH because the other shows are normal shows that donít air all of their dirty laundry for everyone to see. So heeeere we go!!
AMC
WHAT? THATíS the best they could do to get rid of Dixie? Sheís PREGNANT? For crying in a bucket!! So now we get to see her crying to David about it, then going off to Aunt Jane in the Caribbean to have her baby. Since Cady has said sheíll be making occasional appearances, I guess we have the specter of Dixie with Baby Tad in tow to look forward to in the future. Oh, just kill me now. Or her! Wouldnít it have made great story material if David had tried the experimental drug and Dixie croaked right then and there? No. Instead we get to suffer through another of Dixieís unfortunate choices of wedding dresses, no doubt. I was so hoping her recurring visits would be in ghostly form with Jesse firmly in tow instead of a Tadlette. Damn.
As if that were not wretch-inducing enough, we hear that Edmund is going to propose to Babbling Brooke on Valentineís Day (reaching for my hairball medicine. I feel a catty moment coming on).
Me thinks Binky needs to sit down, shut up and leave talking and human interaction for the big people. She obviously isnít ready to handle life with that Robin Scorpio holier than thou mentality. Hard to believe she can get by with that when both Myrtle and Opal are there to put the smack down. Get on it, girls!
OLTL
GREAT news that OLTL is set to air a live show in May around the time of the Daytime Emmyís!! Of course, all soaps use to air live, but no, any show that is live is a rarity. Since Erika Slezak and Roger Howarth are in the promos that were just shot, Iím sure they best of the best will shine live.
Speaking of all things Toddian, the rumors of RHís departure are, at this time, totally false. Stupid people *grumble*grumble*grumble* .
I had a fabulous dream the other night. It started with a Colin and Troy sammich and ended with Cris picking up Jenn and beating Al to death with her. (Bo would think it was a pedestrian accident and Cris would get off scott free) I never wanted to wake. It was glorious.
Cris and Natalieís kiss was hot, hot, HOTTTTssstt!! If all goes well, heíll be wearing her like a belt buckle in no time.
PC
I actually have PC news! Alex Mendoza (Joe Scanlon) is set for a return. I know absolutely nothing else about it, unfortunately.
GH
The buzz is on about someone on GH being pregnant and everyone is sure that itís about *their* cause. Is it Alexis after a one-night stand with Sonny? (Even though there is still no affair between Alexis and Sonny, people are still filled with hatred and hostility because Alexis dared to think Sonny is hot. Just what IS wrong with her?? Selfish, SELFISH Alexis for thinking Sonny is hot and fantasizing about him!) Did Elizabeth get knocked up during the Mercy Luck that was laid on her when she came back from the dead? Will they find out now that sheís in the hospital? Is it Courtney, provided she and AJ hook up? Will AJ have a family and fall in love in spite of himself? Will Ned become padres familias compliments of Kristina just in time for a Ned & Alexis reunion? Is Gia pregnant with the next Cassadine heir, conceived in a stable (how Biblical) or even further back, by her late future father-in-law? Will Carly and Zander succumb to passion and the Queen of Fertility be visited by the Baby Fairy again? How about Melissa leaving for jail with a little Roy under her belt? No word yet on the real skivvy of it.
Did you catch the new doctor (Mason) who was shown up by the upstart intern, Sarah Webber? ďSHEíS GOT A BLOWN LUNG!! THERE SHE BLOWS!Ē Heís got connections to someone in town and brings interesting news! I donít agree with the rumor that itís more info on Melissa. I think itís about someone else, but Iím just guessing.
Shake off the idea that the return of Jennifer Smith will be in any way connected to Zander. Wonder of wonders, it seems that for now, there are two people with the name of Smith associated with this town. Whoída thought? The Jennifer Smith story will occur totally away from Port Charles and is merely a vehicle for some great acting, great comedy and for Laura to save Luke.
Rumors are around that Flea is going to find love and that the viable victims are Roy and Scott. Iím betting on Roy, although Iíve always wanted to see her have a go at Tony.
Our Helena will be back in circulation again next month!
Still no word on the EP/HW shuffle and the idea that nothing will be mentioned until sweeps is gelling even further. The staff has been ordered not to breathe a word about anything or else, the firing axe will fall.
Two conflicting, somewhat anyway, stories on Bob Guzaís rumored return to GH. One source says that his camp firmly denies that he will return in any capacity to GH (which would be my thought since he certainly made his enemies there). Another says that Guzaís people are denying that he will return as Executive Producer but deny comment on his return as Head Writer.
PukeAlert! Pepto at the ready! Look for Ned and Kristina to get even more passionate. Now the sun will be shining out her butt instead of her eyes, no doubt. (rolling MY eyes Ė blech) Maybe when they stop hiring cheerleaders to pen this stuff, we can get some decent dialogue.
Pfft. You people are doing it again. You donít listen, for one. Sing along with Mitch: SONNY AND CARLY WILL GET BACK TOGETHER. ITíS A PROCESS. THEY HAVE TO LEARN LESSONS APART AND GROW AS PEOPLE TO COME TOGETHER AS A HEALTHY, HAPPIER COUPLE. They have to divorce to remarry. Itís not like soap couples donít divorce and remarry every 10 minutes anyway. For another, youíre playing right into ABCís hands and theyíre bowing you like a fine Stradivarius. I told you before that they are milking this to get the biggest rise they can out of fan emotion. They LOVE that you guys are freaking out because Alexis thinks Sonny is hot and Zander wants to give Carly a pickle tickle. They are praying for all of you to give up hope so that you will gasp and sigh all the more when they reunite. They are using your emotions against you to drag this out. Do you think itís coincidence that Carly brings Sonny the divorce papers on Valentineís Day and sees him in a compromising situation with Alexis? They WANT you to die inside that they are divorcing, to believe they will never reunite and give up all hope. That kind of emotion in fans is what soaps are all about and the more fans get riotous about it, the longer itís going to take. As long as ABC knows that emotions are still high and volatile about Sonny and Carly, they will milk the cash cow it for all itís worth.
Iíve said it before and Iíll say it again. Sit down, shut up, have a drink or a pill or a smoke or whatever chills you out and WATCH. If you canít stand to watch the process of these two coming back together by the long way home, then turn the TV off and weíll tell you when itís safe to tune back in again. In the meantime, get a lot of protein in your diet, take your anti-depressants and wait for the call.
Thatís all for now! Iíll fill you in if I hear anything new!

February 6, 2002
2:45pm
Ha! As it turns out, Sweet Melissa really IS a killer and is going to be hauled away to the pokey!! What an exit! Additionally, the new doctor is some kind of link to someone in Port Charles. Should be interesting! There's also rumor that some of the GH vets from sister show "Port Charles" will be crossing over as a result of PC's new 6 month on, 6 month off filming (NOT viewing, just filming) schedule! Those of us who can't get PC will be thrilled to see Lucy and Kevin again if they are in the batch!!

February 5, 2002
11:45am
Another big scoop! I heard from a reliable source that Sally Struthers and Tony Geary are HILARIOUS together!! Where did Luke end up on Tony Geary's vacation? He was shanghaied to Texas for a shotgun wedding to Jennifer! Laura ends up rescuing him and when they get home, Luke again proposes to Laura and she accepts. Not a mention of Zander from what we hear!
February 5, 2002
6:15am
I have spoken with Loren Freeman's fan club manager and she has assured me that the Elton recast was temporary, simply because Loren was not available for filming on the day GH needed him. He has been in the studios filming and we can look forward to "real" Elton again soon.
*swish*

February 3, 2002
5pm
BIG SCOOPS x2
GH
I have it from an ultra reliable source that RKK is back on the set filming for GH and will be around for a temporary stint, possibly in "The Haunting of Nikolas" as Big Nik goes over the edge. Speaking of "over," I was told that RKK was instructed to play Stavros "over the top," so it should be totally faboo, babes!
OLTL
About.com broke the scoop that OLTL plans to totally break up Sam and Nora (you know I'm good with this!) in favor of a Nora-Ty story! This could actually be good news for Bo-Nora fans in theory, but that's just my speculation and not based on anything but hopeful thinking. Let Bo find out what Troy is up to, then romance her out of her mind! It *is* his move since she tried to tell him on the train before the wreck that she still has feelings for him.
ALSO, it doesn't appear that Blair and Todd will survive the revelation that it was actually Blair's own baby that Todd brought to her. (Grrrr). I was hoping so much that this could be a minor bump, but it doesn't appear so. For more info, go to this link, then click on the "more info" link. http://onelifetolive.about.com/library/news/blstatement_ll.htm.
Later, gators!


January 31, 2002
Almost midnight
SAGE IS MAD AND HAS GONE ON A RANT.
CLICK ONLY AT YOUR OWN RISK.




I totally love this banner, so Katrina
let me use it here too. : P
Be sure and go to our main site for more
great writing! Click on the banner below:

Some like to post, some like to get e-mails! You can do either or both:

Here is Sage's

Note: 3/4 Bravenet, the service that handles our message board and the Voting Booths on EOS has experienced a security breach and will be down for a few days to fix it. No worries!! We'll be back in business soon!
| | |
| --- | --- |
| | WARNING: The mailing list that is accessed by the form on the left is very active! Please read the instructions on the group site carefully to set your preferences! Have fun with one another! I will check in on both the message board and the mailing list often to say hi! Loving You! |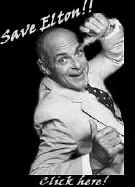 Click on the above Elton banner to
learn how to keep Elton on GH!
I would be remiss to not pay homage to the brilliant woman who made ME,
a little boy from the burbs, want to be A RUMOR QUEEN!!
Here, I give tribute to the Goddess AIDA!!
For the best GH Rumors, go
to Krazy's Rumor Page