Welcome to ME!!
Honey, you're either going to "get" me and know my heart and my intent or you're not going to "get" me at all. If you don't, know your limitations and just back away from the keyboard after clicking the little "X" in the box on the upper right corner of your browser window, ne'er to return again. May you have happiness all of your days. If you enjoy what I do, then pull up a chaise by the pool and stay a while. If that's the case, you're the very person I'm writing this column for anyway. I don't write to please the masses or kiss anyone's ass. Everything you read here will be from my heart, off my cuff and dead on honest. If you want a good read designed to offend no one, go to ABC.com because they are great at what they do. If you want to hear what I really think about soaps, life, etc, then WELCOME! This is an opinion column filled with gossip and rumors and, well, my opinion. It may not agree with yours and I'm good with that. *Please also note that this is NOT a spoiler or "exclusive info" site...it's a GOSSIP page and what we are discussing might be a RUMOR or a SPOILER, but isn't guaranteed to be what hits the screen. I'm NOT in the business of or interested in breaking the exclusives.* I suggest that if you want to read on, you make peace with that as well and leave your weapons with my Marshall, Lenore, before you enter town. You'll get them back when you leave. Believe me, you'll need them for some sites on the net and I don't want my loveys to go unarmed into war! Remember to click that smiley globe in the links above to help EOS and search from the search engine above to help even more! HOW TO DO "SAGE'S SEARCH."
Note: Due to the large volume of e-mail he receives, Sage regrets that he is unable to personally answer each e-mail. He wants you to know that he reads each and every one (some 2-3 times) and greatly appreciates your communication. Please DO NOT ask Sage for further info on what is going to happen on the shows. Any information he has that he can share will be put into his column or on the message board right away.

Jim Warren TV Stars select the result that says "TV Stars"
November 8, 2002
8:30 am

Evil Cats of Doom
November 7, 2002
9:30 pm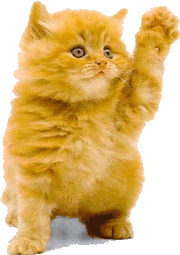 Hi Everyone!!
First, be sure and do your Sage's Search in the search engine above! It's all explained in the column below. Each day, I'll post a new fun thing for you to search in the search box at the top of the page. Not only will you have something fun to check out every day, but you'll be helping Eye on Soaps in the process!! Today, you lucky dogs, you got two!!
GH
A friend of mine was on the set of GH for a couple of days doing some work and was able to slip me some scoops for all of you. The troubling thing was that she told me that if Patrick Mulcahey is back on the writing staff, no one seems to know about it. (??!!) Iíve heard about his return from additional sources besides my original one (who was, at the time, 100% sure of it), so I am going to proceed as though this part of it did not happen. Of course, if PM isnít back, Iíll let you know as soon as I know and apologize profusely.
Anyway, on to the scoops. My friend wasnít sure when these would air, but expected it would be in the neighborhood of a couple weeks from now. I hope you enjoy these (some, I know, arenít that enjoyable).
So Enrique is now Daniel, just so youíll know. Heís the one who is in the jail cell next to Jason and Carly when the kick the guardsí asses on their way to rescue Brenda and Sonny. Anyway, thatís Daniel, not to be confused with Peter, who is a whole different guy altogether (thought to be Pete, who was previously mentioned by Zander), who is not to be confused with Cameron, who is the psychologist who finds Alexis in labor in the park after Alcazar abandoned her. Summer, on the other hand, is the blonde chick who is participating in the resurrection of the Laura Templeton story (a story that should have stayed dead) where Luke sees someone who looks like ďhisĒ Laura. I think that about covers all of the newbies. So on with the scoops. Update, Nov 7th: I got that wrong. Pete and Daniel are the same guy, they just got the name changed AGAIN. My bad!
Sonny orders Jason to take out Alcazar (and I donít mean to dinner and a movie, baby).
Peter is continually thwarted in his effort to contact Sonny.
AJ and Ned work together at ELQ to bring Sonny down and manage to piss off Edward in the process.
After Jax learns that Skye knew Brenda wasnít dying and kept it to herself, he wants nothing more to do with her. He and Brenda reunite, but a scorned Skye is prepared to take him to the cleaners and trash Brenda out in the process!
Jason and Elizabeth have a heart to heart talk and confirm that they should not be together.
Lukeís psychologist, Cameron, does not have good news for Lucky about his father.
Both Skye and Alcazar separately crash the Qís ďBrendaís Alive and Isn't Planning On DyingĒ party.
Liz meets Peter.
Luke sees a face that he thinks is familiar, but like Mr Snuffleuppagus, no one else seems to know she exists.
Skye thwarts Jasonís assassination attempt.
Alan is heartbroken to see that Skye is drinking again.
Sonny reassures Carly of his commitment to her.
Alcazar taunts the Quartermaines and their party guests.
Luke is surprised to learn that Summerís real name is Laura, but in his dark mood, very nearly goes into stalker mode.
Alexis holds vigil by baby Kristina.
Two couples hit the sheets: Something old, something new. A match made in Heaven and one made in Hell.
Courtney learns the truth about how their marriage began and tells off AJ.
Is there a parapet at the Port Charles Hotel? After sexing up Skye, Alcazar has a pointed encounter with Brenda while other people with their minds on murder get close to him.
A murder mystery begins as a body falls from the terrace onto a car. Now who could want a nice kid like Alcazar dead?
Lovin YOU, Honey!



Oracle of Kevin Bacon at Virginia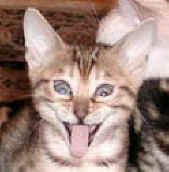 New Thing For Ya!!
I figured if I was going to ask you to search our search box (see above and see post below), I might as well give you something to look for! Each day, I will do my very, very best to post a new topic for you to search in our search box. It won't be politically or religiously motivated (I know you are really sad about that, but try to hold it together, OK?), but instead will be something funny or interesting or thought provoking. Regardless, it'll be cool. All you have to do is check the latest entry date line for the white box, which will have the day's offering. Then go up to the search box at the top of the page, enter the words and see what comes up! Your search will using be for the first result that pops up. :) I will give it a trial run before I give it to you. Some of it, you may have seen before, but some of it you may not. Oldies but goodies are great fun too. So Good Lord Willing and Crick Not Rising, I'll update the white search box every day! Be sure and check into this page every day to see what the new *thing* is. Whenever possible, I'll have it up by noon, Pacific Standard Time.
Have fun with Sage's Search!!
Love,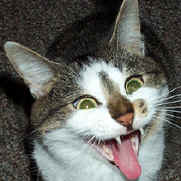 Thanks!! - Please, please, please read!
We have had several of our readers send in donations to help us meet the rising costs of keeping EOS on the net. We are SO extremely excited that the site had turned out to be much, much more than what we ever expected! Our traffic is going up by leaps and bounds each day and we are SO glad that you are here and hope you will visit us often and explore our entire site! We have a number of talented people on our staff who work very hard to bring you the best scoops and commentary for ABC soaps. The other side of life is that all that traffic does add additional costs onto our web host costs and it is tremendously helpful when our readers help us to pay our bandwidth bills each month. To each and every one who has made a contribution (and many have made repeat contributions!!), Katrina and I wish to offer our most sincere thanks and gratitude. Without you, we would not be and that is the absolute truth!! If anyone would like to make a contribution, please click here to find out how.
But how else can you help? Very, very easily and most tremendously. If you will look up at the top of my column, you'll see a search engine box. There are a few others dropped in places around the site. This is a very generous program that pays us a few cents every time someone searches the web from our page. What's cool about it is that it doesn't lock you out after you search once. What's even better is that it's a really cool search engine rather than your basic POS search engine. I have included some of the most commonly used searches for an easy click below the box where you enter your search. Every single time you search from the block on our page, we get paid. Most "click on" programs pay out in teeny amounts (our little globe pays out a few dollars every 6 months or so), but this one seems to be a really good program that pays out by the month. We'd really like to give it a try and see if it can work for us and for that, we need your help. If everyone who reads this column were to search out 4-5 entries a day, we'd never have to ask for contributions again!!!! :-) Since I put it up on Friday, it's been plugging along a little at a time, but you guys can really make it walk and talk if you decide to do so!! Every click you enter is extremely important, very sincerely appreciated and helps Eye on Soaps in a really, really big way!! If you like what we do here at our site, please consider helping us out by searching from this page or making a contribution.
Lovin YOU, Precious!!
That's right. YOU...stop lookin' behind you, I'm talking to YOU. YOU are precious (and cute as all get out). Mmmmmmmmwah!!
Love,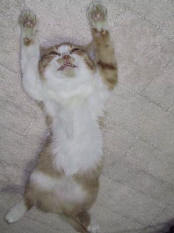 We're Not Worthy! We're Not Worthy!! (GH)
Well...actually, yes we ARE and it's about TIME we got some good news. I know there are a number of fledglings out there who do not fully comprehend the magnitude of the announcement that [Carl, please activate the echo chamber] PATRICK MULCAHEY [echo off, Carl] has returned to the writing staff of General Hospital. Mulcahey served as Associate Head Writer for GH back in 1998-1999 under the previous Bob Guza tenure. He left a year before Guza during the most heated fervor of conflict between Guza and former EP, Wendy Riche. His departure was seen by many as the death knell for decent GH writing (and we were right!). Mulcahey's focus is on both poignant and comical dialogue, producing some of the funniest scenes ever in GH history. Chances are, if you laughed at GH in 1998-99, PM made you do it. Since the info states that PM is presently penning scripts, we should be seeing some fine work making its way to the screen by the end of November and that is definitely very good news! If you are skeptical, trust me. This is good. This is better than good. This is freakishly outstanding!
Why? Because much of what we are seeing in rumorland coming up is suitable for little more than flushing, followed by a good double dose of Liquid Drano. Skye fans...lovies, just step...away...from the TV and find something else to do for the next couple of months. It's not going to be a pretty sight (by all accounts, Brenda and Jax are just mean, mean, mean to her after they do their horizontal bopping, but she gets in a few "mistress" and "home wrecker" comments before it's done). AJ fans? Fuhgetabout it. (But he does get some decent scenes when he and Ned team up at ELQ to take out Sonny) Liason Lovers? Brace yourselves and stock up on Pepto Bismol. Alcazar acolytes? Close down the websites, he's down to moments. Luke Lovers? He's walking on the dark side now, right where Guza likes him. Nexis Fans? You're going to have a good run of it. Carly and Sonny Crusaders? Looks like you might get that baby wish early next year.
The big question is whether or not Courtney and Jason will hit the sheets. One source says it's in print and we'll see it soon. Other say that's a Soapurban Legend.
Hold your breath...wait and watch. More GH stuff coming later in the week.
OLTL
Look for our boy Mitchell to weave his little steel web all around Natalie as he convinces her to marry him, then hangs onto her by threatening Cris' life.
Supposedly, the big secret is that Jessica is actually Mitch's daughter. New DNA tests are coming up.
"Life With Bonnie" is a hit and was picked up by ABC for the full season, so unless there is a recast (not likely), Ben will stay comatose for a good long while.
Recast is the way it's going with Erin Torpey's departure. You'll be seeing New Jessica before the end of the year, according to the grapevine.

AMC
New writers are coming on board as previously reported, so look for changes as new filters go on our stories and characters.
The good news is that Mateo is leaving. The bad news is that Mateo is back. Mark Consuelos returns to the role by the end of the month.
Not much news this time, campers! I'll be around soon with an off topic to tell you all about Mom's birthday and with new information as it comes up.
Feelin the Love, Darlings!


| | | |
| --- | --- | --- |
| | Sage's Archives | |
| Oct 31 - Nov 1, 2002 | Oct 22-29, 2002 | Oct 21, 2002 |
| Oct 17-18, 2002 | Oct 12-14, 2002 | Oct 7-12, 2002 |
| Oct 1-4, 2002 | Sept 20-25, 2002 | Sept 16-18, 2002 |
| Sept 9, 2002 | Sept 2-4, 2002 | August 26-27 |
| August 19, 2002 | August 12, 2002 | July 28, 2002 |
| July 18 - 27,.2002 | July 12-16, 2002 | July 11, 2002 |
| July 8-9, 2002 | July 2, 2002 | June2002 cont |
| June 2002 | May 2002 | April 2002 |
| Mar 2002 | Feb 2002 | Jan 10-31, 2002 |
| Jan 1-10, 2002 | Dec 2001 | Nov 2001 |
| Oct 2001 | Aug-Sept 2001 | Jul-Aug 2001 |