For the week ending December 14, 2001
Hello Kittens. Please overlook my uncharacteristic perkiness this morning---I've had caffeine. Today (Tuesday), as I put the finishing touches on this snarky look at GH for the second time (don't ask!), is the first anniversary of my 29th birthday---I'm entitled! One should toast three decades on this planet even if it is midweek and it's done with a carmel-colored beverage sans any fun liquid!
But enough about me, let's diss, er, discuss GH, starting with the engagement party. I'm offended on behalf of Nik and Gia because their engagement party was upstaged by introducing the fake Cassadine to the world and later by by her dance with Elton. What happened to having a Bacchanalia anyway? There were several people in that room I would have loved to see plunging off of a parapet starting with the three "Lucky Spencer, the photographer?" bimbettes and ending with Kristina "Cassadine". (I'll get back to her litany of crimes in a day or two Sage, be patient with me, darlin'!).
Now, for the really important stuff:
Hated Gia's hair and Nik's hair. Loved her dress – well done. Nik, on the other hand, is not princely material based on his attitude, attire and manners. It is still my contention that Stefan is the real heir….D.N.A. be damned. And, speaking of Stefan, he looked h.o.t. and happy. I'm certainly going to miss Stephen Nichols but am thrilled he chose to jump from this sinking ship and hopefully he'll land on some other show where his talents will be appreciated.
MyNed was wearing yet another buttugly shirt (I say "another" because of that heinous Mel Tillis looking country/western shirt he wore the week before), but damn he makes it look good. Thank goodness he kept his blazer on over this one.
Flo and Tags look fabu. It was odd seeing Taggert in a full suit but I think I could stand seeing more of it. I'm still baffled at why we're not seeing more Flo when her daughter just became engaged to a PRINCE. My Mom would be all over that with swatches.
I love Bobbie's curly locks. I wasn't crazy about the dress but it was a very Bobbie thing to wear.
Melissa's dress was a mistake. If you don't have the knockers to carry something like that off then just forego it; otherwise, you just look like a sickly adolescent at a Junior High Homecoming Dance begging for somebody to dance with you to a boy band song. Furthermore, considering that she's known Luke and Laura for about 3 ½ seconds her comments about them both at Thanksgiving and at the engagement party fell flat.
Monica's dress looked exactly like all of her other dresses, nothing new to comment on there.
At first I was offended by Lucky's behavior at the party flirting with the bimbettes and even Gia, but later when I was watching Luke on the yacht flirting it hit me that he's just following Luke's example of harmless flirting to get you through the excruciating boredom.
I loved Skye's dress, much like Helena, she always looks fantastic. It's that poor, pitiful me attitude she's always wearing that is so very unattractive. This week, in particular, she was upset because Jax is too charming and wasn't focusing all of his attention on her?!? Pwoor, wittle Skye, so desperate. Give me a break and get some counseling!
Alexis not attending the engagement party was a big ol' writing faux pas. Alexis has always doted on Nikolas and for her to blow off something as HUGE as her nephew, the Prince, announcing his engagement was major character assassination, no matter the reason.
Did Laura spend the entire engagement party outside? At least until she went inside with Luke?
Tony got his obligatory 1 ½ minutes of airtime for December and I was stuck once again by the good vibe I get from Bobbie/Tony.
I loved, loved, loved Laura's cape. I suppose it is a relic from times past but I love it nonetheless. She looked outstanding draped in it surrounded by the Christmas lights and snow. Like a little magic garden. Also, LOVED the hair. It's amazing what a little body can do for her hair. Now, I HAY-TED the dress (I'm constantly wondering who Genie pissed off in the wardrobe dept.) and the jewelry was too much as usual. All of that being said, who could notice the surroundings? As soon as Luke walked up I was mesmerized. I swear you can see their souls connecting through their eyes. The song they played for the dance was "At Last" by the incomparable Etta James. (Extra Scooby Snacks in your stocking if you can tell me what movie that was used in during the last few years…I've been racking my brain for days and it's not coming to me.)
This was absolutely the moment of the week, not the kiss, not the dance….this:
Ahhh, home, sweet home.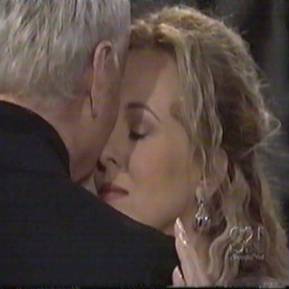 And Luke's comment that they are "a real couple, a good couple, a believable couple" was absolutely on the mark.
The toast:
Luke: "To dancin' in the snow."
Laura: ". . . and not feeling cold at all."
*SIGH* I simply cannot add anything to that.
Luke shaking the snowglobe unknowingly reminding Laura that her life is boring without him amused me. I can't believe Laura is buying into it though. He's being so obvious.
Luke's little adventure should be fun and I'm looking forward to the games. Is it a bit rushed? Absolutely, but damnit I'm enjoying something on GH for the first time in AGES, so I'm willing to let it go for a few weeks and just enjoy it.
Did anybody else see the $$ appear in Gia's eyes when she was going over the Cassadine holdings with Nikolas? —hell, I heard the "CHA-ching".
How can Alan not understand Monica's desire to spend Christmas with her family absent any of his ex-lovers? She's not going to have her daughter (or Jason) with her but she's going to have to deal with Rae and Skye. I guess Monica and Alan won't see two of their children for Christmas.
Alexis and I have the same taste in men, and (almost) the same career and she loves rum! The Captain is my favorite Morgan. The entire casino business was a cheap rip-off of the Nexis scenes from Monte Carlo so I won't even address that silliness except to say that Alexis does know how to gamble. I suppose Sonny's paper selling story should make me feel sorry for him? Like everybody and their brother didn't have a job as a kid. Oh poor him.
Zander's telephone conversation with Emily left a lot to be desired but his confrontation with the Qs was even worse. The only good thing to come out of it was Ned's conversation with him. Hopefully he got through. I've mentioned before, I'm sure, that any physicality involving two hot men means shirts must be disposed of first. We wouldn't want to rip those designer threads.
HOLY COW! That was some kiss between Carly and Zander!! Man, he can dust my tonsils anytime! Who Corinthos? I am, however, perplexed as to why it is ok for Carly to be swapping chapstick with Zander but Alexis can't make the occasional googley eyes at Sonny? Can we say 'double standard'? And that goes for the viewers too.
I am by no means endorsing a Sonny/Alexis pairing but I am drowning in the sea of Alexis bashes because the woman has a simple sexual fantasy. Good grief, if we all caught this much flack for those things we'd be spending eternity in purgatory. I'm at the point now that I want her to use him like a two-headed sex toy until she's spent and promptly place her barefoot on his backside and roll his quivering ass out of her bed. I've never gotten the vibe that she wanted anything more than to lick his dimples off anyway, so go for it, babe. At least then Carly calling Alexis a bitch would have been warranted. As it stands right now, Carly is the one being the bitch. No surprise there.
And, in other unwarranted behavior, Krissy still doesn't know Alexis well enough to be interrogating her about her love life in so forward a manner. I did grin at the "Ned missed you" comment when Alexis asked about the engagement party. Feel the setup, wrap yourselves in the warm fuzziness of Jill's version of subtlety.
In the missed opportunity department, the characters of Vince & Ellen (who I LOVE! Can we keep them, please?) would have made the perfect re-entry into Port Charles for Robert Scorpio and Anna Devane.
COOL LINK of the week: www.soapgrams.com
Happy Holidays everyone!!
~Tracey~

View Tracey's Archives
2001