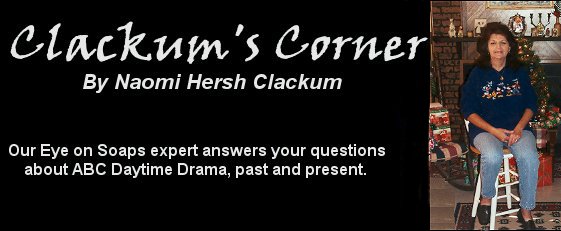 ALL MY CHILDREN
Q: I miss seeing the Dillons on AMC, and hope that the writer's will bring them back soon. I have a question for you. I know that Amanda is Trevor and Natalie's daughter, but what about Tim, is he Trevor's son? Guiseppa, NY
A. Tim's real father was Alex Hunter, who was played by Mitchell Ryan, who now stars as Edward Montgomery on ABC's Dharma and Greg. Alex died after falling off his horse during a foxhunt, and Trevor adopted Tim when he and Natalie were married.
Q: How many actors have played Tad Martin? Brenda Cox, KY
A: Four actors have played Tad Martin, since his arrival in Pine Valley:
Matthew Anton 1973-1977

John E Dunn 1978-1981
Michael E Knight 1982-1986, 88-90 and 1992-present
Terrell Anthony (filled in for Michael E Knight in 1990)


Q: Leo's mother is such a conniving witch, how long has she been in Pine Valley and what's her story? JC Worley, Miami FL
A: David Hayward's mother, Vanessa Bennett slithered her way into Pine Valley in February 1999, a few weeks before Erika suffered terrible facial scarring from a car accident. On the night of the Chrystal Ball, Vanessa began having heart palpitations and it was clear that there was no love lost between her and her son as he stood nearby and couldn't even bring himself to help her. David simply walked away, but fortunately for Vanessa, Joe Martin came to her rescue.
It wasn't long before David found out that Vanessa was broke, after losing her fortune to a string of young lovers. With no money, she hoped to re-connect with her son. She told David she only wanted him to love her and help her with her heart condition, but David knew her well enough to know she only wanted his money. During a confrontation with Vanessa, David finally accused her straight out of being responsible for his father's suicide and told Vanessa she was a monster. Vanessa tried to lash out at him by pointing out that David was responsible for Erica's tragedy, as he had been driving the car. David lashed back that Erica was ten times the woman and mother that Vanessa ever was or would be.
After her argument with David, Vanessa decided to tell Erika the truth about her face. She made it appear that she was Erica's only true friend because she was the only one willing to tell Erica the truth.
Not being able to get money from her son, Vanessa soon began a project with the unscrupulous journalist, Donald Steele, to write a tell-all book about Erica. Vanessa became close with her and even wormed her way into an invitation to live with Erika, while at the same time giving Donald Steele slanderous details about Erica's life for the book. Luckily for Erika, Janet and Trevor were looking out for her best interest and managed to expose Vanessa.
When Vanessa overheard David telling Erica how she had goaded his father into killing himself when David was a young boy, her anger raged again and she retaliated by claiming it was David who pulled the trigger and that she had covered up all of the pieces. Finally Erica wised up and kicked her out. Vanessa intended to continue the book, but David stepped in the middle of the project on Erica's behalf and pretended to poison Donald Steele to get him to admit on videotape that Vanessa was behind the idea for the book in the first place.
Vanessa then began spending time with Palmer Cortlandt. The two of them had several public dinners together, which sparked the curiosity of Opal and David. Vanessa also accompanied Palmer on his private jet to Brazil to visit Erica after her surgery with Palmer's hope of winning Erica's Cortlandt Electronics CEO vote. A short time later, David learned that Vanessa checked out of the Valley Inn. Thinking that she had left town for good he was pleased, but he later discovered that she had really gone on a cruise with Palmer and would eventually be returning to Pine Valley.
In September of 1999, Palmer was becoming suspicious of Vanessa, who was then his wife, and began wondering if she was cheating on him with a younger lover. He kept his suspicions to himself and began to keep a closer eye on her and also hired a private investigator to keep tabs on where she went and who she met. Palmer had his private investigators track down Vanessa's supposed younger lover, Leo, in New York City. He concocted a plan to have Vanessa shot and killed at their party and frame Leo for the murder. Palmer's men drugged Leo and brought him back to town, but Leo had overheard enough of Palmer's plan to realize that Vanessa was in trouble. As the party reached the point where Palmer planned to have Vanessa shot, Leo entered the room. When Vanessa shouted for someone to help "her son", Palmer realized he had made a terrible mistake and took the bullet meant for her.
Vanessa began having a real affair in April of 2000, with an unscrupulous gigolo named Paolo, who was also a con man blackmailing Leo for money. Vanessa and Paolo had a heated argument when he also tried to blackmail her and she was crushed when Paolo admitted that he had never even loved her. A short time later, Paolo was found dead and Leo was arrested for his murder.
As it turned out, Vanessa had accidentally given Paolo a lethal overdose when she secretly drugged his drink. Wanting to save her own skin, she was prepared to let Leo take the rap for murder and was sure Palmer's lawyers would get him off the hook. David and Erica were certain that Leo was innocent and that Vanessa was guilty. With Palmer's help, David and Erica tricked Vanessa into thinking she was having a heart attack. On what she thought was her deathbed, Vanessa confessed to murdering Paolo. Leo was devastated and wanted nothing more to do with his mother. Palmer kept the incriminating evidence in order to keep Vanessa out of prison and decided to deal out his own form of punishment. To make a long story short, Vanessa was forced to give away her designer clothes to the homeless shelter and began plucking chickens at the Chicken Shack. This was sweet revenge in anyone's book.
Even though Palmer has eased up on Vanessa over the months, she would trade him for a nice lump of cold hard cash tomorrow. She was beside herself with happiness when she found out that Leo and $$Greenlee$$ had decided to wed, but her good mood didn't last long, as Greenlee's father, who is a past cohort in crime with Vanessa, wants to share in the good fortune as well, which is not making Vanessa a happy camper.

ONE LIFE TO LIVE
Q: I'm glad to see that ABC has been casting more African-Americans on their daytime shows. I especially enjoy watching Timothy Stickney as RJ Gannon on OLTL. Please give me any available background information. Nikeisha Sullivan, NY
A: Timothy D. Stickney was born in Wichita Falls TX, on January 31, 1965, and raised in Wilmington, Delaware. He is the brother of actress Phyllis Yvonne Stickney, and is a graduate of the American Academy of Dramatic Arts.
Timothy's professional theater experience is deeply rooted in Shakespeare. He toured with the National Shakespeare Company for three years. His first role, as Tybalt in Romeo and Juliet, came shortly after answering an ad in Backstage, and he appeared in the New York Shakespeare Festival productions of The Taming of the Shrew and The Two Parts of Henry IV. In addition to his other Shakespearean credits, he performed in 1969, a play which the actors and director wrote while in rehearsal, and the 20-minute play, Stones and Bones, at the Actor's Theatre of Louisville's Humana Festival of American Plays.
Timothy was also a Teaching Artist at New York City's Theatre For A New Audience in 1990. He has appeared in a number of films, including Green Card, Presumed Innocent, King of New York, Where the Heart Is and Three of Hearts. Although his role on One Life to Live is his first on daytime television, it reunited him with actor Nathan Purdee, star of The Return of Superfly, in which Timothy played his cabdriver. Timothy's portrayal of RJ earned him a 1996 Soap Opera Award nomination for Outstanding Villain.
Timothy has also appeared in a number of network and cable television movies, including Barbarians at the Gate and The Marla Hanson Story. His talents extend to music as well. He toured Europe with the American Youth Jazz Band as a vocal soloist and also performed with both the All Eastern Honors and Delaware All-State Choirs. Before concentrating on theater, he also performed Caribbean and African dance.
He is married to dancer/choreographer Laura L. Priestly. When he is not busy being trying to keep RJ out of LPD, Timothy is an avid cyclist, science fiction fan, and comic book and toy collector.

Q: I work during the day and hardly ever get to watch the soaps, but I got to see it Friday with my grandmother, and she was so excited and happy when Viki announced that Niki was back! I asked her how Niki came to be and she told me it was too long a story to go into. PLEASE, would you tell me? Samantha
A: This has been brought up before, but I'll be happy to reprint it for you now.
In 1994, Dorian Lord went to trial for the murder of her husband, Victor, after new evidence was presented. The jury returned a verdict of guilty and Dorian was sentenced to death.

Her future looked bleak, until an eleventh hour witness stepped forward with evidence he claimed could exonerate her. This witness was David Vickers.

David went to Viki claiming to be Victor Lord's son by Irene Clayton. To support his claim, he gave Viki Irene's diary, in which she admitted killing Victor herself. When the diary was proven to be authentic, Hank Gannon had no choice but to drop the case, and Dorian went free.
Dorian was the only one who knew that David was a fraud. The diary, verified by the experts, was little more than a brilliant forgery. In exchange for saving her hide, Dorian gave David $50,000.

A year later, Dorian told Viki that David Vickers was not her brother as he had claimed. Viki hurried to confront David with the horrible truth. Assailed by Viki, David was forced to confess his evildoing but he swore that Dorian was behind the entire scam. Then, it dawned on Viki. If David lied about Irene Manning killing her father, Dorian must be the murderer after all. Viki went to confront Dorian.
In a bitter exchange, Dorian warned Viki that if she reopened the Victor Lord murder case, then she would be forced to reveal Viki's secret. Viki had absolutely no idea what she meant, but when she threatened to call the police, Dorian launched into a vicious diatribe about her late husband. Viki held her ears as Dorian told her the shocking news that Victor had seduced her when she was a child.
Unable to bear another word, Viki snapped. She took Dorian prisoner and Dorian quickly discovered the strain of the traumatic events had caused Viki to take on several new personalities. Among them was the cool and calculating Jean Randolph, who locked Dorian in the secret room then told the world that she had confessed to Victor Lord's murder before skipping the country. All the while, Dorian remained a prisoner in her dank and dark makeshift prison, wondering if she would ever see the light of day again.
During her confinement, Dorian came to see Viki's personality split into several other alters including vengeful Tori, violent Tommy, and Princess, the little girl who was molested by her father. Most of the time, Jean, the gatekeeper, remained in control of Viki's psyche. Jean blackmailed Dorian into breaking up with Viki's son, Joey as a condition for her freedom.
Upon her release, Dorian broke up with Joey. Jean then paid a surprise visit to David (who had returned from Spain and was promptly arrested) in jail, telling him to divorce Tina or she would have no choice but to press charges against him. David reluctantly agreed, then lied to a stunned Tina that he never loved her. Dorian married David, even though she despised him, because as man and wife, they would not have to testify against each other.
Viki's alter, Tori, set out to destroy everything that Victor Lord had built in his lifetime including Llanfair and The Banner. On the night of Bo and Nora's wedding, Tori torched Llanfair, only to discover to her horror that Viki's daughter, Jessica was inside. Briefly turning back to Viki, she saved Jessica, but Llanfair was destroyed.
It came to light that Viki had one more alternative personality buried deep in her psyche, her father, Victor Lord. Later on, during her therapy, Viki discovered the dreadful truth that her alter, Tori, was the one who pressed a pillow onto her abusive father's face, smothering him to death. Because of the circumstances, Viki was not put on trial, and was allowed to return home for further healing

.

GENERAL HOSPITAL
Q: I'd like to know more about Bobbie Spencer. The last time I watched GH she was married to Tony Jones and they had just lost their daughter. Now she's with Roy DiLucca. What's been happening since then? Thanks. Rosalind Feagle, OH
A: In 1994, after BJ died, Bobbie and Tony's marriage began to disintegrate. Bobbie met Frank Smith's son, Damian, who was also in the mob, and their relationship soon turned to a steamy affair behind Tony's back.
Two years later, Tony, who had been going through his own personal torment after losing his daughter, became very vulnerable and began an affair himself, with a new nursing student named Carly Roberts, who, unbeknownst to either him or Bobbie, was the child that Bobbie had given up for adoption when she was a prostitute in Florida.
On the rebound, at the same time as Bobbie was going through a divorce from Tony, she became involved with her brother Luke's lifelong enemy, Stefan Cassadine. Stefan offered Bobbie a very lucrative, practical marriage, and because she had never had any luck marrying for love, she accepted his proposal, which became a decision she regretted later on.
Soon after Bobbie and Stefan were married, he accidentally shot Katherine Bell, and the two grew closer as she regained her health. When Bobbie finally realized how Stefan was deceiving her, she teamed up with Luke to destroy him. However, Stefan found out what Bobbie and Luke were planning and she became just another on the long list of his enemies. They had a quick divorce and Bobbie went back to being a Spencer again in both name and spirit.
Not long after her divorce from Stefan, Bobbie learned that Tony and Carly had broken up and that Carly was pregnant with Jason's child. What she did not know was that Carly was hiding the fact that AJ Quartermaine was the baby's father. Carly told Jason the truth about her past and the fact that she was Bobbie's daughter.
Bobbie found herself very supportive of Tony during this difficult time and even helped deliver Carly's baby boy, but Carly couldn't touch her baby, convinced that she was going to hurt him. Bobbie and Jason tried to convince her that it was all right, but she was having none of it. Tony was convinced that Carly's inability to bond with her son made her an unfit mother. After several weeks, Carly asked Bobbie about the baby she'd given up for adoption. Bobbie gave Carly an emotional account of the heartbreaking scene when she gave up her baby. Carly was so moved to realize that her mother really had loved her that she wanted to see and hold her own baby right away.
Bobbie's help and her emotional account of why she had given her own baby up for adoption brought them closer, and Carly finally told her mother the truth. Bobbie was shocked to learn that Carly was actually her daughter Caroline. She couldn't understand why Carly, knowing Bobbie was her mother, would scheme to ruin her life. Bobbie then cut off all ties with Carly. What made matters worse, Bobbie also learned that Luke had known the truth about Carly and kept it from her. Bobbie was upset with Luke for his deception, but still remained close to him.
The distance between Bobbie and Carly quickly closed when baby Michael was kidnapped by Tony. The two rekindled their bond and Bobbie stood by Carly during Tony's kidnapping trial. When Tony got off practically scott-free for his crimes, Carly became over emotional and shot him in the courtroom. Because of this, she was sent away to Shadybrook Psychiatric Center for tests, but Bobbie never left her side. Fearing what Tony might do next, Bobbie tried her best to keep him away from their son Lucas. As time passed, Tony started to slowly return to normal, and Bobbie no longer feared for Lucas's safety. She and Tony were able to rebuild their friendship.
In 1998, Bobbie began a romance with Jerry Jacks, who had actually come to town to try and neutralize Jason and Sonny's business. Bobbie loved Jerry very deeply and forgave him after she learned that he had set Sonny and Jason's warehouse on fire. Jerry remained supportive of Bobbie and always came to her defense when Tony harassed her about seeing Lucas.
In 1999, Bobbie was devastated to learn that their Aunt Ruby had died in her sleep. Luke returned to Port Charles and he and Bobbie held an open house at Kelly's in memory of Ruby, who had been like a mother to both of them for many years . Bobbie also accepted Jerry's marriage proposal and they planned on getting married at the brownstone.
In October of 1999, Roy DiLucca was released from prison and started making his way to Port Charles. Roy had been the love of Bobbie's life, but had been presumed dead after he was shot while trying to assassinate Mitch Williams. As far as Bobbie knew, he had died in her arms.

Bobbie was shocked when she came face to face with Roy on the docks and became angry that he had let her think he had been dead for the last twenty years.

Although she was still attracted to him, she was determined to make her future with Jerry and marry him as planned.
On the day of the wedding, friends and family gathered together, but their celebrating came to a halt when FBI agents burst in and arrested Jerry for money laundering. Bobbie believed that Jerry was innocent, but he later confessed the truth to her. Bobbie was devastated, but continued to love Jerry. Meanwhile, Roy felt guilty for his role in Jerry's arrest, but didn't tell Bobbie or Luke that he had given the FBI the information to use against Jerry.
As the months passed, Bobbie and Roy continued to grow closer, but Bobbie worried that Roy would return to a life of crime. She even went to Sonny and asked him not to allow Roy to work for him, but Sonny refused.
A short time later, Roy confessed to Bobbie that he was FBI agent Hannah Scott's father. Roy, however, still didn't tell Bobbie that he was an FBI informant assigned to bring Sonny down. Roy and Bobbie grew even closer as the weeks passed.
While at Luke's club one night, Bobbie overheard the details of Roy's next job for Sonny. She decided to go to the warehouse where the meeting was going to take place and was kidnapped by Sorel. Roy and Sonny then teamed up to rescue Bobbie from Sorel, who demanded that Sonny move drugs for him in exchange for Bobbie's freedom. Sonny had no intention of dealing in drugs and he and Roy were able to beat Sorel at his own game. Roy rescued Bobbie and Sonny's position in the organization remained solid.
With that danger behind them, Bobbie told Roy that she loved him. Roy then stunned Bobbie by telling her the entire truth about himself and confessed that he was an unwilling informant for the FBI. He also admitted that he was the reason Jerry had been arrested. Bobbie was furious at Roy and threw him out, but her anger later subsided when she learned Roy was going to be sent back to prison by the FBI. Bobbie was heartsick when Roy was taken back to prison and she pleaded with Agent Larkin to release him, but he refused. Soon after, Roy revealed to Bobbie that Larkin had locked him up in order to keep him quiet and told Bobbie that Larkin was crooked. With Roy's permission, Bobbie then told Hannah the truth about her father.
Sonny arranged for Roy to escape from prison, and together the three of them teamed up to get incriminating evidence to use against Larkin, and Sonny agreed to wear a wire to trap him. Bobbie and Roy tracked Larkin to the Florida Keys and after Bobbie helped Roy beat some cheaters in a poker game, they located a pilot to fly them back to Port Charles.
Once in the air, Bobbie and Roy were shocked to find Larkin in the cockpit. Thinking fast, they were able to make a daring escape from the plane using a parachute. Bobbie and Roy survived their ordeal and made it back to Port Charles, where they successfully nailed Larkin and had him arrested.
The two of them have enjoyed making up for all the time they lost, but are still just taking things one day at a time.

Q: I was stumped on a trivia question about John Beradino-Dr. Hardy, what did he accomplish in 1948. Any ideas? Thanks . Bette
(John Berardino third from left)



A:

In 1948 John, also known as Bernie to his friends, played in the Major League for the Cleveland Indians in the World Series.

They won the Series that year. Following his release by Pittsburgh in 1952, Berardino had to hock his 1948 Indians World Series ring. He had appeared in a few of the "Our Gang" comedies as a child actor, and Bill Veeck once insured the infielder's face as a publicity stunt Berardino dropped the

second "r" from his name and returned to acting, spending over 25 years

as Dr. Steve Hardy.