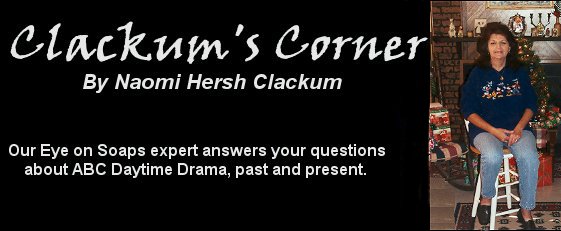 | | |
| --- | --- |
| | Happy Passover from Clackum's Corner |
OLD RADIO SOAPS
Q: Dear soap expert. I ran across your site in a search for a particular old radio soap. Maybe you can help me identify the one that sticks in my mind from childhood. I'd like to know the name of the show and characters of whom I remember a daughter, Lolly whose mother was the main character. She had a dress shop and the opening of the show is what I remember. A fragment is… Realizing the differences in…their worlds…
The gist was that the daughter had married up scale and the mom was now in the lower social strata. But they DID seem to stay involved in oh so many ways! You get the idea. Do you know it? Thank you so much if you can help. Sylvia in Seattle, remembering playing hookie from grade school and listening to the soaps.
A: This soap which was entitled Stella Dallas, ran on NBC from 1937-1955, and starred Vivian Smolen, Anne Elstner, and Jane Houston (cast shown in photo to the left). It aired for only 15 minutes a day (at 12:30 pm until 1938, when it was changed to 4:15 pm), and was, according to its opening….."a continuation on the air of the true life story of mother love and sacrifice, in which Stella Dallas saw her own beloved daughter, Laurel, marry into wealth and society and realizing the difference in their tastes and worlds, went out of Laurel's life". "Lolly Baby" was Stella's nickname for her daughter.
Stella, who was a rather common, but good-natured woman, was played by actress Anne Elstner for the program's entire run on the air. Laurel was played first by Joy Hathaway, then for many years by Vivien Smolen, and finally for a short while by Anne Burr. Also featured on the series were Frederick Tozere as Stephen Dallas, And Julie Bennell, Harold Vermilyea, Donald Buka, Nancy Sheridan, Dorothy Sands, Arthur Vinton, Carlton Young, Macdonald Carey, Spencer Bentley, George Lambert, Michael Fitzmaurice, Frank Lovejoy, Tom Tully, Mary Jane Higby, Mandel Kramer, Barbara Barton, Helen Claire, Luis Van Booten,, Ara Gerald, Walter Kinsella, Albert Aley, Joan Lorring, Hal Studer, Richard Gordon, Kenneth Daigneau, Jane Houston, Grace Valentine, Bill Quinn, Elaine Kent, William J. Smith, Ethel Everett, Peter Donald, Ed Begley, and Raymond Edward Johnson.
Now let me ask you a question, Sylvia. Do you remember the sponsors? f not, some of them were Phillips Milk of Magnesia, Double Danderine Shampoo, Ironized Yeast, Diamond Salt, and Bayer Aspirin. The theme song played for Stella Dallas was entitled "How Can I Leave Thee?"
Stella Dallas was originally a theatrical film that was released in 1925, starring Belle Bennett, Ronald Coleman, and Lois Moran. Later, in 1937, it was remade starring Barbara Stanwyk, John Boles, and Anne Shirley. Stella Dallas was one of those wonderful heart wrenching melodramas, much like the 1945 film, Mildred Pierce starring my own favorite, Joan Crawford. Ahhh, the sweet memories of youth.
PORT CHARLES
(My apologies to Branda for not having her question posted before now. We were having difficulties with one of our programs in early Feb. and it just wouldn't post with the others, so here is your answer Branda!)
Q:
I used to watch the ABC soaps way back in the late 70's and early 80's, then took a long (very long) hiatus of watching soaps and just started watching again about 2 years ago. Just recently, I started watching Port Charles and have been confused about the
relationship between Scotty and Karen Wexler. I have heard that Karen is his daughter,

but I can't for the life of me recall that fact. Is this something that he learned about since Port Charles' debut? Please fill me in on the missing story there. Thanks!! Branda
A: No, Branda, Scotty found out that Brenda was his daughter in 1994, and Port Charles didn't debut until 1997. (I answered a question very similar to yours back in November, so in order to save wear and tear on these little fingers of mine, I have copied and pasted it here for you.)
Scott, and Karen's mother, Rhonda Wexler, had gone to high school together. They dated for awhile, then Rhonda became pregnant, but never told Scott about the baby. Because she was unmarried when Karen was born, Rhonda gave her daughter her last name. She never told Karen that Scott was her real father. If my memory is correct, I believe Rhonda told Karen that her father had died. (Cari Shane, the original Karen, left)
Rhonda was an alcoholic, and would do anything for a drink. She had affairs with many, many men while Karen was young. One in particular, Ray Conway, had lived with them and had sexually abused Karen throughout that time. When Karen grew up, the memory of that constant abuse affected her psychologically.
Karen was a junior in high school where she became friendly with Jason Quartermaine. Jason liked Karen, and offered to drive her home several times, but Karen always refused because she didn't want anyone to know that her mother was there and drunk as usual. Karen and Jason began dating, then she met Jagger Cates, who had dropped out of school and had also been in trouble with the law. Jagger took an instant liking to Karen and then enrolled at PC High.
During that time, Brenda Barrett, who had recently come to Port Charles, began her senior year at PC High and was instantly attracted to Jagger. When Brenda met Karen, she took an immediate dislike to her because she knew that Jagger liked her, but Jagger also enjoyed being with Brenda, because he liked her style. Before long Brenda and Jagger had sex. Brenda felt very insecure about her relationship with Jagger, because she was aware of the feelings that were growing between him and Karen. Brenda's sense of insecurity increased when Karen and Jagger fell in love.
As Karen's love for Jagger deepened, she wanted to make love with him, but she froze up whenever he got too intimate. Jagger told her not to worry, that he'd wait until she was ready. Karen began having disturbing flashbacks. When Ray Conway began seeing her mother again, Karen's memories returned.
One night while at a party, someone put "ecstasy" into Karen's drink. A newcomer to PC, Stone came to her aid. (Stone later turned out to be Jagger's brother, Mike.) Because of the sexual abuse she had suffered, she was left with a sense of worthlessness and low self-esteem. Karen felt as though she was unworthy of Jagger, and she broke up with him.
Karen went to work as a stripper at the Paradise Lounge, which was run by Sonny Corinthos. Before long, Karen was addicted to stripping, pills, and was also sleeping with Sonny. She tried her best to keep her new life a secret while she worked at Kelly's, the hospital, and attending class at Port Charles University.
Jagger and his younger brother, Stone, finally reunited and he did his best to look out for him. One night, Stone and Jagger argued about him going back to school, and Stone walked out on him. Jagger followed his brother back to the Paradise Lounge, where Stone had a room above the bar. When Jagger walked in, he was shocked to see Karen up on the stage, stripping.
Not long after, Brenda also caught Karen working as a stripper, and made sure she told everyone at school about Karen's job at the Lounge.
Later, Jagger found Karen in bed with Sonny, and beat him up. Sonny put a hit out on Jagger. Marco Dane, who had been Jagger's boxing manager, promised Sonny a piece of the action in exchange for Jagger's life. Sonny liked the idea of "owning" Jagger and agreed. In his next fight, Jagger refused to follow Sonny's orders to take a dive. Jagger and Karen ran away and finally made love.
With the help and support of her friends and family, Karen finally recovered from her addiction.
Alan Quartermaine, who had been seeing Karen's mother, Rhonda, (they were not having sex), went to her apartment one night and found Ray Conway kicking her on the floor while she was unconscious. He threw Ray against the wall, killing him. Alan anonymously called for an ambulance for Rhonda and dragged Ray's body away. His body was later found outside the ELQ Petrochemical Plant. AJ found Alan's cufflink and confronted him, to which Alan then confessed. Monica guessed the truth and forgave him. The family found it very difficult keeping the secret of what Alan had done, so AJ decided to help his father by framing Jagger, who was arrested but eventually cleared.
Stone and Jagger finally rekindled the close relationship they'd had as kids. Jagger stopped boxing and decided to become a cop. He and Karen, who had received a scholarship to study medicine at Northwestern University, became engaged.
Jagger, still trying his best to protect his brother, stopped him from driving the getaway van that was being used to help mobster, Frank Smith escape from prison.
Tragedy struck when the bike Jagger was riding crashed and he was knocked out. Jagger recuperated from his accident just in time to marry Karen (left) in a touching wedding ceremony. After the wedding, Rhonda, at long last, told Karen that Scott Baldwin was her father, to which Karen was overjoyed. She and Jagger got on his new motorcycle and rode off to the life that awaited them in Chicago.
ALL MY CHILDREN
Q: I read that Louis Edmonds (Langley Wallingford) passed away last month. How did AMC write him off? Olivia Frazier-Kerr
A: Ruth Warrick, who plays Phoebe Wallingford, was interviewed a few years ago and stated that Louis Edmonds, who played Langley, was written out of the storyline for about a year in the late 1980's, while he dealt with throat cancer surgery and radiation treatment. Ms Warrick also felt that the writer's simply ran out of storyline for them as a couple, mainly because of their ages. Both are shown, left. As of September 2000, Mr. Edmunds was in retirement.
On March 3rd of this year, Louis died of respiratory failure in Port Jefferson, New York.

Q: This may sound like a stupid question, but why is All My Children called "All My Children"? Is it referring to Kate Martin or Phoebe Wallingford's children? Francine A.

A: This is not a stupid question. In fact, Oprah once asked Agnes Nixon this same question when she invited a few members of the cast for a special commemorating AMC's 20th Anniversary in January 1990. Agnes replied that "All My Children refers to the Brotherhood of Man (MY is God), "You are All MY Children"
The Great and the Least
The Rich and the Poor,
The Weak and the Strong,
In Sickness and in Health
In Joy and Sorrow,
In Tragedy and Triumph,
You are All My Children
Agnes wrote this at the beginning of the first episode but unfortunately it never aired. The original AMC logo is shown above.

ONE LIFE TO LIVE

Q: What ever happened to Cord Buchanan? Carrie, MA

A: After having served as CEO of Buchanan Enterprises while Asa was having health problems, Cordero "Cord" Roberts decided it was time he left town to make a success of something on his own. He left Llanview in the early part of '97.
GENERAL HOSPITAL
Q: What ever happened to Felisha and Friscos's relationship? Carrie
A: In 1986, Felicia and Frisco were married. It wasn't long after the wedding that he left his job in law enforcement to work as an agent with the World Security Bureau. After Frisco was believed to have been killed while on a mission, Felicia sought comfort in the arms of Lucy Coe's cousin, Colton Shore.
Frisco returned alive and kicking in 1990. At the time, Felicia was with Colton, but realizing that Frisco was her one true love, she left Colton and she and Frisco were remarried. In 1991, Maxie was born.
While staying at Felicia's family's hacienda in Texas, the danger in which Frisco constantly found himself wore away at Felicia, and finally, unable to take the worry, she left him. They divorced and she became involved with Dr. Ryan Chamberlain, a mentally unbalanced psychiatrist. When Felicia witnessed Ryan as he murdered his wife, Gloria, she developed amnesia but still managed to make her way back to Port Charles.
Felicia was followed by Ryan, who had her committed. If it hadn't been for the help of her good friend, Mac Scorpio, she might never have escaped from the asylum. While on the run from Ryan, Felicia's feelings for Mac turned into more than friendship, and, upon Ryan's incarceration, they made plans to be married.
When Maxie was hospitalized with Kawasaki Syndrome, Felicia asked Mac to contact Frisco and bring him home to his dying daughter.

Seeing Felicia with Frisco, Mac realized that they belonged together, and he bowed out of their relationship.

When Maxie pulled through, Felicia and Frisco were so overcome that they made love. By the time Frisco returned to Somalia, Felicia was pregnant with their second daughter, Georgie, to whom she gave birth on the floor of Luke's Club in 1995.