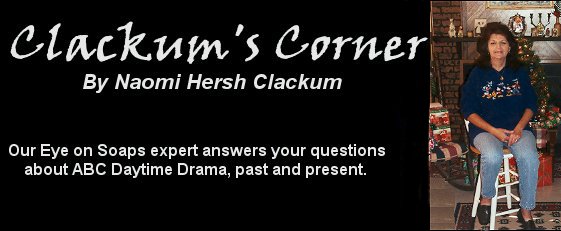 ALL MY CHILDREN
Q: On today's (Tuesday 4/24) show, Laura English told the crowd in the school that she had posed for XX and XXX photos. I know she has been involved with some drugs lately, but I never heard this before? What's the story? Pat Dunston, OH
A: Years ago, before she was adopted by Brooke, Laura Kirk lived with her mother in NYC, and became the victim of a child pornographer named Jim Thomason. When a fire destroyed the building in which she and her mother lived, her mother was killed and Laura found herself out on the street with no place to turn, until one of her neighbors told her about Pine Valley and what a nice town it was. So Laura left NYC, but the memory of what had happened stayed with her.
In 1995, she came to Pine Valley and that was when Brooke found her. The two became very close and Brooke took her in to live with her as part of the family. In time, Brooke adopted Laura, which gave her the loving family life she had been missing for so long.
In 1998, Brooke was aboard a plane headed back from NY to Pine Valley, when it crashed. Brooke found herself comforted by another passenger, the evil Jim Thomason. Jim ingratiated his way into Brooke's life and home because he knew that she was a very wealthy woman. Laura wanted to tell Brooke that Jim was the man who had taken nude photos of her, but he held something over her head, which was the murder of her mother. Jim had given Laura a copy of the photos he'd taken of her. Laura went into the basement of the building she and her mother were living in and set fire to them. The blaze got out of control and it spread. Laura's mother was unable to escape the inferno.
As time passed, Brooke finally discovered that he was actually the child pornographer who had taken the nude photos of Laura, and had later uploaded them to the Internet. By that time, Laura had gone to study in China and Brooke was glad to be able to protect her from Jim. Brooke also discovered that he was responsible for the plane crash. After gathering evidence against Jim, Brooke confronted him with his past. But this didn't scare him, as he then threatened to go after her son, Jaime. This pushed Brooke over the edge and she shot and killed him. She went on trial for murder, but was eventually acquitted.

ONE LIFE TO LIVE
Q: When I started watching OLTL, both Grace and Tea were no longer characters on the show. They are often referred to. Can you please tell me about each of them? Thanks. Lana D., NJ
A: Grace and her grandfather, Hugo Monroe came to Llanview in 1999 looking for Ben. At the time Grace did not know that Ben was her brother. Hugo was part of a rival mob that Ben worked for, and he was after him due to the fact that his son died while Ben was treating him. Hugo was out for revenge and wanted to kill Ben.
Later on, Grace finally discovered that she had been kidnapped by the mob when she was very young, and her real name was Davidson. When she learned that Sam and Ben were her brothers, she decided to stay in Llanview, to be close to them.
Meanwhile, Rae Cummings came to Llanview looking for her husband, Daniel, whom Grace had been involved with previously. When Rae found out about Grace and Daniel she tried her best to break up Grace and Kevin's relationship.
Kevin proposed to Grace and she accepted. They started to make plans for their future until Asa intervened at their engagement party, took Grace aside, and showed her some photos he had acquired of her sleeping with some of the members of the mob. Grace was devastated and tried to run away from him. She ended up at the family's summerhouse, which was undergoing renovation and wasn't safe. When Asa found her he continued to taunt her and left after locking her inside, where she later fell through a hole in the floor and into the cold water below.
Rae went to find her, finally managed to get inside the building and did everything she could to try and save her. During this time, the two of them made their peace and Grace told Rae that Daniel was back in Pine Valley. Eventually, they were both rescued from the water, where Ben did his best to save her life, but his efforts failed and Grace died.
Tea Delgado was born in Puerto Rico and moved to New York with her parents when she was four years old. Her father, Leon, is a superintendent in a building on Park Avenue. Although the Delgado family lifestyle was decidedly middle class, they never lost touch with the old friends and relatives they knew in Puerto Rico, many of whom now live in the Unites States. Although Tea and her brother Jose attended private Catholic schools, she spent many quality hours with their grandmother Maria Delgado, who is affectionately called "Abuelita." Tea also spent weekends with her family's longtime friends, the Vegas, who they considered "cousins".
While her brother eventually joined a gang, Tea was always obedient and studious. Her diligence paid off when she graduated college summa cum laude, went on to NYU Law School, then immediately acquired a position in a top-ten law firm, Howell and Maguire, as soon as she passed her bar exam.
Beautiful, but always too focused on work and accomplishment to have a committed relationship, Tea had a few flings, mostly with other career-obsessed, fast-trackers. In early 1997, she began feeling that something was missing from her hectic, hyper-urban lifestyle. She began to investigate leaving New York. She felt that she could get more hands-on experience working in a smaller venue. So, when Carlotta Vega alerted her to the fact that her son, Antonio was under arrest for the murder of mobster Carlo Hesser, Tea saw it as a sign. She opted to pull out of the fast lane for a while and relocate to Llanview, PA.
From the minute Tea came to town to assist attorney Nora Gannon, she felt fulfilled. Throughout the trial, she maintained a combative relationship with her client, the bitter Antonio Vega. But even he had to appreciate her no-nonsense interrogation skills which had witnesses wilting.
Tea's biting wit and cool intellectual approach were immediately evident when she met newspaper reporter Kevin Buchanan. But Tea's apparent coolness towards Kevin could not camouflage the intensity of feeling that simmered below the surface. Before long, they were engaged in a steamy, sexually-satisfying relationship. However gratified he was with their liaisons (they even did it on top of a desk!) Kevin didn't love Tea. He was already in love with a married woman, Cassie Carpenter. When he rejected her, Tea felt hurt and used.
She was an integral part of the team that successfully defended Antonio. At the conclusion of the trial, Tea skillfully worked to clear Antonio's prior criminal record, then stayed in Llanview to face a huge challenge, the defense of accused murderess Alex Buchanan, who had been indicted for killing Carlo Hesser. Tea gave the case her all just as she did everything, and was intensely devoted to her profession.
Tea entered into a marriage of convenience with Todd Manning and lived with him and his daughter Starr at his penthouse, until she mysteriously disappeared along with Todd. When Todd returned to Llanview, Tea was not with him and the marriage was obviously over. She has not been seen since that time. **
**(A portion of the above was obtained from Lisa's One Life to Live website)
Q: I am curious about Roseanne Delgado's background and history. Any info you can impart would be appreciated. OLTL Fan
A: Roseanne is the niece of Tea Delgado. She came to Llanview in 1998 hoping to steal her childhood friend Cristina Vega away from Jessica Buchanan. Roseanne hated Jessica from the moment she laid eyes on her as she saw Jessica as having everything she wanted, lots of money, a big house and Cristian.
After much effort, Roseanne was finally able to seduce Cristian and they became lovers. However, Roseanne was angry when he continued to pine for Jessica, who was then becoming involved with Will Rappaport.
Roseanne and Cristian moved to New York City when Cristian was accepted to art school there. She was determined to keep Cristian and Jessica apart, and enlisted Will's help by telling him that she needed money to keep her and Cristian in New York City. Will wanted to keep Cristian and Jessica apart as well and ended up giving Roseanne money from the Megan Foundation. When Will was later arrested, Roseanne refused to back him up in order to save her own neck.
After Jessica told Cristian that she was in love with Will, Cristian turned around and asked Roseanne to marry him. Roseanne instantly accepted the proposal and she vowed her role in Will's scheme would never come to light. Jessica, however, found out the truth and confronted Roseanne, who locked her in a closet before heading off to marry Cristian. Just as Roseanne and Cristian were pronounced husband and wife, Jessica arrived at the church and told Cristian the truth about Will and Roseanne's scheme. Cristian then walked out on an inconsolable Roseanne.
Roseanne refused to give Cristian an annulment even after he made it clear he no longer loved her. A short time later, Tea gave Roseanne the penthouse and RJ gave her the one million dollars Tea had left for him. Roseanne then bought the mortgage on Carlotta's diner and threatened to close it down unless Cristian stayed in their marriage.
Roseanne was furious when Cristian went on the run with Will and Jessica. Eventually, she saw the seriousness of the situation and realized that getting Cristian home safely was more important then trying to save her already dead marriage. Roseanne had a change of heart and gave the diner to Carlotta outright, as a way of making up for some of her past mistakes.
When Jessica and Cristian finally did return to Llanview, Roseanne let Cristian out of their marriage. She then set her sights on Cristian's older brother Antonio. Antonio resisted Roseanne's advances for quite a while, but they eventually became lovers. At this same time, Roseanne realized that Sophia had developed a crush on Antonio and these two friends soon became rivals. Sophia had Antonio's friendship and was his partner on the police force, but Roseanne had him in bed. Although mostly based on a physical level, Roseanne seemed to want more of a commitment from Antonio.
By that time, Roseanne had gone through all the money that Tea had given her and had accepted a job answering phones at the LPD. She also accepted RJ's offer to act as his spy at the police station and feed him information.
Roseanne was thrilled when Antonio asked her to move in with him, but her happiness was short-lived after Antonio learned that she had deliberately withheld an urgent message for him from Sophia. As it turned out, Sophia was in desperate need of back up while protecting Kelly from the hitman and Roseanne had jeopardized Sophia's life by failing to give Antonio the message. Antonio was furious with Roseanne and told her to pack up and leave. Roseanne was devastated and began drowning her sorrows by drinking too much at The Palace. Colin saw that Roseanne was very vulnerable and convinced her to go home with him. After drinking too much wine, Roseanne slept with him and was later horrified when she remembered what she had done.
Q: As a viewer of OLTL, for only about a year and ½, I wonder if you could fill me in on Ben's history, especially concerning how he hooked up with Skye and his brotherly relationship with Sam. Please explain why does Sam have a different name then Ben and Sam appears to have no mob involvement. Did Ben and Sam actually grow up together? I would appreciate as much detailed information as you can offer.
A: Ben first met Skye in Las Vegas. At the time, he was working for the mob and she was on the run from Pine Valley PA, where she had created havoc in the lives of the Marick family. She and Ben were married, but he soon realized that he didn't love her and asked her for an annulment. Skye, on the other hand, wanted to stay in the marriage and followed him to Llanview, where she attempted to wreck his new relationship with Viki. After her attempts to keep Ben to herself failed miserably, Skye finally gave in and granted him the annulment.
Sam's father's name was Samuel Davidson, and his mother was Jane Rappaport. He was born a Davidson, but had his last name legally changed to Rappaport after a falling out with his father. Sam, Sr was involved with the mob, which resulted in the "death" of Sam's beloved sister, Mazey (who later reappeared as Grace Monroe, having not been killed, but kidnapped). Sam broke all ties with both the Davidsons and their name, and as you know, went on to become a very successful lawyer. As for the time Ben and Sam spent together as children, we know they were together for awhile because during the short period that they were reunited with their sister, they talked about the three of them being together as youngsters.
Ben was legally adopted by Sam and Jane Davidson, but as we now know, he is actually a Buchanan, although he considers the Rappaports to be his real family.

GENERAL HOSPITAL
Q: I work half-days, so it's hard for me to catch all the soaps. Today I happened to see Rae Cummings with Alan Quartermaine at GH and I was surprised. How does she know him? Wasn't she originally on OLTL? Donna Maitlin
A: Rae has been searching Pine Valley PA, Llanview PA, and Port Charles NY in a desperate attempt to find the daughter she gave birth to years ago. At the time, she was told that the baby died at birth, but later on she found evidence proving that her daughter was indeed alive and well.
A few months ago she discovered that the baby grew up to be Skye Chandler (AMC). Skye was adopted by Adam and his wife, Althea, and raised as part of the family, but was never told of her real parentage, although she has recently told Adam that she was never quite treated like the rest of his brood. When Rae presented this news to her, she was, to say the least, confused, shocked, and hurt. First, because she and Rae were not the best of friends, and second, because she had always thought she was a Chandler. She felt betrayed and alone, at the same time hating her father Adam, for keeping this from her. Only recently has she even started to come to terms with this.
Now Rae has gone to Port Charles to tell Skye's father of her existence. With all the problems the Quartermaine's have had, for them to find out that they now have yet another leaf on the tree will be somewhat of a shocker, mostly for Alan. Rae and Alan had an affair many years ago, pre-Monica, and of course, true to form, Rae became pregnant, but never told Alan. Now she has gone to GH to tell him, and Skye will be there to add her own thoughts on this I'm sure. To make matters worse for Alan, he and Monica are preparing to renew their wedding vows this week. Nothing is ever simple with these people.