PORT CHARLES
Q: I've got a good question for you, since you are the "resident expert" on these things. If this soap is supposed to be based in Port Charles, and General Hospital, then HOW COME we never see all the other regulars in the hospital on a day to day basis, only the characters in this show?? John W.
A: Actually, if you had been watching really closely, you would have seen a few of the characters from GH. Dr. Alan Quartermaine, and Audrey Hardy to name two.
The original idea of Port Charles was to deal mainly with the new interns, their trials and tribulations. If you are still in doubt, you must remember that General Hospital is a rather expansive building, not everyone will be seen at the same time.
[NOTE FROM KATRINA: Jeez, John, lighten up! I'm sure GH employs more than ten people and they can't all be in one place. Port Charles is a big town!]
Q: I read that EOS is now covering Port Charles, that's great! I hope you can give me some information on one of the characters. I have watched Patricia Crowley play Mary Scanlon almost every time she is on, and she looks so familiar to me, it's driving me crazy! What else has she appeared in? I seem to remember her from years ago on TV. Thanks. Kim Sutton
A: Patricia Crowley, who has played the character of Mary Scanlon (Collins) since 1997, also has a long history of other television appearances. Patricia, or Pat as she is also known in many credits, has been acting in television for 49 years. I will list some of her credits, as a complete list would take up my entire column!
Family Law (1999); Charmed (1998); Port Charles (1997); Friends (1994); Frasier (1993); Melrose Place (1992); Beverly Hills, 90210 (1990); Generations (1989); Roseanne (1988); Murder, She Wrote (1984); Matt Houston (1982); Dynasty (1981); The Millionaire (1978); Charlie's Angels (1976); Columbo (1972); Please Don't Eat the Daisies (1965-67); The Wheeler Dealers (1963); The Untouchables (1959); The Nine Lives of Elfego Baca (1958); Disneyland (1954); Happy Days (1974); The Rockford Files (1974); Hawaii Five-O (1968); The Man from U.N.C.L.E (1964); The Fugitive (1963); The Andy Williams Show (1962); Walt Disney's Wonderful World of Color (1961); Bonanza (1959); Rawhide (1959); Maverick (1957); Your Show of Shows (1954); A Date with Judy (19520; Goodyear Television Playhouse (1951).
Q: Please straighten out my confusion. The doctor on PC, his name is Ian Thornhart. I remember him playing Patrick Thornhart on OLTL. Am I having delusions or has he come back in a new life as a doctor, instead of an Irish poet?? Latisha, Miami FL
A: Don't fret Latisha, it is not the same person. My sources tell me that Patrick, who was in Llanview from 95-97, and Ian, who appeared this year on PC, are brothers.
My thanks to Leigh for the following in-depth information:

Ian Thornhart
Ian and Patrick are very obviously twin brothers. They have not spoken in years, since the entire family is on the outs for

some reason. The reason Ian became a doctor was due to the fact that his sister

was pregnant, had an abortion, and died, because

the man who did it was not really a licensed physician.
Patrick was the one who may have strayed farthest from the family, which is probably why he never mentioned having a sister.

He became mixed up with

the Men of 21 because his fiancée, Siobhan was a member, and was killed. He was doing this kind of avenging angel/desperado type of thing. So it's obvious that both of

these men are led by the women in their lives.

Ian has not been back to Ireland since he became a doctor, and

most likely does not know much about what's going on with Patrick..


Patrick Thornhart
ALL MY CHILDREN
Q: The other day Erika was remembering her mother, Mona. I also remember watching Mona when she was alive years ago. She always looked so familiar to me, but I could never place where I'd seen here before. Even though she is no longer a cast member, can you give me a little history of the actress? Marsha Pierson
A: Frances Heflin was the actress who played Mona Tyler from 1970-1994. If you thought she looked familiar to you, it might have been because she looked exactly like her famous brother, actor Van Heflin. Frances appeared in only three movies and in one episode of The Naked City in the 1950's. She was married to composer, Sol Kaplan.
Q: Billy Clyde Tuggle was such a great villain. Do we know for sure that he's dead? Karen
A: Normally, when someone dies on the soaps, you can usually bet your boots that they will be making a return engagement some time in the future. In Billy Clyde's case, after he and Tad fell off Lockport Bridge, his body was recovered from the icy waters by the police. Don't let all those old remakes of "Friday the Thirteenth" mislead you….this guy is really dead.

NOTE: Now that I have committed myself by making that statement, the writer's will probably bring him back by saying the police only though he was dead; they buried him, and somehow he dug his way out and will be coming back for revenge.


Billy Clyde Tuggle
Q: Dimitri said that he found out only a few years ago that Edmund is his brother. How did the truth come out?
A: Dimitri's wife, Angelique had been in a coma for fifteen years in Vienna, and he had believed that she had died. In 1992, he discovered that she was still alive.
In a desperate attempt to insure that her daughter remained "mistress of the manor," Helga, Angelique's mother, burned the codicil of Hugo's (Dimitri's father), Will, in which he admitted Edmund's true heritage, and left him Wildwind. Helga, was the only person who knew that Edmund was Hugo's bastard son.
As fate would have it, Edmund found the document before it was destroyed, read it, and put it back where Helga had hidden it. He was shocked by what he had discovered, and decided to go to Budapest in search of the truth.
Once there he found Dimitri and Erica. In their ancestral home, Edmund kidnapped Erica and held her hostage in the wine cellar, hoping to force Dimitri into honoring the will. At first Dimitri refused, but later he and his brother worked together to force Helga to admit the truth. They cornered her on top of an ancient stone wall. Helga finally admitted that Edmund and Dimitri were brothers, then she lost her footing and fell to her death.
ONE LIFE TO LIVE
Q: What were the names of Viki's alters? All I can remember are Jean, Tommy and Niki. Didn't Todd have alters as well? If so, what were their names? Missy
A: During 1995, when Viki learned from Dorian the shocking news that that Viki's father, Victor Lord, had sexually abused her during her early childhood, she snapped.

This traumatic impact was more than Viki could accept and the D.I.D. (Dissociative Identity Disorder) she had suffered from since the molestation kicked in full force. She took on five separate personalities, who were:

Jean Randolph - a cold and calculating woman, who had control of all the other personalities.

Tori- the gatekeeper, very vengeful

Tommy - the violent male personality

Princess - the little girl who was molested by her father

Niki Smith - wild, free and totally uninhibited


Viki's wild and crazy (and most frequent) alter, Niki Smith
Todd, on the other hand, faked his D.I.D. in order to protect himself from once again going to jail. He faked four personalities, including:
Pete - the mean one (Peter Manning was his father, who had sexually abused him)
Tom - the innocent personality, the one in control
Rod - suave and sexy
Miss Perkins - the female, prim and proper, schoolmarm type
Todd finally admitted to Blair that he faked his D.I.D., unaware that while he was talking to her, Starr had her tape recorder going.
Q: How many of Viki's children are actually Clint's? Anna M.
A: Jessica is the only biological child Clint has with Viki. He adopted Joey and Kevin when he and Viki were married. They are Joe Riley's sons.
Q: Could you please explain to me all of Victor Lord's children, who their mothers were and how they connect? I'm lost! Alicia Grant
A: Victor Lord's first wife was Eugenia, who gave him Meredith and Victoria Lord; an affair with Dorothy Randolph produced Tony Harris Lord; his next wife, Irene Manning Clayton, gave him Tina Clayton and Todd Manning. Todd was given to Irene's brother Peter, to raise.

Meredith and Viki were sisters; Tony Harris Lord was their half-brother; Tina and Todd are brother and sister, but are half brother and sister to the other siblings.

| | | |
| --- | --- | --- |
| | | |
| | | Victor Lord's children: (clockwise) Victoria, Tony, Meredith, Tina and Todd |
GENERAL HOSPITAL
Q: Can you please tell me which of the current actors has been on the show the longest? Elaine
A: The true veteran of General Hospital would be without a doubt, Rachel Ames, who has been playing nurse Audrey Hardy since Feb. 3, 1964, less than a year after the show first aired. When Audrey first appeared, she was an airline stewardess, then she met her true love, Dr. Steve Hardy, and chose nursing as her career.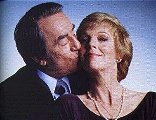 John Beradino, that little rascal, &
Rachel Ames, longest running
character/actor on any soap


Q: I read somewhere that John Beradino who used to play Dr. Hardy used to be on The Little Rascals. Is that true? Cecil Morganstern

A: Yes, in fact John Beradino got his start by making a few appearances in The Our Gang a/k/a Little Rascals comedy shorts. John passed away on May 19, 1996, and to this day, his absence is still felt by all of us who remember the young Steve Hardy of 1963.



Q: Anders Hove, who plays Faison, has such an odd accent. Is it his own, or does he change it for the role? Katie Michaels
A:

Anders, who was born in Greenland,

emigrated to Denmark with his family when he was fourteen.

What you hear is his own authentic Danish accent.

SEE YOU NEXT WEEK!
| | |
| --- | --- |
| | E-Mail Naomi with your questions and comments! |
| View Naomi's Archives | |