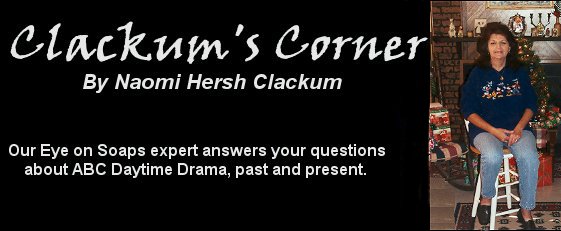 May You Find Peace and Joy
on This Day
ALL MY CHILDREN
Q: Whatever became of Bonkers the cat who was owned by Daisy Cortlandt years ago when she was still with Palmer? Jeanine Young, Sebring FL
A: Gillian Spencer, who played the character of Daisy, stated that the cat in question belonged to the executive producer at that time, Jackie Babbin. Bonkers has long since passed on, but even after all these years people still ask about him. Ms Spencer also admitted that the cat received more fan mail than she did.

Q: Where is Harold, that wonderful dog that the Dillons had? I noticed that when the family made their departure from Pine Valley there was no mention of him. Genia Harris
A: In late 1998, the family started to notice that Harold wasn't being himself, after not eating or wanting to play. Trevor took him to the vet and they later found out that Harold had cancer and would not live out his normal life span.
Amanda and Tim became very upset . They decided to camp outside one night in order to be closer to him. The next day while the kids were getting ready for school, Trevor and Janet sat with Harold on the couch, and knowing he was suffering, they decided the time had come to have him euthanized. Janet refused to do anything until Tim and Amanda were told the truth, and she asked Trevor to talk to them. Trevor explained that Harold's health wouldn't be improving and he'd soon start feeling worse. He told them that this would be the best thing for Harold.
Tim cried and insisted on staying with Harold, but Trevor told him to wait in the house with Janet and his sister. One by one they each said their own good-byes to their beloved pet. While Trevor spoke with the vet, Tim prayed for his mom (Natalie) to take Harold to heaven. Then we saw Harold running into Natalie's open arms in heaven. The Dillons returned to the house with Natalie's assurance that they would all be together again. The last glimpse we had of Harold was as he turned around to take one last look at the family he was leaving, then he followed Natalie.
Out of all the death scenes we've had on this show, this one gave me a chill. During this time I lost my own dog, Lucky, who passed away at home with us. Even though many people said they thought this scene was overdone, to any true dog mama, it was quite poignant.
Q: How many of the original characters are still on AMC? Janetta W.
A: There are currently three original characters remaining, Erica Kane (Susan Lucci), Phoebe Tyler (Ruth Warrick), and Joe Martin (Ray MacDonnell).
Erica's mother, Mona, who was played by Francis Heflin, died in June 1994, when Francis Heflin passed away. Another long-running character, Ruth Martin, was played by Mary Fickett from 1970-1996, then Ruth returned for Christmas 1998. Mary retired for a brief period between 96-98. According to soap industry sources, she asked to be let out of her contract. During 1995 and 1996 Ruth Martin made few appearances. However, her husband Joe often mentioned that she was in the garden or taking care of her Aunt Clara in Iowa.
Lee Meriwether was later hired to play Ruth Martin from 96-98, which again made Ruth a constant presence in Pine Valley. Then in the late 1990's, something happened between Lee Meriwether and the producers that had her either going off contract or leaving the show. Whatever it was has never really been clarified and it looked like Lee left permanently, and Mary Fickett returned for the Christmas 1998 episode. Ruth's absence between Lee Meriwether leaving and Mary Fickett returning was explained by having her go to Mexico to lend her nursing expertise to the medical people down there.

ONE LIFE TO LIVE
Q: I miss Dorian and wish she would return to Llanview. Things were always hopping with her around. However, I have only been watching for about ten years, and would be interested in knowing what happened when she first came to town and exactly what year it was. Thanks for your help. Barbara West
A: Dorian Cramer moved to Llanview in the early 1970's with her younger sister, Melinda. In 1974, Dr. Dorian lost her license to practice medicine for inadvertently giving a patient, Rachel Wilson, an overdose of medication. She became quite bitter because her career had been destroyed, and Dorian was determined to get even with the residents of Llanview.
The following year, she married newspaper magnate Victor Lord, who was many years her senior, and very frail. When Victor died under mysterious circumstances in 1976, his daughter, Viki suspected that Dorian had withheld his medication, thus causing his death.
In 1980, she had a brief affair with Clint Buchanan, but when he grew tired of Dorian's constant scheming, he ended their relationship. Later the same year, Dorian saw an opportunity to become Pennsylvania's First Lady, and grabbed it by marrying attorney and future governor, Herb Callison. With Asa Buchanan's help, she bought the election for Herb. Unfortunately for Dorian, her dream collapsed when Herb was forced to resign from office in order to avoid a scandal when Dorian's scheming came to light.
In 1981, Dorian's teenage daughter, Cassie, moved to Llanview. Cassie was the product of an affair Dorian had with David Renaldi while she was in medical school. In 1982, Herb adopted Cassie, but there was trouble down the road as she and her mother had a very volatile relationship.
Not long after, Dorian tried her best to win back David. Herb had no other recourse but to divorce her, and did just that, and when they found themselves together in a stalled elevator at the courthouse, they enjoyed one more "roll in the hay".
In 1986, Dorian began a romantic relationship with lawyer, Jonathan Russell. When she was convicted of murdering drug dealer, Mitch Laurence, their affair was put on hold when she was sent to prison. Dorian remained incarcerated for many months until a tape was found, proving that she had killed Mitch in self-defense. After her release, she left Llanview for Mendorra (??) where she became its Ambassador.
Returning two years later, Dorian, who by then was the owner of The Intruder newspaper, had her sights set on destroying Viki and her Buchanan empire. During this time she also had an affair with young Jason Webb.
In 1993, while she renewed her affair with Jason, Dorian learned she had breast cancer. She went through treatments and was soon back to her old ways, when she went into battle with Viki, over the amorous attentions of Sloan Carpenter. When Viki and Sloan set out to prove that Dorian murdered Victor Lord 17 years earlier, Dorian went into revenge mode and seduced Viki's innocent teenage son, Joey, but that plan was soon interrupted when new evidence came to light and she was finally convicted of killing Victor. Dorian was sentenced to death by lethal injection. However, her life was spared when newcomer to Llanview, David Vickers claiming to be Victor Lord's long-lost heir, produced a page from a diary that ultimately cleared her name. No one knew that David was an imposter and a liar to boot.
I hope that fills in the years that you missed.

GENERAL HOSPITAL
Q: I'm so confused and I hope you can straighten me out. I watched GH for years and remember Heather Webber being played by Robin Mattson, who also played on All My Children as Janet Green. OK, a friend of mine told me that she is Cher's sister. For the life of me I cannot see this, as they look NOTHING alike. Help! Brendalyn Cosey, NH
A: Poor Brendalyn, let me straighten this out for you before I become confused with this question myself J.
There were three actresses who played Heather Grant Webber. They were Georganne LaPiere in 1976, Mary O'Brien in 1977, and Robin Mattson beginning in 1980.
Georganne LaPiere (who was once married to actor Michael Madsen) is Cher's younger half-sister, and you will be happy to know that there is a resemblance, although Georganne is a blonde. BTW, Cher's full name is Cherylin Sarkisian LaPiere.
Georganne, who is five years younger than her sister, is pictured far left with friend Richard Dean Anderson, who played GH's Jeff Webber. I also found a photo of Cher as a blonde, maybe this will help to see the resemblance. (and maybe not) Personally, I like Cher better as a brunette.