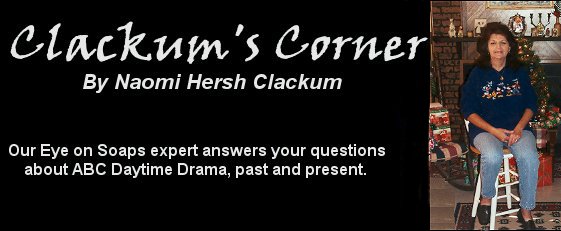 ALL MY CHILDREN
Q: Who is the actor who plays Adam Chandler Jr. on All My Children? Patrice Laughlin
A: The actor who now plays Adam Jr a/k/a AJ a/k/a JR is Jesse McCartney who took over the role in 1998. Interestingly enough, the role of Adam Jr. as an infant was originally given to twin sisters, Charlotte and Margaret Baughman, in 1989.
Adam Jr. was born from a one nighter between Dixie and Adam in his boathouse. Adam, who was then married to Brooke, desperately wanted a son to carry on the family name, and because Brooke could not give him one, he turned to Dixie. Dixie, who was already infatuated with Adam, after being hired as a nanny for Brookeís daughter Laura, (later run over and killed by Josh Walesky) was ready and willing to comply.
When Brooke discovered the details of their affair she told Adam he would have to choose between them. He chose Dixie, probably because she was carrying his child. SO Brooke divorced him and walked off with a healthy chunk of Chandler cash to boot. Meanwhile, Adam decided he wanted the baby all to himself. He gaslighted Dixie to make her think she was losing her mind, and managed to get her to commit herself to a mental hospital.
While she was there, Tad came to her rescue. He had discovered what Adam was up to, and helped Dixie to escape from the hospital. They fell in love and later married.
In time, Adam became jealous of the fatherly bond that had grown between Tad and Junior, and the influence Tad had over his son. Adam schemed to have Junior sent away to boarding school, which displeased his son to say the least. Wanting to remain in Pine Valley, Junior ran away hoping to avoid being shipped out. Just in the nick of time, Tad and Dixie realized what Adam was up to and immediately put a stop to it.
| | |
| --- | --- |
| | Recently, the relationship between Junior, Tad, and Dixie has been put under quite a strain due to their marital troubles caused by the devilishly deceitful Dr. David Hayward and his cohort in crime, lowdown lawyer, Leslie Coulson. |
ONE LIFE TO LIVE
Q: I missed Jen Rappaport's first few episodes on OLTL and was wondering how old she is supposed to be. I was under the impression before she came that she was at least college age, but now she is being played as younger. If she is a minor, where has she been the past couple of years while the rest of her family has been reaping havoc in Llanview? Thanks! Allie
A: I believe the reason you were under the impression that Jennifer was at least college age was due to the fact that when the Rappaports first came to Llanview, Jennifer was said to be Willís older sister, now we have been led to believe that she is closer to seventeen, which would make her younger than Will, who is definitely not a teenager. I seem to recall that back in the beginning of January, Lindsay had planned on flying to Switzerland because Jennifer had sustained an injury. Obviously Lindsay never got there because she was too busy at the time, trying to destroy Bo and Melanieís relationship. Itís possible that Jen was attending school there, but because her characterís past has not been sufficiently developed yet, we can really only make a guess at this time.
Q: I remember when Dorian met Mel Hayes, but whatever happened to him and why exactly did Dorian leave town? Marianna Thomas, AR
A: You must have missed some of this, so Iíll fill you in on the events that transpired from the time Dorian met Mel, until she left Llanview.
In 1998, Dorian was shocked to discover that her mother, Sonya was still alive (and crazy as a bedbug). Dorian was even more shocked when she found out that Sonya had been the one who had killed her father. Dorianís daughter, Cassie wanted to meet her grandmother, but Sonya had no interest in her and attacked Cassie. In an effort to protect Cassie, Dorian struck her mother in the head and knocked her unconscious. Miss Stonecliff, the old family nanny who had been caring for Sonya, was so distraught that she locked Sonya and herself in the attic and set fire to the house. Kevin tried to protect Cassie, but was seriously injured in the blaze and was hospitalized. While he was in the hospital, Kevin became friendís with nurse Barbara Graham. Barbara later agreed to be Kevin's live in nurse and soon began having feelings for him.
During this time, Dorian was caught in the middle of a botched robbery attempt, and was shot. In the hospital, she went into a coma and envisioned herself in Hell, where she was taken on a guided tour by mobster Carlo Hesser and her mother Sonya. During her visions, she realized that she could finally love and forgive her mother.
After Dorian recovered she proposed to Mel at the Banner. Mel accepted, and they were married shortly afterwards in the middle of The Bannerís city room. While Dorian and Mel were away on their honeymoon, Kevin also proposed to Cassie and she accepted, even though her mother had warned her that Kevin and Barbara were having an affair.
Cassie finally allowed Dorian's warnings about Kevin and Barbara to get to her and she set a trap. Unfortunately, Cassie's plan worked too well and Barbara tried to seduce Kevin, who turned her down, but not soon enough, as Cassie walked in on them and assumed the worst. After Kevin admitted that he had slept with Barbara earlier on, Cassie packed her bags and moved out. Kevin vowed that he would win Cassie back and slowly started to break down her defenses. However, Barbara didn't handle Kevin's rejection well and set out to make sure Kevin and Cassie never got back together.
The night of Dorian and Lindsay's art gallery opening, Barbara arranged to lure Kevin on to the docks and shoot him, but things didnít go as she had planned. Boís son, Drew was shot and killed and Cassie was seriously wounded. In the hospital, Barbara caused Cassie to fall and she became paralyzed.
From there on, Cassieís mental condition became increasingly worse and she ended up out on the ledge of the bell tower. Kevin and Andrew Carpenter were able to talk her down and she was taken to the hospital while Barbara was sent to jail. Kevin was afraid that Cassie had succumbed to the Cramer madness when she lost touch with reality. Then Dorian arrived, and did everything she could to keep Kevin away from Cassie and blamed him for Cassieís mental condition.
Dorian's treatment of Kevin caused problems with her marriage to Mel because he didn't share her opinion. Dorian had Cassie admitted to St. Anne's and a restraining order issued against Kevin, but he still managed to see her with some help from Andrew. Kevin soon discovered that Cassie had no memory of the past two years including their marriage.
By the end of the year, Dorian and Mel were constantly at odds over her treatment of Kevin. Things got so bad that Mel walked out on her. During this time he agreed to become the acting editor-in-chief at The Banner. Meanwhile, Dorian made plans to secretly take Cassie out of the country for treatment. When Kevin found out what she was up to, he and Kelly hurried to the airport to stop her. While Kelly distracted her, Kevin locked Dorian in a closet and escorted Cassie on to the airplane. After some confusion, Cassie finally recognized Kevin, but all she told him was that she hoped he would forget about her and get on with his life.
Mel came to Dorianís rescue and freed her from the closet. She was furious at what Kevin had done, and seeing Mel with Viki only made matters worse. Mel told her that he was flying to the Bahamas with Viki for a conference, but Dorian didn't believe him. Mel said goodbye to her and boarded the plane even though Dorian practically ordered him to stay with her.
After he and Viki had boarded the plane, Dorian sent a note telling him that there was a family emergency, then she went home, hoping he would return. The only problem was that Viki had been given the note by mistake. After reading it, Viki rushed off the plane, leaving Mel behind. She was relieved when she discovered that the note wasn't meant for her, but her relief turned to sorrow later on, when she learned that the plane had crashed and Mel had been killed.
Viki went to Dorianís and told her about the plane crash. At first, Dorian refused to believe that Mel was gone, but she did finally face the truth. When Melís memorial service was held, she blamed Viki for Mel's death in front of everyone, and she vowed that she would never forgive her.
So, Dorian lost Mel in January of í99. Two months later, Drake Farraday ( who looked amazingly like Damian Smith of GH) arrived in Llanview. He went to Dorian, claiming to be an old friend of Mel's. Dorian and Drake took an instant liking to one another and it wasnít long before he was romancing her. When Drake asked Dorian to travel the world with him, evidently having gotten over her grief of losing Mel, she took him up on his offer. She gave a party for all her friends and family, and announced her intentions to leave Llanview with him. We havenít heard from her since that time.

GENERAL HOSPITAL
Q: I love A. Martinez. Did he originally play the role of Roy DiLucca back in the 70ís, and can you tell me about him? Also, if he didnít play Roy, then who did? Thanks. Sylvia Montez, Los Angeles CA
A: No, Roy was originally played by Asher Brauner from 1978-79.
Besides enjoying the attention he has received as Roy DiLucca, A Martinez has quite a list of credits to his name, both in TV and films. A native Californian, Martinez was twelve years old when he made his professional singing debut at the Hollywood Bowl where he won a talent competition. Later, while attending UCLA, he first appeared in the feature film, Born Wild, followed in quick succession by other films, including The Cowboys starring John Wayne; Beyond the Limit starring Michael Caine; Once Upon a Scoundral; Walking the Edge; Joe Panther; Shoot the Sundown, and many others.
A believes that his role as Cruz on the daytime drama Santa Barbara is what really put him on the map. "When I first got Santa Barbara, I had been in the game for a long time without attracting a sizeable audience," admits Martinez. "My experience with Santa Barbara helped me overcome any doubts about the wisdom of pursuing this career. It gave me a sense that I belonged and had something of value to offer."
In 1990, he was honored with the Daytime Emmy Award as Outstanding Lead Actor for his work on Santa Barbara. While on the show, Aís portrayal of Cruz hit home with the fans and he rose to immense popularity when his character became involved with Eden, portrayed by Marcy Walker (Liza Colby Chandler) of All My Children.
Some of his other television credits include the made for television movies Deconstructing Sarah; Ties That Bind; The Cherokee Kid, and She Led Two Lives. A has also appeared on such series as Magnificent Seven; Profiler, and L.A. Law to name just a few.
In his leisure time, A enjoys writing music, composing songs, playing the guitar and piano (as we recently discovered on GH). He is very devoted to his family, and he and his wife, Leslie Bryans, have three children, a son, Dakota Lee and two daughters, Devon Makens and Ren Farren.