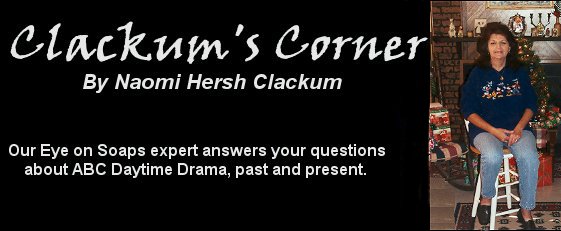 ALL MY CHILDREN

Anthony Addabbo

Q:

Michael Nader has been playing Dimitri Marick since the character first appeared on AMC.

I heard today on the ABC News that he is being replaced due to his unfortunate circumstances with the law. Do you know who will be the new Mr Marick?

Cathy Sullivan, NH

A: It appears that Anthony Addabbo of B&B (Tony and Johnny Carrera, 1998), Generations (Jason Craig, 1989-91), and GL (Jim Lemay, 1998-present) will be the next Dimitri Marick, at least temporarily. His first airdate is April 6.
ONE LIFE TO LIVE
Q: My sister and I have been big fans of Kassie DePaiva for years, but we've never heard very much about her. Would you please give us some information? Thanks. Ann and Bonnie Dougherty, SC
A: Kassie was born and raised in Morganfield, Kentucky (very close to the hometown of our webmaster, Katrina) with two older brothers and a younger sister. She worked at Opryland in Nashville, Tennessee as a singer and at the age of 18, debuted as a soloist at the legendary Grand Ole Opry, performing two songs. While working at Opryland, Kassie realized that she wanted to entertain, so she enrolled in Indiana University and later, at the University of California at Los Angeles, to study theater. While attending UCLA, she became a member of a four-part harmony band called Newport, which performed in the Los Angeles, San Diego and Las Vegas areas. Kassie then dropped out of college to take advantage of a once-in-a-lifetime opportunity to travel with the USO on its Orient tour to Japan, Korea and Okinawa.
Shortly after her return to the United States, Kassie sang back-up for soul singer Bobby Womack during two United States and one Great Britain tour. Not long afterwards, she landed her first professional acting role, as Bobbie Jo in the feature film, "Evil Dead II."
From 1986 to 1991, Kassie played good-girl Chelsea Reardon on the daytime soap Guiding Light. After that she completed guest-star appearances on episodes of primetime television's Melrose Place, the syndicated series, Baywatch and Timetrax. In 1993, One Live to Live marked Kassie's return to daytime television.

Kassie is married to her co-star of One Life to Live, James DePaiva, who plays Max Holden. On May 12, 1997 they became the proud parents of a son, James Quentin.
GENERAL HOSPITAL
Q: Although I am now a faithful viewer of GH ( never miss a day!), I only watched it sporadically up until this past year, so there are some gaps in my knowledge of the show. I seem to remember that Brenda lived with the Quartermaines at one point, back in the early 90s. Why? I'm pretty sure she was not related to them, or am I wrong? Thanks, Allie Curran
A:

After having been kicked out of boarding school in 1992, Brenda came to PC where her sister, Julia persuaded her to move in with her.

Julia had always been their father's favorite, and she wanted to make amends to Brenda by having her live there and enrolling her into PC High.
A year later, Julia began an affair with Ned Ashton, then went from Ned's bed to AJ's bed. During the time that Julia was familiarizing herself with the Quartermaine men, Brenda grew close to the family, and in 1993, Lila hired her as a personal assistant. Later, when Julia left Port Charles, Lila invited Brenda to stay with them.

Q: Hello again Naomi...just wondering if you were ever able to find out any information on Amy's (of General Hospital) face...it is even more noticeable these days as she seems to be on more lately. Thank you. Amy
A: No official word has been released concerning Shell Kepler. If you would like, you can write to her directly at: General Hospital c/o ABC-TV 4151 Prospect Avenue Hollywood, CA 90027. Hope this helps J
Q: What great news that Anna Devane is alive after all these years!! Now that she has been found by her sister Alex, do you think she will make a crossover to GH and be reunited with Robin? Also, could you please give me all the details that led to the belief that she and Robert had died? Thanks. DW, Phoenix AZ

Anna Devane

A: Finding Anna alive created the perfect opportunity for the writers to eventually bring her back to GH. Of course this is my personal opinion, but it would also open the door for Robert's return as well. There are many fans of GH who would love nothing better than to see these two come back home. Robert could just possibly be the only one who would be able to bring Luke back to his senses, as his recent storyline is getting a bit stale, and I have received some emails from other readers who are tired of the romantic entanglements between him and Felicia.

As for the events that led up to their "deaths":

First of all, you need to know that Cesar Faison began his career with the DVX, along with Anna, who was his partner. However, Anna was also working as a double agent for the WSB. Faison was obsessed with Anna, but she was in love with Robert. That being explained, we'll go back to 1991 and work our way up to when Anna and Robert were "killed".

Cesar Faison returned to Port Charles with a new organization, the Cartel, new allies in Harlan Barrett and Leopold Taub, and a new purpose. The only thing that wasn't new was his still smoldering love for Anna.
The Cartel's first order of business was to acquire stock in ELQ, as well as the company's cannery that Faison wanted to use to brew his mystery potion: carbon disulfide. A chemical that in small doses would make one appear drunk, but in larger doses, would prove fatal. Harlan set out to accomplish these goals. His first move was to seduce Tracy Quartermaine, daughter of ELQ founder, Edward Quartermaine.
Faison also had another ace in the hole, Paul Hornsby. The Cartel had concocted a fatal virus that they administered to Paul's daughter, Susan. Paul became their pawn, as without the antidote supplied by the Cartel, Susan would die.
ELQ was in a precarious financial position after the explosion of its ship, the S.S. Tracy. CEO at the time, Ned Ashton had neglected to keep up with insurance payments on the ship and had also failed to report that the ship was carrying hazardous chemicals. The company was in jeopardy and the Quartermaine family voted to replace Ned with brilliant, business-wizard and Cartel pawn, Paul. The Cartel had its foot in the door at ELQ, but still needed to get its hands on the stock and the cannery.
As ELQ's financial position worsened, Paul pressed the Quartermaines to sell the cannery, but they refused. Part of the cannery was eventually destroyed by arson, with the Quartermaines the main suspects. Their motive: insurance money. The Quartermaines agreed to sell the cannery to Harlan's company, Barrett Industries. Harlan brought his daughter, Julia, a marketing genius, to Port Charles to run the cannery with his new right-hand man, Bill Eckert. Neither knew of the cannery's true purpose, which was a front for The Cartel and a place to brew the drug with which they intended to rule the world.
Harlan also appeared to be on his way to accomplishing his second goal of acquiring Tracy's ELQ stock when Tracy discovered Harlan kissing Lucy Coe and realized that he was only romancing Tracy for her stock. Furious, Tracy teamed up with Lucy and Monica Quartermaine to lure Harlan to their den with the promise of sex. Once they got him there, they plastered him into a full body cast. The Cartel had been foiled.
| | |
| --- | --- |
| Robert and Mac Scorpio | Meanwhile, in jail, Mac Scorpio told his estranged brother, Robert, that Paul had been the one to order him to sabotage the S.S. Tracy. The Cartel had been behind the sabotage from the beginning. Mac and Robert soon escaped from jail and joined Anna at a house called Serenity where they met Dominique, the wife of Cartel member Leopold Taub. Mac was attracted to Dominique and Robert and Anna reunited, deciding to remarry. |
Faison couldn't let the love of his life marry Robert again and detained Anna on her wedding day. He begged Anna to forget about Robert and run away with him. Robert found them together, got rid of Faison, and married Anna.
Faison next sought revenge on Sean Donely. He poisoned Sean's wife, Tiffany, with the same virus that inflicted Paul's daughter. Sean was quickly turned into Faison's pawn. Paul would give Tiffany the antidote, one pill at a time, as long as Sean fed the Cartel information about Robert's investigation. Sean agreed, but consulted with Robert and fed the Cartel false information while doctors worked frantically to come up with their own antidote.
Faison was also not done with Robert and Anna. He began controlling the couple through mind control. He forced Anna to spy on Robert by whispering the phrase "Can you hear the waters weeping?" And he hypnotized Robert into seeing Anna and Faison making love. Robert began to doubt his new bride.
Faison still wanted ELQ, so he leaned on Paul to seduce Tracy in another attempt to get her stock. Tracy fell in love with Paul and Faison ordered Paul to marry Tracy. Paul unenthusiastically agreed and the couple was married.
Meanwhile, Nancy Eckert, Bill's ex-wife, began snooping at the cannery and discovered the carbon disulfide. She used it to make Bill appear drunk at their son's custody hearing. The Cartel was concerned with Nancy's snooping and also because they liked Bill and wanted to make him their newest member. They decided to eliminate Nancy.
Faison tried to program Anna to kill Nancy, but Anna and Robert had caught on to the mind control and with psychiatric help, had become immune to it. Fate was on the Cartel's side though as Finnean O'Toole accidentally killed Nancy anyway.
Bill was soon introduced into the Cartel, but Faison wanted the newest member to prove himself before he was completely accepted. Bill's assignment was to kill the long time thorn in Faison's side, Robert Scorpio. Bill and Robert were friends, so they arranged to fake Robert's death. Bill shot Robert on the docks, but Harlan wasn't convinced, so he decided to shoot Robert again. Bill shot and killed Harlan to protect his friend.
Meanwhile, Paul still hadn't gotten Tracy's stocks signed over to him, and Faison was growing impatient. He ordered Paul to kill Tracy, so that he would inherit the stocks. Paul refused and grabbed the vial that had made him and Sean pawns of the Cartel and tried to run. Faison stabbed him, but he got away, which freed he and Sean from the Cartel.
Founder's Day in Port Charles was a huge event and Faison and Taub thought it would be the perfect place to test the carbon disulfide. The gas was released through celebratory balloons and everyone passed out. Faison and Taub were toasting their success when they were surprised by Robert and the WSB. The party guests were only playing dead at Robert's direction. The Cartel had been thwarted. Faison and Taub were arrested. As Faison was being led out, he looked at his love, Anna, "We will meet again." Faison and Taub were taken away, but in a daring escape, Faison got away, but Taub was killed.
Soon after, Robert, Anna, and their friends began getting mysterious packages in the mail containing initials. They were horrified to learn that the initials spelled FAISON KILLS.
| | |
| --- | --- |
| Anna and Robin | Meanwhile, Faison continued to plot to get Anna. He was obsessed with her and nothing would stop him. He arranged for a situation to arise at Robin's school. A bully was picking on Robin and Anna went to confront the parents of the bully, but instead she found Faison. He told her that they were meant to be together. She tried to escape, but Faison knocked her out and kidnapped her. He then left a note for Robert from Anna saying that she loved Faison and was leaving him. Robert didn't buy it and became determined to find his wife. Robert wasn't the only one, as the WSB had learned of Anna's double agent past and wanted her dead. |
Faison was equally determined to kidnap Robin. He knew that Anna missed her daughter and wanted his love to be happy. He made several attempts to kidnap Robin, but they were unsuccessful.
While looking for Faison and Anna, Robert learned from Holly that Faison's mother had been Anna's nanny. The two had first met as children. Robert and Holly located the nanny and had her go on TV to beg Faison to release Anna. Faison was unimpressed, but did rough his mother up when he saw her in the park.
Faison's mother, Nanny, was torn. She wanted her son to be happy, so she decided to help him kidnap Robin. Unbeknownst to Nanny, Robert had a tracking device in her earring and followed her to Faison's lair. Robert saved Robin, but Faison, furious with his mother for her betrayal, shot Nanny and then got away with Anna.
Deciding to leave Port Charles with Anna, Faison settled one last grudge against Paul and the Quartermaines. Paul's love, Jenny Eckert was scheduled to marry Ned, so Faison planted a bomb in her bridal bouquet. Paul sensed danger and tossed the bouquet outside where it exploded without incident. His reward for being the hero: the love of his life married his step-son, courtesy of the Cartel and Faison.
Robert refused to give up on Anna and decided to follow Faison out of town in search of her. He asked Mac to look after Robin until he and Anna returned. Both brothers knew that a return was unlikely with the WSB's threat to kill Anna still on the table, but Mac agreed to look after his niece and Robert left Port Charles to find Anna.
Robert eventually caught up with Faison and Anna on a boat. Rather than lose Anna to Robert again, Faison blew up the boat, killing all three of them.
Note:

Information on Cesar Faison was obtained from "The Gate: Harbor View:

Biographies: Cesar Faison"