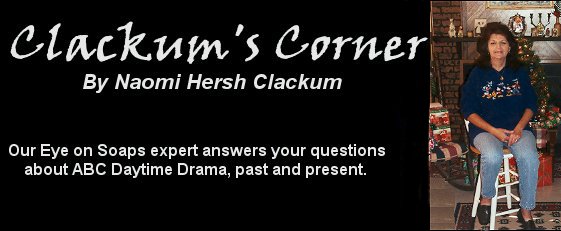 ALL MY CHILDREN
Q: I happened to catch a few minutes of AMC last week and discovered that Hayley is pregnant. Wasn't there a time in the past when she and Mateo found out she couldn't have children? Hope you can shed some light on this for me. Sarah Gingold
A: In 1998, Lee Hawkins traveled to Pine Valley set on destroying Adam Chandler's family. Hayley and Mateo gave him a job at their restaurant, Holidays, unaware of his deadly intentions. Lee was planning on sabotaging the boiler at the restaurant right in the middle of the Fourth of July celebration, and killing everyone inside. As it turned out, the boiler did explode as he had planned, but the patrons had been warned just in time to make their escape. However, Holidays, and Hayley and Mateo's dream was destroyed.
Lee continued to plot against Adam and kidnapped both Junior and Marian. In an effort to help Junior, Hayley willingly left Wildwind with Lee after he confronted her. He then held her hostage as well.

Mateo was frantic with worry and feared that visions he'd had of Hayley's death were becoming a reality. Using toxic paint, Lee gave Hayley a tattoo before Edmund and Mateo were able to rescue her. Unfortunately, Hayley's toxic tattoo left her with severe organ damage. Then the doctors told Hayley and Mateo that she may never be able to have children, but the two of them never gave up hope.
Q: Every day on my lunch hour I get to watch All My Children and love seeing Tad's mother, Opal. She's so down to earth, unlike many of the other female characters on the show. I'm curious to know more about the actress who plays her. Can you give me all the details? Pam N., VT
A: The character of Opal Gardner Purdy Cortlandt has been colorfully portrayed by Jill Larsen since 1989, but she has had many years of prior experience in both stage and screen performances.

Click to enlarge
Jill grew up in Minnesota, with her parents and three sisters.

Her father was an aerospace engineer and her mother was an interior decorator.

Jill's love of acting became very apparent even as a young girl, where she would perform in the living rooms and basements of friends, family and neighbors and was soon landed roles in summer stock theater productions. She soon started to produce her own plays and began working professionally at the world-renowned Children's Theater Company, where she was one of only two children among its founding members. During her five years with the company, one of her fondest memories was her appearance on a talk show, promoting a play, where she met Tony Bennett and sat on his lap.
Jill enrolled at the University of Minnesota, and began singing in nightclubs with a group called Just Us. It wasn't long before the group was discovered and headed to New York City, where they recorded several soundtracks, including the one for the film, "Rachel, Rachel", starring Joanne Woodward. After this, she decided it was time to see the world, so she and her sister traveled throughout Europe in a Volkswagen bus, before she settled in Paris as an au pair. She became a model, and was soon appearing in major fashion spreads in America's and Europe's top magazines, including Mademoiselle, Marie Claire, and Vingt Ans. While in Paris, Jill also landed her first film role (as a Swedish au pair) in "Deadly Trap", starring Faye Dunaway and Frank Langella. Her next film role was as Jeanne Moreau's rival for her character's younger lover in the film, "Chere Louise".
Jill's desire to pursue acting more consistently prompted her to move to New York City. At that time, she also decided to enroll at Hunter College, first majoring in economics and later switching to communications and theater. After graduation, she joined Circle in the Square Professional Theater Workshop, where she worked with her fellow students Ken Olin and Kevin Bacon, among others.
Her acting resume filled up with roles on and off-Broadway. Her Broadway credits include Death and the King's Horseman, written and directed by Nobel Prize laureate Wole Soyinka; Romantic Comedy and Dancing in the End Zone. Off-Broadway and at the nation's top regional theaters, she starred in Agnes of God, Gypsy, The Glass Menagerie, Private Lives and The Tempest, among others. Jill is also a founding member and President of GLM Productions, through which she produced the off-Broadway revue, Serious Business, and co-produced the student Academy Award-nominated documentary film, Gibbs Garden, a profile of a painter with AIDS.
Jill garnered more film and television roles, with her early forays generally as a sight gag; among them the memorable frenetic disco dancer alongside Joe Piscopo on Saturday Night Live; a tall skinny wife to a fat wrestler in Piscopo's film, Wise Guys; and a stint on David Letterman. Other television parts followed, including guest appearances on Kate and Allie, The Equalizer, and the ABC Afterschool Special, Over the Limit.
In 1986, she made her daytime television debut as bitchy TV columnist Judith Clayton on As the World Turns; and in 1988 she played psychotic kidnapper Ursula Blackwell on ABC's One Life to Live. And in 1989, her popularity skyrocketed when she joined the cast of All My Children as Tad and Jenny's wild, wacky and flamboyant mother, Opal. When Jill's performance earned her two daytime Emmy Award nominations in 1991 and 1993 as Outstanding Supporting Actress.
While playing Opal, Jill has also appeared in Dearly Departed at New York's Second Stage Theater, The Lost Dreams and Hidden Frustration of Every Woman in Brooklyn at the Soho Rep Theater, Hysterical Blindness, directed by Jared Harris, and Riders to the Sea, by John Millington Synge. Other film roles include White Squall, starring Jeff Bridges, and Vertical City.
After all of her traveling, a recent journey lead her to her greatest joy of all, the adoption of a baby girl, Anni-Ming, whom Jill brought home from Shanghai in June of 1996. Jill and her new daughter live in Manhattan and spend weekends at their country home in Pennsylvania. In addition to playing with Anni-Ming, Jill also enjoys anything relating to food, as well as home improvement-type projects. She also loves arts and crafts, which she most enjoys sharing with her many nieces, nephews, her godchild and of course, with Anni-Ming.
Even with her busy schedule, Jill still finds time to volunteer at the 52nd Street Project, which helps inner-city youths get started in theater by encouraging their writing and performance talent.

ONE LIFE TO LIVE

Viki and Joe


Viki and Steve
(Click to enlarge)


Clint and Viki, round 1
(Click to enlarge)




Q: Viki fell madly in love with Ben Davidson and they finally married, but just how many times has she done this in the past? It seems like she's had a long list of husbands in her lifetime. I know about Ben, but who were the others? Bea Skinner, CA

A: Viki has been down the aisle seven times and had five different husbands (remarrying two of them) in the span of thirty-three years.

Her first husband was journalist Joe Riley whom she married in 1970. Later Joe was presumed dead from a car accident and she married another newspaper reporter, Steve Burke in 1972. Joe returned, having survived his accident, and she divorced Steve to remarry Joe in 1974. Joe later died the classic death of a true soap hero in 1979, of a brain tumor. In 1982, Viki married Joe's replacement at the Banner, Clint Buchanan. They divorced and remarried again in 1986. When Viki and Clint's marriage began falling apart, she found herself drawn to General Sloan Carpenter, who was writing a book on her father, Victor Lord. They fell in love and Viki and Clint divorced for a second time. She married Sloan in 1994. Sloan was later diagnosed with Hodgkin's Disease and died in 1995. And of course you already know about Benjie.



Clint and Viki, round 2
(Click to enlarge)


Clint, Viki and Sloan
(Click to enlarge)
Q: I've been reading some of your archives and one of the answers you gave mentioned Eterna, but you said it was another story. I have no idea what it was, who was involved, etc. Would you please fill me in now? Thanks. A. Geiger
A: I'm glad you asked about this, as it hasn't been brought up since this column began.
During the fall of 1988, a few storylines began to come together. Viki had just learned that she had given birth to a baby girl while she was a teenager, and was searching for her. Fortune hunter/con man Leo Cromwell was trying to pass off his own daughter, Christine, as Viki's lost child. Michael Grande, a ruthless businessman also arrived in Llanview secretly trying to learn the truth about his father Garrick, who had been a business associate of Victor Lord's many years ago. After meeting Gabrielle Medina, he instantly became attracted to her, and set out to win her for his own. Also around this time, Roger Gordon, who was the real father of Viki's missing daughter, came to Llanview. His presence was troubling to Viki, as if he had the answers to what she needed to know.
While Viki had been investigating Victor's past, she was surprised when she found some very unusual records. They were documents showing the existence of a city called Eterna, as well as proof of the illicit dealings with a man by the name of Danton Gordon. Viki wondered if this man could be related to Roger. The truth was that Danton was Roger's father, and had been hired by Victor Lord as an architect to design a fantastic underground city. Viki had never known about these things in which her father had been secretly involved.
As it turned out, both Roger and Michael Grande had memories of growing up in a totally different world. They both felt that this world still existed somewhere deep underground near or under Llantano Mountain. Gabrielle learned of this city through her relationship with Michael Grande, and was doing some investigating of her own to find this city.
It was during this time that Leo Cromwell, the man who was trying to con Viki about her missing daughter, was also searching for the entrance to the lost city. He had been a former resident, but he could only remember that the entrance was somewhere located on Llantano Mountain. Leo had heard about the legends of stolen gold that had been hidden there within the walls of the city. He was almost possessed in his need to find a way in, and he pushed his daughter, Christine to help him find it. Christine asked Wade Coleman to help her, thinking that her father had gone crazy and that he was a danger to himself and others.
In January 1989, Tina took Gabrielle up to Llantano Mountain to show her where she and Cord planned to build a house. They discovered a small opening in the rock that appeared to lead down into a tunnel. Tina, who was always adventurous, and Gabrielle, knowing about the lost city, decided to find out where it led. As they went down into the mountain's depths Tina became caught in one of the traps that the early builders had placed there, to discourage any explorers. Gabrielle was terrified and ran back down the mountain looking for help to save Tina. She went to Wanda's Place where she found Viki and begged her to help them. Gabrielle drew a symbol on a napkin, and gave it to Viki saying that all her questions would be answered if she went with her. The symbol was the trademark for Eterna. Viki gave the napkin to Wanda and told her to keep it safe, then left with Gabrielle. Later, Wanda called Llanfair to make sure Viki had gotten home safe, but she wasn't there. She described the symbol on the napkin to Cord, and Roger overheard the description and told him that he knew where Tina, Gabrielle and Viki were. The two of them headed for Llantano Mountain.
Viki and Gabrielle got Tina out of the trap, and were surprised to run into Cord and Roger as they were making their way out. They were even more surprised to run into Michael Grande who had also managed to find his way back into the city. Michael pulled out a gun and threatened to kill them all. Cord and Roger tried to take the gun away from him, and it accidentally fired, setting off an avalanche that trapped them all inside the mountain. Leo, Christine and Wade had also found another way in, through a fissure in the wall of the mountain. After the avalanche was over, everyone was trapped inside Eterna with no way out. They panicked and tried to run through the tunnel looking for a way to escape, but they all soon came together deep inside the mountain in the city itself. What they found was shocking. Eterna was a beautiful underground city, with bedrooms, kitchens, libraries, and all the other comforts of life. A golden statue of an angel stood watch over the city. Because of some advanced technology they were also able to breath clean fresh air. the hours passed into days, then weeks, they learned about the origins of the city, through videotapes of Eterna's creator, Danton Gordon, Roger's father, who had constructed a huge television screen that lowered from the ceiling.

Leo holds a gun on Viki. Click to enlarge.


Leo, MIchael, Cord, Tina and Viki in Eternia. Click to enlarge

The city of Eterna was beautiful, but it became a living hell for those who were trapped inside.

Leo, who was still consumed with his thirst for gold was scaring the others, as he came close to snapping on many occasions. Cord, Tina and Gabrielle blamed Michael for their being trapped, while Roger and Viki grew closer and he finally told her the truth about her missing daughter.

He explained to her that after he escaped from Eterna he met the then teenage Viki and they had fallen in love. He also told her that after they found out that Viki was carrying his child, her father, Victor became very angry and

arranged to have Viki hypnotized during the birth, by a man named Lysander Clair.

Viki had changed into Niki Smith when she went into labor, and Larry Wolek, who had delivered the baby, was told never to breathe a word of it again. When Viki came out of her hypnotic state she had no memory of her pregnancy, childbirth, or Roger. Victor paid Roger to take the baby, leave town and raise her. He also warned Roger to stay away from Viki forever. When Roger later married, he and his new wife raised the baby girl as their own along with their daughter. Viki was shocked to learn that her missing baby girl was actually Megan Gordon, whom she had considered to be

almost a mortal enemy.

Meanwhile, the family and friends of those trapped inside Eterna were desperately searching for them. Michael Grande's wife found a map of the city among her husband's belongings and brought them to Clint, Asa, and Renee, along with a full taped confession by Victor. Using them as a guide they were able to pinpoint the position of Eterna and soon began drilling into the mountain. Cord and Roger found a transmitter, and were able to send weak signals up to the rescue workers. Clint was hopeful when he found out they were alive, and worked nonstop hoping to find a spring or a body of water that would open the way into Eterna for the rescuers.
Inside the mountain, the situation was becoming worse. Leo Cromwell had finally found the gold he had desperately searched for and was threatening to kill everyone over it. During a fight with Michael Grande, Leo fell to his death from a precipice. The drilling from above was causing the city of Eterna to crumble as it began to fall apart. With the situation already seeming hopeless enough, Gabrielle nearly killed all of them by becoming gold hungry herself. She grabbed the golden staff that the angel statue held in its hand, which set off a series of booby traps set by the original builders, threatening to destroy the entire city.
As Eterna began to self-destruct Tina almost fell to her death into a hidden abyss, while Roger and Cord just barely escaped being hit by the falling rocks. The booby traps had set off explosions everywhere and the walls of the city began to collapse. They were barely able to hear Clint from above as he tried desperately to get to them. Viki said a tearful good-bye to Clint, thinking she was going to die, and she and Roger held each other as they waited for the inevitable. Ash and debris poured down as fire began to sweep through the city. Viki buried her face into Roger's shoulder only seconds before a huge explosion shook Eterna in its last death throes.
When it was finally over, those who were still alive were surprised to see the light coming from above them. The last explosion had opened a small fissure in the rock that led to the outside. As they hurried toward the light, they barely missed the death of Eterna as it took its last breath. As the small group stumbled into the arms of their loved ones who had been waiting, the angel statue fell from its pedestal and crumbled to the ground, consumed in flames.
Roger and Viki had grown close while they were trapped together underground, and this put quite a strain on Viki and Clint's marriage. It became worse when Roger explained that he and Viki had actually been married. To show Clint that she still loved him, and wanted to make their marriage work, she got an annulment from Roger. During this time Viki enjoyed an uneasy reunion with her daughter, Megan, but in time, Viki and Megan mended their fences and came to respect, admire and love each other very deeply.

GENERAL HOSPITAL
Q: My mom was trying to explain the story of the Ice Princess to me, but she forgot so much of what happened way back then. Maybe you can find some information on this for me. Thanks! Brandy, Copperas Cove TX
A: In 1981, Edward Q's favorite niece, Alexandria, returned to Port Charles to find the world's largest uncut diamond, The Ice Princess. She also wanted to find the Cassadine brothers who were after this priceless gem as well. She thought they were in Port Charles living under assumed names, so she hired Luke Spencer to find them.
While Luke was conducting his investigation as to their whereabouts, Alexandria was becoming quite taken with him and tried to get him into her bed. Unfortunately for her, Luke turned her down because he was in love with Laura, but he did agree to continue the search. Even though Luke wouldn't sleep with Alexandria, Laura couldn't help being jealous, so she managed to get a job at ELQ where she could keep a close eye on the situation.
While he was doing his investigating, Luke discovered that someone had gone through his apartment, and was living there. He tried to catch the intruder, but he was knocked out and the man escaped. After Luke regained consciousness he went to Edward and his niece and confronted them about what had transpired. He told them he was off the case and added that now they had someone else besides the Cassadines to worry about.

The Ice Princess -
Click to enlarge

Luke decided to track down his intruder.

When he located him, he broke into his apartment, and knocked him out.

The man turned out to be Robert Scorpio, a handsome Australian who was an agent for the World Security Bureau (WSB). Oddly enough, Luke and Robert forged a friendship and he told Luke that the Ice Princess was a statue.

Luke, Alexandria &
Edward Q - Click to
enlarge

Luke returned to Alexandria and Edward and forced them to tell him the truth about the Ice Princess. He learned that it was a very large, uncut diamond that Alexandria had painted black, mounted on a pedestal and had shipped from Rio De

Janeiro

to Port Charles. Later, when she went to the docks to retrieve the statue, she discovered that it had been stolen. Luke agreed to help her find it, for a healthy price.
The Ice Princess soon became a much sought after commodity as Luke, Robert, Alexandria and Tony Castle joined the search for the statue. What Alexandria didn't know was that Tony Castle was actually Tony Cassadine, one of the Cassadine brothers, and Robert was his partner, although Robert was also working with someone else as well.
Luke and Scorpio discovered that the Ice Princess had been stolen from the docks by a cabbie named Charlie, who had given it to Lila Quartermaine for the General Hospital art auction, hoping to gain the favor of Port Charles society. The night of the auction, Luke, Robert, Alexandria, Tony, and Edward all planned to steal the Ice Princess. As the bidding continued, the Ice Princess was ready to be sold when suddenly the lights went out. When the lights came back on, both the Ice Princess and Luke had disappeared.
A few weeks later, Luke showed up back in Port Charles, claiming to be completely innocent in the disappearance of the statue. With Robert's help, Luke went in search of the Ice Princess. Meanwhile, Alexandria and Tony Cassadine teamed up together to find the Statue, and to rekindle their past love affair. They both quickly confirmed that the Ice Princess was priceless because of a secret formula that had been hidden within its base.
The formula worked in two ways. On the surface, it was a formula to manufacture synthetic diamonds, but it also had a more diabolical purpose that interested the Cassadines. The secret formula could also be used to produce a powerful weapon that would allow them to hold the world hostage by freezing every living thing. It had been created by Dr. James Duvall with whom Alexandria had worked. When Dr. Duvall discovered that the formula was missing, he was furious. He attacked Alexandria, who promptly hit him over the head with the Ice Princess, killing him. After she found the formula, Alexandria went to the Cassadine yacht and handed it over to Tony and Victor Cassadine.
At the same time, Robert, who was also working with the WSB to bring down the Cassadines, had a spy named O'Reilly watching their yacht. Victor Cassadine recognized her and gunned her down. O'Reilly died in Robert's arms, and he promised vengeance against the Cassadine Family.
Robert and Luke decided to stop the Cassadine's plan by sneaking aboard their yacht before it left Port Charles. They hid by the docks and watched as the Cassadine's and their guests boarded the ship, including Victor's latest girlfriend, Tiffany Hill, English engineer Nigel Penny-Smith, General Konrad Kaluga and his girlfriend Corinne, and world leader Maxmillian Von Stade and his wife, Noel. Most of the guests were only interested in the diamond, but Victor, Tony, and Alexandria knew its true value.
The yacht set sail bound for an undisclosed tropical island where brilliant, but diabolical, Mikkos Cassadine waited for the return of the Ice Princess in his underground command center. Luke and Robert soon learned that Laura had also joined them aboard the yacht. As it docked at the island, the entourage debarked, while Luke, Robert, and Laura swam to shore and hid out on the island. Robert took off on his own to stop the takeover bid of the Cassadine brothers, and Luke and Laura soon followed. As they reached the center of the compound, Luke and Laura discovered Alexandria had been frozen to death, along with Tony Cassadine and the Von Stades. They were horrified at what they saw and were captured shortly thereafter. Eventually Luke was able to kill Mikkos by pushing him into a deadly ice chamber and was able to stop the weather machine by cracking the code and entering the password, "Ice Princess" to save the world from the ultimate freeze. Robert had Victor Cassadine arrested and sent to prison, where, we were led to believe, he eventually died.
Q: I used to love seeing and hearing John J. York's portrayal of Mac Scorpio when he first came to GH, but over the years I couldn't help but notice that the wonderfully charming Australian accent he had at the beginning is now completely gone! I thought he was really from Australia, but is he? Melinda Carter, DC
A: Sorry to disappoint you Melinda, but John is definitely NOT an Aussie. In fact he was raised on the East Side of Chicago USA.
| | |
| --- | --- |
| Click to enlarge | John studied marketing for two years at the University of Whitewater in Wisconsin before returning to Chicago to study acting with Edward Kaye-Martin, and made his professional debut at the Wisdom Bridge Theatre, where he appeared in Picnic, Loss of Roses, Career and Golden Boy. John relocated to Hollywood in 1983 and began appearing on such television series as 21 Jump Street, Murder, She Wrote, Sydney, Family Ties, Newhart, Hunter, and Arthur Hailey's Hotel. He then starred for two seasons as Eric Cord on Werewolf, a horror-action series. |
His feature film credits include roles in Steel and Lace, House of the Rising Sun, The Bear (about University of Alabama coach Bear Bryant, with Gary Busey), and Chattanooga Choo Choo. During the filming of the latter project, he met his wife, Vicki, who is a casting director. They were married on August 15, 1986, and have a daughter, Schyler.
When he isn't busy pursuing his acting career, John enjoys spending time with his family, riding his bike, working in the yard and garden, and playing golf.
I guess you'll just have to credit that accent to a dialogue coach.