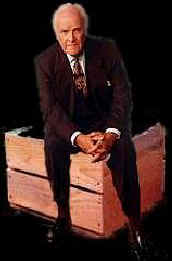 Comments through December 13, 2002
(One Spoiler)
My lists are made and Iíve checked them twice. Itís not helping though because, thereís more on the list than I can afford. Thatís probably a good thing or I wouldnít have any ideas left for birthdays. The season is chugging along nicely and perhaps itíll all work out in the end like always. Iíve received several e-mails this week from disappointed fans who do not enjoy the manner in which GH is chugging along. Hereís my offering of encouragement Ė a line recently spoken on Judging Amy. ďItíll all be fine in the end. If itís not fine, itís not the end.Ē The beauty of a soap is that itís never the end. Be of good cheer. Whateverís causing you to roll your eyes will soon evolve into something else. Maybe something youíll like.
Speaking of lists and gifts I have a few more ideas:
Jason Ė Miss Manners ďBook of DatingĒ
Lila Ė Afternoon tea with the Queen
Jax Ė A part in the new upcoming Spiderman movie
Jax - Just kidding, how about a beautiful coffee table book entitled, ďLovebirds R UsĒ so he can plan his life with Brenda
Lucky Ė A clue Ė sorry, thatís mean. How about a Chia Pet Ė you choose the shape.
Alexis Ė A rocking chair in her apartment, a Zoloft (I love that commercial, it almost makes me want to be depressed just so I can try some), some soothing music, popcorn, and a babysitter.
Scotty Ė V (remember her?) as his personal assistant so heíd be obligated to walk the high road instead of creating unlawful muddles wherever he goes.
What do you think about Lukeís new playmate and the circumstances in which they became involved? Summer catches Lukeís attention in a dramatic way when she strolls in front of a truck and he pushes her to safety. Following her to the park he finds her blue scarf conveniently dropped in the snow. Heís hooked and tries to see more of Ghost of Laura (Summer) because heís grieving so deeply. Summer plays hard to get but finally relents with cash in hand. They dance, dine and Luke reminisces at Wyndoms but the mess mysteriously disappears and the security camera shows only Luke entering the building. Doctor Cam straightjacketís Luke and chains him to a chair in the name of therapy. Henceforth, Summer walks in the door where Luke is meditating on his sanity or lack of, unchains him and they escape. One set of footprints in the snow. Spoilers mention that Lucky meets Summer on December 26 so perhaps sheís real with powers of levitation. A lot of coincidences keep popping up here. Red flags are waving and I am hoping I smell Helena. Could it be? Are the writers setting up an arc for either Tony Gearyís departure from the show or a grand return of our Gal of Evil?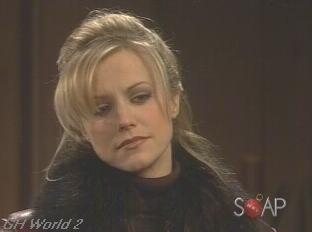 |Is she real? Or is she Memorex?
Why did Lucky just stand there and watch Luke get carted out in a straight jacket? Lucky, King of Belligerence and Defiance watches the father he adores struggling between two goons and he makes no move to shake loose from Dr. Cameron to save his Dad. I think his Tough Guy Card should be taken away.
I hope the good Dr. Cameron can eat crow as well as he passes along his little pearls of wisdom. Lucky is busily trying to prevent the public from stripping his dadís business and Dr. Cam follows him around the room insisting that Lukeís really bonkers. I wanted Lucky to turn around and say, ďOK, I heard you. Now take your hands out of your pockets and HELP OR GET OUT.Ē For all that wisdom, maybe some people skills are in order for our new shrink. For instance, when a personĎs mind and body are absorbed in preventing the bar patrons from departing with the bar, that may not be a good time to try to engage in deep conversation. Iím thinking itís really going to be a downer for the Doc when he discovers that Lukeís Summer exists as flesh and blood and not Lukeís personal mind candy.
The whole letís-meet-in-secret scenario between Courtney and Jason doesnít work for me. I guess Iím more of an in-your-face kinda girl. It doesnít matter how they phrase it - letís keep this between us, letís sneak around, letís rent a place to meet but not say weíre having sex Ė the affair, the relationship, the lovefest (call it what you want) will soon blow up in their faces. While I always enjoy Jason on screen, my eyes will roll until these two play a storyline thatís a little less hackneyed than ďThe Secret Affair Doomed from the Start.Ē
Ms. NuGia certainly presents a VERY different punch than Ms. Just-Left-For-Primetime-Original Gia. Sheís only showed up in a few scenes so I havenít formed an opinion yet. Iím still trying to get past the hair. Nothing specific, itís just soÖso different.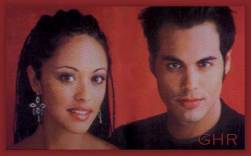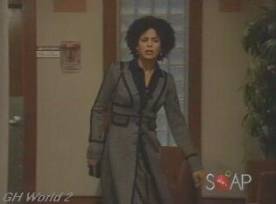 First this. Now this.
Letís seeÖSkye drunkenly hits Nicholas with her car. Transported by ambulance, Nik lands in the hospitalÖthen nothing. Iím all for cliffhangers, but this was more like the writers forgot they put this little drama out there. Odd.
Yeah for the Happy Dance Joe Boxer guyís return! The striptease makes me chuckle each time he hits my screen with it.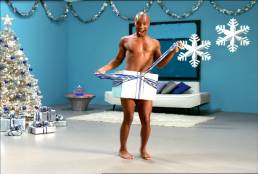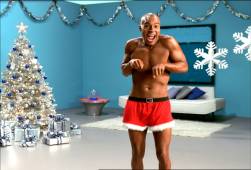 Itís allll about the fun.
Photo credit: http://www.aboutvaughn.com/pages/506195/index.htm
Coleman and Skye together made the air crackle. And I love that Colemanís blackmail deal doesnít involve money but a clean up job. I can visualize these two together. Coleman would definitely present a challenge since Skye would be unable to manipulate him. How much you want to bet that Colemanís image sanitation job really involves his yearning for respect and/or admiration from Courtney? Thatís where his vulnerabilities will appear. I guess itís a little early to start predictions for Coleman and Skye or Courtney.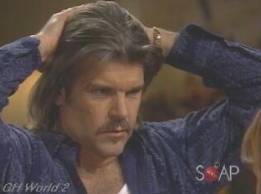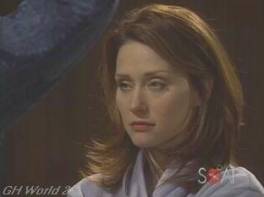 The line that captured my full attention this week goes to Carly who told Sonny, ďIím sorry I ran out on you earlier. Iím PMSing, OK?Ē If a man wrote that line, I resent it. Isnít there a manís law of survival that states only women can refer to PMS? And if a woman wrote it, Iím angry. Carly cannot run around blaming her bad behavior on PMS because sheíll ruin that excuse for the rest of us. All I need is for my husband to hear that line and the next time Iím REALLY PMSing, heíll say Iíve been watching a little too much GH because I must think Iím Carly. Oh yeah, the fighting would begin then.
Did you ever notice that as soon as Carly and Sonny kiss or prepare to kiss a doorbell or telephone rings? Itís like washing my van. I wash, the rains come.
Sorry this weekís column turned out so short. It seems that my to-do list is waging a mighty battle with the only-24-hours-in-a-day concept. Currently, the to-do list is winning. I really need to switch to a flextime plan. As long as I have energy, I think I should have time. Someday I plan to discuss this concept with God. Before you go, pause and take a deep breath. Smell that? Thatís the 847 dozen cookies I baked with my Grandma and friends on Sunday afternoon. Thatís Christmas cheer wafting your way from Texas. Merry Christmas all. Thanks for reading.
Unless otherwise noted, photo credit to: http://groups.msn.com/GHWorld2

Take Your Turn "On The Soap Box"
Click Here for Kathy's GH Voting Booth!
| | | | |
| --- | --- | --- | --- |
| | | December 5, 2002 | November 29, 2002 |
| November 24, 2002 | November 19. 2002 | November 9, 2002 | November 4, 2002 |
| October 27, 2002 | October 18, 2002 | October 6, 2002 | September 27, 2002 |
| September 20, 2002 | September 15, 2002 | September 9, 2002 | September 1, 2002 |
| August 23, 2002 | August 18, 2002 | August 10, 2002 | August 2, 2002 |