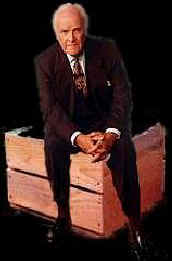 Comments through November 1, 2002
I'm starting with Jason and Brenda's wedding because I haven't laughed at TV that hard in a long time. Some weddings make me cry with emotion. Some weddings speak of tradition, stability and commitment. Occasionally the big aisle trip promotes the sheer joy of living. This wedding, well, let's see, demonstrated sheer determination and commitment to a cause. Every word and gesture showed how much they didn't want to do the I do's. Mr. Isuzu and Bunny had me rolling. Brenda says no way am I wearing a rented wedding dress so obliging Bunny suggests the white since "that don't get much use. (elbows Brenda) Get it?"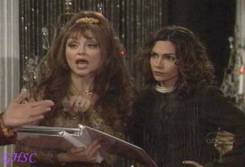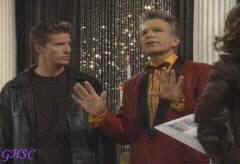 Has anyone seen Elvis lately? Because my husband and I are going to renew our vows next summer and I'd like to invite him. Oh wait, didn't I hear he's left the building? I guess he moved to Las Vegas and now picks up work singing background music for tacky weddings and elevators. He accentuated the wedding mood perfectly.
No holds barred, my favorite part was Jason and Brenda in the elevator on the way up to the hotel room. Never let it be said that Jason has no expression because both he and Brenda conveyed their thoughts perfectly as the passionate, pretzeling couple got on and off. The Red Dress Lady who kissy faced Jason cracked me up as Brenda grabbed Jason's arm possessively. And then the two guys showed up who did nothing but stand there and freak out Jason, by then I was rolling. I love modern technology – especially VCR's because I've replayed that scene several times.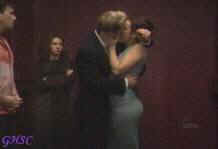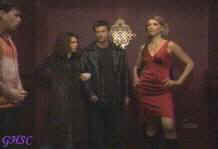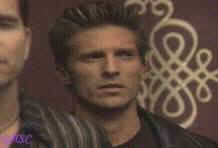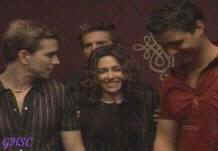 What wedding ring did Brenda select? Surely Jason isn't wearing Jax's wedding ring. Is Brenda wearing Jax's ring and Jason one that matches? Inquiring minds (mine at least) want to know.
I know you all are waiting for the words since the BIG EVENT occurred this week. Everyone together now say ooooooooh, say aaaaaaaaaaaah. It wasn't the nipple chest so beautifully displayed on the EOS main page, but the mature chest of a man who's passed the ain't-life-sweet stage because by now sweet has more to do with the rolls and lumps that easily develop in odd places like belly, butt and hips. Nevertheless, I tried to suck every second of enjoyment out of the brief bare buff chest scene because if the pattern continues, Jason's chest goes back into hiding for another year or so.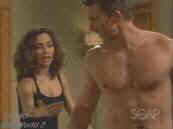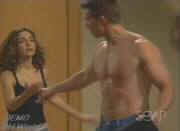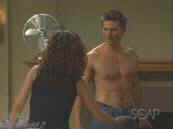 photo credit: http://groups.msn.com/GHWorld2
Could Carly and Sonny be any more terrible friends to Jason? Bobbi suggested that Jason just might get hurt in this wedding mess and Carly's reply was a casual, "That's what Jason does." Please, Carly, don't ever be my friend. Sonny assumes that Jason did it for him. Which he did in part, but how arrogant is it of Sonny to assume it so.
As much as I enjoy the Brenda/Sonny/Carly/Jax/Skye/Jason Show it made my little heart pitty pat to know Luke was making his way home. However, the poor half crazed man Lucky and Liz called Luke bore little resemblance to the Luke I remember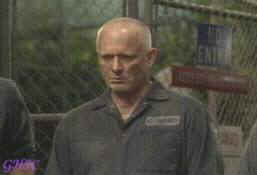 Who is this bitter, beat up lookin' guy?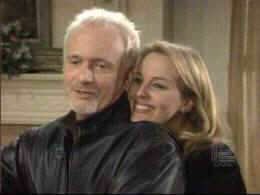 Has anyone seen this man?
Photo credit: http://www.geocities.com/mediaheaven/
I keep wondering what Liz thought she and Lucky were going to do because she packed some amazing clothes for their little adventure. Biker leather and mini skirts just wouldn't have made my need-to-cram-in-the-suitcase list. The funniest line this week goes to Liz who drives up to the prisoners with her carefully flat tire, climbs out of the car, legs showing, and comments, "I haven't been this flat since the 4th grade." It's not that the line was so funny, just that obviously she's experiencing a body image disorder, because she's pretty darn flat now.
I love how Alexis conveys class while Scotty promotes self-aggrandizement. Alexis' dignity stayed intact as Scotty used Alcazar's Grand Jury nonHearing for his own glory and afterwards as she lashed out at Scotty at the injustice of Alcazar's abrupt freedom. The ending scene as Alcazar turned to see the PC crowd staring hostilely at him created a scary tone.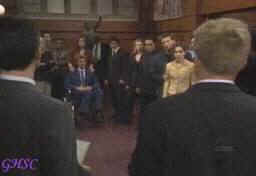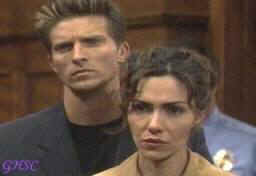 Be afraid Luis, very afraid
Only one part struck a little humor into the courtroom drama and that occurred at the end as the music played and Brenda lunged at Alcazar and Jason restrained her. I noticed that Carly looked on with a wide-eyed startled expression and that's because she probably expected Brenda to pull a gun and shoot him in the courtroom. After all, that's what Carly would have done.
Apparently, GH didn't feel up to the task of tackling the gay teen issue so they switched Lucas' story to the mind-boggling dyslexia issue. Before anyone gets upset, I am not saying dyslexia isn't serious, just that I jumped to the wrong conclusion as to what Lucas' problem would be. At the Halloween Benefit all I saw was a teenage drinking problem and the glaring omission that Lucas has diabetes so drinking for him is far more dangerous than a mere step on the wild side. Pfft! To this story so far.
Courtney shoots Coleman, she doesn't know if he's dead or alive and she calls…Jason, of course. I think she needs to memorize a new number, like 9-1-1. You know, the number a person calls for an AMBULANCE! And by the way, I stand corrected. Since Coleman was the masked stalker he apparently isn't as hair obsessive as I previously thought. Also, he's passed sleazy and moved straight to the sicko category. This could be a good story but I wish they'd follow through with the details. Mean Edward or not, Courtney shouldn't have left the Halloween bash alone and she definitely needs to remember to lock the door behind herself. Technically, it wouldn't have made a difference since Coleman had already entered to bask in Daisyville, but if Courtney's so terrified she should occasionally make an effort to act it. Ring, ring, surprise it's the other stalker who hopefully isn't AJ because there's obsessed (picture Jason), sicko (picture Coleman), and mentally deranged (please let us not be forced to picture AJ).
Edward can be as winky, grandfatherly as he wants towards Brenda but I'm not softening for a while. I haven't forgiven, nor forgotten his appalling behavior towards Alexis and Carly last week not to mention his emotional bullying of Courtney. Lila needs to send Reginald to babysit that man so he doesn't terrorize any more women.
"I am never leaving again," Skye declared to Jax using the fatal absolute statement, so she's outta Jax's life soon. Unless Vanessa Marcel doesn't extend her contract in which case she'll probably just be tossed aside until Brenda makes her next big exit. Because while Brenda's on the canvas she'll have to kiss and have sex with as many players as possible not to mention mess up as many relationships as can be crammed into her little visit. If she goes I am hoping that she'll be written off in a permanent way. I don't have anything against this character but Jax and Sonny should be allowed to move on. If she stays she can go for broke with whomever they throw in the pot with her and she definitely makes the pot simmer. Now if she could just get a handle on her underwear…
I can take or leave most of the hairstyles and jewelry on the show. I remain indifferent to viewing every skinny woman's belly button. And ribcages in tight sweaters and shirts don't flick my Bic. But I HATE the see through tops with odd color bras showing, bra straps peeking out, and Brenda's panties showing. Enough of the underwear already! I'd rather just assume she's wearing undies, I don't feel a need to SEE them. I have watched for the past few years and whatever hits soapland during a season, a year later, Penny's, Target, Wal-Mart etc. are sporting that statement. I can just hear and see the arguments now as junior high and high school kids try wearing see-thru to school. And if Mary-Kate and Ashley buy into it, my daughter and I are going to fight.
Yeah! It's sweeps time. I love watching and knowing that all the stops are comin' out. Of course if a story or episode bombs, it's that much bigger and worse. Here's hoping that each story goes for broke successfully! Thanks for reading.
Unless otherwise noted - Photo Credits: http://groups.msn.com/GHScreenCaps/pictures

Take Your Turn "On The Soap Box"
Click Here for Kathy's GH Voting Booth!
| | | | |
| --- | --- | --- | --- |
| October 27, 2002 | October 18, 2002 | October 6, 2002 | September 27, 2002 |
| September 20, 2002 | September 15, 2002 | September 9, 2002 | September 1, 2002 |
| August 23, 2002 | August 18, 2002 | August 10, 2002 | August 2, 2002 |