December 18, 2002
1:00pm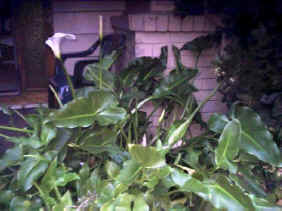 Don't Know if You Can Tell Or Not
. . . but this is a truly magnificent thing. Remember the lilies? ("Consider the lily of my front yard. . .") As some of you may know if you've been following national weather, we're having quite a blustery time out here in normally sunny Cali. Last Friday, we started in with a very busy storm front that has been hanging around, waxing and waning, ever since. We're supposed to get another wave before too long. That's one of the reasons why I moved to Sacramento. I really don't like cold weather, snow, ice, etc, but I *love* rain and when I heard it rains all winter instead of snowing in Sac, I was sold! The first year I was here, January of 1997, it rained like gangbusters, then slowly began to slow down on the rain each winter since then. I'm glad we're getting our share again this year. I was even able to maintain that appreciation on Saturday, when I went to the grocery store. It's about 8-9 miles from here, which is no big deal, but when I was coming out of the grocery store, the electricity went out in most of Sacramento! No traffic lights and more importantly, no gas pumps! I was on empty when I pulled into the parking lot and figured I'd get some at the convenience store on the corner as I left. Ha. Ha. The Christmas shopping traffic, despite the storm, was thick and as people off all intellect levels struggled to negotiate several lanes of traffic going in each direction, pulling up to a plethora of intersections no longer governed by the three-eyed master, our movement was reduced to about a half a car length at a time (which seems mathematically impossible). All the way home, which took just under an hour, I was sure I was going to get stranded in the downpour. Fortunately, the car was good to me and rode her little "E" rating like a champ and got me home.
The wind was really bad, but I'm from Kentucky, land of tornado-attracting trailer parks, so Pfft. No big deal. When I opened the garage door on Monday for Delena to get her bike, I noticed our psycho dog across the street at the neighbor's house. When I called her, she bounded over, happy as anything to be on the lam. I put her in the garage and went out back to see how she'd managed to escape the fence. One of the planks between my fence and the lady next door had come down, but I couldn't imagine how she got through it. Grabbed my nails and hammer and went out to nail it back in place. I started lining it up, glanced to my right and saw that the whole back fence was blown down and wide open

, revealing that my neighbor to the back has an exquisite back yard, resplendent with a little pond, tons of English ivy and pretty little walkways. I noticed a little net by the pond and thought if there had been goldfish in there, it was altogether possible they were now in my psycho dog's belly. Secured the dog and the nice news is that our neighbor repaired the fence from his side before Eric could get home and tackle it. He did secure things from our side and it's all good. I talked to the neighbor while he was repairing and his good spirits either reveal safe fishies or an oblivious fish owner (or perhaps a loving soul).
After the storm died down, I noticed that the lilies had been flattened. By the time I took the picture, they had perked up a bit, but before, the leaves were almost totally flattened. All that stood, tall, proud and strong, were those two white lily stems! They didn't give up their guard for a moment!! The one that opened for St Jude is still wide open and blooming beautifully, the most gorgeous I've ever seen! The other one opens a teeny bit more every day. I know one day soon, I'm going to step outside and see that it's in full, open glory and that other miracle is going to unfold.
Things are really great right now. The boys have colds and Dylan isn't in school because his eye in really red and they go into freak-out pink-eye paranoia mode. It's just a cold that's settled there, but they have to be careful and yada yada yada. The money is tight, but workable and I can see the non-train light at the end of the tunnel.
Family life has been extremely time intensive lately and I've not had nearly the computer time lately that I usually enjoy. I'm behind on all of my e-mails (I still love ya, folks! I'm thinking of you even when I'm not writing!) and mostly do quick site work when I'm on the computer. I think it will lighten up after the first of the year.
I managed to put together a really great bunch of Solstice gifts for the nine people in my family on a minimum of cash outlay thanks to thrift shops, Wal-Mart and e-bay. Everyone should be very, very happy.

I'm eager for Saturday to come.
I have a lot of ideas to put down, but little time to do it. Thank goodness for notebooks!
Love to all of you!


December 13, 2002
2:00pm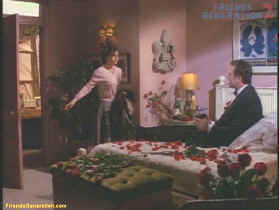 Honey, I Need Summa Dis!!
Monica comes home from a hard day at the grill where her fake boob caught on fire on the stove to find Tom Selleck in a tuxedo stretched out on her bed with rose petals everywhere.
Ahhhhhhhh. Bring it on!!
This morning was nothing like what brought about the whinefest of yesterday, but I'm still tired and still ready for a break. After I finished yesterday's Nonsoapy, I got busy on the house and managed about half of what I wanted to do. I redid the office, which badly needed it, and cleared out a lot of clutter in the rest of the house. I'll clean carpets and finish up this afternoon and tonight, then give it a good sage smudge. Paring down the chaos and cleaning out the place will put me in a better mindset.
Eric and I are watching movies and relaxing tonight if the kiddies will sleep at a good time. This weekend is a little gift shopping, Eric working on the truck and I am making goodies (peanut butter fudge, chocolate fudge, potato candy, divinity, Rice Krispie bars, chocolate chip cookies and molasses popcorn balls). I hope to work in some down time in there some place.
Eric's check was short by $300 this payday. There was some kind of admin screw up with his probationary vacation time and it just happened to catch up with the correction retroactively this payday. That is going to make finishing up the gift buying a bit of a strain, but there's no sense in getting down about it. (Pssst. That other lily hasn't opened yet!

Something wonderful's going to happen!! I can feel it! At worst, we have a great holiday with the gifts I've put together so far!!)
Time to clean!!
Love,





Please click on Uncle Sam or the smiley globe if you've already read Uncle Sam!!
Oh Look! There's More!
| | | | |
| --- | --- | --- | --- |
| Dec 11, 2002 | Dec 10, 2002 | Dec 5, 2002 | Dec 1, 2002 |
| thru Nov 29, 2002 | thru Nov 22, 2002 | thru Nov 18, 2002 | Nov 8, 2002 |
| Oct 23, 2002 | Oct 9, 2002 | Oct 4-8. 2002 | Oct 2, 2002 |
| Last of Sept 2002 | More Sept 2002 | Aug - Sept 2002 | August 2002 |
| July 2002 | June 2002 | April - May 2002 | Mar 2002 |
| Feb 2002 | Jan 2002 | Dec 2001 | Nov 2001 |
| Oct 2001 | Aug-Sept 2001 | May-July 2001 | Feb-May 2001 |
E-mail Katrina


Some designs provided by: