Welcome to ME!!
(Yes, Sage is a guy... and a damned good looking one too!)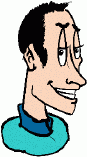 Honey, you're either going to "get" me and know my heart and my intent or you're not going to "get" me at all. If you don't, know your limitations and just back away from the keyboard after clicking the little "X" in the box on the upper right corner of your browser window, ne'er to return again.
I used to have a long disclaimer here for the confused and manners-challenged people who don't know the difference between a "rumor" or "gossip" and an actual spoiler, but screw it. Angry, bitter, small minded people will always talk their trash to compensate for their own 1st chakra frustrations and inadequacies.
When you read those vicious people on the message boards and around, just shake your head and remember they aren't getting any play, so they're grumpy. Pity them, then dismiss them. This is a hate free zone. Feel the luvvv, baby.
---
Note: Due to the large volume of e-mail he receives, Sage regrets that he is unable to personally answer each e-mail. He wants you to know that he reads each and every one (some 2-3 times) and greatly appreciates your communication. Please DO NOT ask Sage for further info on what is going to happen on the shows. Any information he has that he can share will be put into his column ASAP.

August 17, 2004
Did you donate this month? HELP, we need you!!

Help us stay around!---->


C'mon, you know you love us! Donate to EOS!
Update!
As Katrina already reported on EOS News Flashes, there has been a dramatic change in the plans for Steve and Carly. Previously, it was planned that there would be a backstory romance for Carly and Steven Lars, but it's been determined that such a story just can't be worked out (well no crap!), so now it's going to play out that Carly DOESN'T know Steve before he saves Morgan's life.
(If you steal these, please give credit to Sage and EOS. Thank you!)
Hey, we report things as we get them and sometimes, stuff changes late in the game. I, for one, am very happy with this change, but I'm curious as to where they will take it from here since Steven is supposed to use Carly to get info on Sonny.
When Courtney thinks Jax has been with another woman (she hears Skye's voice and he can't tell her the truth without breaking his word to Skye), she punches him out. Never fear. Lois is there to play matchmaker, but will lilacs and gingersnaps be enough for Jax to get back into Courtney's good graces? Jax is very clear with Skye that he wants to help her, but not if it means he loses Courtney. Before he can tell Courtney what's going on, she finds out for herself.
Sam is deeply hurt when she misunderstands a close moment between Elizabeth and Jason. She works to hide her jealousy.
Jason becomes Sam's hero when she's put in an awkward position with the mommies at the park. His tender gesture is very moving and they hold hands all the way home.
When Courtney decides to take in a foster child, she gears toward the pitter patter of little feet, but is surprised when her lovemaking with Jax is interrupted by a knock on the door. Her foster child has arrived and he's not so little! He's a teenager named Diego who loves to flirt with his new "mom." Jax isn't happy with the arrangement at all and arranges for a different kind of camping trip (for himself, outside her door).
Diego is (at this point) thought to be the 3rd part of a Brook, Lucas triangle. He'll also get a job at Kelly's, as everyone eventually does.
There will be some very friendly scenes coming up between Sam and Jax as their friendship deepens.
Lastly, soapsindepth.com reports that we will FINALLY see the new GH opening credits beginning Monday, August 30th and yep, the first face you'll see in the montage is...
Maurice Benard's.
That's all I've got for now. I'll report more as I get it!
Happy Tuesday,

August 16, 2004
Did you donate this month? HELP, we need you!!

Help us stay around!---->


C'mon, you know you love us! Donate to EOS!
Welcome to Monday, Friends!
Let me just take a moment to welcome back Aiden Turner to the role of Aidan. I'm so glad he's back even though I never knew I'd miss him if he left. Now we have Jeff Branson (Jonathan) sounding like he's desperately trying to fight back a British accent instead of Tom Archdeacon (faux Aidan) trying to fake one!
Good upcoming interaction between David and Adrianna, who still fears she's pregnant. He's a good stepdaddy.
Katrina wondered in her spoiler commentary how the guys of the Love Shack would go about preparing for their Full Monty performance. Enter our own Cynical Kate who, being worldly and all, has the low-down for how at least some male erotic dancers prepare for the night of a performance:
1. no carbs the day of the performance
2. no water starting a few hours before the show
(both of the above to prevent the tummy pooch from bloating)
and

3. a last minute waxing and/or shaving away of all pubies, including
the ones that live on the "boys," especially if there will be full exposure.
I have one tiny bit of news that affects both AMC and OLTL viewers. In a recent interview, Brian Frons stated that by the end of September, both babies will be returned to their rightful mommies. The ball starts rolling when Babe sees Ace and has an instant "knowing" that it's her son. Things begin to escalate from there. Thank God we don't have to wait until November for this to be done!
Will there be (yet another) couple reunion? First, we heard the very strong rumor that Stephen Nichols was in talks with OLTL.
Then came the news that Mary Beth Evans had already been signed to the show as a recurring character. Nichols and Evans have been paired together on daytime twice before, as Patch and Kayla on Days of Our Lives (left) and as Stefan and Katherine on General Hospital (right). Viewers will definitely be in for a treat if Nichols also signs to the show. Although seeing Evan and Nichols teamed up once again (should it occur at all) would be a joy, personally, I want to see Nichols burn up the screen with Catherine Hickland!
Beyond that...
No sense repeating the same stuff over again. I don't have any AMC news that isn't already printed above or posted at the best AMC site on the net, so go here to get current:


Ditto OLTL. I don't really have anything that isn't already out there or mentioned above, so I'll just pass along Lucy's link for you to check out:


Now, GH scoopage, I do have! As you have likely heard, the part of Steven Lars has been cast with Shaun Benson, who will first air on September 10th. When I heard the news, the name was unfamiliar to me. I had the spelling of the first name wrong, so he wasn't coming up in IMDB. That's what prompted my comment that you won't know his name unless you went to high school with him. As it turns out, several people knew him (with proper name spelling) from his roles in "Name of the Rose" and "K-19, the Widowmaker." As scoopsters, sometimes we're asked to hold off on reporting full info for a number of very good reasons and if another site doesn't get the same restriction, they'll post the info first. It's extremely important to us at Eye on Soaps to protect our sources and keep people comfy with telling us things, so any information we print is always done so strictly on their terms. Trust me, if I can tell you, I will, but this time, I had to just hint.
The question is, when did Carly know Steve before now? One thing I can tell you that I think is most revealing is that Carly is NOT happy to see Steve and is, in fact, very angry with him, believing their previous relationship was a ploy on his part to get information on Sonny (which obviously indicates that it was after she was already with Sonny and not prior to her arrival in Port Charles). Did this all occur during the brief time that Carly was dead after she saw Alexis with Sonny? A(nother) history rewrite seems likely.
Faith comes close to breaking out of prison, but doesn't quite make it. She plants a big kiss on Skye to unnerve her cellmate and distract her, but the tables are turned and Faith ends up in solitary confinement and Skye breaks out on her own. Has anyone notices that the powers that be seem to like watching Cynthia Preston kiss other women?
Jax is in an awkward situation when he agrees to help Skye. Courtney hears a woman's voice coming from Jax's bedroom and Jax is unable to tell her who it is without breaking his word to Skye.
Skye notices that Courtney's feelings for Jax are growing and are very real. She urges Jax not to give up on Courtney. In return, Jax offers her the advice that she may not be able to count on Luke as she expects.
Later, Skye puts it all on the line for a hunch she feels, but when she doesn't play her cards right, she's in danger of ending up back in police custody.
Heather continues to work her ways on Edward, as well as the other Quartermaines. It doesn't take her long before she actually has a ROOM for herself at the Q mansion.
Having reunited his parents, little Michael turns his efforts to Jason and Courtney and determines to get them back together again.
Courtney admits both to herself and Jax that she really does want to be with him. With nothing left between them, events continue to conspire to keep them from doing the deed. (Although they come VERY close)
Lorenzo Alcazar and John Durant find that they have much in common, primarily the desire to get rid of Sonny. After his round of comfort sex, it's clear that it's still Carly who's in Lorenzo's heart, despite Lois having been in his bed. Durant uses that connection to Carly to try and get Lorenzo to help him bring Sonny down. Awwwww...we know an Alcazar boy never does anything without having his own motives.
Georgie sees a close connection between Brook and Dillon and wonders if they have feelings for one another (It's his NIECE, for crying out loud!! ACK! Will someone PLEASE hand Bob Guza a BANJO and be done with it? The guy is definitely all about family trees that have no branches on them! Family phone poles, even). In actuality, it's Lucas who has the major crush... on Brook.
Heather is definitely a busy girl! She not only juggles her machinations at the Quartermaine mansion, but also continues tormenting Skye.
Michael tells Jax that Courtney and Jason are back together (they aren't). Thinking of Sam, Jax goes to her and breaks the news, offering to take care of her emotionally and financially if she needs it. Sam doesn't want to depend on anyone but Jason, but to cover her growing feelings or Jason, she tells Jax that she's claiming her independence from ALL men (mmm hmmm).
After Jason assures Sam that his relationship with Courtney is over, the two roommates and future parents continue to bond deeply.
Sonny knows he would be an ass to ask Carly not to pursue the burgeoning relationship with her father, John Durant, especially after Carly has had to tolerate the reality of Sam's pregnancy. He does, however, tell Jason to make sure that Durant ONLY connects with Carly, not with Michael and Morgan.
Durant takes a bold step in connecting with Carly. Carly is touched, but Sonny is PISSED.
Although Emily confesses her guilt to Nikolas, someone else is actually responsible for Mary's murder. The true cause of death? Heart failure. (Are we going for a "broken heart" death here? Well, yeah, after that that bullet went through it).
Courtney decides that she and Jax should test the waters of parenthood. She becomes a foster parent, but the stork brings her a bigger package than she expected!
No Journey baby is planned at this time. That is one of those invented rumors that grows legs and walks.
Liason fans will get some scenes coming up when Jason questions Elizabeth about her brother, Steven Lars. Nope, no reconnect is planned. The powers that be are excited about Jason and Sam and Courtney and Jax and plan to keep those two couples together for a good, long time. There is still buzz about L&L2, but only half-hearted buzz at this point. Nothing definite is planned.
Helena actually puts a hex on Emily. (Remember, "My curse upon you, Luke and Laura!) Why is Emily afraid of bathtubs now? You'll see!
Helena and Tracy? What a devilish, delightful team!
And the winner of Lila's fortune is... someone unexpected. Alan, Monica and Ned are disqualified. It's not Emily. It's not Jason or AJ. It's not a charity or organization. It's not a teen. It's someone you'd least expect and someone who would least expect to get it. When I think about it, it's likely the Q connection who needs it most right now!
You know you'll hear from me if I have info! Meanwhile, have a great week!
Much love,