Welcome to ME!!
(Yes, Sage is a guy... and a damned good looking one too!)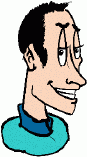 Honey, you're either going to "get" me and know my heart and my intent or you're not going to "get" me at all. If you don't, know your limitations and just back away from the keyboard after clicking the little "X" in the box on the upper right corner of your browser window, ne'er to return again.
I used to have a long disclaimer here for the confused and manners-challenged people who don't know the difference between a "rumor" or "gossip" and an actual spoiler, but screw it. Angry, bitter, small minded people will always talk their trash to compensate for their own 1st chakra frustrations and inadequacies.
When you read those vicious people on the message boards and around, just shake your head and remember they aren't getting any play, so they're grumpy. Pity them, then dismiss them. This is a hate free zone. Feel the luvvv, baby.
---
Note: Due to the large volume of e-mail he receives, Sage regrets that he is unable to personally answer each e-mail. He wants you to know that he reads each and every one (some 2-3 times) and greatly appreciates your communication. Please DO NOT ask Sage for further info on what is going to happen on the shows. Any information he has that he can share will be put into his column ASAP.
August 11, 2004 - again
Did you donate this month? HELP, we need you!!

Help us stay around!---->

C'mon, you know you love us! Donate to EOS!
The role of Steven Lars Webber has been cast with Shaun Benson. He will first air on Friday, September 10th. This info was first reported on soapsindepth.com.
August 10, 2004 - again
Did you donate this month? HELP, we need you!!

Help us stay around!---->

C'mon, you know you love us! Donate to EOS!
EVEN MORE GH SCOOPAGE!
Got to clarify a few things and update a few things:
1) As it turns out, Courtney doesn't give Jason a kiss on the cheek! It's a full on kiss on the mouth and it is hot! (my bad - I wondered why Jason would get so bent over a kiss on the cheek)
2) GH is getting a new director. Matt Diamond starts tomorrow.
3) ... and most major. The part of Steve HAS been cast and it's not with Nolan North, Dylan Neal OR Nick Stabile. Trust me, you won't know the name unless you went to high school with the guy. I'll have it for you soon.
August 10, 2004
Did you donate this month? HELP, we need you!!

Help us stay around!---->

C'mon, you know you love us! Donate to EOS!
Sage Has GH Scoop... Yes, GH Scoop!
I mentioned in my last two columns that Nolan North had screen tested for the part of Steve. Another actor in the close running for the role is Dylan Neal from B&B.
Both actors did well in their tests and by all accounts, either would be a wonderful choice to woo Carly.
Speaking of that story ("that story" being this "romance" between Steve and Carly), I came across some interesting (and reliable) info about it. I'd been wondering how they were going to get the whirlwind going behind their romance and as it turns out, they have a history together and part of their love affair occurred off screen, before Steve came to Port Charles. Oddly, it's initially unclear whether this relationship occurred before or after she was with Sonny (I know, I know). Steve makes it clear that he is still in love with Carly and tries to prevent her contact with John Durant. She's hostile toward him. Steve and Carly agree to keep their prior relationship a secret. Quite a turn from what we heard before!
Sonny also warns her to steer clear of her father, telling her Durant is "cold and calculating."
After their trip to The Island, Courtney gives Jax the slip and goes to a convent (what's with women and these convents???) before returning to PC.
Jason is NOT happy when Courtney gives him a (very public) kiss on the cheek to hide her growing feelings for Jax. He shares his feelings about the kiss with Sam, who, along with Jax, also witnessed the kiss.
We get to see Jax's new apartment when Courtney goes there to meet him, but she's surprised when she hears a woman's voice with him. Jax spends unexpected time with the "ex best thing."
Did you guess who Faith runs into in jail? The tables turn as Faith and Skye plot to break out of prison: Faith ends up in solitary confinement and Skye is on the lam! Robin Christopher is back from maternity leave in two weeks to start taping new material.
Anthony Geary is back around September 13th to begin taping again.
Sonny and Jason come to blows over Sam and Jason's growing relationship.
Carly and Jason repair their relationship and grow even closer as she searches for her father, which only furthers Sonny's resentment of Jason.
Sam decides to defuse the situation by moving into Kelly's, but Bobbie is having nothing of it. "I didn't say there were no vacancies. I said I don't rent rooms to my daughter's husband's mistress." Jason invites her back to the penthouse to live.
And that's what I've got!

You can take these
to the bank.
Love,

August 9, 2004
Did you donate this month? HELP, we need you!!

Help us stay around!---->

C'mon, you know you love us! Donate to EOS!
Happy Monday!
Sage is a little impaired this morning having taken a few too many bows to the Shrine of the Caucasian Russian last evening, so speak quietly if you please and a little tiptoeing is appreciated. Here are your soft little hospital slippers to wear while we talk and no ice will be allowed in glasses as the clinking is deafening. I was going to offer tea, but that whole "spoon in the cup" noise would kill me.
Thanks to all who donated to Eye on Soaps this month! Your support is greatly appreciated!
I and the rest of Eye on Soaps wish to send our best wishes and support to Soapboy from Soaptown USA who last week lost his home in a fire. This devastating loss comes after encountering serious health issues this year and I'm sure he would appreciate any good wishes and encouragement that the soap community has to offer. It seems like this has been quiet a year for everyone and like he said in his most recent column, you really do get concise clarification on who your friends really are when the chips are down. Although sometimes, it seems like nothing is worth enduring the worst times of your life, it's still good information to have. I hope that things pick up for Soapboy and the blessings begin to pile in for him.
~ ~ ~
Have I mentioned that Aiden Turner is back as Aidan on August 10th? (I know, but I just like saying it). Tomorrow! Tomorrow! He comes back! Tomorrow! It's only a daaaaay aaaaaa-waaaaaaay!!! I'm grateful that the scene in which Anita mistakes Aidan for Bobby and plants one on him is actually going to be done with Aiden Turner.
I found it interesting that spoilers say that "Ethan" Cambias shows up to collect his due as the Elder Cambias' rightful heir claiming he has no DNA evidence, but doesn't he have, for lack of a better phrase, a whole body of evidence? If there is no DNA sample from Alexander Cambias, it doesn't seem, especially with Ryan's resources, that it would be difficult to obtain one. Dig up that body, rake out that hairbrush and raze that hospital to find a blood sample already!
Jamie seriously gets the point this week when Seth knifes him after learning he's "with wire."
JR Chandler is being knighted in London later this week. His new name will be Sir Ragin Bitchalot.

It has been announced that the contract of the beautiful, talented, emmy-nominated actress, Ilene Kristen (Roxy) will not be renewed when it expires in September.
Many OLTL viewers are unaware that Kristen is a wonderful actress, considering that OLTL has done very little to demonstrate that to us. Left floundering with no story since her marriage to Max (a goldmine left unexplored), Kristen has been reduced to little more than comic relief, but has come through at every turn, making the most out of her tiny (but vibrant) character.
OLTL is quick to say that Kristen is not being let go, and will still be airing from time to time. Both Patricia Elliott (Renee) and Patricia Mauceri (Carolotta) are on recurring status and get air time, so perhaps we won't be completely Roxy deficient. Don't we still have a wedding coming up for Roxy and Nigel, after all?
Expect All Santi TV to come to a fictional town near you! Guess which one it is? (gag).
Meanwhile, here's a song dedication for Tico:
(not even)
Three more days until Shane McRae takes over for David Tom as Paul. You can read his acting portfolio here. You may start the "pleasedon'tsuck, pleasedon'tsuck" chants now.
As you suspected (if you are percolating at all), Kelly is heading into a downward spiral and yes, yes, YES it is the beginning of the end of the baby swapping story. It will take a while for the story to work its way to Pine Valley, but at least we are seeing some movement in that direction. It was an interesting concept to span shows for an intriguing story like playing musical babies, but nuclear fusion is also an intriguing idea and it too resulted in a bomb.

I think Katrina mentioned somewhere on the site (and I can confirm) that Nolan North (Chris Ramsey from PC) auditioned for the role of Steve(n Lars) and was well liked in the part. Another name being cast about (pun intended) is Nick Stabile. Corbin Bernsen begins airing as Carly's father beginning September 3rd (he begins taping this week), so the story will be unfolding not long after that.
The Emily-Paige rumor ("Emily finds out something about her mother) seems to have been just that, a rumor.
I can confirm that NuLucas is not likely to be around much longer. I don't think an untimely demise is planned, but more of a faaading away, perhaps back to Diabetic Camp?
Faith will be presumed dead in the explosion, but she's very much alive and Cynthia Preston is NOT leaving GH at this time.
Although rumors to the contrary continue, Catherine Wadkins and Katie Stuart are both leaving as their characters are killed off as described in my previous columns. To review (or preview): Quartermaine freezer during the blackout, Sage has been locked in by the teens, Mary finds her there, thinks she's Emily, kills her, then realizing her mistake, finds real Emily and tries to kill her, Nikolas shoots Mary, who doesn't die yet, Nikolas is arrested for attempted murder and insists on pleading "self defense" (even though he was defending Emily - so it should be Emily Defense - and Alexis wants him to take the insanity plea), Mary dies while in the hospital right after Lorenzo has been standing over her bed, swearing vengeance, then saying that he won't kill her now. She codes off screen a few minutes later and the murder mystery begins.
Again, Emily and Nikolas are set to marry in November, but although a lavish wedding is planned, it's still unsure whether or not they will actually say, "I do."
Sadly for the Journey folks, the upcoming scenes of Courtney and Jason bonding on the anniversary of the death of their baby is NOT a sign of things to come. Plans are to continue on with Casper and JaSam for the foreseeable future. Although it is safe to take these scenes as confirmation that Jason and Courtney will always care for one another, it does not indicate a reunion anytime soon.
The kiss you've heard about coming up soon is the first one I told you about, the one that occurs in Sam's dream/fantasy. Sam begins to have feelings for Jason first, then Jason warms to her. It's going to continue to be a slow burn for a while.
The Carly and Sonny break up is still on and is still expected to stick. The parting isn't so much as a blow up, although there will definitely be heated discussions, but a petering out over the Kristina reveal and Sonny's torn obligations between his family with Carly and Lila.
Rick and Alexis WILL be getting married as the campaign against Sonny heats up. Carly tweaks things with a little blackmail. As you can imagine, the wedding will be hilarious with a play on Alexis' "Runaway Bride" history.
This week, Maurice Benard celebrates eleven years of playing Sonny Conrinthos.
And that's all I've got for this week. Not much, I know, but hey, what's there is there and what's not is not!
Much love,