Welcome to ME!!
(Yes, Sage is a guy... and a damned good looking one too!)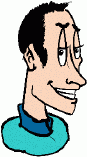 Honey, you're either going to "get" me and know my heart and my intent or you're not going to "get" me at all. If you don't, know your limitations and just back away from the keyboard after clicking the little "X" in the box on the upper right corner of your browser window, ne'er to return again.
I used to have a long disclaimer here for the confused and manners-challenged people who don't know the difference between a "rumor" or "gossip" and an actual spoiler, but screw it. Angry, bitter, small minded people will always talk their trash to compensate for their own 1st chakra frustrations and inadequacies.
When you read those vicious people on the message boards, just shake your head and remember they aren't getting any play, so they're grumpy. Pity them, then dismiss them. This is a hate free zone. Feel the luvvv, baby.
---
Note: Due to the large volume of e-mail he receives, Sage regrets that he is unable to personally answer each e-mail. He wants you to know that he reads each and every one (some 2-3 times) and greatly appreciates your communication. Please DO NOT ask Sage for further info on what is going to happen on the shows. Any information he has that he can share will be put into his column ASAP.
May 24, 2004
Did you donate this month? HELP, we need you!!

Help us stay around!---->

C'mon, you know you love us! Donate to EOS!
CHILD PLEASE!!
Even though I said I wasn't gonna, I ended up watching the Emmys. If you haven't stopped by to read the EOS Staff Commentary on the Emmys, tip on over and have a good read. There's something there for everyone.
I went to sleep part way through and missed a good bit of it (you know they always save the good stuff for last), so I didn't notice a horrible travesty that occurred as a theme through the whole show. It was important enough to make the headlines the next day: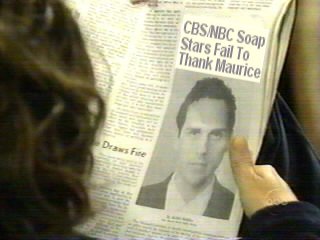 I mean, what in the complete and total hell is THAT about?? You can tell by his expression in the above newspaper article that Maurice is thinking the same thing! WTCF??? I mean, just because they are on a different network doesn't mean they shouldn't at least acknowledge his contribution to the soap genre!
Silly geese.
Of course, the big news is what happened AFTER the ceremony at the parties!
Maurice Benard had his own party going on, so he wasn't at the ABC party for more than a few minutes. The CBS party was the most rockin' by all accounts and the NBC party was such a drag that most of their people migrated over to the ABC party by 2am or so.
Kathy Brier was the belle of the dance floor. Until she arrived, people were acting uptight and anal, but she got them out on the floor dancing up a storm and soon the party was in full gear.
Jacob Young and David Tom were totally buzzed and were having fun with their dates for the evening. Cameron Mathison was the perfect gentleman, showering his lovely (and very lucky) new wife wtih attention the entire night. Ingo was very involved with his fans and Anthony Geary was thrilled to have won and nearly glowing. Vanessa Marcil showed up around 2:30 or so when things were winding down, looking for Ingo. :) Rumors are still flying about the two of them. Tyler Christopher was kicking up his heels, but wife Eva was not around. Rick Hearst was absolutely beaming, as you can see here:


click us!

In the bottom picture, Vanessa Marcil was having a laugh with Sydney Penney. (Pictures used with permission from Brenda Babes.)
I also got a handful of GH scoops for you from one of my best sources.
While Sam and Jason are off (not) getting married, Courtney and Jax are flying off to Italy. Setsiders say that Casper will be the HOT couple of the year and that their scenes are incredible. In one particularly fun scene, Carly catches the two of them together, about to kiss in mid-romantic moment in a restaurant, and gives Jax a bath in ice water. An all out fight ensues afterwards.
In particular (prior to this scene), there Courtney and Jax are in a hotel room and the chemistry between the two is said to be similar to the ease Ingo shared with Vanessa Marcil without being a direct rip off. By all accounts, all of the highers up are completely thrilled with the pairing of these two and it's supposedly going to stick. Tamara Braun loves doing physical comedy, so the ice bucket scene was great fun for her. Scenes ultimately had to be reshot because all three of the key players were laughing so hard.
Look for steamy, steamy Casper kisses and lots of fun between the two actors.
Watch for Sonny to have the expected reaction to little sisters new beau.
Sage talks Lorenzo into letting her go back to L&B to record.
Lesli Kay taped her first scenes and within two days, had to play out a major catfight with Jane Elliot. I've heard she'll please some and annoy most, playing Lois to the campiest, shrillest, clowniest self. Don't hate the actor! She's playing it as she was told to! She begins airing on June 10th.
Sam ends up faking a miscarriage and ultimately getting Jason to go along with it. They return to Port Charles from Texas and go along with the original plan, but are not actually married. Sam worries that by faking a miscarriage, she could be inviting the reality onto her unborn baby. Although it's not yet written in stone, it's likely she's right.
Emily talks to Jason about Nikolas being alive and together, they figure out what Mary has been up to.
Lorenzo has a special job for Nikolas... follow Jason without being seen (or shot, I'm sure).
Ric and Alexis are still being paired up together and while Ric is still in love with Elizabeth (who returns with baby on June 17th), he and Alexis have to stay connected for a number of other reasons. Nancy Lee Grahn and Rick Hearst LOVE working together and hope it continues.
But what of Elizabeth? She's pretty pissed with Ric, not just over the reasons why she left town, but is miffed about his interim "romance" with Alexis and wants nothing to do with him.
And I'm going to be honest with you, folks! That's all I've got. I could fill in the column with fluff and make up some stuff, but that's just not my way, so I'll get on the road to closing up the column for the week.
I snooped around the other two shows and didn't come up with anything substantial, I won't kid ya.
I do want to say thank you to all of the wonderful people (hundreds of you folks!) who wrote to welcome me back home again. It was great to hear from all of you. I apologize for not being able to write back everyone individually. I've been job hunting like mad and my computer time has been limited, but I have read and savored each and every one. Again, I thank you for the warm welcome.
Also, I want to remind everyone of something because I'm seeing some things on the message boards that I find a little disturbing. The most common thing I see that is negative (and THANK YOU for all of the positives) is that what you read in my column is available on other sites around the net. For one thing, I've never held myself out to be King of the Scoopsters. Who scoops what is just not a priority for me and it never have been. If it happens, it's fun and exciting, but it's not the goal. I'm just a gossip columnist and I share what information I come across, plain and simple. I don't froth at the mouth, purchase scripts or stalk actors to get scoops. I'm in this for the fun, plain and simple. If you're trying to equate me out to the people who make hunting spoilers their life's goal and source of self-pride, then you've got the wrong guy. I'm here to talk soaps with you all, share the bits of info that find their way to me and have fun with it. So please, don't think I'm trying to be something I'm not. I'm a columnist and that's it. Also, please consider that while info I report may also be on other sites, the info THEY are printing is ALSO on other sites. It's altogether possible that some of the people who read my column don't go to all of the other sites on the net to read the info. I print what I find and it may or may not be available elsewhere. It's my experience that info remains unique and exclusive for all of about 10 minutes (maybe that's the 10 minutes of fame that Andy Warhol promised) before they are everywhere. So c'mon, play nice and let's have a blast. This doesn't have to be a contest.
Let's just have fun and spread the good stuff around.
BUT I do feel bad that real life got in the way and I wasn't able to come up with more information than this. As I was watching the Emmys, I started thinking about GH and how it used to be and as a result, I began going through my GH photos and decided to put them onto pages to share with you. This is something of a General Hospital Retrospective of key points in GH history, recent and far past. They have a long load time, but I think it's worth it. Have fun. Later this week, I'll do one on OLTL.
Have a marvelous week and be good to one another. It's really not that difficult and the results are delicious for everyone.
All My Love,