Book Cover Link
(If you want to link to this guidebook,
use this link for the front page!)
GHPCFanClub@aol.com = POC for Luncheon Info
krasbold@earthlink.net = me, Katrina Rasbold, the writer of this epic guide
Click here for recaps of
past fan events, including GH Fan Weekends
For more information on individual events, please
contact the specific fan clubs who are hosting the event!
For the most up to date information, go to
www.ghfanclub.com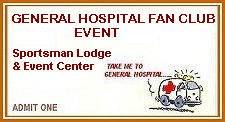 DO NOT LOSE YOUR TICKET!!


To all those who enter here...
Don't worry... we've all been there as newbies. You'll find everything you need right here to have a safe, sane and wonderful experience at the GH Fan Weekend.