MOST WASTED RETURN
May also be described as "Most Evil Courier" since she heralded in the dreaded words of 2002, "Somewhere in the South Pacific."
*shudder*
SKEERIEST PRISON DYKE
*shudder*
DUMBEST WEDDING EVER
The bride also gets the award for the MOST INTERRUPTED WEDDING EVER for her next walk down the aisle. If she keeps this up, she might win the "always a bride, but never a wife" award.
THE AL HOLDEN AWARD
For worst recast freakin' ever.
Why God, why? This one was fine!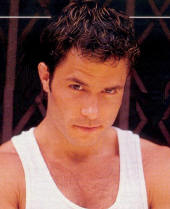 MOST WASTED HUNK
I don't meant that he was drunk all the time, but that his sexy charisma was lost on Tea as she darted back and forth between this guy and Todd. Of course, that's Ross Rayburn, played by Shawn Christian!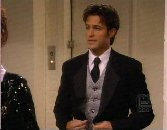 BEST LOOKIN DUDE IN A SUIT
Yeah, baby.