Welcome to ME!!
(Yes, Sage is a guy... and a damned good looking one too!)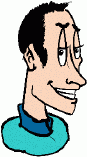 Honey, you're either going to "get" me and know my heart and my intent or you're not going to "get" me at all. If you don't, know your limitations and just back away from the keyboard after clicking the little "X" in the box on the upper right corner of your browser window, ne'er to return again.
I used to have a long disclaimer here for the confused and manners-challenged people who don't know the difference between a "rumor" or "gossip" and an actual spoiler, but screw it. Angry, bitter, small minded people will always talk their trash to compensate for their own 1st chakra frustrations and inadequacies.
When you read those vicious people on the message boards and around, just shake your head and remember they aren't getting any play, so they're grumpy. Pity them, then dismiss them. This is a hate free zone. Feel the luvvv, baby.
---
Note: Due to the large volume of e-mail he receives, Sage regrets that he is unable to personally answer each e-mail. He wants you to know that he reads each and every one (some 2-3 times) and greatly appreciates your communication. Please DO NOT ask Sage for further info on what is going to happen on the shows. Any information he has that he can share will be put into his column ASAP.

August 30, 2004
Did you donate this month? HELP, we need you!!

Help us stay around!---->


C'mon, you know you love us! Donate to EOS!
Almost September, Folks!
<-----------(Credit Cards & checks accepted) (By check, cash or money order)
It's almost the first of the month! By the time I post my next column, we will be almost upon our Sept 7th deadline for site expenses. If you are able to help us out this month and show us that you appreciate what we do, please use the above links to donate to Eye on Soaps. The top button (PayPal) allows you to contribute by credit card, even if you do not have a PayPal account at no additional charge to you. The "other options" button gives you other avenues for sending a contribution.
Thank you in advance for your support and your interest in keeping us on the net. Each month, readers show us that you like what Eye on Soaps has to offer and that is deeply appreciated by the entire Eye on Soaps staff.
---
Despite reliable assertions to the contrary, both ABC and her own camp are reporting that Terri Ivens WILL be returning to AMC after her maternity leave. Why? I can't imagine since little has been done with her character since Tad dumped her months ago. Guess they still need someone to purr and coo over every man who walks into the Fusion office. Simone would fare better if Roger Smythe were to rise from the grave, stinky and decomposed, looking for a mate.
Babe and Jamie will be crossing over to OLTL next week. Babe spends a few minutes with Kevin and Ace and her spidey sense starts to tingle, which begins the snowball rolling down the hill (finally).
If you missed that fateful, baby stealing episode, it will re-air on Labor day. In AMC's regular slot will air the episode in which Paul takes Babe's baby and in OLTL's slot will be the episode in which he fakes the helicopter crash.
A rumor says that Ethan will end up related to someone else in Pine Valley.
Watch for someone to be shot and (another) murder mystery to unfold.

You may have heard that David Fumero is reprising his role as Cristian Vega on OLTL starting in the Fall. After nearly a year off the show, Fumero was asked to return temporarily, with an option to stay if both parties agree. Rumors say that Cris would be returning as a ghost, but that's not confirmed by any means. We only have Flynn's word that Cris is actually dead, so anything is possible. Antonio was shown looking in a box with horror and later, giving Natalie Cris' wedding ring. In the unedited version, we supposedly learned that the box actually contained Cris' hand, but the scene was thought to be too intense.
Kimberlin Brown, of B&B, Y&R and PC fame, has been hired into the role of Paige, who will be interacting with Kevin, Kelly and Asa. I was told (and have not been able to confirm) that this is the rapidly recast role that was to be filled by daytime veteran actress, Mary Beth Evans, who backed out two weeks ago. At that time, the character was to be a psychologist to treat Asa's recent problems.
After a long casting time, Marcie's homophobic father has been cast. The role went to Paul O'Brien. Her brother, Eric, will be played by Bill Dawes (right). They will both air for the first time on September 29, 2004.
OLTL will NOT air on Monday, September 5th.
Watch for Bo and Nora to definitely become an item, right when it looks like they will be the victims of unsynchronized passion. Daniel and Nora decide to take a break, but by that time, Bo might be interested in someone else. Ultimately, they WILL be together.
I noticed that like "Jason Morgan" of GH, John McBain was just too cool to show up for his "Wide World of Soaps" bit.
Recognize the judge for Ace's custody trial? Think "Maid in Manhattan." Her name is Priscilla Lopez.
On "SoapNet Reveals ABC Soap Secrets," Bree Williamson related her mortified embarrassment when the script called for her to strip in front of friend, Kamar de los Reyes a few weeks back, to the point that she was shaking and in tears. Mr dlR says that his background in dance helped him with his own stripping scenes and it was improvised, not choreographed.
Also, Kamar says that Tico is related to Antonio, but they are NOT cousins. Tico is also "out to get Antonio." One of my readers wrote with the same thing that crossed my mind, being that Antonio is not the natural child of Carlotta, but is instead, her nephew, Manuel Santi's oldest son and heir to the Santi fortune.

Unraveling the GH limericks from last week:
If you're unfamiliar with them, click here to read.
1) Courtney hides in a convent and Jax goes after her and dresses up as a priest to infiltrate the convent. When she disguises herself as a nun, Jax ends up kissing the Mother Superior.
2) Durant forces Ric to hire Steve, much to his chagrin, but Ric announces the new hire in front of Carly, who immediately bristles (as Ric anticipated) and gives Steve a warning.
3) Elizabeth complains to Felicia about how Heather has weaseled into the Quartermaines' and someone FINALLY addresses Heather's lunatic past and crimes against the people of Port Charles.
4) Jason is upset when Sonny tells Sam to sign the documents he's had drawn up, which give him unlimited access to Lila and to Sam. Jason tells her not to sign them.
5) Emily is bitten by a spider and Steven is there to rescue her.
6) Ric questions Liz about Mary's death, but other than that, there are no LiRic scenes planned at this time.
7) Emily has a nightmare in which Mary kills Nikolas in order to keep Emily from having him.
In case you did not hear yet, Maurice and Paula Benard are having a son this time around.
Although there are some very stalwart S&C fans who would like to believe otherwise, Sonny and Carly WILL still break up when he learns that Carly knew Kristina is his daughter. There is no reunion planned at this time.
The Nikolas and Emily wedding will take place in November, despite Helena's best efforts.
"My curse upon you, Laura and Luke." Helena is at it again, except this time, she curses Emily, who has a bad experience with a bathtub.
Lois will be the one to end the relationship with Lorenzo after Brook has a very bad reaction to learning that her mom and Lorenzo are involved.
Cameron is going to STAY Zander's baby, at least for the foreseeable future. There is no plan to change his parentage.
There is no Liason reunion planned.
Yes, as you have likely heard, Ric and Alexis will marry.
Lastly, if you missed the GH Fan Weekend events, you can still view expert footage of what transpired! Official GH Fan Club videographer, Stacey Lopez (a.k.a. Curlyqgurl) has videos of the various events (including valuable green room footage!) for sale through her web page.
CLICK THE BANNER TO GET THERE! (Psst, I'm not supposed to tell you this, so keep it between us! Stacey's site will be our September EOS Site of the Month!)
Debbie Morris, GH/PC Fan Club President, is also offering the WONDERFUL photographs and items that are available at the GH Photo Boutique for sale through Stacey's site. Go there and look around! You'll find LOTS of beautiful items and fun videos to add to your collection. TOO MANY GH fans don't know about this amazing resource!!
With that, Sage is out of here for another week! Hope you have a wonderful slide into September and don't forget to donate to EOS if you like what we do!
Much love,