---
Welcome to ME!!
(Yes, Sage is a guy... and a damned good looking one too!)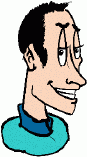 Honey, you're either going to "get" me and know my heart and my intent or you're not going to "get" me at all. If you don't, know your limitations and just back away from the keyboard after clicking the little "X" in the box on the upper right corner of your browser window, ne'er to return again.
I used to have a long disclaimer here for the confused and manners-challenged people who don't know the difference between a "rumor" or "gossip" and an actual spoiler, but screw it. Angry, bitter, small minded people will always talk their trash to compensate for their own 1st chakra frustrations and inadequacies.
When you read those vicious people on the message boards and around, just shake your head and remember they aren't getting any play, so they're grumpy. Pity them, then dismiss them. This is a hate free zone. Feel the luvvv, baby.
---
Note: Due to the large volume of e-mail he receives, Sage regrets that he is unable to personally answer each e-mail. He wants you to know that he reads each and every one (some 2-3 times) and greatly appreciates your communication. Please DO NOT ask Sage for further info on what is going to happen on the shows. Any information he has that he can share will be put into his column ASAP.
July 4, 2004
Did you donate this month? HELP, we need you!!

Help us stay around!---->

C'mon, you know you love us! Donate to EOS!
---
Now, on to do the dishing:
That's Jeff Branson playing the role of Jonathan, newly invented younger brother of Ryan. He's a keeper, at least for a little while. Jonathan will accept Ryan's offer of employment at Cambias Industries. The two sibs have a long talk about Kendall and Ryan admits to his brother that he loves Greenlee. Next week, when Ryan and Greenlee wake up cuddled together, it becomes increasingly difficult for them to fight their growing attraction.
Kendall and Greenlee go at it this week when Kendall stalls on signing over her shares of Enchantment and Fusion to the Laveries. Greenlee strikes back by revealing the truth to Kendall about Ryan being ready to take her back when he caught her in bed with Jonathan. Kendall isn't finished by a long shot and turns the tables yet again next week. Seems she's going to be staying in the business...
The intervention continues with Erica revealing that her father, Eric Kane, actually arranged for her to be raped by Richard Fields, knowing he was a sexual predator. His motive was to get Fields to star in one of his movies and Erica was the incentive. The revelation deepens the bond Erica shares with her loved ones, including Kendall.
Heather Tom crosses over to AMC as Kelly Buchanan, mother to Babe's son who is now called (*gulp*) "Ace." Don't look for the baby switch to be over any time soon, despite the indicators (and assertions) to the contrary. It's going to play out at least into August.
JR will continue to undermine Babe's credibility by playing a few "could she be on DRUGS?" comments to Tad. He has some second thoughts about what he's doing, but not for long. Krystal still considers leaving town, but since she's on contract, decides to stick around. Bianca dreams that Miranda is alive.
Babe and David grow closer after she shares with him why she continued to pretend Miranda was her child. He ultimately decides to keep the secret as well. Babe is resigned to giving Bess back to Bianca and is shocked by David's support.
David publicly acknowledges Babe as his daughter and makes it clear to JR that he will do anything necessary to protect her.
While trying to help Jamie find out what JR's connection is to the drug dealer, Seth (who JR pays to leave town), Reggie ends up getting busted by none other than Derek Frye. When JR finds out that Jamie has been snooping around about him, he decides to get even.
Bobby returns to Pine Valley and is devastated when Anita tells him she is filing for divorce.
August 10th - Aiden Turner returns. He'll be making the break up between Bobbie and Anita more interesting.
Maria learns that Zach is still in Pine Valley. They meet up in the park and reminisce about their past relationship. What Maria doesn't know is that Zach is intent on winning her back from Edmund.
Although no official word has been released, it still seems evident that Marcy Walker will be leaving the show sometime this summer.


I have two big casting mentions for OLTL, both of which are already reported on the net, but in the interest of being thorough:
Matthew Twining (River Carpenter) has been let go from the show and will have a final air date later this summer. At this time, the thought is that he is going to be killed off in the Santi story. That idea is fueled by the word that no foreseeable recast is planned. It's also possible that he will be sent away for his own safety. The pregnancy story for Adrianna is being toyed with, but has not yet been decided and should that come into play, it could also explain an untimely exit for young River. Twining has played River for a year now.
Additionally, the role of Paul Cramer (played by David Tom) is being temporarily recast. Beginning August 12th, Paul will be played by young Broadway actor, Shane McRay. No reason is given for Tom's hiatus from the show.
Writers are playing with the idea of a Bo and Nora reunion, but it's not in stone just yet. Bo becomes jealous of the time Nora spends with Daniel Coulson and intrudes in on their evening together. They have an argument and Nora attempts to toss Bo out of the house, but after eating some bad chicken, it turns out they are quarantined together. Comical situations arise after the irritated twosome divide the house into two halves to avoid one another. Whether or not they will officially become a couple again should be revealed soon.
Three (previously mentioned) newcomers are now imminent on OLTL. Javier Morga will play Tico (of the Santi family), who will get up close and personal with Jessica. Sandra Santiago will play his mother and Matthew Metzger will play Duke Buchanan (Kevin's adult son). That's Lisa LoCicero as Sonia, the mafia henchman who wants a piece of Antonio.
Thursday brings a heated confrontation between Blair and Kelly. Blair is VERY unhappy with Kelly's plan to name Todd as Ace's father.
THE story of the summer (or so we're told), as usual in soaps, situates around the young people. You're going to be seeing a lot of the not-so-reality TV around the rebuilding of the community center and the backstage drama of what critics are calling "Dolta House." A good bit of it, you'll see through Jen's camcorder, so watch for more misaligned shots, sweeping scene changes and missing heads.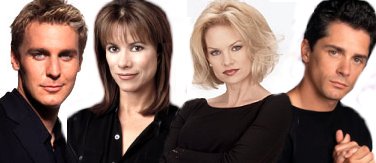 Although Nikolas learns and believes the truth this week about his identity, he still has no actual memory of who he is. He's furious with Emily, Alexis and Mary for not telling him the truth. Lorenzo fuels the fire as well by planting some well placed barbs aimed at Emily. Mary might well spice things up with another suicide attempt. Needless to say, things don't go as planned for Emily. She is shocked when Nikolas tells her very bluntly that he does NOT love her, that he still loves Mary and intends to continue their relationship. The only person possibly more shocked by the news is Mary herself. Lucky continues to support Emily 100% (as men in her life are wont to do, no matter what she says or does). Carol Banks Weber, in her Soap Zone News and Gossip column this week, shares an interesting take on the NEm versus ZEm romances. Go down to the gossip section to read about the writers' bet.
In case you missed it before, Emily's dizzy spell is NOT a pregnancy or cancer return. It's just a red herring. In other words, she's just dizzy.
This particular part is just gossip that is blowing around the set (not in stone), but I did hear from a reliable source that if Alexis and Ric are a hit and the romance "takes," Elizabeth may well end up right back with Lucky again. Rebecca Herbst is still working a trimmed down schedule as she adjusts to being a mom of two, but as usual, she'll be putting everything she's got into the scenes in which she's used, which will primarily be focused on Nikolas regaining his memory. Lucky is none to eager for that to happen, hoping to score with Emily in the interim. Watch for him to ask his big brother to clarify his intentions toward Emily in order to clear the path to romance. Meanwhile, Emily makes it clear that Nikolas is the ONLY man for her, much to Lucky's dismay.
Read it. Believe it. Know it. At this time, there is NO plan in place for Sam to be related to ANYone other than her newly invented brother, Danny. She's not a Cassadine, a Quartermaine or anything else. It's all just made up internet crap. That's not to say the writers won't eventually pull some story out of their butts about it, but as of what is planned now, today, it ain't happen'. When Danny does show up in a couple of weeks, he will find that he has a great deal in common with Jason, including a love for motorcycles.
Sonny will let Sam know under no uncertain terms that he will always love Carly, even if she walks out on him when she learns he's the father of Sam's baby. Sadly, neither that love, nor his promise to God, means anything when he learns that he's Kristina's real father and Carly knew. Hell hath no fury like a gummy mobster scorned and we can expect at least one bitter custody battle. (What's a year on GH without a bitter custody battle, anyway?) If Maurice gets his way, a trip off the deep end for Sonny will walk hand in hand with these events.
Plans are firming up for a very premature, sick baby for Sam. Rumors are suggesting that Carly might inadvertently have something to do with the premature labor. Personally, I'd prefer to see a Lesley/Monica redux in which Carly is the one to deliver the baby. It's unsure at this time whether or not the baby will live (it doesn't look favorable), but the real question is what will they name her? Will Sam give Jason that honor? If so, he never knew his birth mother, Susan Moore, so that's not likely as a candidate. Although he feels connected to Monica, I can't see him naming his baby after her. St Emily is already taken, so my bets are on... Lila. I can see the message boards erupting in agony if THAT comes to pass! Just remember ol' Sage if it does, the day before his birthday when he was doing a little too much drinking and a little too much thinking.
For now, Jason will be teaming up with Carly to find out what secret Sam is hiding. (Sam was burning some photos and accidentally caught the house on fire. House burned to the ground with her mother passed out drunk inside. Sam didn't know Mom was there.)
Lois has a vision. The vision is to combine all of her assets into one tightly-assed basket: an all girl band. Who will be in it? Well, Sage and Lynn, of course, Georgie and... Dillon. Dillon? Dillon. Yeah, you guessed it.
Lois and Lorenzo are still a go and that doesn't sit well with Ned. Watch for his back fur to get all abristle over their growing attraction. Nope. As Lois laid on the line this past week, her return was never for or about Ned, either in her mind or in the pickled little brains of the writers.
Lila's funeral airs July 15-16.
The new opening will come eventually. Don't worry. It's being revamped.
When Heather takes advantage of Edward's grief over Lila to wiggle in a little bed time with the Quartermaine millions, she has to answer to Tracy. With these two squaring off, it's going to be fireworks.
That dance contest you've been hearing about is going to ROCK!
For the record, in the foreseeable future: Genie Francis is NOT coming back. Vanessa Marcil is NOT coming back. Tristan Rogers (sadly) is NOT coming back. The rumors will always fly on these three and at this time, simply are not anything other than wishful thinking (or people making up scoops because they don't have any real ones to offer). It's sad to work on the wishes of the fan bases like that because people read the rumors and get excited, only to be disappointed when it doesn't happen. Sorry to pop the bubbles of eager anticipation, but right now, those are only invented rumors.
Be sure and check out Katrina's GH Warps for a fun few minutes.
And with that, my lovies, I'm gone for a week or so. I hope you have a splendid holiday weekend and as C3PO says, "May the 4th be with you!"
Much love always,
Don't forget to donate!
---