Welcome to ME!!
(Yes, Sage is a guy... and a damned good looking one too!)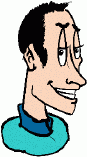 Honey, you're either going to "get" me and know my heart and my intent or you're not going to "get" me at all. If you don't, know your limitations and just back away from the keyboard after clicking the little "X" in the box on the upper right corner of your browser window, ne'er to return again.
I used to have a long disclaimer here for the confused and manners-challenged people who don't know the difference between a "rumor" or "gossip" and an actual spoiler, but screw it. Angry, bitter, small minded people will always talk their trash to compensate for their own 1st chakra frustrations and inadequacies.
When you read those vicious people on the message boards, just shake your head and remember they aren't getting any play, so they're grumpy. Pity them, then dismiss them. This is a hate free zone. Feel the luvvv, baby.
---
Note: Due to the large volume of e-mail he receives, Sage regrets that he is unable to personally answer each e-mail. He wants you to know that he reads each and every one (some 2-3 times) and greatly appreciates your communication. Please DO NOT ask Sage for further info on what is going to happen on the shows. Any information he has that he can share will be put into his column ASAP.
June 7, 2004
Did you donate this month? HELP, we need you!!

Help us stay around!---->

C'mon, you know you love us! Donate to EOS!
IMPORTANT GH SPOILER CHANGE! I have just learned that the scene between Carly, Nico and Sam has been changed! Although it was originally scripted that Carly would shoot him, now she will just kung fu the crap out of him and drag Sam away (as previously reported). I guess they figured there was way too much shooting of Nico going on. Oh and just so's you'll know? Jason is the one who finally does kill him and it will be on the island.

Hey, post taping edits are a bitch!

Also, Skye is found guilty

of killing Ross... while Heather watches on from the back of the courtroom.

June 7, 2004
Did you donate this month? HELP, we need you!!

Help us stay around!---->

C'mon, you know you love us! Donate to EOS!
HAPPY MONDAY, DARLINGS!
Tonight is the night that our site expenses will be deducted from the EOS account, so if you have not yet donated this month to keep EOS on the net, it's not too late!
<-----------(PayPal - Credit Cards accepted)
We are very excited to be here and deeply appreciate the support the EOS readers have shown over the years! The sense of community that is created by all of us working together to support EOS is amazing and I personally want to offer my thanks, both to the wonderful writing staff that we enjoy each week and the readers who have been so generous with their love and support. THANK YOU and with your help, we will be around for a long, long time!
Last week, I reported that Braden Matthews, (ex-Travis from DOOL) will be playing the role of Dr Ron Fitzgerald beginning on June 11th. Soaptown USA has revealed that he is actually Babe's father and Krystal's ex. David will learn that he has a surprising link to Ron as well: the two attended medical school together. David continues his exploration into the possibility that Bess is actually Bianca's baby and makes a startling discovery (Hmmm. I wonder what THAT could be...)
Levin Ramblin, who debuted as Lily on June 4th, has done a fantastic job of playing Jackson's autistic daughter. Sure, it's not the Lily we've all come to know, but hey, it works! I loved her interaction with Reggie and haven't gotten so frustrated with a soap character in a long time as I did with Danielle. I'm keeping my eye on this young woman! She's doing a fine job! Her history is primarily in theater, but she has also had appearances on "Third Watch," "Law and Order" and "Riding in Cars With Boys."
Kendall surprises everyone with her announcement that Ryan and Greenlee's marriage is legit. Didn't see that one coming, did we? (pfft) I wonder what Her Curliness is up to now.
Erica decides it's time to make contact with the fam and gives Jackson a call. Imagine her surprise when Jackson tells her not to come back unless she's sober! She flies off in a pout, ends up getting drunk and going out on stage blotto. Zach locks her in a room and demands she dry out. She calls Ryan for help and he finds her in a hospital detox ward. In a very Erica move, she pushes all of the responsibility for repairing the damage she caused in their relationship onto Bianca. Um... sure, Bianca isn't doing anything... just a fair bit of GRIEVING HER CHILD. In a world where it's all about Erica, of course none of that matters. Mark LaMura will return as Eric's brother, Mark Dalton, for July 1-2 only.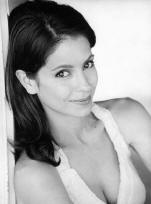 That is beautiful Lisa LoCicero playing Sonia, the woman who was able to convince Antonio to take off that tuxedo. LoCicero has played Jocelyn in both "Loving" and "The City," as well as getting rave reviews for her performance in the amazing 1997 film, "Mr Vincent."
Todd and Blair will be giving love yet another shot. A family outing intensifies their closeness, but after Todd is rescued from a fire at the community center (he raced in to save Starr after believing she and Travis were trapped inside) by an unlikely hero, Blair returns to the penthouse with him and they give in to their passion. Kevin is out to get Todd in a big way and whether or not he will have the ability to tip the boat remains to be seen.
Javier Morga has been cast as Tico, who has direct connections to the Santi family. As I mentioned a couple of weeks ago, Jessica will be getting very cozy with Tico in order to get information on the Santi crime family. He will first air on July 7th and is a newcomer to television.
Look for the situations that throw Bo and Nora together to compound, even without the machinations of son, Matthew. (That reminds me, has anyone seen Eve McBain lately??) After Matthew's attempts to make Bo jealous of Nora's friendship with Daniel fail, the couple ends up quarantined together! What more could a boy ask for in divine assistance?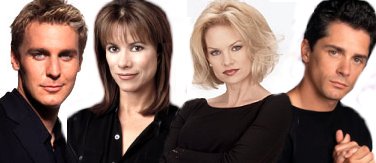 Oh ye of little faith! I know there were doubters out there when I said that Carly would shoot Nico. Please note that I did not say that Carly would KILL Nico! What happens is that Sam is at Jason's penthouse and opens the door, thinking it's Max. It turns out to be Nico, he grabs her and is about to take her on the elevator when Carly opens the door to Sonny's penthouse. Instead of slamming the door and calling the police, Carly wades in, whacks the crap out of Nico (I heard she goes for the jimmies, but that could be edited out), grabs his gun and shoots him in the back of the head.
She then drags Sam back into Sonny's penthouse and calls 911.
Sonny is still in the hospital from Nico shooting him before. Ric has been hassling Sonny while he's in the hospital bed and when Carly's emergency call comes in, Ric rushes over and accuses Sam and Carly of setting up the whole thing to derail him for badgering Sonny.
Nico becomes The Man Who Will Not Die and evidently walks away from being shot in the head. This comes after Jason already clipped him once as he tried to drag Sam out of the penthouse.
After the elevator incident, Jason vows to take Sam away to the blessed, marriage-healing island. When they get there, Sam is bummed that Carly has redecorated (guess she didn't get the memo) and says, "Carly redecorated--the place that existed for me and Sonny is gone forever."
Sonny is very proud of Carly for ripping into Ric and the cops, which hurts Sam and convinces her that Sonny will always love Carly.
Watch for Sam to be sporting a short, tacky blonde wig in upcoming scenes. This time when she sets a fire, it's not in someone's pants!
If you watch Nico and think he's a really sleazy, creepy, evil guy, attribute it to the great acting skills of his alter ego, Ryan Alosio, who is becoming a quick favorite of the powers that be. I have heard that in this role, Alosio is an amazing actor and has really given it his all ... and for the record, when he punches Sam with his closed fist, it's right smack in the face.
Like the Energizer Bunny, Nico takes a lickin and keeps on tickin. During his first few days, he shoots Sonny, feels up poor Sam aggressively at gunpoint in an elevator and you get a glance at her little pregnant (fake) pooch, tries to stab Jason with a syringe, punches Sam, gets shot by Jason, then gets shot by Carly and still, he doesn't die.
After Nico punches Sam in the face (and I hear he hits her so hard - well, of course he doesn't really hit Kelly Monaco, but it *looks* so hard - that her hair goes flying everywhere and she stumbles back, so folks, this is NO little smackin), she begins to have cramping, so Jason rushes her to the hospital. She does NOT lose the baby, but Courtney gets a good eyeful of happy family bonding over "unborn baby at risk" and runs to Jax for some cuddling. He is happy to oblige.
On June 29th, "American Idol's" Randy Jackson will make an appearance as himself. He will play a judge who helps L&B find their newest recording star.
The scene where Elizabeth first runs into Alexis and Ric has been changed. It is now at the park rather than The Cellar. For that, I am grateful because it made no sense. As Katrina said to me, (quoting "Sweet Home Alabama") "You've got a baby... in a bar!"
Mary knows how to keep a man (proving that soap characters MUST watch soaps) and decides to make a baby, and FAST with Connor/Nikolas. Connor's all for that idea and gets right on it. She may end up faking a pregnancy to keep him after the truth comes out. An actual pregnancy is unlikely as a setsider recently described GH as "hot and cold running children." Don't look for Emily to get her man back in every sense of the word for a while yet.
Jax and Courtney will go camping and have a "dip in the lake" scene.
Friday, June 25th, marks the return of Robin Mattson (GH, AMC, Santa Barbara, Ryan's Hope) to GH as Heather Webber. She will be revealed to be the killer of Officer Ross and is back to handle some unfinished business.
At this point, it looks as though Lila's death will span two days: one in which the residents of Port Charles react to the news and one with the memorial service. Taping begins next week. More info on the final "in the can" version will be coming later.
There's a new rumble that by the time Emily is leaning on Lucky for support, she may have some competition from Liz! GH Head Writer, Bob Guza, Jr, tells us to keep strongly in mind how close Lucky and Liz have been. Could this mean that Greg Vaughan might actually get some air time?? See, I'm thinking that can only be a good thing. If even one of those ladies gets him out of that uniform, it's an even better thing.
The new GH opening debuts on JUNE 14TH, so pay attention! :)
I'm also cracking up over Katrina's picture of Jason and Sonny in her GH Spoiler Commentary column this week.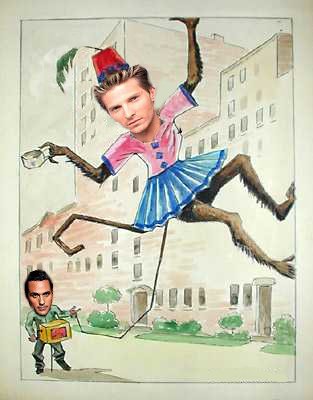 You'll hear from me when I have more gossip and scoops! If you missed the scoops posted later last week, you can find them here.
Have a glorious week!
Be blessed,
---