Our GH Fan Weekend Experience
By Katrina Rasbold
The Events
Wow. What an incredible time! I'm back after a week in LA and I'll save all the non-GH stuff for my NonSoapy Journal, which will be along in the next day or so if I can get my life back on track again.
The fun began on Friday night, when I met Tracey in the lobby of the Sportman's Lodge. We went to the Patio Café and there was Abbie, Leigh, Nicole from GH Rocks and Heather (our #1Fan). It was like best friends coming together for a dinner having just seen one another the previous week. We laughed and talked and there wasn't even a minute of weirdness of never having met before. They had seen some of the stars of Port Charles before I got there (the PC even was that night) and Abbie and Heather were telling me that the guy who plays Caleb was SUCH a jerk. They were excited to see him and asked for his autograph, then he whispered something to this pitbull in a bad wig who was with him and she got all nasty with them saying, "He's not even HERE for the GH function, LEAVE HIM ALONE!" They figured "screw him anyway" and left him to his Skank Ho (Abbie's word). From that time on, Caleb was referred to as "That Asshole Vampire."
As we were eating dinner, we felt a disturbance in the force and saw that Jacob Young was standing outside the pool gates, so I grabbed my camera and snatched Abbie by the hair and dragged her over. ("But I already said hi to him," she yelled into the our wake. "But I didn't get a picture of it!!" I answered. Then we were there.) I introduced myself (he was dressed like a Marky Mark wannabe and the mommy in me wanted to tell him to pull his damned drawers up and hide his underwear) and Abbie as my ace reporter. He gave her a cuddle and we took the picture and as Abbie was waiting for someone in line to move out of her way so she could leave, Jacob Young reach down and made a cupping hand toward her ass!! Then I guess he thought the better and pulled back, so I said, "No, it's fine. You can grab her ass. Just let me focus." Abbie said, "What???" and the moment was lost.


Seconds before the grab attempt
Back at the table, Heather mentioned that her husband always rubbed her butt for luck when the Cincinnati Reds were playing and it worked, so we all rubbed Heather's butt in hopes that it was the lucky butt that would bring stars to our table (either it only works for the Reds or Heather was lying to get her butt rubbed). We surmised that since JY had made a grab for Abbie's butt, that perhaps IT was the lucky butt and set out to get as many stars as possible to grab Abbie's ass that weekend. She told me that her friend had made an animated gif of her ass and that we could use it for the column. It is below: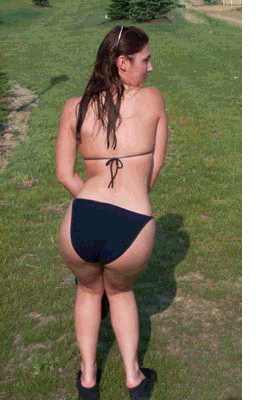 We had a great dinner and then moved the action in to the bar, hoping to see some of the PC people as they left the event (Lynn Herring, John Lindstrom and Thoreston Kaye were there…whoo hoooo!). Since we wanted all of you to be there with us and you couldn't make it, I've made notes of some of the key comments. Do NOT click here unless you have a sense of humor, want to hear what we said AND are not offended by swearing (all three must apply). A man at the next table told us he could get Jacob Young to come sit at our table and have dinner with us, so we hired him as our PR person. Here he is with Leigh:

At the bar, we had a smashing good time, the only problem being that there was a very good jazz ensemble playing right beside us. They were good, but it made talking hard and I had a sore throat from yelling over them the next day. Our waiter was an aspiring actor named Ian and he took great care of us.

We went up to Tracey and Leigh's room, which overlooked the pool, and listened to the music from a wedding that someone had the misfortune of scheduling at the pool on GH Fan Weekend. "I Will Survive" by Gloria Gaynor was a big hit with the girls.
I had to leave that night before the PC event let out, but the girls went and got some cool pics, which I'm sure you'll see elsewhere on the site.
The next day, we went right on into Nancy Lee Grahn's ice cream social. On our way to the event, I heard my name and there was Kate!! Our resident Cynic. I want to tell you that she is just as wonderfully cynical in person and I rapped myself fondly on the back (yet again) for hiring her. She wasn't going to events, but we made plans to hook up later and went on to NLG. There were a few hundred people crammed into a dining room area with a podium at the front for them to speak (with a sunlit full wall of window that totally screwed up any hope my camera had of catching a shot). It was very exciting to see her and Constance Towers. NLG brought her daughter, very cute, who was enthralled with her new sandals. Constance Towers gave up her seat for the little girl. (Awwwww) They did a brief discussion, then took questions from the floor. They were both incensed about the pairing of older men with teeny bopper girls and said that it was likely to continue as long as the show was catering to the viewers of Sex in the City and Survivor rather than the GH viewers.
They said that they had wanted for a long time to have it so that ultimately it came out that Helena had not actually killed Kristen, but had, in a fit of mercy, spared her life, but that the powers that be had actually made her speak the words that she had slit her throat, whereas before, they'd been able to get around the actually admission. CT said that she thought it would be great if a situation were to come up where Helena realizes that Stefan really is the good son and is in a place where Stefan saves her from Stavros or otherwise, that she's in a big legal bind and Alexis is the only one who can help her. Here are some miscellaneous shots from the event:
The crowd went wild when Wally showed up from his practice session for that night's concert. They had a big cheesy hug and he went to the podium to talk for a while. By this time, CT and NLG were mingling around at the tables, signing autographs, taking pictures, etc.
It was still going on when I looked at my watch and saw that Stephen Nichols would be starting in 15 minutes!! Yowzers!! I grabbed Nicole (from GH Rocks' Nic's Picks – WHAT a cool, cool person – my personal savior for getting me to Stephen Nichols on time) and went up to let Tracey know we needed to get going for SN. She blindly passed my tickets back to me and told me she wasn't budging because Wally was still yammering about Tibet or something, so I left her to her man and Nic and I split. THANK GOD Nic was there, because not only does she live here and can navigate the treacherous LA streets, but she had a CAR and the SN event was about 5,000 miles down Ventura, upstairs in a little nook and cranny theater that can't even be seen from the road. If not for her, I would NEVER have gotten to the best part of the weekend!! So we went into the baby theater and the event was set up SO nicely. Ahhhhhhh. When we got there, these really nice ladies gave us a T-Shirt from Stephen with a cool Stefan pic on it and there was a nice fruit, deli meat, cracker buffet laid out. (Feed me AND give me SN! Bonus!!) Until this time, I'd thought Abbie and the others were so sweet getting all worked up over the stars and star struck and such. I mean, it was fun to see CT and NLG, but they were people just like us and I couldn't see what the hoopla was about. When Stephen Nichols walked out on stage in a black shirt and black pants, looking more like Patch than Stefan, suddenly it was flashback to Feb 7, 1964, the Beatles landed at JFK airport and Katrina was on the tarmac, screaming, pulling her hair, fainting, sobbing, throwing my underwear (the bra wrapped around his head about four times, then hooked itself around his waist) and hotel key and all the other appropriate, resuscitation-requiring activities.

He was/is sooooo fine and sooooo sexy and soooo sweet. He spoke for several minutes, then took questions from the floor. He made no bones about how dissatisfied he was with Stefan's lack of story and his concern about the character being written off. He insisted that writing to the powers that be really does make a big difference, but said we should write to Felicia Behr, as she was more hands on with the hiring and firing. He indicated that writing to anyone below that would do very little. Although he has a passion for theater, he said that he would not be leaving GH of his own volition because he has "to pay the bills" and there is little money in theater. One of the neatest parts was when someone commented that he was able to not let his dissatisfaction bleed through on screen and he smiled and said, "That's why they call it 'acting'." After questions from the floor, we all got to get a Stephen cuddle, get our shirts or whatever signed, then grab some fruit and eat. One of the ladies outside commented that Stephen's wife had done all of the buffet preparation and arrangement. What a class act.



Nicole from GH Rocks and Me with Stephen Nichols
After that, I went on to Real Andrews' event. I was a little late getting there, so my seat wasn't the greatest and I had to take pics over everyone's heads (hence the chopped pics). I got a bad feeling in the beginning about Real's even because he started it off talking about his charity (Ronald McDonald Foundation) and showing a depressing video about it. It is definitely a worthy charity and I greatly admire his involvement in it, but I was there to talk GH and I didn't want to think about how the money I'd blown on the luncheon and the week in LA could have better been used to help someone else. (Selfish, I know, but I try to be honest with you in my column). So the video ended and Real was crying from the sections involving his brother, Mark, who had passed away and I felt really sorry for him and it brought a kind of downer mood to the place. Real's wife, Michelle, was there and about 10 months pregnant. She was really cool folk and I talked to her for a few minutes, telling her that I'd apprenticed as a midwife and taught Lamaze classes for 18 years, so to give me a tap if she needed me to breathe at her. I wanted to much to take off those nasty, Fredericks of Hollywood spike heels she was wearing, rub her little feet and tell her to let nature balance her on the ground instead of on 8-penney nails, but I showed some restraint. She looked just like regular, ordinary people. I mean, she could have just as easily been someone I met at a KOA campground on a fishing trip. When Real was off the stage, he too just turned into normal, everyday folks and I thought that was really cool. He was totally invested in his wife and that was great to see. Once we got off of the bummer trip and got back into GH, the event was fantastic. Up by where Real was speaking, there was a door to the hotel hallway and ever few minutes, it would open and some new star would come in and join the talk. I had purposely NOT checked out who was coming so that I would be surprised, because Linda Torrence from About.com who is his fan club president always rounds up a huge number of stars to come into the events. Coltin Scott and Chad Brannon popped in and it was great fun to see them. Coltin was wearing one of those dumb doo-rags on his head and in fact, the whole weekend, every time I saw him he was dressed like trailer trash. I'm surprised people weren't giving him dollar bills and quarters. Chad Brannon was dressed a little better, not overly articulate and pretty much into himself. That was the impression I got from all of the young'uns except Marissa Ramirez, who was super sweet. All the others seemed pretty uppity. (I do take that back on one. Rebecca Herbst was HUGELY pregnant and looked sick as a dog, so uppity wasn't one of her fine points. She just looked pasty under heavy make-up and like she'd much rather be home in bed with Juan rubbing her back and bringing her 7-Up and saltines. They do a GREAT job of covering her bulging belly on the show unless she has really sprung a tummy in the past 2 weeks since filming. I only saw her at the luncheon on Saturday.) Anyway, after the two guys came in, next was the one that would totally blow me away which was JOHN J YORK. He had on this bright aqua shirt that brought out his eyes in a most rrrooowwwwwlll way and however good looking you think he is, you don't know a tenth of it. WHAT a doll!! Scott Egan, our favorite bodyguard, was there such a hoot. He was very friendly and genuine and after the event, he loved giving Heather a cuddle. We joked that she was his #1 fan and he asked if we'd seen "Misery." Heather cracked that he was walking now, but he'd better look out.
It was really gratifying that the very first question off the floor for Real was "Where's your mother?" because Lynne Moody came in next and no one was really for how incredibly beautiful and sweet she is. I spoke with her publicist at the pool afterward and she told me that Lynne had considered not coming because she was afraid no one would know who she was, but I'm SO glad she did!! What a beauty! GH does a really good job of making Florence look terrible and if they'd only let Lynne's beauty shine through and give her a chance to display the incredible acting she's capable of doing, it would be a great boost to the show. But then, as NLG said, anyone over 35 doesn't exist on GH. Suffice it to say that you are all missing a LOT from Lynne Moody. Next was Marissa Ramirez and Vanita Harbor. Vanita does TV really well, because she looks exactly as she does on GH. Marissa is SO dainty and petite! She has very generous and quick smile.
There were lots of laughs and a genuine affection among the stars at the Real event. I have to say, it was one of the most light-hearted and fun events of the weekend, even though it got off to a kind of bummer start. Here are some candid pics from Real's event:
After Real's event, I met up with the gals again and had some soup at the patio café. I gave Kate a call and she joined us and we had a really great time. Heather and Abbie had been to the Women of Port Charles event and said that Tamara Braun, Angel Boris, Lisa Vultaggio and Tava Smiley were so, so nice. While we were sitting there, I went to check out Tracey's room to see if she had headed on over to Wally's concert area (I was pretty sure she had) and at the top of the stairs, there was John J. York!! I ran back to the table, grabbed Heather and her camera and shoved her up the stairs and she got a nice pic with him. We slipped back into the Vista Room where the Real event had been held and saw that Scott Egan was still hanging around, so that was when Heather got her cuddle pic with him and the whole Misery conversation happened. That pic was on her camera, so I don't have it immediately available. What a fun, neat guy!!
We started hearing (which proved to be false) that Maurice Benard was going to bone out on the luncheon >:< and was having an event of his own with Scott and Chad Brannon on MONDAY after I'd be gone, so that was a real bummer. We ended up sitting around the pool with the guys from Soaps In Depth and Soap Opera Weekly, Linda Torrence and Lynne Moody's publicist. I had to blow out because my honey had come to get me. I left the press in my girls' capable hands.
To get to the details and pics of the luncheon
click here