October 2001
Oh, Dear Readers, stop right in your tracks if you think that this is one of those blinding family trees with dotted versus solid lines in a variety of colors interconnecting every character on the show, past and present (OK, so it's got that too). No, no, no! This is the most comprehensive site on OLTL history since the OLTL History Pages (see our Hall of Fame links page listed at the bottom of this page). I have seldom seen a page with such a richly lush collection of delectable historical treasures, shown in word and images. I was...agog. I spent the better part of two days going through all of the wonderful offerings of this site. The recasts (minor and major), the weddings (ahhh, such memories!), the almost weddings, the alumni section, how OLD the characters are, WHEN the long gone and recently gone were last mentioned on the show...it just goes on and on and on. My love and passion for Peter Jansen was rekindled with great ferocity just looking at those recast photos! When, not "if" but "when" you go to this site, make sure you go pee, take the phone off the hook, turn off AIM and get something to eat and drink because you are going to be here a long, long time. I cannot say enough wonderful things about OLTL - The Complete Family Tree nor can I thank the webmaster, Ido, enough for all of the extensive, laborious work that has obviously gone into the creation of such a comprehensive, entertaining site. I felt as though I was in the middle of a precious family reunion with all of my favorite relatives gathered around me, telling me their story. THANK YOU, Ito. *sniff*
September 2001

Look out, ABC soap fans, there's a new kid on the block! Soaptown USA has come on like gangbusters, featuring great scoops and spoilers, cutting edge commentary (love that Coggie!!) and up to the minute news. Run by a veteran of the ABC Soap Net World, it's a great site that we know you will utterly enjoy. We've been waiting a long time for Bubbles to start her own site and do it her own way. She did not disappoint!
August 2001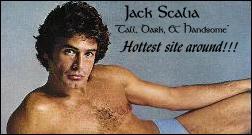 So like, rrrroooowwwwwlll. If you think you know ANYTHING about Jack Scalia because you've seen him as Chris Stamp on AMC, youse got another think comin', Miss Boss Lady! Good lord, almighty! A fan sent this link to Sage, who passed it on to me and trust me, you owe it to your hormonal health (think of menopause!!) to go check out this site. Normally I go on an on, extolling the virtues of a site, but, *gulp*, this one you'll just have to see for yourself. The section in the galleries called "Jack's Pin Ups" is particularly of interest. Credit for the site design is given to Chrisagis DZine. Sorry gals, no saving pics for your wallpaper (*sniff*), but it's very much a worthy peruse! Congrats, person behind the pseudonym! You did a really great job of showcasing a talented and handsome actor!
July 2001

This is way, way, way too late coming and I want you to know that I had it in my head that I had already bestowed honor upon such a great site that I enjoy DAILY. From the drop dead hilarious daily recaps to the badass, drink-out-the-nose laughable outtakes, this site NEVER fails to totally crack me up. I'm not easily offended, mind you, so the off color humor (lots of F word and sexual inuendo) not only doesn't offend me, but is right up my alley. I love, love, LOVE me some Marzi Pan and I salivate for her new columns. I proudly and enthusiastically bestow the Site of the Month award to GENERAL SCHMOSPITAL!!!!
March 2001
NO LONGER ACTIVE


Click on the banner to check it out!
Confession time. Karen, who helped me get EOS started and worked as my partner for a while, first mentioned this site to me a while back and I didn't check it out immediately. The main reason is that AMC just isn't my bag, so my interest wasn't particularly piqued. She rattled my cage about it again right after I wrote a quicky column on AMC after watching a few episodes, so I trotted over to check it out. David had me cracking up in nothing flat. He has some pretty astute observations about the Pine Valley population and I know you are going to enjoy it even more than I did. I mean, if it cracked me up as a novice (by continued choice), then those of you who are fans are going to love it. You will be able to read David's rants on our AMC Soap Box page from now on as well as he has graciously allowed us to link to his wonderful rants.
The Winner For February 2001 is:
NO LONGER ACTIVE

Click on the banner to check it out!
Site was great, but alas, is retired.
You may view some of CattyKit's work
on our GH Satire Page.
I have to be honest about a couple of things regarding this site. First, CattyKit, the gal who runs the site, wrote me the most blatant and (she also admitted) ass-kissing letter on earth nominating her site for Site of the Month. That was a big plus in her favor because I like people who not only ass-kiss, but are proud of what they do and want me to check it out. Demure just don't cut it with me. So I thanked her for her letter, told her ass-kissing would get her far in my world and went to check out her site. I to also be honest and say that I found it a bit tough to navigate because there is a lot of stuff thrown in there that didn't interest me, like from other soaps, Dark Shadows, Passions, etc. Whoops! A minus. You know how I am about photo galleries and there wasn't much to speak of in that respect, although what she had was pretty good (1/2 point that would have been a minus if she'd had none). Then I clicked on Lampoon (not the #2, the first one listed) and the February Site of the Month was in the bag. I would have given it to her if she'd written up and told me to kiss HER ass then asked me to check out the site. This gal rocks. I love her writing, love her sense of humor and love her attitude about the shows. For ABC side, all I found was PC and GH, so if you're a lover of all shows Port Charles, be sure and check it out, but only if you go pee first because you are going to piss your pants laughing at these if you don't. Be sure and read ALL of the GH stuff, including the GH Jeopardy, What Jason Morgan Does In His Spare Time (under "Lists") and Lizzie's Photo Shoot. She totally cracks me up. CattyKit, if you ever, EVER decide that the web page thing isn't your gig, I BEG YOU to come write for me. We will wrap our big ol' EOS arms around you, give you a drink and welcome you home.
December 2000:
NO LONGER ACTIVE

Click on the above banner to check it out!!

I just found this site a month ago while surfing around the net scoping out soap sites. When I first saw it, I wasn't blown away, but when I happened upon the photo gallery, I practically had to pick myself up off the floor! WHAT a collection and not a bad load time either! Managed by Kelly Catlin, this site has hands down the most incredible photo gallery I've ever seen in my life. You would have had to have put together one of these beasts (which I just did for Eye on GH) to appreciate the amount of mind numbing work that goes into such an endeavor. That in and of itself is worthy of recognition, but there's also a lot of other cool stuff around the site as well! Thanks, Kelly, for a job well done!
November 2000:

This site is maintained by Meribarb and is a wonderful homage to the actor who is really finding his feet in the role of Lucky on GH. Jonathan Jackson was an impossible act to follow and they said it couldn't be done, but each day when we look at Young, we see Lucky more and more. Meribarb has done a very nice job of honoring the actor without cluttering up the site with a lot of extraneous crap. Be sure and click on the links at the bottom of the page to get the most out of this site. Great job, Meribarb!!
As always, check out our Hall of Fame links page!