---
Sage Uncensored is NOT a spoiler column and does not represent itself as such in any way. It is not intended to proved "new," "out-scooped" or otherwise groundbreaking material. This column will discuss news, rumors and spoilers already in circulation, so if you are here to bitch that there is no new material, don't say you weren't warned. Those of you who enjoy Sage and his writing will likely appreciate the column. Those of you who are just here for your spoiler fix are probably in the wrong place.
For those of you who choose to continue on and share time with Sage, welcome!
---

December 20, 2004
I sincerely hope all of you had a wonderfully happy Solstice and are geared up for a great Christmas celebration this weekend. I will be taking next week off, so there will not be another Sage column until January 3rd. So Happy New Year as well!
With all three shows demonstrating some exciting conclusions, brilliant acting and *gulp* decent writing, I think we may safely conclude that the next few weeks will be a good watch. I plan to drink a lot of egg nog, eat a lot of candy and watch a lot of movies.
Colin has a week off from work and we are going to max and relax the whole time!
Since the weather is holding out pretty well, I was thinking of taking my Winter drive up to Katrina's to visit her earlier than my planned second week of January trip. Who knows? I'll be a will-o'-th'-wisp Sage!
Now, moving on to the soaps!!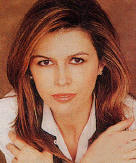 Normally, I don't dip much into the off screen lives of stars past and present, but my well groomed eyebrow shot up a bit when I was visiting our EOS friend, Pine Valley Bulletin. Kathy Carano reports that the new show hosted by Finola Hughes (ex-Anna Devane on GH and AMC) is drawing considerable fire from adoption rights advocates. The first installment focuses on a female adoptee named TJ who is in search of her birth father. She is presented with eight men, from whom she must identify her true birth father. Her actual birth father is in the bunch, but all eight will be competing to have her choose THEM as her final deduction. With $100,000 at stake, all eight are likely to be quite convincing. If she chooses incorrectly, the notFather gets the money. If she chooses correctly, she gets the money. Airing on Fox network starting on January 3rd, the show titled "Who's Your Daddy," airs each story in its entirety per episode rather than carrying over several airings, ala "The Bachelor."
Of the show, executive director of Adoption Services in Camp Hill, Pennsylvania, Dr. Vincent Berger told the New York Daily News, "It's horrible. Talk about exploitative; they're making a game out of something that should be very meaningful, very intimate and very personal."
Fox executives are quick to point out that those organizations who are publicly decrying the show have not actually viewed any part of it and says, "Just watch the show." Fox reps state that all contestants are informed of the premise of the show and willingly agree to participate.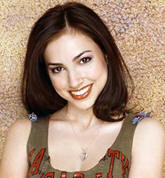 Rumors continue to fly of an Eden Riegel defection, fueled by her recent admission that Bianca being in a coma has given her a much needed rest. Both she and Alexa Havins (Babe) have been given gruelingly emotional material this year and one can imagine the continued stress of bringing up that kind of grief, albeit affected, day after day.
I heard that the very well defined break up between Lena and Bianca was a sign to worried fans that they had nothing to worry about since Lena and Poland represented Bianca's most logical exit route. From what I hear, AMC is ready to move forward with the BAM romance and will be using the poisoning of Greenlee, shooting of Ryan and interference in the BAM friendship as a means to clear Jonathan out of the way for Bianca and Maggie to reconnect in a deeper and more meaningful way, raising Mirada together as the first openly gay couple to be parents in a daytime drama. Having aired the first lesbian kiss was quite ground breaking and now it appears the show is planning to continue forging ahead after a recent fall back from the story.
You aren't supposed to have favorites amongst your children, but evidently, no one told that to AMC Daytime President, Brian Frons, who was surprised to see AMC zoom past GH in the overall ratings for December 6th, 2004. GH still carries the targeted demo, but it is evident that AMC's switched baby reveal trumped the Kristina's custody battle with fans, at least the ones with Neilson boxes!
If you enjoy AMC episodes from the recent past, remember that on Christmas Day, SoapNet will air Christmases past. Don't look for vintage material here, folks. These will be from Christmas airings wayyyyy back in 2002 and 2003 for AMC. What was going on back then? In the 2002 episode, Greenlee was fighting back Leo memories and in the 2003 episode, Father Clarence helps Bianca see that she will love her baby no matter who her father happens to be.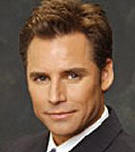 An odd swap up might be going on with OLTL as new Head Writer, Dena Higley, who promised viewers a OLTL rife with romance, scraps a couple of the burgeoning relationships the previous regime had on the burner. Gone is the Kelly and David connection, renewing the Dorian and David marriage. Gone is Antonio and Sonia, Jessica and Tico and John and Evangeline, as well as Nora and Daniel and Paige and Bo. Hook ups? Well, that's where the odd swap comes up as the powers that be took instant note of the chemistry between Duke and Kelly, as well as Adrianna and Kevin. Could be the biggest calendar swapping relationships to come to TV!
Also on the chopping block, at least temporarily, are Marcie and Michael, who are headed for the roughest patch they've had since they got together. Word on whether they will re-unite is iffy.

Info I reported last week from Soaptown USA turned out to be a misprint. It is Ilene Kristen (Roxy - right) not Kristen Alderson, who is getting offers from a West Coast soap.
Llanview is going to be a "New Jack City" beginning January 5, 2005. Jack Boscoe has been cast in the role of Todd and Blair's son.
Also scrapped are the plans previously put into place to bring Tina Roberts back to the show. Higley has said she will be focusing more on the relationships and characters currently on cast rather than bringing newbies on board.
Except that a casting call has gone out for "Tyler," a contract role for a ladies man in his 20's-30's.

What's wrong with Cristian? It has to do with brain surgery, but the question that remains is whether something was taken out or put in.
Watch AMC this week if you want to have Kelly make you cry a bit.
Thursday, December 30, Jennifer and Riley finally consummate.
Someone pops the question on New Year's Eve.
In an amazing coup that I personally did not think he would be able to live up to, Wally Kurth scored a date with Da Man, Anthony Geary, for his SoapNet show, "One Day With..." The show will air next year.
Rumors say that taking scoop information from any source before the actual post-edit tapes is a chancy business since changes and rewrites are at an all time high. Writers are literally creating by the seat of their pants, changing scripts on a dime. The most recent scenes to hit the cutting room floor involve the precipitous montage sex by Carly and Steven, originally slated for Christmas time-ish and now booted out to sometime in early February. Now, the plan is that Steven will be moving in next door and their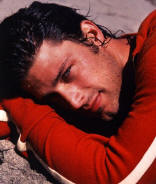 romance will be a little slower paced than first thought.
Ric and Alexis will prevail even after the conflict that arises when Alexis learns that Ric already knew Sonny was Kristina's father.
Stepping ever closer to a Lucky and Elizabeth redux... But then, she's the one female who has spent more than .76 seconds in GV's presence, so how could she resist? (I am told .5 seconds is the scientific cut off for any type of resistance)
Gratefully, miraculously, no more Lorenzo and Lois. Lorenzo and Maria? Maybe.
Not much gossip for GH this week. Of the three, could it be that this is the one that really bores me. So for now, I take my leave for two weeks again, wish you a joyous holiday season.
---
Note: Sage gets a fat ton of mail every day and regrets he can't answer everyone personally. He loves ya, he just might not get a chance to write to ya! Besides!! He writes to you every week in a column whether you write to him or not! So there! Needless to say, if you are an asshole, he just isn't going to write back because you will have proven you're not the people he writes for anyway and therefore, do not deserve his attention. If you're inclined to do that, just pretend he wrote back and said, "That's just like, your opinion, man."
If your writing to ask about future storyline happenings, figure I answered, "Pfft, I dunno."