Welcome to ME!!
(Yes, Sage is a guy... and a damned good looking one too!)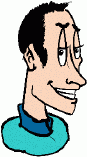 Honey, you're either going to "get" me and know my heart and my intent or you're not going to "get" me at all. If you don't, know your limitations and just back away from the keyboard after clicking the little "X" in the box on the upper right corner of your browser window, ne'er to return again.
I used to have a long disclaimer here for the confused and manners-challenged people who don't know the difference between a "rumor" or "gossip" and an actual spoiler, but screw it. Angry, bitter, small minded people will always talk their trash to compensate for their own 1st chakra frustrations and inadequacies.
When you read those vicious people on the message boards, just shake your head and remember they aren't getting any play, so they're grumpy. Pity them, then dismiss them.
---
Note: Due to the large volume of e-mail he receives, Sage regrets that he is unable to personally answer each e-mail. He wants you to know that he reads each and every one (some 2-3 times) and greatly appreciates your communication. Please DO NOT ask Sage for further info on what is going to happen on the shows. Any information he has that he can share will be put into his column ASAP.
Oct 31, 2003
Did you donate this month? HELP!

Help us stay around!---->

C'mon, you know you love us! Donate to EOS!
Happy Halloween, Everyone
Here in Central California, it's very chilly and overcast this early Halloween morning. We dropped about thirty degrees average temperature in the last week and the bite of Winter is definitely in the air. It's a wonderful time and I've got family everywhere for my mother's birthday celebration tonight.
I'll be back around on Monday with a big announcement that is just now panning out. I have to make sure it's a go before I say anything more, but please do check in to this week's column when it posts sometime on Monday.
Meanwhile, I wanted to report on some information I learned regarding Anna Lee's departure from General Hospital. All I had heard in the previous column was that she was leaving the show and I speculated that it could have to do with the painful hip fracture that she had suffered back in August. I have since learned that she her release was not on mutual terms and that ABC has treated her most unfairly. Please go to her official site at http://annalee.net for further information.
While this is indeed unfortunate and highly inappropriate, I don't think many GH fans are surprised to see this kind of treatment after the callous dismissal and disregard of Rachel Ames a few months ago. Once again, the powers that be have demonstrated that they have no regard for our long time vets who have given so much to the history and heart of the show.
There is also a petition set up to oppose this move http://www.ipetitions.com/campaigns/lila/, but my readers know that the best way to be heard in this is to write directly to Ms Lee at:
Anna Lee
c/o General Hospital
ABC-TV
4151 Prospect Avenue
Hollywood, California 90027
By writing a snail mail to that address, it will assure that your "vote" is counted in the form of a fan letter, which is really the only consideration given at the studios.
Have a blessed holiday,

Oct 28, 2003
Did you donate this month? HELP!

Help us stay around!---->

C'mon, you know you love us! Donate to EOS!
Cat Out of the Bag!
Look, this could be nothing or this could be everything, but I wanted to share it with you just in case it would. I got a OLTL wildcard spoiler a couple of weeks ago, but I didn't print it because it seemed absolutely ludicrous. The source was great, but wasn't too sure about THEIR source, so I wanted to err on the side of caution (like when that rumor was going around that Keri was going to carve up Jessica's kitten).
TODAY when Antonio got the box, I was jumping up and down on the couch with one hand clapped over my mouth and the other gesturing wildly to the TV. What I heard (sit down, get ready, swallow, whatever) is that what's in the box is Cristian's hand.
I'm still going to be SO shocked if they go through with this, but I wanted to tell you what I heard just in case they go for it!!
In other new, this time GH (and you've likely already heard, just just in case):
We are losing three cast members within the next month or so: Andrea Pearson has indeed been let go as Gina, J. Robin Miller has been let go as Lydia and Anna Lee will be leaving the show as well. Ms Lee suffered a painful hip fracture back in August and I expect her departure is likely linked to her injury. The Wub Queen speculates that Tracy's return might center around Lila's departure.
There is also a rumor that Justus Ward is being recast.
Can't wait for tomorrow's OLTL!!
Love,

Oct 27, 2003
Did you donate this month? HELP!

Help us stay around!---->

C'mon, you know you love us! Donate to EOS!
HAPPY HALLOWEEN WEEK!!
Is everyone all set for that big Halloween costume bash at GH? By now, most of you have likely seen the photos and have had your yays and nays from Nikolas' Jack Sparrow get up to Faith's bizarro Medusa cum Statue of Liberty deal. If not, you can see them by clicking here. The party is hosted by Skye as a ruse to help Luke. By the 31st (the party covers two episodes), Sonny will show up with a loaded gun, ready to kill Faith, but stops as the last minute, deciding basically that he's shot enough people this week and that violence is baaaad. This leads into his decision to get out of the mob.
You may have heard that Faith touches off a massacre, but that's not at the party. Instead, it's at a meeting of the five families where she has her guys spray the representatives with gunfire to leave her in charge of the entire area. We are given the impression, as is Faith, that Jason is dead as well, but God didn't make bulletproof vests fer nuthin and he survives. This begins on Thursday, Oct 30.
Watch for a Tony Jones moment on October 29th when our favorite neurosurgeon migrates over from "Passions" to take care of Carly.
Back to the costume party, Emily decides she's not attending with either of her loves, but instead, with Lucky. She does end up dancing with Nikolas, but vertically at the party and horizontally back at the cottage. Of course, Zander walks in on it and a fight ensues.
The following week, Ric tells Elizabeth he'll give her the space she needs (LiRic people get a kiss) and she uses that space to go to Jake's, pick up Zander and rock his world for a while. Later, Liz tells tells Emily about sleeping with Zander and explains why. ("I slept with your husband... here's why...")
New beefcake comes to town on November 6th when Courtney encounters a handyman named Brian who is really a cop.
The stranded-in-the-desert scene you may have heard about comes when Jax is taking the Dead Man's Hand to his father, John (after Dillon gives it to him), and Sam stows away. This is only one bit in a long line of cartoonish capers that show up with the Mad, Mad, Mad, Mad World of the Dead Man's Hand.
Look for Tracy to walk into chaos on November 13th and promptly get involved with Luke, Skye, Sam and Jax.
Everything you wanted Zander to say to Emily is going to be said. Well, without all the cussin and stuff.
In regard to Carly and the delivery of baby Morgan, we will learn that Morgan's heart problem has resolved on its own and he and Michael go to live with Courtney and Jason. Courtney starts to bond with the baby, which reminds her of her own loss. Sonny has to give permission for a dangerous surgery to remove the bullet from Carly's head (cue Dr Jones).
When Sonny steps down and Jason announces that he's taking over Sonny's territory, Courtney takes the Corinthos boys (with Sonny's blessing) and leaves town. Sonny supposedly (rumor status here) works with the cops to take down Faith.
Also in rumor status, I heard that Andrea Pearson has been let go from her role as Gia. Of course, this rumor has been circling ever since she took over the role from Marissa Ramirez, which is a shame because Pearson is a wonderful actor who was never given a decent chance by the powers that be to show what she's made of. I hope it's a false alarm this time as well.
Deep in a coma, Carly dreams of a life in black and white where she is with Lorenzo, working as a waitress at Kelly's and Sonny is still with Faith. This continues through November 7th, when she wakes up.
For Georgie and Dillon, the party at Luke's is a gas.
When you start hearing rumors about Sage gunning for Alexis, remember it's not me, it's Luis Alcazar's daughter, Sage.
Alexis finally regains custody of Kristina.
Skye and Ned officially break up.
Luke and Skye work together to settle their individual vendettas.
Faith ends up with Alcazar's accounts, meaning she holds the strings on the Cassadine debt. She refuses to allow Jason to pay it off and instead, enlists Zander by tapping into his desire for revenge against Nikolas.
Big buzz has been around about ex-President of ABC Daytime, Angela Shapiro, parting ways with ABC Family Channel. It was her exodus in 2002 that brought Brian "Primetime in the Daytime" Frons to the helm of ABC soaps, so now that she's available, the inevitable buzz about a return are afoot. Definitely nothing official. Don't get your hopes up. This isn't exactly a good thing. Remember when we traded Megan McTavish for Bob Guza? To give you an idea, Shapiro created "Shop the Soaps."
Also, there has been some buzz around saying that Nancy Lee Grahn is leaving GH. So far, reports from her camp deny that this is the case.
Overall, I'd say that the recent (and, giving credit where credit is due, promised, or if you believe rumors, demanded from highers up) shift to a more balanced GH is taking hold. Whether one enjoys the premise of the Dead Man's Hand or could hardly give a flying thong about Jam, a story line that ties together Luke, Skye and the Quartermaines is absolutely delicious. The quality of acting combined with the emergence of AJ for one last hurrah before he slides off the plate have all contributed to a very enjoying distraction from Mob Central. Ironically, as the time is starting to be more fairly split between Da Mob and Da Rest of Da Cast, Da Mob story has been distilled down to its best stuff. This past week marked some of the best drama I've seen on GH is a long time with my heart beating like mad as the shots were fired, baby was born and Carly fell back. I thought it was spectacular and the upcoming spoilers have me riveted. I'm eager, for the first time in ages, to see what happens.
I love the brilliant pairing, no doubt the idea of Tony Geary himself, of Skye and Luke. If there are any two characters on the cast who would most warmly respect and appreciate in one another the attributes others would revile, it's these two. I could easily (especially after last week) see them opening the doors for more Coleman interaction. That can NEVER be a bad thing. If it is causing a dividing into "us" and "them," then I'm all for it. Gone may be the days when there were a couple of front burner stories as well as a back burner story that's the ending of a front burner and another back burner that is just starting to bubble to soon become a front burner (a process, you see), but I can take this split screen as something that provides at least a little variety for us to watch. With the arrival of Tracy Q to the mix, I just couldn't be happier.

OLTL
It's true. Tracy Melchoir has been let go from her painfully miscast role of Kelly Cramer Buchanan. Stepping into her still warm shoes will be Heather Tom, most recently from Y&R.
The hunt for a new Joey is running into roadblocks. Bruce Michael Hall has already been pink slipped and none of the ex-Joeys are eager to return. Casting call has gone out, so maybe he'll just be on retreat for a while.
In early November, Marcie reveals that she has a brother named Eric who is gay. This comes out as she meets Michael, the body that Al will eventually inhabit. Turns out, Michael is not such a nice guy and has quite the homophobe personality.
An angel gives Al three days to find out what makes Michael tick and what is missing from his life. If Al can get Michael to do three good deed in three days, complete with smiles and good intentions, Al will be allowed to take over Michael's body and have a second chance with Marcie.
Marcie, meanwhile, gets a radio talk show and Ghost Al is none to happy to find that she enjoys the company of a guest named Greg.
The victims of the music box killer are yet to be named. Rumors are strong for Renee and Gabrielle, but again, no solid leads, just rumors.
Eighty-six those ideas that Hillary B. Smith is leaving OLTL. She's staying put.
I was surprised to find this week that OLTL has become, for the first time since about a month after Gary Tomlin took over the reins, (which are now firmly in the hands of Frank Valentini) a mood thing for me. I very nearly left the show after Jill Farren Phelps and Megan McTavish turned it into Rappaport Central, running it smugly into the ditch of despair from which we never thought it would return. Tomlin deftly played out some great storylines and brought it back into shape and lately, I've been enjoying it a good deal. I had areas of the show I didn't particularly like. The Vegas are nothing like I remember them and are fairly intolerable as far as I'm concerned. At first, I enjoyed Bree Williamson's take on Jessica, but now she just comes off as unbelievably naive and ditzy. I haven't thought much of Max since he was keeping Skye as his mistress in the same house with his wife, but his scenes with RJ and Luna have been lovely, as well as the grief scene he shared with Roxy. I'm almost sorry to see him go.
The return of Al is falling hollow for me, only because it would have been so much easier to save him in the first place. I'll be glad to see Al and Marcie together again, but I'm withholding judgment until I see how they play this. What I'm seeing as spoilers is reading really hokey, so I'm just going to pray it plays out better with the nuances of the actors involved added. I'm eager to see Twisted Troy back on screen, killer or not. I'm suspecting that he's the red herring and will be one of the last killed off by the music box killer. There's no scoop action going on there. It's just my own projection.

AMC
SPEAKING of a bloodbath, AMC is getting ready to axe a few characters according to Soap Opera Digest. Julia Barr (Brooke), John Callahan (Edmund) and Eva LaRue (Maria) are all going to be dumped and David Canary STILL hasn't been secured for a new contract. Marcy Walker is NOT on the hit list the last I heard and many of the other AMC vets will be kept around on recurring status.
The JR/Jamie/Babe triangle isn't over yet.
Erica will soon find out about Binaca's pregnancy the old fashioned way: by snooping, not eavesdropping. She cops a look at her daughter's medical records.
In-roads continue to be made between Lena and Bianca, but there are still a few hurdles to top, such has Bianca's fear of how Lena will react to the news that she's still having Michael's baby. She confides her secret to Kendall and asks her not to tell Erica.
Reggie gives David something to ponder. Wait, no, that was Reggie pounds on David.
As you've read in other places, two of the premises that AMC has always played off with style and grace are families and friendships. Although twisted through several different powers that be over the years, AMC has probably done the best job of preserving its basic "feel" and keeping priorities in place. Even as it has launched into the Fusion concept (grandchild of the Incredible Dreams concept, I guess), it countered by drawing together the mismatched family of Erica, Bianca, Jack, Greenlee and Reggie. When Maria and Edmund get happy (and subsequently fall off the face of the earth), we get countered by the perfect teaming of Adam and Mary. Bianca's teetering between Maggie and Lena is offset by Kendall torn between Ryan and Aiden. AMC balances well and we are able to see a wide canvas of characters (even if I don't see as much of the older characters I'd like to see) involved in busy lives that are interesting to our fictional voyeuristic tendencies. Plus, they made Greenlee look really, really sick. I like realism. And Ryan's back. I like skin.
I do remember that, as it should be, all three soaps amped up for last sweeps week, then settled comfortably down into mediocrity bordering on abysmal failure. I'm not blowing the trumpet and unfurling the banners just yet, but I'm... well... hesitantly optimistic.
Lastly, I again want to thank everyone who has donated to Eye on Soaps over the last couple of months. Unfortunately, for September and October, our donations were at an all time low and we're very nervous about meeting the expenses for November. I know I can count on our readers to keep us afloat, so I'm asking for again for donations to help cover our web host costs which are due the first week of November. Remember, Sage and the rest of the Eye on Soaps staff will be around as long as you are able to help us do so. Every dollar helps and is greatly appreciated.
Also, if you have linked to this page without seeing the rest of Eye on Soaps, you really owe it to yourself to check out ALL of our wonderful columnists. You can find updates to EOS by clicking here.
I was very happy to see the counter on my page roll over the 1 million mark recently and I'd like to thank each and every one of you for those visits. It's so endearing to know that all of you are out there and I want you to know how much I appreciate all of you stopping by to talk ABC soaps with me. This column has been a joy to write and I always feel as if I'm around friends here. It's a cruel, hard world out there sometimes and I am grateful for this place of friendship and warmth where we can laugh and talk with one another.
Everyone be sure and have a happy Halloween and enjoy this wonderful Fall time of the year. The weather is lovely, the colors are vivid and the apples are crisp. Take a few minutes to feel the nature that is all around you, preparing soon to sleep for the Winter. I'll be thinking of you and holding you in my heart.
Love,