Welcome to ME!!
(Yes, Sage is a guy... and a damned good looking one too!)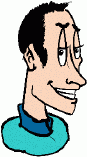 Honey, you're either going to "get" me and know my heart and my intent or you're not going to "get" me at all. If you don't, know your limitations and just back away from the keyboard after clicking the little "X" in the box on the upper right corner of your browser window, ne'er to return again.
I used to have a long disclaimer here for the confused and manners-challenged people who don't know the difference between a "rumor" or "gossip" and an actual spoiler, but screw it. Angry, bitter, small minded people will always talk their trash to compensate for their own 1st chakra frustrations and inadequacies.
When you read those vicious people on the message boards, just shake your head and remember they aren't getting any play, so they're grumpy. Pity them, then dismiss them.
---
Note: Due to the large volume of e-mail he receives, Sage regrets that he is unable to personally answer each e-mail. He wants you to know that he reads each and every one (some 2-3 times) and greatly appreciates your communication. Please DO NOT ask Sage for further info on what is going to happen on the shows. Any information he has that he can share will be put into his column ASAP.
Oct 20, 2003
Did you donate this month? HELP!

Help us stay around!---->

C'mon, you know you love us! Donate to EOS!
Once Again...
My favorite holiday is just around the corner and you know what that means!! Cannies Cannies Cannies!!
Cannies puts Sage in SUCH a happy mood, as does a good deal of the ABC soap gossip going around and about, so let's get right down to it, shall we?
AMC
Bleh. Not much going on there that is particularly good. I know nothing first hand about Bobbie Eakes, who will be coming to Pine Valley soon as Krystal's estranged mother, considering that I'm strictly an ABC soaps man, so her time as Macy on B&B might as well be her time as Blip on the planet Venus for all I know about it. Tad gets a love interest that is NOT the off-screen wife of his alter ego, Michael E. Knight... Are YOU the one asking why? Then I'll tell you. Catherine Hickland (Lindsay from OLTL) was a strong consideration, but it was determined that she is "too old" to be a love interest for Tad, even though she a married to MEK. Tragic. Absolutely Tragic. Since it would be unseemly of me to forever refer to BE as "NotCH," I'll have to give her a break and see how she works out. I'll be happy to see Tad get some lovins, but ow! Poor Simone just cannot catch a break.
It is definitely true that Maximillian Alexander has been let go from his role as Carlos. No word yet on whether brother Juan Pablo de Exxon Valdez will be sticking around or for hold long. I'm hearing that Ryan and Greenlee may get another go (despite the initial word it would be Kendall), so who knows, really. Plans change on a dime (or a few million of them) every day at ABC Daytime.
David Canary STILL has not been re-signed to AMC and if they aren't careful, this essential piece of Pine Valley is going to be history. What a travesty that would be.
****One point of interest for all ABC shows: A little bird recently told me that it is standard procedure with ABC soaps for interns to scan the net and monitor message boards to see what stories are getting the most hype. EOS has recently learned that the trend now is that when a couple or story is getting a lot of positive support (such as with Al and Marcie), the shows will then do the exact opposite, just as Bob Guza said over a year ago. In fact, our source said, "If your readers really, really like something, make sure they know NOT to talk about it or it will be gone in an instant!" Storylines that are getting heavy coverage on the net do seem to go a lot different than what the fans want, so it wouldn't surprise me in the least!*****
OLTL
If you're hearing the rumors that major players are going to be killed off by the Music Box Killer, I want to assure you that everywhere I turn, I'm hearing exactly the opposite and that only fringe characters will be done in. So far, I've heard that Ben is one of the victims (Talk about shooting fish in a barrel. Kate and I recently mused that perhaps Ben is the killers "starter victim" or sort of like the dummy head on which hair stylists - ahem - practice before they move on to their own victims), as well as Riley and Daniel Colson, after he defeats Nora for the DA seat. The most vital person I've heard mention as a solid lead is Gabrielle, but even that was not definitive. So far, I'm not even sure that THEY (the omniscient 'They') know who all will be killed off before it's done.
The hail of gunfire that takes out poor Cristian is also supposed to do in a couple of other folks and I'm betting one is Flynn, ending Trevor St John's dual role.
I did hear some interesting buzz about Dorian sneaking onto a plane that Viki is taking to see Blair and Walker. The plane crashes, leaving Dorian and Viki stranded in the mountains. They take refuge in a cave (vet watchers will recall that Dorian is claustrophobic) and the two will exchange barbs with Dorian ultimately heading out into the snow to try and get to help.
Preliminary buzz says that David and Lindsay are a go and we can expect to see more of them, which is a good thing.
Whether Ty Treadway is reprising Troy to be the serial killer or just a strong red herring is still unknown. I'm hearing both ways from good sources, so it will remain to be seen. His stay is projected to be for three months.
Ty won't be the only short-termer. Bruce Hall has been let go and the role of Joey is being recast yet again. (I've heard Firefly is on indefinitely hiatus... hint, hint, Nathan Fillian, hint, hint... let's hope they take THAT bait, hubba hubba!)
Not much info is available on Nathaniel Marston's return and subsequent story, but we do know that despite what is being spun out to fans by actors and ABC, fans might not be thrilled with how the story resolves. At this point, we are hearing that Michael's Easton's character, John McBain, has a brother named Michael (played by Richard Brandon Johnson, if you believe the rumors), who is going to be the one with whom Al changes places. Since Marcie won't know it's Al, but Al has full memory, he has to try and win her heart again.
Speaking of John McBain, if you were wondering how he's going to be redeemed from his smarmy dealings with Natalie, we will soon find out that he's an undercover FBI agent who will move on to help with the serial killer case.
Todd's secret identity is not long for this world, thanks to Kevin.
Kevin's marriage is not long for this world, also thanks to Kevin.
GH
If you've been keeping track of spoilers, you know some pretty heavy stuff is coming up between Sonny shooting through Lorenzo INTO Carly's head WHILE she's giving birth AND a Halloween massacre AND Carly going into a coma while Sonny goes off the deep end AND the baby gets passed over to Chez Morgan to raise AND Carly lives out a fantasy world in her head where she's with Lorenzo and Sonny's with Lily, thereby tossing the CarLo folks a morsel. While rumors swirl that even after she wakes up (supposedly with no recent memory except of Lorenzo being her man), the Corinthos bond may be in jeopardy, one has to wonder if Guza will really slaughter that sacred cow and deconstruct the couple he built.
Don't worry. Michael's with Gramma Bobbie.
It looks like Rebecca Herbst's pregnancy will be written into the story with a "who's the daddy" game of tag between Ric and Zander. Look for Ziz to hit the sheets (or the couch) a time or two and then for the dating game to start paying off for LiRic. No Liason. It was vetoed.
Also no "who's Carly's father" story. The powers that be dropped it figuring there was enough going on between the whole shot in the head, baby having and Lorenzo cuddling stuff going on. Scott was in the forerunner's seat as the pater familias with even more rewriting of history under consideration.
Shot in the head is definitely at least as intense as the original plan to have Carly deliver in the panic room. Thank god saner heads prevailed. Wanting to redeem Ric quickly and bring the Ted King - Tamara Braun energy into play got Carly out and a different story in the chute in nothing flat.
And yes, those of you who initially guessed that the explosions Ric was remembering were a connection to Lily were correct. He was brought on as Lily's brother, then horses (or rather in-laws) traded in midstream and he was passed off to Sonny.
You heard right. Billy Warlock has passed on his contract and will leave when it expires in December. Although preliminary reports say the show plans to send him out in a dramatic way, I'm betting they wimp out and go for a quiet relocation for AJ. How impacting it would be if Jason were to kill off AJ!
Did anyone notice that Natalia's hair is being styled straighter now and her makeup is different? I immediately wondered if they were trying to make her look more like Amber. Since the character's popularity is sinking like a lead balloon, I wouldn't doubt it if they were using any means possible to rustle up some endearment (short of writing a decent story for her).
By the way, if any of you folks who aren't Spanish speaking were wondering what "Querida" on Lily's headstone means, it's "The Undead" or also "Great Dead Counselor." Nah, I'm just funnin. It's actually, "Dear" or "Darling." Some say "Wanted."
Serial killers, massacres and sudden relocations, all ABC shows have been told to clean up and pare down the casts of extraneous characters. What constitutes "extraneous" is the biggest issue and even the vets are sweating this one out. Regardless, we're going to see a lot of changes by the time spring gets here.
Lastly, if anyone is a fan of the British soap, "EastEnders," you can go to www.saveeastenders.com for info on how to protest the removal of it from BBCAmerica.
Hope everyone is having a wonderful fall! It's my favorite time of the year, even if it's the one in which I work the hardest.
Take care, all!