Welcome to ME!!

(Yes, Sage is a guy... and a damned good looking one too!)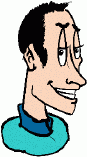 Honey, you're either going to "get" me and know my heart and my intent or you're not going to "get" me at all. If you don't, know your limitations and just back away from the keyboard after clicking the little "X" in the box on the upper right corner of your browser window, ne'er to return again.
I used to have a long disclaimer here for the confused and manners-challenged people who don't know the difference between a "rumor" or "gossip" and an actual spoiler, but screw it. Angry, bitter, small minded people will always talk their trash to compensate for their own 1st chakra frustrations and inadequacies.
When you read those vicious people on the message boards and around, just shake your head and remember they aren't getting any play, so they're grumpy. Pity them, then dismiss them. This is a hate free zone. Feel the luvvv, baby.
---
Note: Due to the large volume of e-mail he receives, Sage regrets that he is unable to personally answer each e-mail. He wants you to know that he reads each and every one (some 2-3 times) and greatly appreciates your communication. Please DO NOT ask Sage for further info on what is going to happen on the shows. Any information he has that he can share will be put into his column ASAP.

October 18, 2004
Did you donate this month? HELP, we need you!!

Help us stay around!---->


C'mon, you know you love us! Donate to EOS!
Whassup, Darlings?
Not many people know this, but the motto here at Eye on Soaps (this is a fact, I'm not making this up) is, "If it's not fun, it doesn't get done."
What that means is that we write when we feel the spirit so that you get good quality reading rather than some crap we just whipped out to meet a deadline. To honor that philosophy, I am not going to write anything about OLTL or AMC this week and maybe not for a while. They've really pissed me off and between this stupid, cruel baby switch (thieving) story and David and Kelly's little whatever it is, I'm done wit' dose guys. Even GH hasn't pissed me off that much. For information on AMC and OLTL, go to www.pinevalleybulletin.com and http://members.aol.com/OLTLnews/spoilers.html respectively.
As far as my take on those shows? FTG. (The last two words of that acronym are "those guys.")

I have a few GH tidbits, however.
Did I warn you or what about the Garden of Aphrodite stuff? Since the NEm scenes have been so very, very bad, I have no recourse but to show the upcoming scenes to you in story board form to lessen the blow. It won't be flowers blooming, the sun parting and angels singing, but it will still be stupid.
Click here to get to the NEm Storyboard for Upcoming Crap
There is still no word on whether Tyler Christopher will for certain be playing dual roles. Connor is mistake for Nikolas at least a couple of times, so they are really going to have to stretch our imaginations if he's not.
Of course, we could run the same 10 Eternal Spoilers we run every week that still apply:
1) Jason and Sam share a bonding moment.
2) Durant/Ric/Alcazar is determined to take Sonny down.
3) Carly is torn between her father and her husband.
4) Brook and Lois are at odds.
5) Courtney and Jax banter playfully.
6) Michael is quite precocious.
7) Nikolas and Emily do something so hokey we can't believe it.
8) Helena swears her vengeance.
9) Rik and Alexis spar and then are affectionate.
10) Lucky, Rik and Mac can't seem to find their asses (detectively speaking) with both hands, a road map and a magnifying glass.

Here are a couple that are a little more unique (and real):
Watch Sonny and Carly closely in the coming days and you will begin to see the beginning of the separation as the birth of Sam's baby nears and Carly holds vigil at her father's bedside. By the time they calmly decide to part ways, there will be several blocks between them. Carly keeping Kristina's paternity a secret will only be one of them. You'll see some very emotional and dynamic acting on the parts of Tamara Braun and Maurice Benard as they convey emotion without the usual grandstanding and glass smashing.
After the break up, Michael is furious with Carly and gives her a piece of his wee, red-headed mind for causing the marriage to fail. He even goes so far as to tell her he wants to live with Sonny, not her. In the end, he relents and goes with Mommy.
John and Carly grow much closer in the coming weeks, particularly through and after her break up with Sonny. The closeness you saw today after the shooting is only the beginning.
Carly and Alexis have a blow up and Carly tells Alexis that she is going to tell Sonny the truth. This is when she goes to John and he encourages her to tell Sonny the truth.
As you can see, it's quickly setting up that almost EVERYBODY knows Sonny is Kristina's father except Sonny.
Just as Alexis is about to tell JASON that Sonny is Kristina's father, Steven tells her a donor has been found. This is the one who (doh!) gets hit by a truck and completely killed on the way to the hospital for the procedure.
Around the same time, CARLY is about to tell Sonny the truth, when Jason comes in and announces that a donor has been found.
Jason ends up emotionally supporting both Carly and Sam.
After the Kristina reveal, Alexis and Sonny have some heavy and tense confrontations at the hospital.
Sonny does not fight Carly for custody of Michael and Morgan. His entire focus is on Kristina.
With Jason's input, Sam decides not to induce labor early to harvest stem cells to save Kristina. Later, in the hospital chapel, Sam and Alexis have a mother-to-mother chat and Sam changes her mind. Before she can act on it, disaster strikes.
Luke and Skye offer Faith a deal: If she will take the rap for Ross Duncan's murder, they will give her money and help her to escape.
Are you reading conflicting reports on the net from what I've told you in this column over the past few weeks? All I can say is to sit back and watch it unfold and decide for yourself who gave you the correct information. I give you the info as I have it, the way I get it.

Behind the scenes:
My sources tell me that Maurice Benard signed a four year contract the last week of September. Tamara Braun's contract is up in March and she has not yet entered into negotiations. Yes, the kid who plays Diego is now on contract. Amazing, isn't it?
Executive contracts come up for review in December, but at this time, there is no word of anyone leaving.
I still hear that at least three major players are seriously considering not re-signing with GH when their contracts are up in the spring.
GH is rumored to be casually casting for the role of Sophia, Lorenzo's dead lover. Speculation is rampant that it's a chain of Plan A and Plan B. If Steven and Carly don't catch on, there is sufficient groundwork in place to reunite Lorenzo and Carly. If Steve and Carly DO catch on, Lorenzo will have Sophia as a love interest. Lois doesn't factor into the equation.
I have asked several key people and there is not one word about Sarah Brown coming back as anyone. Of course, with her ATWT role wrapping up in December and her boyfriend's east coast gig terminating not long after that, it stands to reason that desiring fans would start speculating, which often leads to hard core rumor. Likewise, any time Vanessa Marcil finishes a job, rumors of a return, real or imagined, will invariably surface. We should probably have a list of 10 Eternal Rumors to accompany our list of 10 Eternal Spoilers, shouldn't we?
1) Sarah Brown is returning.
2) Vanessa Marcil is returning.
3) Ingo is leaving/returning.
4) Tristan Rogers is returning.
5) Genie Francis is returning.
6) Maurice Benard is leaving.
7) Rebecca Herbst is being fired.
8) Tony Geary won't return from his most recent vacation.
9) Robin Christopher is going to prime time.
10) Journey/LiRic/Liason are getting back together.
At this point (good for some, sad for others), none of these appear to be true, despite rumors to the contrary.
Bad news, maybe, but come on, luv up the messenger a bit.
Much love,