Welcome to ME!!
(Yes, Sage is a guy... and a damned good looking one too!)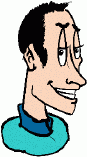 Honey, you're either going to "get" me and know my heart and my intent or you're not going to "get" me at all. If you don't, know your limitations and just back away from the keyboard after clicking the little "X" in the box on the upper right corner of your browser window, ne'er to return again.
I used to have a long disclaimer here for the confused and manners-challenged people who don't know the difference between a "rumor" or "gossip" and an actual spoiler, but screw it. Angry, bitter, small minded people will always talk their trash to compensate for their own 1st chakra frustrations and inadequacies.
When you read those vicious people on the message boards and around, just shake your head and remember they aren't getting any play, so they're grumpy. Pity them, then dismiss them. This is a hate free zone. Feel the luvvv, baby.
---
Note: Due to the large volume of e-mail he receives, Sage regrets that he is unable to personally answer each e-mail. He wants you to know that he reads each and every one (some 2-3 times) and greatly appreciates your communication. Please DO NOT ask Sage for further info on what is going to happen on the shows. Any information he has that he can share will be put into his column ASAP.

September 17, 2004
Did you donate this month? HELP, we need you!!

Help us stay around!---->


C'mon, you know you love us! Donate to EOS!
Early Column
Have information, don't want to sit on it, so I'm posting today instead of on Monday. This means there will NOT be a column posted on Monday unless more vital info surfaces. You can thank Katrina and Carol Banks Weber for the "DO IT NOW!" push!
As many of you have heard, Linda Dano's husband, Frank Attardi, died Wednesday evening. He was diagnosed with aggressive lung cancer in early June of this year. Our sympathies go out to Ms Dano and her family. Attardi played Beau Wexler on Another World in 1992 (Wexler interacted with Dano's character, Felicia Gallant, when she was in rehab). Dano also played Gretel Rae Cummings on One Life to Live and was the first character to cross over to all four (at that time) ABC Daytime Dramas.
David Tom, who assumed the role of OLTL's Paul Cramer from Brock Cuchna earlier this year, learned on his return from "personal leave" that his character is being killed off. We're told it was actually his sister, Heather Tom (Kelly), who let him know. Paul's death will spark a murder mystery that (guess what?) spans OLTL and AMC. Tom's last air date is expected to occur in the next two weeks, but has not yet been announced. Michael Easton (John McBain, OLTL) will also be crossing over to AMC to investigate his murder.
Adding to the info that AMC is NOT killing off Liza when Marcy Walker leaves later this year is the insistence by ABC that she will be kept on as a recurring character. This, of course, is also what they said about Cady MacLain just before killing off Dixie, so who knows? I'm betting that if at all, we'll see Liza about as much as we do now unless some smart soap scoops up Walker.
On AMC, Maddie, Sam and Petey are being SORAS'd to teens.
Evidently, hell has a hairstylist that will blonde you out after you're dead.
Still no word on how Cris will return, ghostly or otherwise, when David Fumero comes back to OLTL this fall.
New faces are on the horizon for OLTL. Kimberlin Brown begins as Dr. Paige Miller, who will be involved with Asa and Bo. Bill Dawes and Paul O'Brien debut September 29th as Marcie's brother, Eric, and father, respectively.
Now that we've screwed around with that blah, blah, blah info, let's get into some serious...

GH SPOILERS THROUGH MID-NOVEMBER!
That's right, these are ones you can take to the bank as real and assured.

Here we go:
So you heard that little Morgan is going to be ill and that's what starts the ball rolling? Well, it does involve a ball, but his illness is NOT life threatening and is actually a smoke screen for a story that is to follow. (red herring, darlings, red herring).
Carly comes close to telling Sonny the truth, but doesn't make it. The answer to Morgan's mystery illness comes from Michael and Carly will be relieved to know
that neither of her sons will be spending any significant time in the hospital.
You've likely already heard that a death is predicted. It's a popular female and keep in mind that dead isn't always dead on soaps. Regardless, it's a real "cliff hanger." Speaking of only being "soap dead," a male who is now considered dead will be making a come back.
Lois realizes that Lorenzo is still hung up on Carly, but can't seem to resist him.
GH is casting for the role of "Jordan," who is a Carly lookalike who will be serving as Sonny's lawyer in the (let's recite it together, friends!) custody hearing for Kristina. Jordan is a recurring role, but solidly recurring for a while.
Alcazar hires a beautiful, blonde hit woman named Lana (played by Jennifer O'Dell, right) to distract and then ultimately take out Durant. When Lois sees Lorenzo with Lana, she gets all kinds of territorial. (Bet you can't wait for THAT, can you??) Durant actually knows who Lana is and STILL takes her to bed and has a good time with her...before he busts her.
Someone got a curse you say?
Cure it in the dumbest way!
Want everything to turn out righty?
Kiss her at midnight in the Garden of Aphrodite.
('s'cuse me a minute)



(Anti-NEm folks should tune out for this one.
Could be toxic. Even NEm fans might find this one too dorky.
Dumbest story ever and WORST misuse of major potential)
Helena grows more desperate to stop the wedding, resulting in fatal results for someone surprising.
Edward starts to suspect Heather is up to something and puts her to the test. She finds a very unlikely ally and he finds a job at Kelly's.
The return of the object of her obsession throws Heather a bit off her game.
By the way, who IS being hidden away in the Quartermaine attic?
Daughter and father bond in the hospital after the shooting that Alcazar orchestrates to implicate Jason. Dad is shot, but lives and ultimately proves be selfless as he gives his daughter some heartfelt advice that would undermine his entire mission.
Endings and beginnings; life and death. A donor is needed immediately to save a child's life. One little girl dies and another one lives. In the midst of this, one marriage ends and another one begins.
The one that ends does so with a whimper rather than a roar. No exploding glassware or power plays. Just a calm understanding that what's done is done and what's over is over.
The one that begins doesn't go as everyone expects. Both parties want more than a marriage of convenience and are in harmonious agreement over the change of direction.
Hell hath no fury like Helena scorned! "Mirror, mirror on the door. Didn't this (attempted) murder happen before?" Memories of Kristen (Alexis' mother) surface.
Jax issues Courtney a challenge much like he did with Brenda, but a missed
message causes quite a Casper snag. (It's not over by a long shot)
Diego is VERY defensive of Courtney and Jax catches a faceful of it, then Diego gets it right back! Ka-pow!
A totally unexpected person will be the one who provides the vital proof that sends Sonny up the river.
LoLo hits the sheets again and Brook walks in on them. Um, EW!
Brook lashes out at her parents by getting frisky with Diego.
Ric lends his constant support to Alexis through a difficult time. The effect this and their upcoming marriage has on Elizabeth is not overlooked, but don't expect a LiRic reunion... more like the swan song.
This one is going to sound like typical vague stuff, but hear me now and believe me later! GH has gone Titanic! Look for some heavy hitters (and not necessarily the ones you think) to jump ship by the end of the year. The face of GH could well change in a big way.
Speaking of the faces that change GH, I heard that the second opening montage is on hold until it has been determined who is staying and who is going. Don't expect this one to be all there is in the long run.
And in more changes, forget the Ogelvie! That's Blake Gibbons' real hair. Previously, he straightened it for the camera, but recently decided to go natural, with GH's approval. They felt it gave Coleman an edge.
Sadly, despite reports to the contrary, there are no definitive plans at this time to resurrect Liason in the spring. I'm sorry, folks. :(
Much love,