Welcome to ME!!
(Yes, Sage is a guy... and a damned good looking one too!)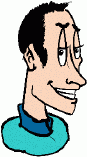 Honey, you're either going to "get" me and know my heart and my intent or you're not going to "get" me at all. If you don't, know your limitations and just back away from the keyboard after clicking the little "X" in the box on the upper right corner of your browser window, ne'er to return again.
I used to have a long disclaimer here for the confused and manners-challenged people who don't know the difference between a "rumor" or "gossip" and an actual spoiler, but screw it. Angry, bitter, small minded people will always talk their trash to compensate for their own 1st chakra frustrations and inadequacies.
When you read those vicious people on the message boards, just shake your head and remember they aren't getting any play, so they're grumpy. Pity them, then dismiss them.
---
Note: Due to the large volume of e-mail he receives, Sage regrets that he is unable to personally answer each e-mail. He wants you to know that he reads each and every one (some 2-3 times) and greatly appreciates your communication. Please DO NOT ask Sage for further info on what is going to happen on the shows. Any information he has that he can share will be put into his column ASAP.
Aug 21, 2003
Did you donate this month? HELP!

Help us stay around!---->

C'mon, you know you love us! Donate to EOS!
Teeny But Mighty GH Scoops!
Jason and Elizabeth are pulled back into one another's scope as Emily's condition worsens and she slips into a coma.
Already mourning the loss of her baby, Courtney is further upset as she witnesses a close moment between Jason and Elizabeth in the hospital chapel.
Carly tries to reassure Courtney, but Courtney is distraught and turns to the pain pills she was given. Her paranoia over losing Jason deepens.
Ric and Jason conflict yet again... the source this time? Elizabeth.
Elizabeth is moved by a wave of love for Ric, but meets with tragedy before she can reunite with him.
Sonny and Carly are thrilled to see their baby via ultrasound.
Hope you all have a wonderful weekend! I plan to!!
Katrina is off to the GH Fan Weekend and will be reporting to Sherry who will transfer the info to us! You can read daily coverage of the events here.
If anyone would like to contribute to the expenses for EOS for the coming month, click on the PayPal button or click "options" for other, well, options.
Your contribution helps us stay around!
See you Monday!
Love,

Aug 18, 2003
Did you donate this month? HELP!

Help us stay around!---->

C'mon, you know you love us! Donate to EOS!
*Snifffffff!*
Whassup, baybee?? Nah, that's not Sage sniffing da the snow offen a mirror. Sage no do-a da chemicals, dahlink. That was da sniff o'love or...
do I smell the nummy return of two delightful (in their own ways) GH vets from vacation? (more coming!)
Regardless, here I am, sniffing around the skirts of the ABC spoilers for another week.
First, a little personal note. Yes, loveys, I am in high spirits and very happy, happy, joy, joy today! Life is sincerely good.
I have a very special mission in mind with today's column and I'm hoping a few of you can help me with it. September 5th is Katrina's birthday (for those who may not know, Katrina is the Eye on Soaps webmaster and owner and my bestest buddy and the reason why, frankly, we're all here and have this fabulous website to bring us all together) and this Friday, she is leaving for LA to cover the GH Fan Weekend. I'm extremely happy she's going because she NEVER gets time to herself, especially away from the family and I think it's going to be really great for her. In fact, we were chatting last night and she told me that she hasn't been away from her family since 1996! She did go to the GH Fan Weekend 2 years ago, but took her family with her, so it wasn't really time away. If you have read Katrina's Nonsoapy Journal at all, you know that her husband has been laid off for a long while and just went back to work, so while they have enough to go on now, they are trying hard to get caught up after a couple of months without income (I'm sure a lot of you know what that's like!). Anyway, I sent her some money and told her to get her hair cut (honey, it needs it) for the trip and I was thinking it would be cool if we could get the EOS charges for September covered so that she would know that she and I don't have to cover any of it for next month. With any luck, that will encourage her to free up more of the family's money to have a good time on her vacation, help cover the hotel room and such things. Two of our friends have already been hard at work making sure she's able to get down there transportation-wise and I thought maybe we could take the baton pass from them and get EOS covered and maybe even come up with a few bucks extra to help with her expenses while she's down there. Now THAT would be a great birthday present (early) for her! :) Ballsy yes, but I LUVS my friend and I LUVS EOS, so I'm always grateful to her for providing and maintaining that for us! So if you can't, just wish her good travel, fun
times and lots of pictures for us! If you can help me with this project, you know the drill: Click on the PayPal button to the right or click on the
"options" button below it to find out other ways to send a donation. Thanks for reading this, for considering it and for helping if you can. My gal definitely deserves a fun time! Six kids and full time days working on a website definitely earn one a vacation!! :)
If you have been having trouble accessing EOS, that is because we are in the process of changing over servers. The other web host we were using was cutting out quite a bit and didn't seem to be showing the reliability we want for our website. The changeover was completed Saturday night, but takes up to 48 hours to fully propagate through the internet, so it should be resolved quite soon. Right now, there are two versions of EOS floating around, with Katrina updating both each time we post something. Some folks are getting EOS at www.eyeonsoaps.com and others are only able to get it at www.eyeonsoaps.addr.com. The "addr" url will continue to be updated until the end of the week, so if you've been using it to access the site, you'll need to start using www.eyeonsoaps.com to get the updated info after about Thursday. We both think this will be a good move for EOS and hope it results in better service to our readers.
I'm going to start with GH because I'm so totally jazzed that my gals, Katrina, Carolyn, Kathy and Victoria are going to be reprasentin' at the GH Fan Weekend! I know we're going to get awesome reporting of the event from them, as well as a pile of great pictures!! To further the feeling that it's just like being there, EOS will be providing day to day coverage of the event here. Each of our intrepid reporters will be phoning in the latest info and hopefully, pictures, every day of the event. We won't be able to show the updates on this particular page on our regular Updates page, so check it from time to time over the coming weekend!
Sadly, Stephen Nichols will NOT be able to make the event. *moment of silence* The beautiful and very bendy CassaHOs will be present with Stefan pics and paraphernalia, so stop by to tell my favorite gals that I love them (tell them "Oh, Sage says he loves you!!!"). Tony Geary won't likely be there since he and Genie Francis pretty much swore off of fan events during the big L&L hoopla twenty years ago. Beyond that, attendance should be pretty complete across the board. Since GH films in LA, most of the cast tends to show up. I am sooo eager to hear what happens!!
Ain't no vanity in insanity, honey and that is the name of the game on GH in the coming weeks. You may have thought Alexis' foray into grief-stricken obsessive nutsville was the end of it, but watch for a number of Port Charles folks to take a lean toward the cracker factory. Courtney will be tortured by the knowledge that she miscarried (well, sort of killed by jumping into freezing - yeah, right in August - waters off the coast of Columbia) her lovechild with Jason. That's going to make her ever so slightly bonkers, with Jason thinking it's because Alkazar couldn't resist her sweet allure and had his way with her. When the truth finally does come out, Jason will go through is own tough grieving process.
Both Nikolas and Zander will have their moments as Emily slips further and further to pearly gates. Don't worry. Despite rumors to the contrary, Emily does NOT (at this point, anyway) slip into that great beyond and beats out cancer and meningitis for a full recovery. That's what's planned as of this week anyway. *sigh* Stories move through a revolving door around GH.

Not only is Alcazar eternally on the phone, he's about to get a direct line to obsession as his fascination with Carly grows. Look for him to start getting a little bit nutty as well. It seems those Alcazar boys take their wimmin very, very seriously (and have a penchant for holding them captive on yachts that blow up). Guess it's something in the genes (lord knows they've got it going on in the jeans).

Liz must be crazy because evidently, she's going to take her kidnapping, homicidal, drugging, lying psycho husband back despite all that goes on. This furthers the Guza theory that all real women love their men no matter what and are perfectly willing to accept any kind of behavior or treatment from their guys and still open their loving arms, legs and hearts to make their life as good as possible. Two theories are sniffing around, one being that Lucky and Liz end up turning to one another and making a surprise baby as they grieve over Emily's illness. Another is that Lydia is the one who ends up with the heir baby bun in the oven. But who's the baker of said bun?
So yep, the lazy, crazy days of Summer are well, a little more crazy than usually.
At this time, there is no indication that Finola Hughes (ex-Anna) will be returning to General Hospital. We know that she is leaving All My Children later in the year and has voiced an appreciation for the West coast, but our sources say that she is more interested in taking a break and exploring other projects. Another little bird told us that her friends who are actors on GH are telling her, "Nooooooo!!!!"
Those of you who have been lamenting the Stefan of old and cursing this manipulative, nearly desperate version of our favorite tortured soul are about to get a wonderful reprieve. Soon, you'll see a scene between Stefan and Nikolas that is very telling and indicates that Stefan has been blackmailed into all this recent madness. Keep your eyes and ears tuned!
Luke is coming back and *gasp* he's going to have a bit of a story as the Cassadine-Spencer feud heats up again. Lucky's decision to join the PCPD is going to not sit well with Daddy Dearest and as more info comes forward on Stefan's actions while he was away, the elder Spencer is NOT happy. Luke has been on the run from prosecution for Summer's murder to back up Tony Geary's annual summer vacation to Amsterdam.
Listen for the screams of delight from two of my favorite gals (H&L, I love ya, darlins!) as their favorite blonde bombshell surfer returns from his own vacation. Jax will be back in town soon and will be caught up in a very interesting romance (Kelly Monaco). No first return airdates are in place yet for Geary or Rademacher.
Not much gossip going around the valley that you don't likely already know. Rumors of more of the Santos family being recast seem to be losing steam.
Of course, as most people already know, Bianca is pregnant as a result of her rape and the info I'm getting says that AMC will be tackling yet another controversial subject as she considers having an abortion. That puts Kendall and Erica both at odds on what's best for Bianca versus their own vested interests.

I hear that Bianca and Lena WILL eventually end up together in a very tender reunion, facilitated by Maggie.
Michael Cambias will be cleared of all rape charges, which starts a vigilante mentality in Pine Valley, drawing in everyone from the pater familias Cambias to Ryan to (of course) Aidan to Adam to Palmer. In fact, there aren't going to be very many people in that opening sequence photo album who AREN'T gunning for Cambias' canoodles in plain brown wrappers. The inevitable murder mystery might as well have the Pine Valley phone book as a suspects list.
The unlikely alliance of Adam and Palmer will be a joy to watch.
As summer winds down, AMC will follow the old soap tradition of letting go of the teen stories and moving the focus to the adult stories in a nearly seamless fasion.
Ryan comes back to town with a good deal more power under his belt (which should definitely qualify him for the Sexiest Man in America, especially in comparison to the bozos we've seen in the semi-finals so far!) and that will appeal to more than one lady in the Valley. His feelings for Kendall aren't resolved by a longshot and he's going to totally misinterpret her friendship with Aidan, who still won't think highly of Ryan.
How about Ron, Marcie's brother? Not bad, eh? Definitely he is the anti-Joey, he is doing a fine job of embodying rugged good looks and a persona of strength and protectiveness. Personally, I hope he sticks around, but his presence is likely to help Marcie through Al's coming death (>:<) and then usher her back home while Kathy Brier (Marcie) does her Broadway starring gig in "Hairspray." Watch for Marcie's singing to be used in the context of the show very soon. Ron is played by Tim Adams, previously of Sunset Beach and Guiding Light.
If you too are pissed about Nathanial Marsten's unexpected firing, thereby busting up one of the fan favorite couples of recent history, you can voice your disapproval by going HERE to learn about the Save Our Voice Campaign!
Hot on the heels of news that Nathanial Marstens' firing is word as per a fan event that James DePaiva (Max) has been fired as well. Get a good look at the picture of him smiling here because rumors say that both DePaiva
and wife Kassie (Blair) are not only sad, but are PISSED about this decision and other cast members are ranging from angry to seriously unsettled (who's next??) about the decision. Some setside folks have said that they aren't at all surprised because JDP has been at odds with the powers that be for some time now, compared to his wife's more gracious demeanor. I guess we've got to find some way to get Jen a little more air time! Max leaves in conjunction with Al's death, I hear and there's still no guarantee that Fiona Hutchinson (Gabrielle) is staying. The main source claiming she's not leaving swore the same about JDP even as his own lips gave the news at the fan event.
Prepare to say buh-bye to Krazy Keri the week of September 15th as the conflict with Antonio goes high drama. Sherri Saum who plays Keri says that the decision to kill off Keri was a friendly and consensual one between herself and the OLTL powers that be.
Get ready for a roller coaster of fun as David Vickers brings his own special, sexy, conniving flair to Llanview ("YOU!" Dorian said today with a
look of disdain reserved only for her not-so-favorite husband). Those of you who are not already on the Vickers Vagon had better get your running shoes on because we've been rolling since about 1994. If you think you've seen Tuc Watkins before, he was one of the first movie victims of "The Mummy" starring the delish Brendan Frasier, not to mention his slimy portrayal of the double-crossing and ultimately murdered Pierce Dorman (the young, handsome doctor who successfully sued Monica for sexual harassment) on General Hospital. Sit back! Nestle in! Watch! Smile!
Dahling, I wish there was more gossip about, but my bones is dry and I'm just not hearing that much. This is what I was able to pull up this week, other than my undying, uncompromised love for you. If only it was April 1st so I could make up some bodacious lies to print. Likely, in this case, the lies would be more fun than what we're going to see... except for David Vickers and Dorian Lord Hayes. Mmmmmm. That is such a match made in warm climates (and I ain't talking Barbados!).
See you next week, Loveys!!

From One of My Sweeties!