Welcome to ME!!
(Yes, Sage is a guy... and a damned good looking one too!)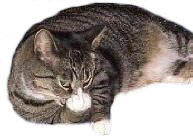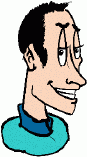 Honey, you're either going to "get" me and know my heart and my intent or you're not going to "get" me at all. If you don't, know your limitations and just back away from the keyboard after clicking the little "X" in the box on the upper right corner of your browser window, ne'er to return again.
I used to have a long disclaimer here for the confused and manners-challenged people who don't know the difference between a "rumor" or "gossip" and an actual spoiler, but screw it. Angry, bitter, small minded people will always talk their trash to compensate for their own 1st chakra frustrations and inadequacies.
When you read those vicious people on the message boards, just shake your head and remember they aren't getting any play, so they're grumpy. Pity them, then dismiss them.

---

Note: Due to the large volume of e-mail he receives, Sage regrets that he is unable to personally answer each e-mail. He wants you to know that he reads each and every one (some 2-3 times) and greatly appreciates your communication. Please DO NOT ask Sage for further info on what is going to happen on the shows. Any information he has that he can share will be put into his column ASAP.
Aug 13, 2003
Did you donate this month? HELP!

Help us stay around!---->

C'mon, you know you love us! Donate to EOS!
And it's a really, really, really long story about the recent miraculous changes in Sage's life. Those looking for soap info will likely be bored. This is for those pals who are interested in the personal side of things. Click on "The Long Yarn" above to read and catch up.
PS: I know you already know this, but Bianca is pregnant from the rape. :(

Aug 12, 2003
Did you donate this month? HELP!

Help us stay around!---->

C'mon, you know you love us! Donate to EOS!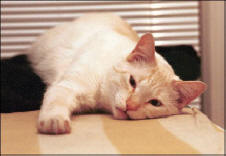 *Thunk*
That's it! That's the last of my energy and I'm falling over in an exhausted Sagey heap.
WHAT a week and I am not even sure that I know where to start tell you guys about all of it (but of course, I will, being the exhibitionist that I am and all). I know not all of you are interested in every little burp and fart of my life (and this has been a gastric conflagration week if every there was one - figuratively speaking, natch), so I'm going to do the business bit first, then I'll get into the personal stuff and those of you who don't give a flying greased Jenny about the other stuff can take yer leave and the rest of you can gather 'round my gasping, heaving body while I choke out all of the stories and dips and turns and belly-dropping, ball shriveling experiences I've encountered since last we spoke. So on with the shows.
Most of the info I'm going to report you've likely heard on other sites and from other sources, so don't go fussing about me being a stealer and a faker and an unoriginal wet teabag of a dood (not this time, anyway). I've been a little bit out of the loop (or is it a noose?) lately and I'm playing catch up. In case you are too, I'll tell ya anyway.
AMC
Wave good-bye to William DeVry as Michael Cambias. We can even send some delegates from Eye on Soaps over to help him pack. It couldn't happen to nicer guy. Bye!! Bye!! BYE!!! Let's stand arm and

arm with the folks over at the Pine Valley Bulletin and say, "BYE!!!!!" (bye)
<-----(Remember "Freakies" breakfast cereal? "This is the Big Boss. We call him "BossMoss." "Make sure you spell it right.")
Ryan will be returning with a nice ass-et under his belt, compliments of the elder Cambias. You gotta love it when a good deed really, really pays off.

While we're saying good-bye, we should spare a fond farewell for one of my personal favorites. Turns out this town really isn't big enough for two divas, so Anna Stewart will be leaving the role of Mary Smythe soon. Such a pity. She's such a Tracy Quartermaine-type goddess that I adore having her around.
The actors' revolving door is only part of the turmoil AMC has been experiencing. After just bringing in Megan McTavish as a new Head Writer, last week displaced Executive Producer of PC, Julie Hanan Carruthers, was relocated to AMC, booting out 5 year veteran AMC EP, Jean Dadario Burke. No word yet on what happens to Burke now. The Grandpa (pater familias) of ABC, Prez of Daytime, Brian Frons says, "[We] are very pleased to keep [Carruthers] as part of the ABC daytime family." He might as well add, "We aren't sure what th' frig will happen to Ms Burke, but then, we don't have to care, so we just don't. It's just cleaner that way." Playing musical honchos has been an ongoing pastime at ABC and this is just another link in a long chain of incestuous inbreeding between the shows and you know what big eared, dim-eyed, banjo-pickin' little babies that produces.

Strictly by way of the rumor mill is the gossip that Nolan North, ex-Chris from PC, is being considered as a NuNuNuNuNuJake. I think I'd like North, but know I don't like Jake. I enjoyed him for about five minutes when he was with Greenlee, but other than that, I always found him sadly lacking in pizzazz, especially when compared to his pizzazzful brother, Tadly. So as far as North coming to AMC, cool. As far as Jake returning to Pine Valley, meh... who cares. Again, this isn't even close to anything reliable... just gossip.
OLTL
Sounds like the message that used to be on Robin Strasser's hotline about a bloodbath was pretty close to the truth. Sherry Saum, James DePaiva, Nathanial Marsten and Ty Treadway all now lie on the cutting room floor. All of these are said to have already taped their final scenes. Nathan Purdee is reduced to just below recurring and there's murmuring of Fiona Hutchinson being next out the door to make way for a Bo-Nora redux. David Fumero leaves later in the Summer and Hillary B Smith isn't quite sure she's going to sign another contract with OLTL. She says she's not interested in pursuing other soap fare and wants to do non-acting things for a while. Unless OLTL is able to offer her something that can't be refused, I'd say she's gone.

Not just another pretty face, Yvonne Scio who plays the private eye who is playing Walker and Kevin actual has a bit of an acting portfolio. You can click here to see what else she's done, including playing an actress who was murdered in Ellen Rimbaugh's past in the ubercool miniseries, "Rose Red."

From what I've heard, Alonzo Holden (that'd be "Al" to you and me) is definitely going to be killed off, but not before Mama Gabrielle offers up a good chunk of his liver to save his life. Such a shame to break up a couple that had so much potential. Not going to be a good year for Marcie, sadly. With Kathy Brier busy starring in the Broadway production of "Hairspray," we won't be seeing much of her after the hazing and Al's death. Besides, we have to maek room for lots of Joey and Jenn scenes!

The info on my gal, Ilene Kristen, is complicated and nearly bi-polar. One side insists that Josh Griffith, Head Writer for OLTL, just doesn't "get" Roxy and is having trouble writing for her, preferring to have her around for the occasional comic relief rather than exploring any depths of the interesting, complex character. Rumors are that this puts her on the hit list for the next round of dismissals (which will come by Fall). The opposite side insists that quite the contrary, Roxy is set for a big story to manifest in the next few weeks and that she will be set up with a romance that goes in a very unexpected direction. My thought is that I would love for Roxy and Dorian to connect as friends. Dorian has always been extremely liberal in her choice of those she holds dear as friends, including Lindsay and RJ amongst her pals. If I hear any more, I'll pass it along.

Expect to see your annual glimpse of the rare Dr Larry (Michael Storm) when Marcie is treated for injuries resulting from her brutal sorority hazing. Once a major heartthrob on the show, the vital and talented actor is reduced to the very, very occasional hospital shot to the point that many OLTL vets are fairly distracted when physical misfortune befalls a Llanview resident, their concern for the poor victim secondary to the excitement over a possible Dr Larry sighting.
God he was/is so hot. Y'all just don't even know. This was back in "the day" when both GH and OLTL had stories that largely revolved around the hospital. For those who don't know, Larry was married to Viki's very beloved younger sister, Meredith.

Kevin Dobson, who is best known as Bobby Crocker on Kojak and Mack MacKinsey on Knots Landing, will play the governor who is supposed to appoint Kevin to Lt Governor, as per Asa's demands. The role is considered to be recurring. Didn't like Kevin before. Don't like Kevin now. The only difference is that now I don't like Kelly either. I guess if she's going to be so naive and gullible, as oppose to the sharp and nobody's fool Kelly from before, it's best she's not the familiar face of Gina Tognoni. Why oh why oh why don't these writers/casting directors/etc do just a tiny bit of research to see what the character was like before instead of giving us an entirely new character with the old character's name? I'm surprised Viki recognizes any of her children since not one of them looks or acts like themselves any more. Harrumph.
GH

Of course, the very big news is the signing of PC's Livvie, Kelly Monaco, to General Hospital, starting September 30th. Some are speculating that she's connected to Alcazar, but in actuality, she is set to be a leading lady for Jax. Nope, she's not a Brenda recast. GH honchos are adamant that only Vanessa Marcil will play Brenda and she's not coming back for a while.

I've got it on good authority that Wally Kurth actually is re-signing his contract and will be returning to GH after he takes a vacation while Ned sits in jail for rape, a charge trumped up by Stefan to get him out of the custody battle for Kristina.
A frightening rumor that is gaining speed and actually does reek of Guza & Pratt's style, is that baby Kristina will die and end up donating organs, ala BJ-Maxie (hence, the recent revisit of that story) to save Sonny and Carly's baby. If that wouldn't be the consummate proof of where the loyalties of the GH fat cats lie. It would also serve as the final finger-giving to Nancy Lee Grahn's character of Alexis Davis. The character has been tortured and maligned since first she dared to think a randy thought about The Sonny of God as he slept stretched out on her couch and it hasn't let up for a second since. Killing off her baby to play organ donor to the Corinthos Heir Apparent would be perfectly in keeping with all that.

Rumors are growing much stronger and more reliable that Princess Emily just might not make it through her cancer non-ordeal. Complications arise by way of meningitis and Emily goes downhill fast. Rumors continue that Guza never enjoyed the cancer story in the first place and is looking to end it soon. Further sad rumors (though fully understandable should the story go in this direction) indicate that if Emily goes away, Zander won't be around much longer either.

When Ned loses custody of Kristina after Ned is arrested, it looks as though Uncle Stefan may be the hand that rocks the cradle. True to form, she follows her baby-elect and begins to court Stefan to gain access to Kristina. As Stefan begins to actually fall for Skye, watch for sparks to fly between Alexis and her brother. This particular angle is all just gossip with no confirmation, but like rumor of Emily's death, it's gaining momentum.
Watch for a blonde to die before Fall comes (it's not Courtney!) and an earlier prediction to come true.

Although rumors are flying that Felicia will be returning to take the gurrrrrls back under her wing, I can tell you that if it's so, it won't be in the form of Previous Flea, Kristina Wagner. In addition to her work on nonsoap projects, the actress is actually rumored to be joining the cast of ATWT. Still other rumors say that with recently reconciled husband, Jack Wagner, on the cast of B&B, Kristina won't be far behind. Where ever she lands, you can be sure the krinkle won't be far behind.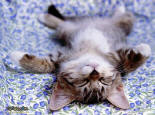 Now that I've finished writing out all of that out, it's after ten and Sage is one pooped kitty. I'll get be sure and write (during the day) the personal stuff for those who care to read it (lots of miracles, big harvest on a couple of fronts, Mom was in the hospital but is back home again with full day nursing through the week and doing GREAT, even back to her old self). There's tons more stuff, but I'm falling asleep at the wheel, so look for me then!
Feelin Da Love!