Happy Monday!
It's time to break out the bottle of column that I keep here in the desk drawer and pour ourselves a few big slugs of if it for this week. (I will, of course, mix it with a splash of coke first).
For the record, Sage is having a really hard time now that another Captain has come to challenge the right of Captain Morgan to pilot the ship of my truest heart. Last week, Katrina, my new pal, Georgia and I hit the THX to check out "Pirates of the Caribbean" and honey, I am totally smitten with Captain Jack Sparrow. If I could have him show up on my doorstep with a bottle of Captain Morgan's, I'd probably just keel over dead with joy.
For now, I'll have to settle for drink #3 and a nice desktop wallpaper, as well as the memory of a really cool two and a half hour adventure on board The Black Puuhhhl. Ships A-HO-y. Bad dental hygiene never looked quite so good. You can click on the pic to get to IMDB's photo gallery of Pirates. God, I wish I could go to Disneyland. :(
A lot of gossip is coming around the bend this week, some of it bankable and some of it still just rumor. I'll share with you all I've got!
First, this is the week! We made our goal of having all of the expenses for EOS web hosting covered for last month and those nasty popups can stay away. Thanks so much to everyone who helped us out and Katrina tells me that we've received a couple of donations already for this month as well.
We have been very pleased to have the popups off the site and with the help of our readers, we can continue to have Eye on Soaps on the net and the popups gone. If you were going to make a donation to keep us up and running, this would be the
time to do it as the payment for August will be coming out soon. If you would like to make a contribution to show that EOS is important to you, you may do so by clicking on the PayPal button to the right or by clicking here for other options. I can't imagine my day or my life without and and so I'm making my contribution this month to keep it alive as well. I challenge all of you to contribute dollars, a few or a lot, to secure our place on the net. Thanks very, very much for your continued support in keeping Eye on Soaps from sinking into forgotten oblivion.
Now, on to the soaps.
AMC
True enough, Finola Hughes and AMC will be parting ways this Fall. Anna will NOT be killed off, but instead, opportunities will remain for guest shots in the future (isn't that what they said about Dixie when Cady left?). Although there was immediate speculation that FH would jump to GH, especially given her love of living on the West Coast, there is no indication that this would be the case and the current GH powers that be have zero interest in resurrecting ANY GH vets, but more on that later.
AMC was fishing around for a love interest for Tad, but this has all been put on hold pending a possible major announcement from another soap that we first heard about back around January and more about THAT in a minute as well.
Ryan is back in town this week and despite earlier reports, he's not bringing any wives or other baggage to da Valley with him. He's going to have a bit of an edge that wasn't as evident in his most recent months before he left the show a year ago. Kendall isn't quite finished with him yet and you can look for at least one more Pine Valley lovely to cast her die in her direction as well.
Justin Bruening will be replacing Micah Alberti as the oft-SORAS'd Jamie Martin. Looks to me like they've finally made him older than JR, but hey, I'm not going to complain if he looks like that! I don't have a start date for him yet (I'm unofficially hearing it will be in about a month), but when he does come back, he's rumored to be ready to cause a few Mack Attacks in town as he fully comes into his own with the "Tad the Cad" gene puddles that are floating around untapped in his bulging veins.
Bruening himself to all research (meaning I couldn't find a damned thing) is a newcomer to acting and has previously worked as a model for New York Model Management. He's definitely got that Chris Isaak thing going on which I can fully appreciate. Since both Cameron Mathison and Josh Duhamel came to AMC under nearly identical circumstances, I'm sure the AMC casting departing is looking to strike gold again. I'll just remind everyone that when CamMat and JD came to Pine Valley, talent wasn't exactly their middle names and came through lots of hard work and dedication to the craft. As Kate, our resident cynic, pointed out, Duhamel used to create full back stories for Leo and Vanessa, some of which were actually incorporated by the writers. You gotta work it, baby, work it and you gotta want it! We'll see how much NunununuJamie wants it!
The return of Step-Half Brother JR is still in the rumor state, but how long can he logically be out "finding himself?"

I've heard that Tomy Dunster, the newcomer who plays Juan Pablo Renato Ruiz de Vasquez de Julio Iglecias Blah Blah Blah, is not just a hit with the Fusion gals as the man of their personal dreams, but is also scoring high points with a lady or two in the cast! Seems the guy is quite a sweetie and a charmer in real life as well!
Although the big "Negatory" has sounded for displaced PC actors to make the move that makes sense to GH, it's looking more like AMC and OLTL will be their new home. There are rumors of three of the PC cast being offered places at AMC.
Funny little rumor I heard that would have a few groups of people up in arms. Seems a very high seat in the ABC chain of command was pushing for a David-Bianca romance. Fortunately, saner heads pushed back and convinced the honcho that it wouldn't be a good thing to make even more enemies in the fan and political bases, so the idea was (allegedly) chucked.
I heard the sighs of hope when Marian turned up in Tad's bed, thinking that maybe at least one of the Pine Valley Vets would be getting a story, but alas, it's not to be. From what I'm hearing, it was a one time deal and with rumors of David Canary entertaining other offers (no firm word has come my way just yet), I wouldn't recommend getting any serious anticipation going. I think the safest approach is to expect more of the same with the stories that are current front and center getting a great deal of play and the uninvolved veterans continuing to sit on the sidelines. Marcy Walker had best thank her lucky stars that Liza took a chance on Fusion or it's likely she wouldn't have a story either. But with Ryan coming back to town... Nearly all of the Fusion gals have a history with Mr Lavery, so it will be interesting to see them learning of his return.
OLTL
In a time when the biggest gag order of all time have been issued, Robin Strasser has thumbed her nose at the restrictions and told the folks on her hotline that there is a "bloodbath" going on at OLTL and that three folks have already been pink slipped with more likely to come.
It has been amply announced that OLTL has let go Nathaniel Marston from the role of Al, but only a few know that as of the current moment, he is still taping scenes with Kathy Brier regarding Marcy's humiliating hazing incident. There is no word of a recast on the set at this time.
Watch for Nathan Purdee's recurring status to be even less recurring when the run for the DA's office heats up. Who do you think will be running against the evil Sr Asst DA, Daniel Colson? Sometimes, it just takes a woman for the job.
Speculation is running VERY heavy (remember, remember back in January when we said that Ty Treadway and Catherine Hickland would be leaving OLTL at the same time??) that Catherine Hickland will be leaving OLTL and making her way to Pine Valley and into the arms of her real life hubby, Michael E. Knight. In case you don't remember, within hours of one another, both CH and TT announced on their message boards that they had been told they'd be let go from OLTL, but the same day, the announcements were retracted and labeled a hoax. Personally, I think someone got very, very pissed at the info getting out and regrouped to delay out their departure and prove the announcements a vicious lie. It would not surprise me in the least to hear that CH is leaving.
My beloved Roxy might be floundering without a story soon and rumors are strong that the current writing time isn't particularly motivated to write for her, so it's possible that Ilene Kristen could be among those who are let go. Such a pity as both the character and the actress hold incredible potential and are on my list of favorites. Of course, whether or not a character/actor has potential or are on my list of favorites has little influence, as is evidenced by the ludicrous dismissal of another of my sweeties, Barbara Niven (ex-Liz).

Almost certainly on the hit list is James dePaiva (Max) who is not nearly as beloved by the powers that be as is his lovely and even-tempered wife, Kassie (Blair). His departure has been rumored for some time and there are strong indicators that the time has finally come for a parting of the ways.
Yet another of Max's former leading ladies is also rumored to be in the group to be separated out from OLTL. The push for a rekindled romance between Bo and Nora has created a stumbling block in the form of Gabrielle, not to mention that writers seemed to have hit a wall on how to write for this character. Brought on primarily as a gimmick in the Asa-Max wars, her character has been batted around in a couple of different stories, but never has seemed to find a niche of her own beyond romancing Bo and finding redemption through that relationship.
Don't expect the heavy emphasis on the trials and tribulations of Jennifer Rappaport to end anywhere soon. In fact, a little bird has told me that she's going to be featured for quite a bit longer as her relationships play out amid much arm waving, prompting and melodrama.
Michael Easton, Caleb from PC, has acknowledged on his official website that he struck a deal with OLTL for an unnamed role to begin at a nonspecified time in the future. Rumors are hot that Easton is coming on as a recast of Todd, but I can tell you with absolutely assuredly that at this time, that is not the case.
Currently, Easton is the only one of the PC cast who has found a home at OLTL and whether or not others will follow remains to be seen.
GH
The next couple of weeks of GH might well be known as "Secrets," because several of them are going to come out. Dobson's humble unveiling was just the beginning as we see Zander reveal to Emily his mini-affair with Elizabeth.
The role of Sophia, the chick in the photo, is about to come out as well. Seems she was Lorenzo's One True Love (anyone remember when Lily came to town for Miguel?) who was killed in the jungle where she was something of a peace corps person. Having shunned the "family business" until that time for a life in the legal field, Lorenzo re-embraced his organized crime roots after losing his sweetheart. Of course, this means she's bound to turn up in Port Charles soon, likely as that fiery gal everyone thought was a Brenda recast.
More of Ric's history as it connects with Sonny is about to be spilled this week with surprising results. Ric redeems himself by saving Sonny (Sonny leaves him to die) and Liz flies to his side to hold death watch. (He lives)

Dump the rumors that Alexis (or Stefan) for that matter will be killing off Ned. Wally Kurth has signed on for another three years with GH and will be embroiled in the custody battle with Alexis for his notchild, Kristina. Stefan's attack on Ned will be more of a jab at his integrity that causes him to lose all rights. The question that comes into play is whether or not Skye and Ned will continue to be an item after the Kristina factor is removed. Survey says: No. Rumors peg Skye on the train back to Llanview.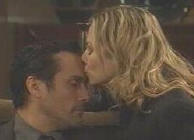 For all who have been asking, the answer is August 8th. From what I'm hearing, nothing goes right for Sonny, Carly, Jason and Courtney, who all become torment targets for Alcazar before Carly and Sonny are finally reunited for good (or for now).
While one would think it would make perfect sense to bring Kevin, Lucy and the other PC characters who originated on GH over to GH, the door was slammed HARD and a "closed" sign was thrown up in the window. NO VET RETURNS!! The offer they extended to Jane Elliot for a return was just laughable and so she won't be around for more than for a day's work here and there. The loud and clear message from the GH Powers That Be is look to the future, not to the past. I expect that if the show survives another 2-3 years and stays under the current regime, no one who was around 10 years ago will still be on the cast. For that reason, my guess is that the rumored return of Finola Hughes as Anna Devane is a great big NO.

Just because Brad Maule (Dr Tony Jones) is now an OB/GYN doc on "Passions" doesn't mean he doesn't still hold down the ER for "General Hospital." Since the hospital is only actually shown on the occasion of a mob-related injury, it has supposedly been worked out for Maule to appear occasionally when needed.
If you can't wait to read the work of Carol Banks Weber over at Soap Zone's General Hospital News and Gossip, you can catch the column early at
The Carol Banks Weber [aka coggie] Show, which posts every Friday. As my Official #1 Cohort, she's always a worthy read. :)
Our Sister Site, Wubs.net, has been down some heavy scoopage lately, so be sure and keep up with check in with The Queen often.
Last week, I posted a letter (at her request) from a young woman who asked that I change my perspective on General Hospital. I created a temporary forum for people to discuss her comments and the comments I read there were so enjoyable that I decided to take the matter a step further and continue the forum, posting a topic each week for discussion there. This week's topic is:
"Where would YOU put the displaced Port Charles Characters?"
You can either send the character to a particular show and tell us how they would fit into the current canvas or you can put the actor there in a different role, either as a recast of a previous character or as an entirely new character. Click here to let me hear your thoughts!
With that, Sage is outta here for another Monday. Carry my love with you through the week and know that even if the world is treating you like a junk yard mongrel, Sage luvs ya.
Much Love, Darlin,