Welcome to ME!!
(Yes, Sage is a guy... and a damned good looking one too!)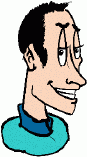 Honey, you're either going to "get" me and know my heart and my intent or you're not going to "get" me at all. If you don't, know your limitations and just back away from the keyboard after clicking the little "X" in the box on the upper right corner of your browser window, ne'er to return again.
I used to have a long disclaimer here for the confused and manners-challenged people who don't know the difference between a "rumor" or "gossip" and an actual spoiler, but screw it. Angry, bitter, small minded people will always talk their trash to compensate for their own 1st chakra frustrations and inadequacies.
When you read those vicious people on the message boards and around, just shake your head and remember they aren't getting any play, so they're grumpy. Pity them, then dismiss them. This is a hate free zone. Feel the luvvv, baby.
---
Note: Due to the large volume of e-mail he receives, Sage regrets that he is unable to personally answer each e-mail. He wants you to know that he reads each and every one (some 2-3 times) and greatly appreciates your communication. Please DO NOT ask Sage for further info on what is going to happen on the shows. Any information he has that he can share will be put into his column ASAP.
July 20, 2004
Did you donate this month? HELP, we need you!!

Help us stay around!---->

C'mon, you know you love us! Donate to EOS!
More GH Spoilers
A while before the fateful shot rings out, Nikolas finds himself in Shadybrook, compliments of Helena who has him declared incompetent. What no one knows is that she has been drugging her grandson to undermine his mental competency.
Leave it to Super Emily to save her man. She decides the best way to rescue Nikolas is to get herself committed to Shadybrook, which she does, despite Lucky's vehement protests. Will Lucky get burned by being the extra guy? You bet he will, but he will likely end up thanking her for the honor of giving her his unrequited love.
Helena learns that Emily is also in the sanitarium and begins drugging her as well. Nikolas has a moment of clarity, realizes what is going on and begins palming his meds in preparation for the great rescue and escape (at this point, he still has not regained his memories).
Both Journey and Casper fans have some wonderful moments coming up, all resulting from the one year anniversary of the death of Jason and Courtney's baby. Jax wonders what has Courtney so sad and learns from Sam the importance of the date. He asks Sam what would have happened had he and she not gone their separate ways (can we spell this out any louder, folks?) and she sadly says that they'll never know. In a surprising reversal, Jax has forgiven Sam and no longer is calling her a whore and slut. (The Jaxass angle is being dropped to push him fully forward into sympathetic, romantic leading man) In fact, he tells her what a great mother she will be (if she forgives him as easily as it sounds, this girl has zero self esteem).
Jason and Courtney share some very touching moments mourning their baby together, but Jax is the one who turns the day around for her by being the consummate friend and romantic, caring soon-to-be lover (But not on that night! He turns her down when things heat up, telling her that no matter how much he wants her, he won't take advantage of her grief; however, watch for Casper to have a HOT August!).
Some time later, a funny series of events results in Courtney making a public announcement at Kelly's saying that she has NOT slept with Jasper Jacks, but fully intends to at a future time! You can imagine who walks in on that last line. Ouch!
If you're doubting that Carly and Sonny break up over the Kristina news, just keeeeeep watching. What I'm hearing is that whether he re-signs or not, Maurice Benard is still taking an extended break from GH to be with his wife, Paula, both before and after the birth of their third child later this year. The way Sonny is written off for that time will have long-term effects for Sonny and Carly, as well as other people on the canvas.
You'll know Carly's surprising ally in the search for her father as soon as she walks into a bar and personally asks this person for help. Her reason for her choice makes perfect sense, but things get sticky when her ally attempts to turn the tables on her.
We won't be hearing any news regarding Skye for a few weeks yet as Robin Christopher completes her maternity leave.
Watch for both Heather Webber (thank God the Laura extensions will be GONE) and Faith to be sporting new looks soon (although Faith's is temporary).
Georgie and Dillon break up after a practical joke produces horrifying results.
I'll report more as I get it.
Love,


You can take these
to the bank, folks.
---
EOS has received word from GH that Robin Christopher (Skye Quartermaine) and her husband Matt Crane (recently Lt. Ross Duncan on GH) welcomed a new addition to the family Friday, July 16th. August Christopher Crane arrived at a Los Angeles hospital, weighing in at 8 pounds and 19 inches in length. Mom and Dad and baby are doing well. EOS wishes them the best!
July 19, 2004
Did you donate this month? HELP, we need you!!

Help us stay around!---->

C'mon, you know you love us! Donate to EOS!
"I'm Back, Baby"
And what a rockin birthday it was. We swung back into town late last night and I spent a couple of hours reading the wonderful recaps the EOS staff did of the GH Fan Weekend. If you missed them, you can find them listed here. As I read them, I really felt like I was right there with them and I'd like to very much thank Katrina, Sherry, Kathy and Carolyn for sharing their experiences with us and also our intrepid homebound reporters, Dayna and Sarah who kept the Livejournal up to date as reports came in.
I was bummed to return and find that EOS had some down time due to our donations not quite meeting our expenses (for the first month ever, but hey, summer months bring personal financial investments!). Since both Katrina and I were out of town, neither of us was available to fill in the difference, so we had to languish for a few days in the "page not found" department. While it's unfortunate that it happened, it's good it did so during a time when not many updates were needing to be posted. Katrina got everything all worked out before I returned home and now we're back in business. Thanks to everyone who donated this month and helped us to stay afloat! Thanks to Katrina for making up the difference to get us back up and running again so quickly! As always, I'm very grateful to have EOS as a place to call home and to all of the people who work to make that happen. I can't imagine my life without it.
---
Now, on to the soaps:
Twenty-one days, twenty-two hours and forty-some-odd minutes until Aiden Turner returns.
Recent info has verified that despite rumors to the contrary, Eden Riegel (Bianca) has no interest in leaving AMC and fully expects to remain on the show.
Eva LaRue (Maria) stunned her fans by announcing on her official website, www.evalarue.com, that she and husband John Callahan (Edmund) are divorcing after a quiet separation of several months. LaRue says in her statement, "This is heartbreakingly sad for both of us,but we want to assure all the E/M fans that we are dedicated to protecting these characters we love so dearly. We have always looked out for each other, and nothing will ever change that." EOS seldom, if ever, comments on the private lives of ABC actors, but this one took me by surprise.
Watch for the situation of "who drugged Babe" to escalate as Jamie is arrested for the act. Don't look for a brotherly reunion any time soon. JR actually plants the drugs that the police find in Jamie's home to substantiate the arrest.
Everyone pretty much believes the idea that JR is behind Babe's drugging... everyone except Babe, anyway.
JR severs all ties with Tad.
Brooke and Adam? Again?
Ryan and Greenlee comes close, but not just yet.
Yadda yadda yadda, seldom if ever any interesting news on AMC.


That's Javier Morga playing (Just call me) Tico. The word still is that he and Jessica will be sharing a certain chemistry and that Antonio will continue to heat up with Sonia, but will there be a Natalie-Seth revisit?
The truth is, from reliable sources, that it has not yet been determined who John McBain will land with, Evangeline or Natalie. Fan bases for both couples would do well to relax and let the story unfold, sending their impressions to the powers that be to voice their desires.
David Tom is still taking some time off to tend to personal matters and will be temporarily replaced by Shane McRae beginning on August 12th.
As Kelly's life continues to spin out of control, plans are for her to turn to drink and drugs in an attempt to ease her pain. Since Kelly is fairly whacked out in a non-altered state, who knows? She might relax and start talking about tax shelters and mutual funds once the drugs kick in.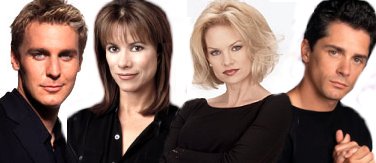 Jax becomes even bolder in his pursuit of Courtney, while she turns to a surprising ally and admits she's falling hard for Jax. Plans are still for Courtney and Jax to be The Couple for 2004 and the powers that be are pulling out all the stops to make it happen. Their fan base has been very vocal in their support and are writing plenty of letters and making plenty of phone calls. The long term plan is a quad between Sam, Jason, Jax and Courtney, but how will Sonny be removed from the mix? After a few heated discussions between Jason and Sonny about who should have true father's rights, Sonny is removed from the equation in a dramatic way (no, he's not shot again) that will impact several people currently on the screen and one newcomer that has not yet been cast, but is a planned character. That could change if Maurice Benard has a change of plans, but at this point, he's planning an extended vacation and will be off screen for a while.
The big news is that there are a LOT of red herrings out there and viewers should be careful about believing what they've seen on the show or read on the net. The truth is, it's Jax's baby. There is no third party father and although viewers heard Jason say he saw the results before he changed them, there's no telling who was in that lab before Jason saw the results and what their motivations were at the time. Watch for more history rewrites and blanks in the story to be filled in in the coming months.
For now, Jax will spirit Courtney away to a surprising locale and the tables take a turn in their budding relationship. How long will she hold all the cards?
Aware of the circumstances of his memory loss, Helena is desperate to control Nikolas and takes drastic steps to ensure he remains vulnerable to her. Emily and Lucky join forces with Liz to fight Helena. Liz will, sadly, be having very little contact or scenes with Ric and will be spending most of her limited onscreen time in the middle of the Emily/Lucky/Mary/Nikolas story.

Carly begins the search for her father with Sonny's help. Bobbie works quickly to cover her tracks and keep the truth from Carly. The truth about her father's identity could be right under everyone's noses. Of course, you've already read that Bobbie's john was a real John: federal prosecutor, John Durant, who has been cast with TV veteran actor, Corbn Bernsen (LA Law, etc). His first air date will be September 3rd. Carly finds a surprising ally in her search for her father.
Those who are not Sonny and Carly fans should brace themselves in preparation of hearing Edward compare their love to his and Lila's.
Sam becomes increasingly invested in having Jason be the only father her baby ever knows and is the first in the couple to begin having romantic feelings for the other. Contrarily, as Sonny watches Carly's search for her own father unfold, he has second thoughts about handing over the parenting reins to Jason and staying out of Lila Jr's life.
You doubted it, but it's going to happen. Sonny WILL tell Sam that he will take care of her, but it's Carly that he loves.
Ric and Lucky... working together??
The coming blackout will have devastating results for two families in Port Charles as three characters (2 well known characters and one minor character) meet their deaths by violent means. A case of mistaken identity causes a chain of events that lands one main character in jail and another one dying (the 3rd death) in the hospital under mysterious circumstances. Attempted murder charges change to murder, but who really dunnit?
Sam has a steamy dream about Jason. The Jason-Sam kiss happens, but in dreams for the time being and in reality later in the summer.
Jason is angered by the growing closeness between Jax and Courtney. Sonny isn't happy either and threatens Jax to stay away from his sister.
Jason and Sonny aren't the only ones fighting back demons. Courtney has a green-eyed monster to battle herself as she becomes territorial over Jax when he pays attention to someone else.
Watch for Coleman and Big Alice to make appearances. Some wonderful scenes are coming up in which Big Alice tangles with both Heather Webber and Tracy.
Lila's will is read and brings interesting circumstances. Although there are some personal items willed to individual, the bulk of her estate goes to the "best behaved Quartermaine" and the person determining to whom the fortune will be bequeathed is none other than Felicia. Each of the Q's scramble to prove to Felicia that they are the kindest Quartermaine.
Tracy and Heather throw down but just who is the lesser of two evils when it comes to these two hellcats? I'd much prefer to see Tracy emerge the victor!
The near misses continue between Alexis, Sonny and Kristina, leaving Alexis feeling unnerved. As I previously mentioned, when the truth is revealed and Sonny learns that Carly knew all along, Sonny and Carly will be about as over as a soap couple can get, pact with God or no.
*sigh* NO, Maurice Benard is NOT going to Y&R. Please. Where do people come up with this crap?
Watch for Justus and Faith to snuggle up again.
Emily and Nikolas will make love again and yes, Lucky is left out in the cold as Nikolas regains his memories. Meanwhile, Catherine, sadly, is just cold.

You can take these
to the bank, folks.
That's all for this week!
Peace out, my friends,