Welcome to ME!!
(Yes, Sage is a guy... and a damned good looking one too!)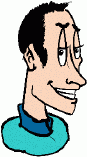 Honey, you're either going to "get" me and know my heart and my intent or you're not going to "get" me at all. If you don't, know your limitations and just back away from the keyboard after clicking the little "X" in the box on the upper right corner of your browser window, ne'er to return again.
I used to have a long disclaimer here for the confused and manners-challenged people who don't know the difference between a "rumor" or "gossip" and an actual spoiler, but screw it. Angry, bitter, small minded people will always talk their trash to compensate for their own 1st chakra frustrations and inadequacies.
When you read those vicious people on the message boards and around, just shake your head and remember they aren't getting any play, so they're grumpy. Pity them, then dismiss them. This is a hate free zone. Feel the luvvv, baby.
---
Note: Due to the large volume of e-mail he receives, Sage regrets that he is unable to personally answer each e-mail. He wants you to know that he reads each and every one (some 2-3 times) and greatly appreciates your communication. Please DO NOT ask Sage for further info on what is going to happen on the shows. Any information he has that he can share will be put into his column ASAP.

July 26, 2004
Did you donate this month? HELP, we need you!!

Help us stay around!---->

C'mon, you know you love us! Donate to EOS!
Repost
Hi All. Katrina here. Sage is out of town for the rest of the week, so I am unable to see if he has a copy of the Uncensored portion of this week's column. The entire week of work on EOS was lost due to a web host error. If any of you have copies of the Uncensored column or my spoiler commentary, please let me know.
~ ~ ~
Congratulations to James Mitchell, (Palmer) who recently celebrated 25 years on All My Children.
Several parties were held to commemorate this event, including current and past cast members.
Word is that the Maggie-Bianca connection may or may not be pursued further. (But you already knew that, didn't you?) Highers up at AMC are warring over whether or not it is in the show's best interest to link the two friends romantically beyond what we have already seen. The show enjoys a politically correct, or at least more socially acceptable, convenience of keeping Bianca chaste and celibate in Lena's continued absence and some are not eager to rock the boat while others are willing to dive headlong into an ongoing lesbian relationship between Maggie and Bianca. Elizabeth Hendrickson (Maggie) has voiced her willingness to pursue the story, so only time will tell which side wins. BAM, you might just get your wish!
Watch for Edmund and Maria to ease away from one another as the divorce between real life spouses, John Callahan and Eva LaRue continues. The fantasies about Zach are just the beginning as Edmund continues to struggle with his paralysis and its fallout.
As summer moves on, the rumors of Marcy Walker's departure increase as her screen time decreases...
Pssst...Kate! Chip Zien is appearing on "The Shield" tonight on USA!
Have I mentioned that Aiden Turner is back as Aidan on August 10th? (I know, but I just like saying it).


Rumors are flying (and yes, they are only rumors right now) that Executive Producer, Frank Valentini, is being let go from OLTL.
Several astute readers have noticed inconsistencies and dropped stories in the writing lately and it's thought that a full scale shake up might be coming.
Yes, yes, yes, the baby story resolves in August and all paternities are known. I can't WAIT for this story to end!
The Bo and Nora reunion will be a long time coming as they banter back and forth ala Hepburn and Tracy.
The RUMOR is that Catherine Hickland may be in the running to replace Lisa Rinna on SoapNet.
Where's Michael/Al/Nathaniel been? The actor has been home nursing a leg injury.
Shane McCray = August 12th = David Tom temp replacement = cool.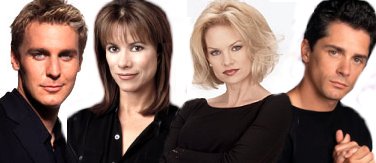 The blackout! We've been hearing about it for a while now, so what's the real story? The blackout will tape over the next 2 weeks' time and it will prove to be climactic for many people in Port Charles.

It also spells the end for several relationships. The teens play a trick on Sage and lock her in the Q freezer. Mary finds here there and, mistaking her for Emily, kills her. We will think it's Emily for a few minutes ourselves when we see it (a few glorious minutes). When Trent comes upon what has happened, she kills him too. Later, when she is threatening the real Emily, Nikolas shoots her and she is taken to GH.

Nikolas is arrested for attempted murder. Alexis tries to defend him, but her client isn't particularly cooperative.

A murder mystery is sparked when Lorenzo swears out vengeance on those who caused his niece's death. He's seen standing over Mary's hospital bed just before a code blue is called and Mary dies. Who is responsible for her death? Rumor has Catherine Wadkins, who was a hit at GH, possibly picking up a role on OLTL. (Note: There are your three deaths: Sage, Trent and Mary.)

There is no plan at this time for Stuart Damon to leave GH. He has had health challenges lately and may take time off for that, but Alan Quartermaine is NOT being killed off.

Georgie and Dillon break up in the aftermath of Sage's death.

Nikolas will fully regain his memories and ask Emily to marry him. Lucky (awww) and Elizabeth will be involved in the wedding planning, but whether or not they will make it to the altar remains to be seen. They run into snags in the aftermath of Mary's death.

Lucky accepts that Emily is still in love with Nikolas, but don't count him out of the game of love... with someone else!

Nikolas is darker, but not crazy. His "darkness" is limited to how he handles what's left of the Cassadine fortune in his determination to rebuild "the House of Cassadine." He does NOT kill Helena, despite the fact that he's waving a pistol about while talking to her. Hells will live to rue another day.

Faith and Justus will be having some cuddly scenes coming up as he works on her defense. She is arrested for shooting Jax and after his damning testimony in court, there's nothing Justus can do to save her. Faith does run into a very interesting person in jail. Hmmm. Who's been sent to jail in recent GH past???

Ingo and ALW are both going on vacation for a couple of weeks. Jax takes Courtney away to Sonny's island (that set definitely gets used!) and she ends up giving him the slip. Does Courtney win the bet or does Jax let her win? You'll know around August 25th.

As Katrina reported this morning, after Sage's death, Lois gives Lorenzo some comfort sex. Brook take an instant dislike to Mom's new beau and sets about trying to get her parents back together. Lorenzo is feeling the sting of his recent loss and given how things went with Carly, is wary about starting a relationship. This one may not take, kids.

Steven Lars (Heather and Jeff Webber's son) comes to town and is working for the federal prosecutor who is revealed to be Carly's father. "Steve" begins courting Carly in the aftermath of her messy break up with Sonny and is looking for info to convict her ex. How will Carly deal with knowing her info is what sent Sonny to jail after she learns Steve's true identity? How long Sonny goes away for is dependent on the length of Maurice Benard's vacation.

Nope, he's not going to Y&R.

Federal Prosecutor, John Durant, will be flirting with Alexis, but it's still expected that her relationship will continue with Ric. Ric is surprised by his reaction to another man paying attention to Alexis.

Jason and Sam still have a few miles to go before they are anything close to a couple, but watch for things to begin to move quickly once they are rolling.

Not only will the Q's be working hard to show that they are the "nicest Quartermaine" in order to win Lila's money. They'll be working even harder, in true Q form, to discredit each other.

You can take these
to the bank, folks.
Peace out, my friends,