Welcome to ME!!
(Yes, Sage is a guy... and a damned good looking one too!)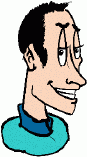 Honey, you're either going to "get" me and know my heart and my intent or you're not going to "get" me at all. If you don't, know your limitations and just back away from the keyboard after clicking the little "X" in the box on the upper right corner of your browser window, ne'er to return again.
I used to have a long disclaimer here for the confused and manners-challenged people who don't know the difference between a "rumor" or "gossip" and an actual spoiler, but screw it. Angry, bitter, small minded people will always talk their trash to compensate for their own 1st chakra frustrations and inadequacies.
When you read those vicious people on the message boards, just shake your head and remember they aren't getting any play, so they're grumpy. Pity them, then dismiss them. This is a hate free zone. Feel the luvvv, baby.
---
Note: Due to the large volume of e-mail he receives, Sage regrets that he is unable to personally answer each e-mail. He wants you to know that he reads each and every one (some 2-3 times) and greatly appreciates your communication. Please DO NOT ask Sage for further info on what is going to happen on the shows. Any information he has that he can share will be put into his column ASAP.
May 17, 2004
Did you donate this month? HELP, we need you!!

Help us stay around!---->

C'mon, you know you love us! Donate to EOS!
SAGE IS IN THE HIZZOUSE!!
That's right, darlings, Sage is BACK and RESTED and BETTER THAN EVER!! I am settled with my sweetie and ready to do the Monday thang for EOS again! I can't even begin to tell all of you how much I missed you! I feel more ME than I have in months, maybe years and having the column back again is the absolute icing on my delicioso cake o' life!!!
Consider me basking in your presence!!
This time, baby, I'm here to stay. Barring hell, high water and death, Sage is at the corner table of the Hot Dish Cafe with the drinks, the appetizer and the deep dish entree. All I need is YOU, so have a seat and let's dish the soaps, darlings!
So much has happened since I left! I haven't watched soaps since the first week of November other than the episodes I saw this past Friday and another Friday about two weeks ago.
The last time I watched the shows, this is what was happening:
On AMC, we were wondering who killed Michael Cambias (and it looks like you guys got to wonder for a long time!). Babe and JR had just gotten married and found out Babe was pregnant. Someone tried to kill Carlos (who can blame them) and Juan Pablo was busy telling Greenlee he didn't love her after all. In fact, I think the last episode I saw had that WONDERFUL scene between Tad, Adam and Palmer on the jet.
On OLTL, Max had just left to be with his kids. We found out Walker was Todd and Cris was killed. Jen had a miscarriage and Al was dead but not really. Kelly was already short circuiting trying to adopt a baby to chain Kevin the Wonder Whore to her.
On GH, everyone was pulling a Mad, Mad, Mad World scramble for the Dead Man's Hand. The Halloween Ball showed us some truly bizarre costumes. Carly had just been shot in her sex brain and was having some enviable dreams about Alcazar, who had even worse hair than usual. Faith mowed down the five families with machine gun fire and Emily and Nikolas were whoring it up big time and doing their best to make Zander feel like a jerk for objecting. Courtney was being cozied up by Brian and Alexis had just gotten custody of Kristina, finally, but she was being stalked by Sage, who was a young Hispanic girl instead of the whitest teen in America or the cutest soap columnist on the net.
Beyond that, I've been reading recaps until I'm blind. So let's look at the current news and rumors.
The time has come for Emmy nominated Thorsten Kaye to show up as casino owner, Zachery Slater. For the first time on ABC, Kaye is going to play a shady character, so we'll get to see a different side to the actor. If his slot machines take Brown Pennies, Brown Pennies, I'm freakin outta there. *full body shudder* This is a contract role, so he's around for a while.
AMC's own slap'em down mama is being recast. The role of Isabelle Santos will now be played by Maryann Urbano, starting on June 7th.
Don't worry, the guy playing Aidan who suddenly speaks like Burt from Mary Poppins isn't a keeper. Tom Archdeacon is taking over the role temporarily while the usual Aidan, Aiden Turner, takes care of some family business.
Awww. She went to Pine Valley and didn't even get a stupid T-shirt. The oft-scorned, tossed aside sister of Liza's, Mia Saunders, will be leaving the show when her alter ego, Amelia Heinle, lets her contract go in June. Mia culpa!
Lots more David Hayward to be had! Vincent Irizarry says that he recently renewed his contract with AMC for a whopping four years.
Richard Shoberg does a cameo (isn't that all it really is?) as Tom Cudahy today, May 17th. I'll be leaning on the pause button. Yum!
When Ryan has to choose between pending wives, he's really thinking about doing the nups with Kendall, but when he learns that she locked Greenlee in the turret, the tide turns and Greenlee is again the future Mrs. Lavery.
Paul isn't just being an ass on OLTL. He also gives Babe's heartstrings a twist when he lets her know that he can cause her to lose Bess. She has a dream that Bess is really Miranda.


Natalie pulls a Skye Chandler and wakes up to find a dead man (Paul). Looks like Kelly might have had something to do with it. Did the sister scorned and blackmailed actually snap at last and do her brother in? David thinks he dunnit. But guess what? Paul's not really dead. Was it just a dream? Was it a set up? What WAS that?
OLTL is currently auditioning for a new Latino character named Tico, ("Innnn thhhhe Tico Tico Tico Tico Tico room, in the Tico Tico Tico Tico Tico room..." and if you've never been to Disneyland, just skip that part) who will be playing opposite Bree Williams. Jessica will be going undercover (ow! ow!! - give me a second while I roll around in exquisite, painful agony on the floor, holding my sides and bashing memories of Kevin and Kelly - aka "Guys and Dolls" - undercover out of my tortured mind. OH! OUCH!!! Let's throw in Ben and Blondie as big bad bikers on the lam from the Gina Russo Experience. ***groan!*** Viki and her behbeys just do not DO undercover with any kind of style.) and cozies up to Tico. He has ties to a Puerto Rico crime family (could his name really be Tico el Toro?) and she wants information on his father, but he's a tough hombre and isn't giving up info about his work. Word is that Will Benedeti (GL and B&B) is up for the role.
Clint Ritchie returns to Llanview to support Viki through her health crisis beginning this Friday, May 21st. Ritchie says he taped about seven shows. Dr Larry (Michael Storm) will also be putting in an appearance, as well Bruce Michael Hall as son, Joey.
Awwww. Viki's heart problems worsen and in the end, Ben dies right on time and gives Viki his heart. *sniff* The family gathers at Llanfair to say goodbye to Ben's ashes. Kevin agrees to a truce with Todd in light of the situation. Todd and Blair try to work things out between them, but Kevin and Kelly have major troubles. Kevin refuses to work on his marriage until Kelly comes clean about what she and Todd are hiding. Asa isn't at the goodbye for Ben and Renee explains that Asa is having a terrible time with Ben's death. As they leave for St James, walking mind you, Erika Slezak was heard to say off camera, "We're walking to the church? There's like 20 acres of land surrounding the property!" (Especially considering those heart problems, eh?)
Reunion with Blair or not, Todd is in for another major problem when stolen documents are found in his desk, earning him yet another arrest warrant. This guy could wallpaper the penthouse with all of his arrest warrants.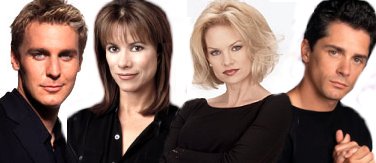 Yeah, yeah, I know Billy Warlock's not on the show any more, but I'm just not finished looking at him yet, so deal with it and don't be hatin'.
Jason gets busy with the DNA tests for Sam's baby and makes sure neither Sonny nor Jax is shown to be the daddy. (Carly has her hand in it too, trying to prove that the baby is Jax's) Sonny is in on the plan and when Jason announces himself as the father, plants a solid hook across his first captain's jaw.
Courtney is jealous when she sees Jason holding hands with Sam who is jealous when she sees the closeness Courtney is finding with Jax and to complete the circle, Jason asks Sam to marry him after he sees Courtney and Jax share a kiss. Did you get all of that?
The wedding is planned and they make it down the aisle, but do they say their I do's? Nope. Doesn't happen.
Jax is courting Courtney just to needle Sonny, but tall, used-to-be-blonde and handsome might just get in over his head. Courtney just wants the money for her foundation, but she also might get more than she bargained for! They do Italy together at the time of the wedding.
Sonny is shot by Sam's "crazy stalker ex-boyfriend" and ha! He has a familiar name that should ring a bell with Maurice Benard. We see his hand with a tattoo first and the rest of him later. Miracle Hospital... Sonny lives.
Speaking of gunfire and other mayhem, yes, Emily DOES shoot Nikolas. Lorenzo has him break into the Quartermaine mansion and Emily is home alone. What's a girl to do but give a little pow pow to the intruder?? Miracle Hospital... Nikolas lives.
Sam does suffer a miscarriage and Jason is with her in Texas when it happens.
Watch for a MAJOR fight scene between Carly and Faith that ends with Faith being seriously injured. A stunt double was used for Cynthia Preston during part of the fight's choreography. This leads into a tighter bond between Sonny and Carly.
The new Morgan twins, Dylan and Jordan Cline are here. They are NOT connected to any "who's the daddy" issue and Morgan's paternity does not come into question.
Sonny does learn the truth about Kristina in June and yes, she is definitively his biological child.
Ric and Alexis continue to have scenes together and I'm told that Nancy Lee Grahn and Rick Hearst LOVE working with one another.
A new Lucas is being cast to possibly be a love interest for Maxie. For those who are high on the "ew" factor, it's of the Woody Allen/Soon Yi Previn variety rather than the "Deliverance" variety. Maxie and Lucas are NOT blood cousins because Lucas is actually the son of Cheryl Stansbury (Tiffany Hill's sister). Bobbie adopted Lucas as a baby.
Nikolas and Emily will be having even more sex soon, but as far as Nikolas knows, he's still Connor and he's cheating on Mary, his wife. Infidelity is just this couple's middle name, isn't it?? These scenes will air in the last two weeks of June.
We'll be seeing some Bobbie scenes coming up soon and watch for Jacklyn Zeman to look... refreshed (as in surgically refreshed).
What does the GH staff think of the stars? Here are some recently heard comments:
Cynthia Preston - "An absolute delight"
Nancy Lee Grahn - "One of the most intelligent, respectful, graceful, radiant women to ever grace the planet."
Ted King - "One thousand times more handsome in person."
Greg Vaughn - "A dreamboat."
Natalia Livingston - "Annoying only on screen. LOL. Has the sweetest southern accent."
Rick Hearst - "Humble, talented and a favorite of absolutely everyone."
Tyler Christopher - "So proud of his play, 'The Boys Next Door' and he has flyers all over the stage and production office advertising it."
Catherine Wadkins - "Simply a breath of fresh air! She's so much cooler than Mary. Her favorite phrase is 'rock on' and she does!"
Dylan Cash - "Totally hilarious!"
Tamara Braun - "Absolutely charming. Very pumped up about her Emmy nomination, but who wouldn't be?"
Robin Christopher and Vanessa Marcil - "Best looking pregnant women to ever exist."
Kristina Wagner - "Could not possibly be nicer!"
I was able to get even more info about the mail at GH. The fan bases who write and call in the most are the Lorenzo and Carly fans and the Journey fans.
The actors who get the most mail are Rick Hearst, Rebecca Herbst and Ted King. Ingo Rademacher also gets a good amount of mail.
None of the writers read the mail that is sent in by fan bases any more. All post cards from writing campaigns are tossed before writers or actors even see them. Executive Producer, Jill Farren Phelps, is another story altogether. She personally reads every piece of mail she gets.
Hey, it can't hurt to write the boss lady if you have something to say:
Jill Farren Phelps, Executive Producer
General Hospital
ABC-TV
4151 Prospect Avenue
Hollywood, California 90027
And with that, my darlings, Sage is outta here for the week! I'll be around on Monday to scoop out the soaps with you again.
See you next week, lovies!!

PS: The off topic, "What's Sage Been Up To" column is here.

---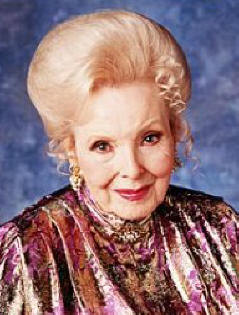 Goodbye, Gracious Lady.
You were adored by all.