GH WEEKEND AUGUST 2003
THE GH LUNCHEON
I was so ready to rock and roll on Saturday morning my body was humming. After breakfast, Katrina, Carolyn and I stood in line waiting to check in and chatted with those around us. Factions were lurking everywhere handing out paraphernalia and tact was my theme of the moment. I didn't want to make a pithy comment, trying to be funny, and mortally offend, for instance, an avid Sonny/Carly fan. I was and still am amazed at the level of dedication shown to individual couples, characters, and actors. Politicians could take lessons on campaigning from these devoted fans. In each place I found myself, I tried to talk to the people around me. Quickly, I learned to ask whom they liked on the show and almost all had a specific answer, a reason for attending the fan event, and a story or two. Just up my alley, I love a good story.
Near the check in table, we spotted a Mr. Bob Guza lookalike and debated for a few minutes about height and weight before I finally asked him his name, which he said, was Paul. Paul showed up as a helper at a few other events so I think he really was a Paul. We finally checked in and received the coveted plastic bracelet that meant we were with the IN crowd. Only it wasn't time to actually go inside so we spent an hour or so mingling, eyeing the goodies on the tables (lots of great photos if you're into that) and various items that actors had worn, touched, breathed upon or signed. Katrina suggested that we all purchase a 40th anniversary photo to get autographed so we did. Except Carolyn who said she was embarrassed to carry it around so Katrina and I bought one for her much to her chagrin. We spoke briefly with Debbie Morris, President of the GH/PC Fan Club and Debbie O'Connor, Fan Club president for tons of daytime actors and set up interviews with them. Carolyn and I will be doing a behind-the-scenes write up later. My hat is off to these two ladies who pulled off an amazing, organized weekend of fan events. I know they hardly slept during the weekend as they ironed out glitches and handled the details involved with entertaining large enthusiastic crowds in small spaces. These two women rock!
Sometime during the wait I became concerned that the maroon colored top I was wearing could be considered a whore blouse. Katrina assured me that it was the wrong color red, but once the idea set in, I couldn't get it out. I never thought of myself as the whore blouse type, so it rattled my cage a bit.
<![if !vml]>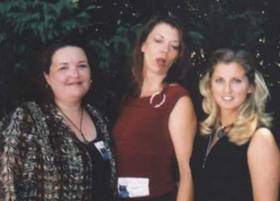 <![endif]>
Is it a whore blouse? Katrina assured me that it wasn't.
Why is my mouth open?
[Note from Katrina. Not a Whore Blouse. Click here for Whore Blouse Tutorial]
At last, the time arrived to go in and be seated. Since we'd purchased our tickets late, Katrina, Carolyn and I went to our separate tables. Lunch was served and discussion flowed around the table about GH likes and dislikes. Anticipation pulsed through the large room as every one of us waited for the next part. Who cares about chicken, steamed vegetables, and a dab of ice cream in a cup when the GH dream team was waiting in a nearby room?
At long last Debbie Morris made her way to the podium to announce John Ingle as emcee. He appeared amid wild cheering. Truly, I have no clue what he spoke about briefly, the noise was overwhelming. He began introducing the actors who entered through a side door, down a red carpet along the wall, and onto the stage, smiling and waving at whistling, clapping, exhilarated fans. Where a star's faction was seated determined how loud and long the cheering continued. Except when Maurice Benard, Tamara Braun, Steve Burton and Nancy Lee Grahn appeared the crowd made a huge noise that I am sure was heard in the grocery store across the street from the hotel. John Ingle made comments as each actor entered such as remarking on Dillon's hair and who (that would be Maurice and Tamara) worked every day of the week. With emphasis on every day of the week. It wasn't sour grapes, more of a throw the comment out there and to see how it lands. Scott Egan received a particularly loud acknowledgement as he should since he was working the pool crowd on Friday evening and asking folks to cheer loudly so that TPTB would note his popularity. Steve Burton hugged John Ingle as he came on stage. Two rows of seats were filled with GH favorites with a few notable absences.
Rachel Ames - Audrey
Jay Bontatibus – Andy Capelli
Derk Cheetwood – Max
Lane Davies – Cameron
Loren Freeman – Elton
Ron Hale – Mike
Vanita Harbour – Dara Jensen
Rebecca Herbst – Elizabeth

Stephen T. Kay – Reginald
Anna Lee – Lila
Ingo Rademacher – Jax
Kin Shriner – Scott
Andrew St. John – Kyle
CJ Thomason – Lucas
Billy Warlock – A.J. – Paging Billy Warlock
Bergen Williams – Big Alice
<![if !vml]>

<![endif]>
A beautiful shot of GH actors that you can't recognize.
Cynthia Preston and Andrea Pearson stepped up to the podium and announced the awards voted by fans, not a lot of surprises here.
Best Supporting Actor - Steve Burton
Steve assured fans that he wasn't going anywhere and he loves his job.
Best Supporting Actress - Robin Christopher
Didn't expect the award.
Favorite Villainess - Cynthia Preston
Favorite Villain - Rick Hearst
He said, "Thanks, I guess we're a couple now Faith. I'm just glad to still be alive and part of the GH family."
Scene Stealer - John Ingle
Favorite Couple – Sonny and Carly
Tamara Braun accepted the award noting that Maurice had a sore throat. "Thanks for loving and supporting us. We have a good time together."
Favorite Actress - Nancy Lee Grahn
This award means more than winning the Emmy because fans voted for it. She noted how much she loves and appreciates her GH work family.
Favorite Actor - Maurice Benard
Maurice began thanking fans by saying, "I don't know what to say that I haven't said a hundred times before." In an impulsive can't-keep-my-foot-out-of-my-mouth moment I called out in the lull of noise, "You can say anything. We'll be happy." Laughter erupted and then more clapping as I slapped my hand over my mouth because I really hadn't meant to voice my thought out loud, much less loud enough for the room to hear.
Favorite Storyline - Alexis' Personality Disorder
Best Offline Fan Club - Becky Herbst's
Best Web Site - Cynthia Preston's
I checked her website and decided that no site tops EOS.
Next on the agenda came THE BIG SURPRISE. Pretend I am talking very quietly here because I didn't watch GH when Sean O'Connelly and Tristan Rogers graced the screen. I wish I had, sigh, because these were some good-looking guys! I didn't understand the significance of their presence until later when Katrina and many others gushed about them. It was very cool to learn more GH history and see the joy on dedicated fan's faces. And the noise, you wouldn't believe the noise! The cheering and clapping reached deafening levels as the two hunks, dressed in black with sunglasses, walked up to the podium. Debbie Morris outdid herself because even the GH actors were surprised. John J. York rose from his seat and hugged his long lost screen brother and friend.
And finally, IT WAS TIME. Time for the actors to move to the tables set up around the edges of the room, time for fans to interact with those beautiful, but human, entities we tend to place on pedestals, time for Carolyn to ask her big question, time for me to take a deep breath, reach down inside for courage and meet my own private goal. We headed straight for Ted King's table because as you all know, Carolyn was on a mission. I know you've read Carolyn's and Katrina's account but let me tell you how funny the moment was. Ted King, in his black suit and turquoise shirt thought we were regular fans. Not by a long shot. Carolyn magnificently sidled up next to him smiling and batting her big blue eyes and popped her question. The expression on his face was priceless. Startled, intrigued, and then entertained, he answered, "You would not believe the flack I've received over that line." Not really an answer to the question, but who cares. The point is, Carolyn asked. Billy still seems to be missing. Not only did she ask, she went on to hold a whole conversation with the gorgeous man. Watching her turn on the charm was amazing and I plan to seek counseling from her on how to make intelligent conversation at the drop of a hat. She moved from table to table and easily spoke with actors about pertinent subjects and they responded. To say I admire her is an understatement. She radiates an aura of intelligent fun that prompts people to respond to her.
<![if !vml]>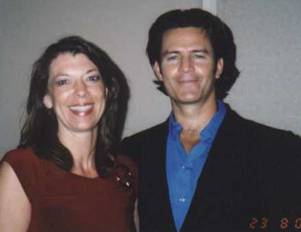 <![endif]>
I thought I snapped a picture of Carolyn with Ted, but
umm, no, it's me with Ted.
It was tough to drag Carolyn away from her idol, but the masses behind us were making disturbing noises so we finally bribed her with the thought of standing near Blake Gibbons, Katrina's big goal who was waiting for us a few tables over.
Charming and humble, Blake Gibbons brought his mom and dad to the event - nice folks. We chatted for a few minutes. Carolyn and I were redundant at that point but we sucked it up and stood by Katrina in case she tripped or drooled. She didn't and we all took pictures with the guy who seems clueless about his popularity. I know both Carolyn and Katrina wrote this but I want to emphasize again. WRITE, WRITE, WRITE. Address your letter to the actor because tallies are kept and it's a numbers game to determine a character's popularity.
Actor's Name
C/O General Hospital
ABC-TV
4151 Prospect Avenue
Hollywood, CA 90027
<![if !vml]>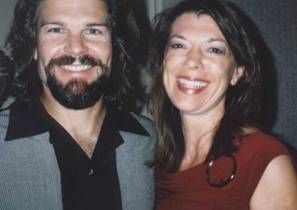 <![endif]>
Another pic of me grinning madly.
There seem to be a lot of those.
I asked him if he could think about the
Pool table while we took this picture.
And then, after some waffling on my part it was time to stand in line to see Steve Burton. I knew I wanted to ask him for an interview, but I was terrified that I'd be tongue tied and unable to do more than smile, mumble and take a picture. Standing in line, I listened to the woman in front of me gush to her friend how gorgeous he is, how blue his eyes are, how she loves Steve Burton. It sort of steadied me because I didn't want to gush; I wanted to talk like a normal person. Finally, I was next. I stepped up to him and said, "I saw you in Texas and now I'm here, does that make me a stalker fan?" He laughed and put his arm around me so the lady standing there could take the picture. I told him that I write for a GH web page and that I'd given him copies of a few of my columns where I saw him. He made my day when he said, "I remember those." Because neither suave nor subtle is in my personality I answered with astonishment and delight, "You read my columns?" He said, "Yeah, they were funny." Be still my heart! So then I asked him if he would consider giving me an interview for the web page. "Nothing too personal or serious." I reassured him. Guess what he said? He said YES, YES, YES! He'll be back in Texas in a few months and we'll do it then. So I know you're out there you Steve Burton fans, happy and excited for me and with me, stop what you're doing, dance a happy dance. But look to see if anyone's watching first. Oh, and cross your fingers that the interview pans out.
<![if !vml]>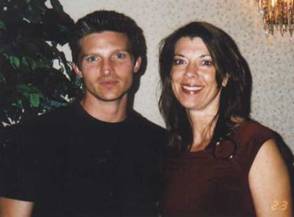 <![endif]>
Kathy's very favorite picture.
Hey, was that Billy Warlock over by the door?
I took many pictures, as you'll see below. After developing the rolls of film I was embarrassed to find so many pictures of me grinning so big I'm surprised my face didn't break. Try to ignore me. Put your thumb over my face and then look at our favorite GH actors. If the quality bugs you, please e-mail me and I'll send a picture to you that way. The pictures appear crisp and clear until I post them here.
<![if !vml]>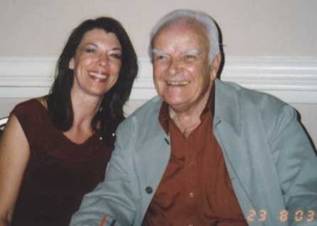 <![endif]>
John Ingle knows about Sage. How cool is that?
<![if !vml]>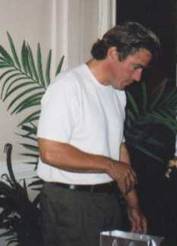 <![endif]> <![if !vml]>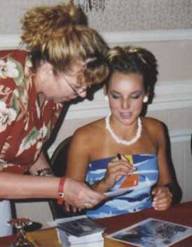 <![endif]>
JJY sat at a table with Robyn Richards. I wondered if he was friend or Mac Daddy.
<![if !vml]>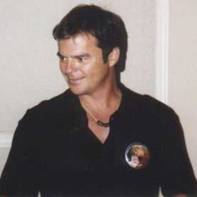 <![endif]> <![if !vml]>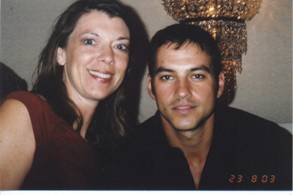 <![endif]>
Wally Kurth is friendly.
Tyler Christopher was polite. Big difference.
But maybe he was ready to leave and here came this woman
with an interview request and a camera.
<![if !vml]>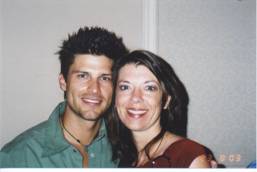 <![endif]> <![if !vml]>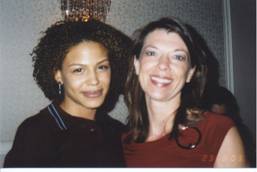 <![endif]>
Greg Vaughn hugged everybody. I didn't mind.
Andrea Pearson seemed either uncomfortable or overwhelmed,
I couldn't tell which. Pretty AND nice lady.
<![if !vml]>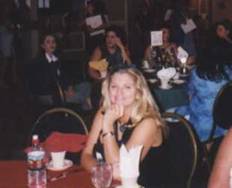 <![endif]> <![if !vml]>
<![endif]>
Carolyn and Katrina, two of the coolest women on the planet.
By the time we completed our photo hog rounds the air in the banquet room was heavy with the ripe smell of hundreds of bodies pressed close together. Katrina, Carolyn and I found ourselves sitting in a back lobby area laughing over the pictures in Katrina's digital camera. We were hoping Billy Warlock would stroll by because buzz throughout the room was that he'd been fired. Wally Kurth came into the lobby area and a man and woman stopped him to speak with him. Hoping to learn the real deal, I walked over to where he was standing and waited until he finished speaking and glanced at me. The lady had finished her fan question and was gazing at me too and I didn't want to ask in front of her so I grabbed Wally's arm and pulled him a few feet away to ask him privately. What was I thinking? I am not the grab a stranger and talk type, but it was an atypical day. I'd held a coherent conversation with Steve Burton, I thought I was super woman by then. Anyway, I told him the big rumor flying around was that A.J. would no longer be on the show and asked if it was true. He did that look where you're searching your mind for information or trying to decide how or what to reveal. Looking straight at me, he said, "No. A.J.'s still around. He's not gone." There you have it, straight from Wally's mouth to my ears. I choose to believe him with the understanding that actors are not allowed to disclose show information and it's not like I am anyone special to him except the lady who jumped up, grabbed his arm, and pulled him aside.
A few minutes later Chad Brannon walked through and I jumped up again to ask him about an interview. He whipped my EOS card out of his pocket and said, "You bet." I think he remembered me because I told him that I thought we were related. After all, he's from Tomball, Texas and I live in a small town near there. That means we're cousins, doesn't it?
From there, it was on to Maurice Benard's event while Carolyn and Katrina moved to the pool area to gaze into Scott Egan's enchanted eyes. Oh, I mean to interview Scott and a few others.
AND NOW FOR THE FUN PICTURES.
I can't help myself.
<![if !vml]>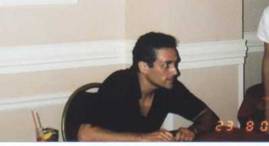 <![endif]>
You talkin' to me?
<![if !vml]>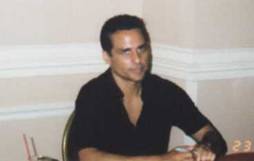 <![endif]>
I didn't THINK so.
<![if !vml]>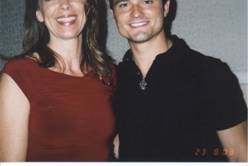 <![endif]>
A new trend in photojournalism,
half of Chad Brannon's face.
<![if !vml]>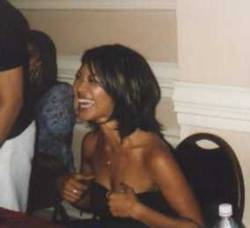 <![endif]>
Wanna see what's in my shirt?
<![if !vml]>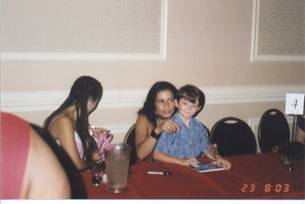 <![endif]>
Psst! Dylan.
We don't like the people on the left.
We only like the people in front of us.
<![if !vml]>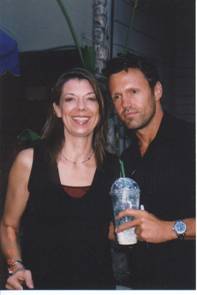 <![endif]>
Scott Egan takes a picture
with me, but gazes admiringly at Carolyn.
<![if !vml]>

<![endif]><![if !vml]>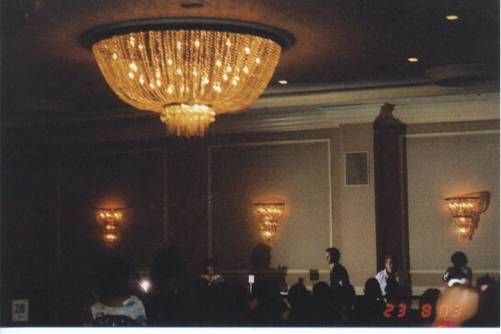 <![endif]>
The ghost of fan events past.
Maurice Benard's Event
(Part 3)