Kelly's GH Fan Weekend
or… The Whoreblouse goes to Cali! Part Deux
So day two starts off with a big ole breakfast at Twain's, the Denny's knockoff that's located smack between the Lodge and the Days Inn where we were camping out. Katrina and Kathy warn us that we'd better tank up now because eating for the rest of the weekend will be hit or miss at best. After fueling up we walked on over to the Lodge to check out the GH Boutique and see what was cookin'.
Now I've said it before and I'll say it again. When you go to these events, bring more money than you think you'll need. - you'll want it! The selection of gorgeous pictures, t-shirts, key chains and other cool GH stuff that Debbie had for sale was ginormous. The girls had to remind me that there would also be a whole load of fan club tables selling stuff tomorrow as well.
So I pried myself away and off we went to do a little touristy sight seeing before the Greg Vaughan Event later that day. But first we took a picture!

Clockwise from the upper left: Kathy Hardeman
Katrina Rasbold, Dianna Wessel, Media Ho & KellyB
We head to Katrina's car and with my airport backseat limo ride still somewhat fresh in my mind, I quickly called shotgun! I figured I could always sit in the back and yak if someone really didn't believe me, but thankfully no one raised any objections. Katrina had all sorts of MapQuest stuff in the cockpit so it was my job to navigate. On the way it was interesting to listen to the chattering coming from the backseat. It reminded me of a slumber party, it sounded a little like this:
Are you going to try to get ANOTHER picture of you and Steve? What about you and Greg Vaughan? I know you LOOOOVE him. Someone better get me some face time with Big Daddy John or else!!! and so on...
We dropped off Katrina and Di at a cute little shop Katrina was interested in visiting and the rest of us carried ourselves down Melrose to do a little souvenir shopping. Big waste of time. Took a little detour up to Hollywood and Vine and after driving around a bit, we got lucky and saw a fabulous shop that certainly did the trick. In a matter of minutes Kathy's wallet was about a hundred bucks lighter but the guilt factor was lifted and we could really start enjoying ourselves!
Normally I'm not much of a sightseer, for some reason I feel like if everyone else has seen it and liked it, how special can it really be? But for some reason LA was different. I kind of got a kick walking up and down the street on Hollywood Boulevard and checking out the stars on the sidewalk and the hand and foot prints in the cement at Mann's Chinese Theater. I remembered that the movie Pretty Woman was filmed right there..."You can't charge money for directions! - I can do whatever I want baby, I ain't lost!" I also got kick out of imagining all the paparazzi blood that had been spilled on the very same stretch of ground I was walking on during the "Mr. And Mrs. Smith" premiere "Angelina, over here - are you and Brad doing the humpty dance? Who designed your dress?".
Anyway, it was cool. We went by this Disney theater that was showing Herbie the Love Bug and I got yelled at by some jumped-up usher for breathing on the car or something.
Then we happened to come across Tom Cruise's star on the sidewalk which Kathy took a picture with and I stomped on. First he does Nicole dirty and now he's up in Brooke's face - WTF - Tom, go back to jumping on couches, you were just outstandingly annoying then instead of being a full-on asshole.
After we saw TC's star, we happened to stumble across Susan Lucci's quite by accident. However, we decided a small homage was in order, us being soapchicks and all.
We gathered up the rest of our crew and headed back to the hotel to get ready for our date with Greg Vaughan - man of my dreams (this week anyway!) We got to the room where the event was being staged and I found my table located way in the back which was bad, but also near the bar and the food, which was good. I got myself some nibbles (this is where I'm remembering that food is hit or miss and it's well past one oclock by now) so I load up my teensy plate with fruit and mini eclairs (it held two strawberries and one eclair) stopped at the bar and got a coke and sat myself down.
In came Greg - hoooo aaaaahhhh!
Here's where things get a little fuzzy. First off, Debby O'Connor had this really cool PowerPoint presentation going on behind Greg - which really was well done. It truly reinforced my opinion that this man CAN NOT take a bad picture. It was nice to see different phases of his life that I was not already familiar with. Really a nice touch.
I'm going to go into random mode here - just so you can get a feel for what's going on.
Greg comes in and asks for a Corona straightaway - now that's a Texas boy! Some gal near the front jumps up and asks him if he's willing to do a body shot with her - for charity of course Greg introduces one of his favorite people, Mark from The Gabriel Project, Greg's charity of choice that operates out of Deborah Hospital in Brown's Mills, NJ. The group funds the travel expenses of African children with heart defects (most commonly tetrology of fallot) to come to the US for surgery and care at Deborah. Mark talked about the trip that they take to Africa and asked Greg if he would be willing to come along - Greg very enthusiastically said 'yes'!
What a sweetie - he's so touched by the number of peeps here Says that everyone has been so generous with their fan mail and gifts that his dressing room is starting to rival Rick Hearst's for most gifts. Some gals show them their contribution - a huge picnic basket with tons of stuff in it, he groans when he tries to lift it and he's probably not joking around - the thing looks like it weighs 50 lbs or more.
He answered a bunch of questions about himself, the show, his upcoming storyline and good-naturedly turned aside many requests for him to take off his shirt. He said that his new meatier story must've come as a result of all the Emmy caliber work he did while in a coma earlier in the year. He and Tyler Christopher have a friendly workout competition going, but Greg readily admitted that he's not nearly as committed as Tyler when it comes to working out and beefing up.
Here's some of Greg's remarks:
Regarding his and Becky's surrogacy storyline -" Jax ain't gettin' my girl! Lucky just wants to be the man, to take care of her. Just love me back and I'll take care of you. I've been Mr. Nice Guy - it's time to take the balls out of the purse and show 'em what you got!"
Regarding Maurice Benard's star-ishness - "Maurice always has his door open for all of us."
Will he be attending Super Soap Weekend in November? - "I haven't been invited yet - not sure if they've set it all up yet, but if I'm 'lucky' I'll be there."
Regarding being Lucky #3 - "It's hard following 2 actors, but I think this is my year. Just give me a damn storyline"
Regarding fans calling in to praise his performance - "There's a comment line? Really? Do you call Brian - you got Fron's number?"
Regarding his long hair - "I loved it long, but it really got too hard to take care of. When I showed up in hair and makeup one day the word had come down for them to cut it, but I was ready for it to go so it wasn't a really big deal."
Towards the end of the event, Greg spoke about a dear friend's son who'd recently been diagnosed as autistic. Greg became very quiet and got a little choked up. He's doing a little research on his own to find out more about autism and to figure out the best way he can help.
Greg got down off the stage and started making his way around the room visiting each table and giving each person a little one on one time (I'd like to go one on one with Greg, but that's a different story) Anyway, since I was in the back I figured it'd be awhile so I kept one eye on him and kind of sat back and observed. Thankfully while we were waiting, Debby O'Connor got up on stage and announced that Rick Hearst was on his way down - woo hoo. Now here's a guy I can really get excited about.
<![if !vml]>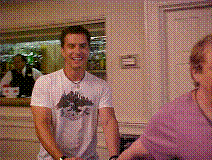 <![endif]>
So Rick shows up - looking hot as always, he's rockin' the D&G sneaks. Oh my gosh - we made eye contact and he looks like he recognized me! Bless the Dallas event! Wow, he's standing at the table next to me and he looks over and catches my eye, asks me if I was in New York? Nope, Dallas I reply... "Kelly, right?" That's it I can die happy now. Too bad no one will believe me. Don't know whether to be flattered or worried that he remembered me - hope he's not thinking stalker!!
Rick spent some time at our table giving everyone a thrill. I didn't have anything for him to sign since I didn't know he was going to be there, plus I had gobs of stuff from Dallas that I'd won and had him sign. He mentioned that he was going to be leaving the luncheon early tomorrow because it was his son's birthday - bingo! I was also missing my son J.T.'s birthday on Saturday the 16th (we could bond over our shared Italian guilt - perfect!) More inspiration - I yanked open my purse and found my son's football trading card - had Rick sign it for him-I'm sure a first for him too! Too cool.
<![if !vml]>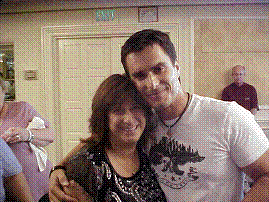 <![endif]>
Now Debby's back again - and here comes Cindy Preston! Wow, this chick is so gorgeous. Teensy tiny too! Rick got all excited about seeing her - grabbed the microphone and starts saying "where's Cindy Preston??? where is she??" then they ran over to one another and started hugging and smooching - it's obvious they are great friends and have missed working together.
<![if !vml]>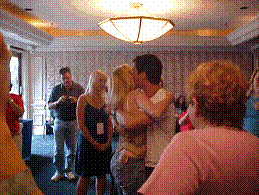 <![endif]>
Then Greg runs over grabs Cindy and throws her over his shoulder and carries her up on stage so she can start answering questions.
The big one - is Faith really dead? Well, she deadpanned - "I got shot about a hundred times, but this is a soap so you never know *twinkle twinkle." She came around the tables then and like Rick, started in the back so I got to visit with her just a little while. She's positively radiant and seems like a genuinely happy and together kind of chick - I miss Faith, I really do - but now I miss Cindy too.
<![if !vml]>
<![endif]>
Well, I finally got my face time with Greggie Baby ~ the event was really running late and they kicked us out of the room so we ended up standing outside and waiting for our obligatory kiss and cuddle. The cool thing with him is that he remembers things - and comments on them! I was missing dinner with the EOS gang and I would've killed for a piece of cheese at this point, but I had to get me my shot of Greg! Oooh it's so good!
<![if !vml]>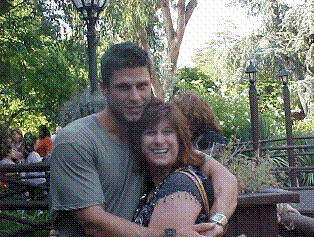 <![endif]>
This guy can't take a bad picture, now me on the other hand...
Nancy Lee on deck please!
See you in a few -
See you then!
KellyB