The Media Ho's GHFCW Experience,
Part III of IV -- The Luncheon and Autograph Session
By Karen

We pick up this narrative as the stars make their entrance from the Green Room to the Main Stage. Emcee John J.York (Mac) called the actors up to the stage in alphabetical order, usually with a quip or two about the person, and the electricity was sparking with each entrance. First up, Jennifer Bransford, who took the third seat from the end. Hmm, I thought, that's odd. Actually, it ended up making a lot of sense, as the last two actors to join the troupe already on stage were Steve Burton and Maurice Benard, so those chairs were saved for them!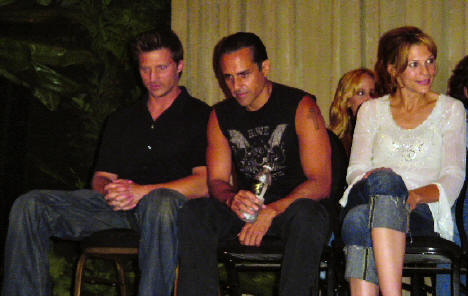 Steve and Maurice got perhaps the loudest screams of all, though cheers for
Nancy Lee Grahn, Kelly Monaco, Cynthia Preston, Constance Towers, and
Kari Wuhrer were darn close!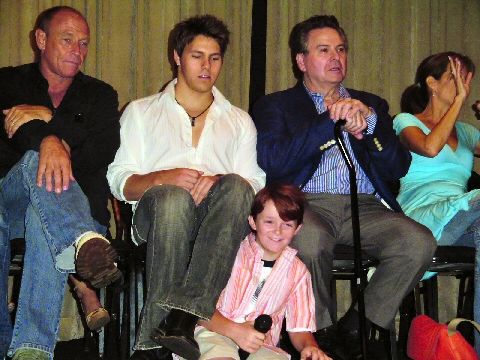 No, Dylan Cash was not being punished, there were more stars on the stage
than there were chairs!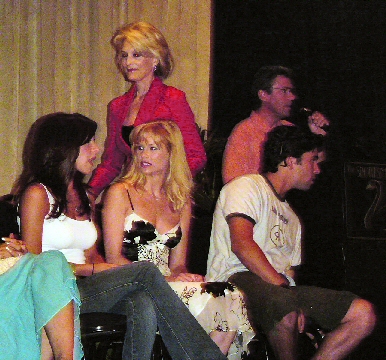 The crowd roared when Constance Towers made her regal entrance
Awards voted on by members of the General Hospital Fan Club were distributed to the cast. They were (in order of distribution):
Favorite Younger Actor - Dylan Cash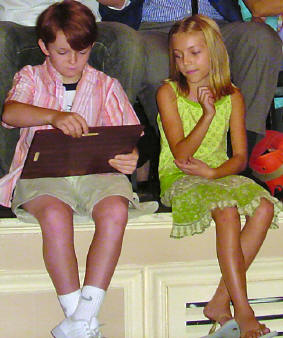 Dylan Cash, joined on the stage by Katia Coe
(Jodie), was very happy to get this award
Favorite Younger Actress - Lindze Letherman
Scene Stealer - Scott Clifton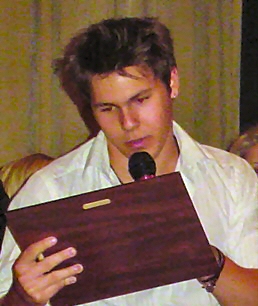 Scott certainly deserved this one!

Favorite Storyline - "The Kidnapping"

Favorite Character Wardrobe - Carly

Favorite Song - "Angel," by Sarah McLachlan

At this point in the awards, Maurice was asked to sing "Angel," and he good-naturedly crooned, "Angel...Angel..." which broke up the room!

Favorite Couple (tie) - Jason and Sam, Lucky and Liz

Favorite Villain - Corbin Bernsen

Favorite Villainess - Faith Roscoe

Cynthia Preston was truly moved by her award, and it was clear that those in the audience were rooting for her return. Have Faith!

Favorite Supporting Actress - Robin Christopher

Favorite Supporting Actor (tie) - Ted King and Rick Hearst

Favorite Actress - Natalia Livingston

Favorite Actor - Maurice Benard

Favorite Website - www.Maurice Benard.tv

When Maurice was given his award, he not only thanked the fans, but took the opportunity to pay tribute to late producer Carol Scott. "She had a great smile, every day. When someone dies, it puts things in perspective...I'd like to dedicate making General Hospital even better than it is to Carol."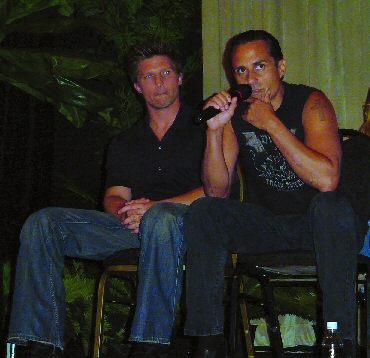 Maurice Benard spoke lovingly of late producer Carol Scott

Nancy Lee Grahn added that Scott was "a beautiful woman, as devoted to the show as all of you."
The Luncheon then broke into the autograph session. Three sides of the room were set up with tables for the actors to sit at while the fans lined up for their long-awaited meet-and-greet with their favorites. My time working as a runner was behind the "teens," a very popular part of the room, indeed! My charges were Scott Clifton, Paolo Presta, Adrianne Leon, Lindze Letherman, Kirsten Storms, and Ignacio Serrichio. They were seated in that order, which meant that the line moved s l o w l y. Blame it on Scott, who was breaking rules left and right, signing lots of autographs and posing for many photos, joking away with the fans all the while. The rest of the teens were equally generous, and their fans were overwhelmed. The only challenges that posed this runner were locating hot tea for Kirsten and Lindze (not an easy feat) and trying to keep Scott and/or Paolo from spilling their pitcher of water (several bar towels were stolen and thrown on the floor between the two dudes!). The air conditioning was pumping at Maurice's request (wise man), but that didn't help poor Kirsten, who, despite fighting the flu, was a trouper, staying until the bitter end. I was only sorry I couldn't get her more tea!

At one point, Lucy (head of security) came to me and said, "You've got to get this line moving faster; it's snaking around and time is short!" She pointed out the main culprit. Yep, that was Scott, who by now had ditched the chair and was standing by the line, chatting like crazy. I pulled him aside and attempted to look stern. Not easy when you've got a charming chatterbox bouncing around in front of you. "Dude...dude...dude," I begged. "If you don't get the line moving faster, Debbie Morris is gonna come over here and kick MY ass! Please!" He tried to look contrite and properly chastised, which worked for about a second. "We don't want that to happen! Okay, I'll be good!" Riiiight. He continued on as before! Eventually, we had to break up the line into semi-shorter ones for each individual actor.

This was a good move, as the teens were determined to see everyone who came to see them. I asked Lindze if she needed a "personal break" (euphemism for "bathroom break"), and she smiled and declared, "No, I'm in this for the duration!" After getting hot tea, bar towels, and an extra silver Sharpie, the teens made no demands of me. This gave me the opportunity to chat with Paolo.

If you were wondering who the second name among the list of teens was, wonder no more. Paolo Presta is the talented young actor from Illinois who grabbed Oprah Winfrey's attention, enough for her to grant him his "Wildest Dream!" A bit part on "Will & Grace" was arranged for Paolo. Oprah did a follow-up show on Paolo, and introduced him to Maurice Benard, who was able to help Paolo get a recurring role on GH, that of Doug Mancino, "Pizza Shack" owner.

I was worried at first that Paolo would be eclipsed by the other teens, particularly as he wasn't due for his big debut as Doug until July 27th. Needless worry, though, as lots of people recognized him from Oprah, and kept him busy signing photos and posing for pictures. When there was a slight lull, we started to chat. I told him about EOS, and he said he's seen the site. He shared his Oprah story with me, and we talked about Chicago and various other things. Pointing at his depleted stack of photos, he laughed and said he'd only planned to bring about a quarter of that stack, but a few days before the event, he was advised to be better prepared. I had a lovely time getting to know Paolo, and this was cemented by the e-mail I received from him a couple days later, thanking me for taking such good care of him. We've exchanged more e-mails since, and he sent me the next two photos, as I had stopped taking pictures after becoming a runner.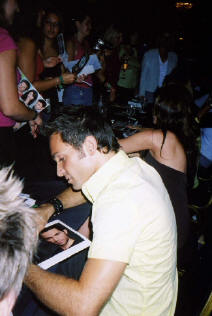 Oprah's discovery, Paolo Presta,
plays Doug Mancino, owner of
the "Pizza Shack"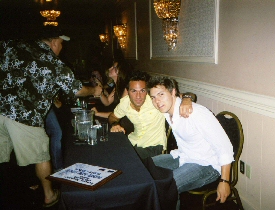 Paolo and Scott took a brief break from
signing autographs to pose for this photo
Photos courtesy of Paolo Presta

As the event was winding down and the teens no longer needed me, I ran to get my GH t-shirt signed by a few more actors. Kari Wuhrer looked up from the photo she was signing and greeted me with a big, "Hi, Ka!" She signed, I gave her my EOS card, and then left her to the line of fans. Kelly B. came by and we engaged Kari's hubby, James Scura, in conversation. What a nice guy. At one point, we were cautioning him about letting Kari see some of the nastier postings online, and he laughed and said he acts as a filter. "Jennifer Bransford was really upset with something she saw a few weeks ago, so I check things out before Kari sees them." He told us that there were so many false rumors about Kari on some of the message boards, and Kelly had some good advice for him regarding that, but that's her story to tell.

Kelly Monaco was wrapping up to get ready for her event, and her line had been cut. I spoke with her bodyguard, Cameron, and said I was with EOS, working the event, and hadn't had the opportunity to stop by before. Kelly was picking up her bag, ready to leave, and Cameron showed her my card. She smiled, said hello again, and signed the t-shirt.

A quick stop at Cynthia Preston's table nabbed her John Hancock on the t-shirt (she still could not believe I remembered "If Looks Could Kill!"), and I went back to my teens. Scott Clifton was bouncing off the walls at that point, but he paused, mid-bounce, to sign the shirt, as did Paolo and Adrianne. Adrianne had thanked me throughout the afternoon for taking care of them, and she was sweet and sincere. When asked if she'd be at the Kurth & Taylor concert that evening, she said, "Yes, I'll be there, but I'm not performing." Well, rats. I'm still hoping that Murray Yates gets his butt back from Canada already so Adrianne's CD can be released!

Since the teens were still busy, I stashed my things with Kathy Hardeman and went back to do whatever was necessary. Adrianne and Ignacio were still busy, so I told Kathy I'd watch over her and escort her to her car when she was ready. I whispered this to Adrianne, who then decided to come out from behind the table and "pull a Scott," getting up close and personal with the last fans waiting. At one point, the group around her grew, and I asked her if she'd rather go back to the table, but she said, no, it goes faster this way. At long last, every fan left satisfied, and Adrianne was finished. I asked her if her hand was okay, and she winced a bit while massaging it, but said it was only hurting a little. Her mom and some friends joined us, and I realized she didn't need an escort. I said goodbye, great to have met you, and she told me how to get in touch with her, thanking me again for helping out.

I said my goodbyes to Lucy and her security dudes, and went to meet the rest of the exhausted EOS staffers, collapsed around the Lodge pool. Fifteen minutes until the Steve Burton event...and that's where I will pick up and end this rather lengthy recap! Part four of four coming soon -- until then, here's a few random shots from the luncheon!