The Media Ho's Recap #2
By Karen
The Media Ho's GHFCW Experience -- Part II of III: Prelude to The Luncheon

Saturday was indeed an early one for the EOS gang. We met at Twain's at the ungodly hour of 6:45 am to stock up our tummies for what promised to be a long, tiring yet invigorating and exciting day. Katrina and Kathy had warned that we might not eat again until the evening, so we'd visited Ralph's and made sure to pick up granola bars, breakfast bars, anything that would provide nourishment. (Kelly, that health nut, got apples AND Pop Tarts!) We also were re-briefed about our check-in duties and escort/runner responsibilities. Yes, the EOS crew helped check-in the 400-500 fans who attended the luncheon. We also escorted the actors from their preferred hotel entrance to the "Green Room" and, after the luncheon and Q&A session with the actors, assisted during the autograph session. "Runners" are strategically placed behind the actors' tables and are there to procure beverages as needed, keep the lines moving, escort the actors for personal breaks, and generally help in any way possible, including taking pictures for unaccompanied fans on line.

When we arrived at the outdoor check-in area at the Lodge, a plethora of vendors were busily setting up tables on which to display their wares. Debbie Morris and her staff, including her wonderful son, Clifton, and his wife, Olga, were ensuring that things went smoothly for all. Clifton is a fun, no-nonsense sort of guy with a great Texas drawl, and if you didn't know that, you'd be intimidated by his presence. The dude works out. He watched over everything and everyone, and also served as Maurice Benard's bodyguard. (They do have a great rapport.) You'd have to go through Clifton to get to Benard, and I'm here to say "DON'T EVEN TRY!"

Check-in began around 8:30, and ran like clockwork. Any problems regarding tickets were referred to Linda Howard, one of Debbie Morris' long-time staffers. She, too, is a pro, handling every situation thrown at her with grace and ease, as did all the staff. Our own Kathy Hardeman prepped us with those darn wristbands, making sure we could properly get those little suckers attached to each ticket holder. As I said to many of those I slapped with bracelets, "Admission gets you the bracelet...bracelet gets you admission...you can't get into the luncheon without 'em!" (I crack myself up!)

After people were checked in, they shopped at the vendors' tables, then lined up outside the Lodge, as the doors to the Luncheon were opened at 10:30. (Tables were assigned, but I suppose everyone was anxious to get seated.) Now that we were finished with check-in, it was time to get our Escort badges and assignments.

There are two ways to enter the Luncheon area of the hotel (and, no, I'm not giving that away...besides, there is too much security present), and Kelly and I were stationed at one of them, Dianna at another, complete with a security team. Lucy, the head of security, showed me the secret maze of corridors that Kelly and I were to use to bring our charges to the Green Room. Once we were finished, we were then allowed to mingle in the Green Room, chat, take pictures, and have a good time.

I've always said that the first person you're exposed to sets the mood for what is to come when escorting actors. (I've done it in the past for some of the AMC actors at non-soap-related events.) My rule still stands. The first cast member I met was Kari Wuhrer (Reese) and her husband, film producer James Scura.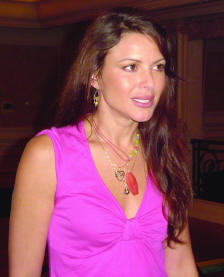 Kari was warm, friendly, and as nice as could be. So was James. I broke in my joke about taking them on "the scenic route," and as we got to the Green Room, Kari asked, "What's your name, sweetie?" "I'm Karen," I replied. "Okay, see ya later, Ka!," and with a wave, she and James were off to explore the Green Room. I trotted back to my station, just in time to see Kelly walking off with Larry Poindexter (Dr. Thomas, usually referred to as Dr. Thom-Ass).

When Kelly returned, a PT Cruiser pulled up to our station and Scott Clifton leaped out. I looked at Kelly, and she smiled, saying, "He's all yours." Scott was just a bundle of fun, even more so than Dillon Quartermaine. We joked our way down "the scenic route," and I told him that he was among the first to show. "What? Lindze told me not to get here anytime after 11!" "Well, you beat her, Scott!" We shook hands and parted, destined to reunite during the autograph session.

The next actor to drive up was Kirsten Storms, in a tricked-out SUV with killer rims. Kelly escorted her back through the maze. Then little Katia Coe (Jodie) and her mom nearly got past me, but I saw them in time and brought them down to the Green Room, fighting all the while the itch to channel Kris Kristofferson in "A Star Is Born," by singing, "Are you a figment of my imagination...or am I one of yours?" Katia was a darling little girl, and her mom was the opposite of every horror story you may have heard about "stage moms." Sweet.

Kelly and I waited a bit more, having been stationed at the lesser known of the two entryways, but we had two charming and hunky security guys to joke and gossip with, so we didn't mind. Then Kelly shot me the same look I'd shot her when Scott showed up, and I turned to see Corbin Bernsen (Durant), hands full with "Carpool Guy" stuff. I grinned at Kelly and said, "Enjoy!" She immediately leapt into conversation with Corbin, helped him carry his stuff, and brought him to the Green Room, straight over to...nope, not my story to tell! Check out the other recaps!

Well, Corbin was the last actor to show at our door, so Lucy gave us the go-ahead to join everyone in the Green Room. The first person I spoke to at length was the lovely Adrianne Leon (Brook Lynn).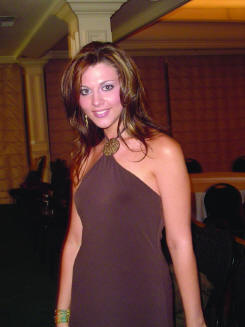 I introduced myself, and told her how much I loved her musical talent...and when the heck was she going to release a CD already? She laughed, thanked me, and said, "Really, it could happen any time now. One of my key band members went to visit family in Canada and is now embroiled in a problem with his visa documentation. As soon as he's back, we can get the CD out, so think good thoughts about his immigration problems!" Definitely, said I, and left her to the next person wanting to meet and greet.

Pandemonium as Jennifer Bransford (Carly), Kelly Monaco (Sam) and Dylan Cash (Michael) entered (Dianna was busy escorting the whole time we were in the Green Room, poor thing -- and yes, there is a slight tinge of sarcasm there!).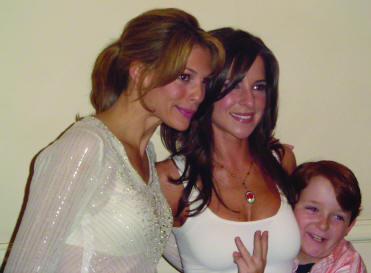 Dylan Cash tries to prevent another wardrobe
malfunction for his pal, Kelly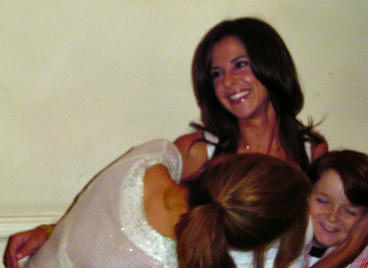 I'm not saying anything, provide your own caption
I told Kelly that her "Dancing With The Stars" win was totally deserved, it was obvious she'd worked hard for it, and "don't let anyone tell you otherwise!" She laughed and seemed really happy to hear that. In fact, she was likely floating on Cloud 9 all day, as I was certainly not the only one to say something along those lines.

Next, I saw Cynthia Preston (ex-Faith). Introducing myself, I launched into a conversation about a movie she'd done with Richard Grieco ("21 Jump Street) in 1991, the overlooked teen spy spoof, "If Looks Could Kill." She was absolutely delighted that I remembered that movie! "You know, I started out on that movie as a one-liner, but the director liked me and kept giving me more things to do! It was a lot of fun to make, with beautiful locations, and I had a great time. That was so early in my career!" "Well, I've always loved it, and probably watch it every six to nine months. By the way, I thought you were wonderful as Faith, and I really miss the character." She smiled and reminded me that GH is, after all, a soap...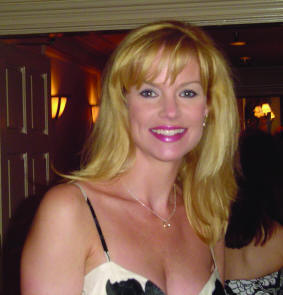 |
Ah, ye of little Faith...Cynthia Preston is
as popular with the cast and fans as ever...
and this has not gone unnoticed by TPTB
...all I can say is, have faith!
Executive Producer Jill Farren Phelps quickly walked by me, and, ever polite, I said, "Congratulations on the win!" She turned, mid-stride, and thanked me.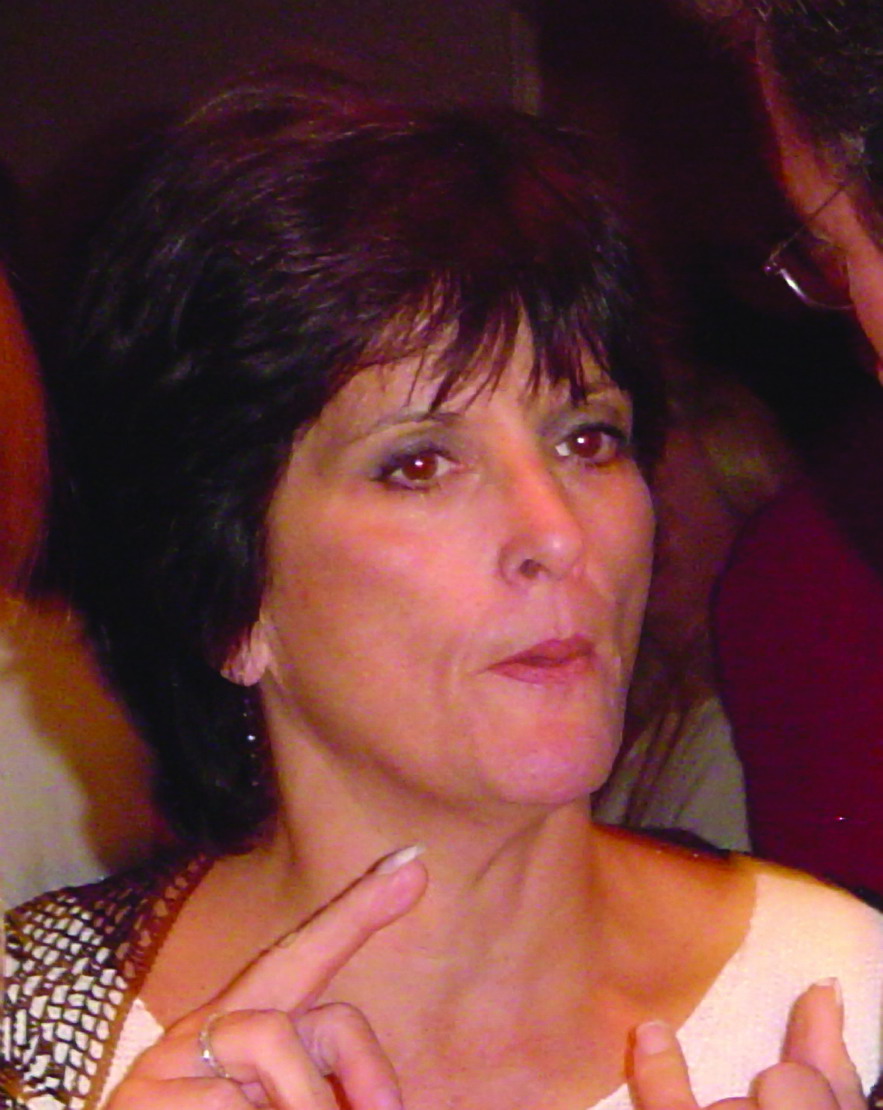 Later that night, Katrina told us a bit of her conversation with Jill, and I gained new respect for the lady. If I've ever made a rude comment about the way she runs the show, I now hereby apologize. For the scoop, read Katrina's interview!

After that, I found Kathy, busily scribbling some notes while balancing her camera (she and Katrina were conducting interviews in the Green Room while Kelly, Dianna and I were bringing in the actors, and you can find them in the "Five Minutes With..." section of the recaps -- great work!). We got each other up to speed, and then she suggested we tag-team together.

One of our first successful tags was Tyler Christopher (Nikolas), who posed nicely for a picture with Kathy after she questioned him.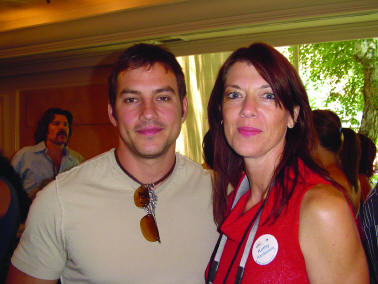 Moving on, we tagged John J.York (Mac Scorpio), a funny guy and the perfect M.C. for the luncheon. See how he made Kathy laugh?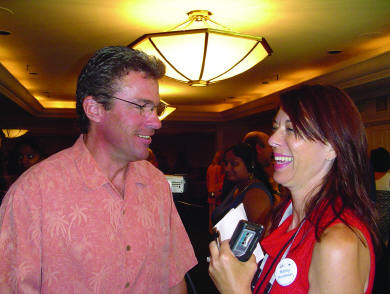 We then noticed photographer/manager Jim Warren setting up shots with Jackie Zeman (Bobbie) and Jennifer Bransford, so we went to get some mother/daughter shots of our own.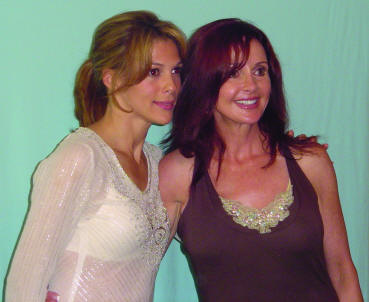 After that, we spied Ted King (Alcazar) talking to just-arrived Ignacio Serricchio (Diego Alcazar). Ignacio had literally come from the swimming pool, wearing t-shirt, shorts, flip flops, and wet hair, and asked Ted if he should change. "I've got clothes right here!" "Um, yeah," said Ted, "good idea." I asked them to pose for a father/son picture.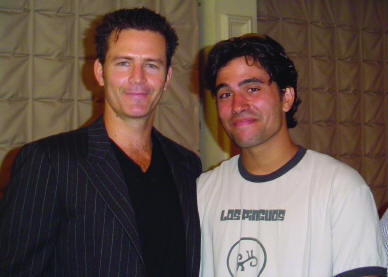 Alas, Ignacio could not change his clothes, as John J. York started yelling for the actors to line up in alphabetical order so they could take the stage. I don't think any of his fans were upset!

Oh, so you didn't think Maurice Benard (Sonny) paid a visit to the Green Room? I have proof, though the lighting is poor, sorry.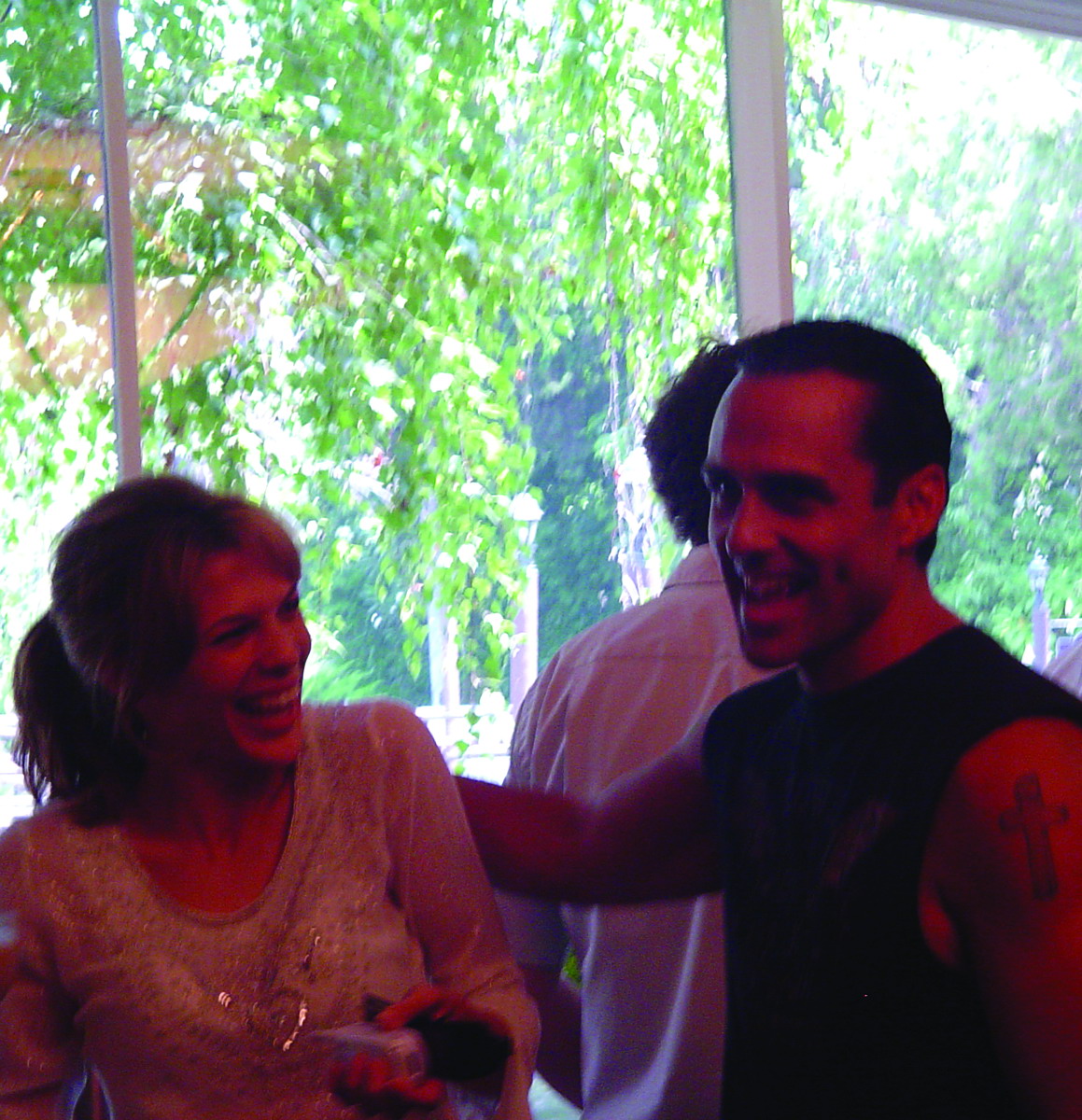 The rapport between Jennifer Bransford
and Maurice Benard is real, not faked
Time for the stars to make their entrance! Katrina, Kathy, Kelly, Dianna and I snuck into the luncheon room and secured our seats, ready for the Main Event to begin!

THIS HAS GONE ON FOR SO LONG, THAT I'M BREAKING SATURDAY INTO TWO PARTS...PART III OF THE MEDIA HO'S ADVENTURES IN STUDIO CITY WILL POST IN A FEW DAYS! KEEP YOUR EYES ON EYE ON SOAPS!