The Media Ho's Recap
By Karen
PART I (THURSDAY/FRIDAY)
Oh, the Media Ho was in her element at the General Hospital Fan Club Weekend (henceforth, GHFCW)! Stars galore, executive producers, managers, fan club presidents, photographer/managers...yes, the Media Ho felt right at home. However, like Houston Dwyer, lover of The Rose (in "The Rose"), "I think people who refer to themselves in the third person are looney tunes." Absolutely! So now that I've gotten that out of my system, let's rock!

EOS converged on Studio City in little groups on Thursday, July 14. Dianna ("Dianna's Dimensions") and I flew together from New York. Dianna was the only fellow-EOSer that I'd met in person to date (when we went to the Jack Wagner concert in April), and we had a lot of fun on our very long flight. When we arrived at LAX, there was Kelly ("Kelly's Diner") waiting for us with our rather grouchy limo driver. You'd think that the positive energy the three of us were giving off might have changed his mood and, perhaps, brought world peace, but we had a better chance of pulling off the latter than the former. No matter. We three were together, and bonded even closer on our way to Studio City. And there was plenty of time to do that, as the legendary 405 was crawling all the way to the Days Inn on Ventura Boulevard.

We checked in (finally), freshened up, and hit the road to The Sportsman's Lodge, a mere two blocks away. After a quick bite at the Patio Cafe (not for me, alas, as my stomach and back were repaying me for the six hours on the plane), we went to the poolside bar to have a couple of drinks and wait for Katrina and Kathy to arrive. (Kathy flew from Houston to Sacramento, where Katrina picked her up and began their seven hour journey to Studio City.)

Although my stomach was yowling at me, my back screamed louder, and as back pain trumps stomach pain, I was enjoying some medicinal Captain Morgan drinks (really, it was a total tribute to Sage) and Kelly and Dianna were busy making new friends. As Kelly was wearing a tribute to the Whore Blouse, it was rather easy. Dianna also makes friends wherever she goes, as she makes a point to learn everyone's name and use it, which is a wonderful networking talent. My first sighting while at the bar was Dylan Cash (Michael Corinthos III), running poolside as in years past. No big surprise. Then, a couple of gals struck up a conversation with Kelly, who pointed out that Dianna of "Dianna's Dimensions" was sitting next to her. The gals went wild. They love her column, and treated her like the star she is. Eventually, after they said how much they liked EOS, Kelly identified herself, and I smiled and sheepishly said, "Media Ho here, glad to meet you!" They loved it, we loved it, and that was the first of many wonderful encounters with EOS fans.

My next sighting was of Katrina and Kathy, and that was truly exciting. Katrina brought all of us loot bags, filled with goodies and necessary items for the weekend. I was bowled over by my "Media Ho" logo pin and wore it proudly. We repaired to the Patio Cafe for some dinner.

I must say that sitting around the table with these four warm, wise, witty and wonderful women (five on the occasions that Carol was able to join us) was just incredible. After years of on-line exchanges, meeting them in the flesh was an experience that left me both verklempt and amazed. (The verklemptedness was underscored by my various pains and aches, and I apologized for having left my personality at the airport, promising that it would return in the morning, tout de suite.) I do not possess the ability to adequate describe each one, so I would suggest you read the other GHFCW postings, as they describe the EOS ladies far better than I ever could. Suffice it to say, I miss them all terribly, and am proud to call them all "friend." They were the biggest stars of my weekend.

Three sightings in the space of a few hours? Absolutely! Midway through the meal, I spied EOS' Carol/Coggie (Banks Weber, "Channeling") looking for us, and nearly upset the table in an effort to grab her in a bear hug. Fortunately, that didn't scare her off, and she joined the table. The circle was complete.

After the food was finished, we repaired poolside to discuss our plans for the weekend. The GHFCW newbies (Carol, Dianna, Kelly and myself) hung on each pearl of wisdom and advice dispensed by Katrina and Kathy. At the same time, the very hot Vista Room overlooking the pool was jam-packed full of people attending the Legendary Bingo Event. We went up to observe through the windows, and saw a number of actors, some seated at a table and some participating in the action. Adrianne Leon (Brook Lynn Ashton), Lindze Letherman (Georgie Jones), Ignacio Serricchio (Diego Alcazar), Jennifer Bransford (Carly Corinthos Alcazar), Cynthia Preston (ex-Faith Roscoe) and Wally Kurth (Ned Ashton) were doing their thing for charity, and looking good. (Especially Wally Kurth, who good-naturedly removed his shirt several times as donations piled up for that reward!)

Katrina introduced us 'round to many people that were connected to other websites and then to Debbie Morris herself, president of the General Hospital Fan Club. Debbie had been at the Lodge for two weeks, tirelessly organizing the event (which she works on for many months), yet was still kind and gracious to all of us, despite her exhaustion. She is some force of nature, and it was a real pleasure to meet her at last. We then broke the group up, with Kathy and I opting to make a stop at Ralph's (a 24-hour grocery store) for provisions (bottled water was a MUST), then back to the Days Inn. The other gals stayed with Katrina, and had some great face time with some of the actors, but those are their stories to tell (and they are good ones!).

Friday morning, we assembled at Twain's, a 24-hour diner right smack in between The Lodge and our lodgings, and planned the day. All save Dianna and I were attending the Greg Vaughan (Lucky Spencer) event at 1:00, so that gave us a tiny window to do the touristy thing. After a stop at the GHFCW Boutique, where we saw Debbie Morris and her staff, and also Debby O'Connor and her group, who were busy giving refunds to the folks who had purchased tickets to the unfortunately-cancelled Tamara Braun (ex-Carly) event. Let me tell you here that Braun's event really was cancelled due to a scheduling conflict with a movie she had just landed, not for lack of ticket sales. There was a steady stream of refund-seekers, and Debby O. was handling everything like the professional she is. Some of us purchased items at the Boutique (mine was a GH t-shirt for actors to autograph) and then we all (except Carol, rats) piled into Katrina's car for our trip to Hollywood.

We dropped Katrina and Dianna at a cute little shop/bookstore on Melrose, then went in search for gifts for Kathy's kids. Melrose was not the place to do it. First of all, most everything was closed until 11 am. Secondly, let me say that the stores on Melrose really don't have much that is appropriate for anyone under 21. So, we headed for Hollywood Boulevard, where we found just what Kathy was looking for. We spent a few minutes by Grauman's Chinese Theater and The Walk of Stars (yes, we found Susan Lucci's star!), then picked up the rest of the gang and headed back for the Greg Vaughan event.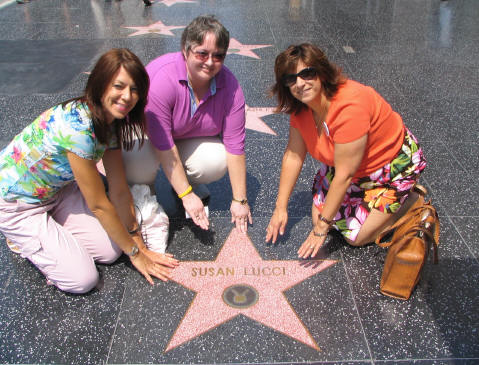 All hail the Queen of Daytime! From left to right:
Kathy, Karen and Kelly. Photo courtesy of Kathy.)
Heading back from Hollywood, someone mentioned that Kelly Monaco has said that she lives in an apartment building with a great view of the Strip (or thereabouts). We were stopped at a light, and all of a sudden, I yelped, "There's her place!" Yes, at the intersection was a two-story building that featured "MONACO LIQUORS" on the first floor, and what seemed to be an apartment above. Unfortunately, traffic began to move, and the picture we took (purely as a joke) did not come out. Considering the relative shabbiness of the building, and the fact that Kelly Monaco does not drink, it was just something that made us laugh in our giddy state!

Over the hills, across famed Mulholland Drive, and minutes later we were back in Studio City. Dianna and I prepared for some relaxation time while the rest of the gang headed out for Greg Vaughan's event. (Again, since I was not there, check out the other recaps for details!). Around 3:30, Kathy called us to say that the event was going long, due to Greg's generosity with the fans, and that Kelly was still there, but please meet them at the Patio Cafe for a late lunch/early dinner, prior to the Nancy Lee Grahn (NLG) event. We did that, then ran back to change and prep for what was my first event of the weekend (Dianna's, too).

NLG's event is normally one of the most popular ones, and this one promised to be no different. She usually has some good guests attending and is very giving to her fans. Tables were added (23 in all) to accommodate the last-minute ticket buyers. I was luckily positioned at Table 6, which was alongside the path that the actors took to the stage, so was able to get a couple of good pictures.

The event (billed as a "Goddess Evening," with special emphasis on the book "The DaVinci Code," in which much discussion of goddesses and goddess symbology takes place) began with the tiniest goddesses of the night, the "CurlyBoo Twins," Sarah and Emma, who play little Kristina. They entered the room dressed as goddesses, escorted by their lovely parents and little sister. They were prepared to sing 10 songs for us, but their dad had some technical difficulties connecting his boombox to the Lodge's PA system, so they did a couple of a cappella renditions of crowd favorites such as "The Alphabet Song" and a couple of other things not recognized by this writer, who normally hides from small children. Cute they were, though, and then they both yelled, "Here's Nancy!"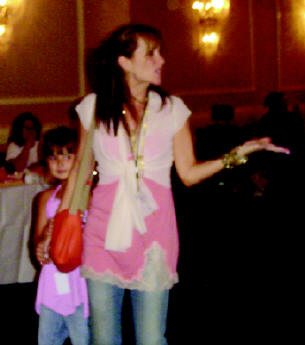 Nancy and daughter Kate entered to much pandemonium, fresh off a trip to New York's Hamptons enclave, and took the stage. After greeting the audience (and having little Kate show off her newly-acquired imitation of New York and Boston accents), NLG said, "Never follow children or animals... and here I am!" She smiled at all, and added, "Let's face it, you guys are goddesses."

Two of her special guests came in, first the lovely Constance Towers (Helena Cassadine),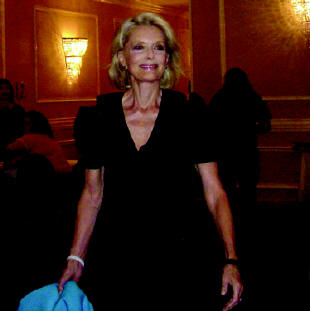 glamorous as always, and appearing very pleased by the cheering reception she received.

Then Corbin Bernsen (Durant) joined the group, to much applause, fresh off a day spent in the studio working on his "Carpool Guy" film, and looking both ultra-casual and comfortable in his shorts and t-shirt. They flanked NLG on stage and settled in for a Q&A session. Here's some of the notable remarks/happenings:
-- Daughter Kate covered her ears when NLG was asked "How hot were the sex scenes with Ric!"
-- Corbin Bernsen wants to create a new soap. He had peeps such as NLG and Finola Hughes on board a few years back, with the soap's bible written by the revered Patrick Mulcahy, but none of the networks were willing to sign on to the project, which Bernsen promised "would have taken soaps to a new level."
-- NLG said, "Patrick Mulcahy is now writing for "Bold and the Beautiful, and I think there need to be some letters written about that!"
-- CB: "I've got the D.A.'s job...next I want the D.A.'s wife!"
-- NLG: "We could fool around -- Ric did!"
-- NLG: "I don't want to be a hooker, a bitch...desperate, neurotic women that people tend to write when they're not seeing women as goddesses. I want them [the writers] to get in touch with their feminine side. More goddess, less god."
-- CB: "Everything revolves around Sonny -- we're like satellites revolving around Sonny. I still think daytime is about romance."
-- CT: "For Helena, I'd like them to humanize her, let her have a defining moment. One of the sweetest things they did with Helena was that they had her love young men." Towers added that she would love to work with NLG and follow-through, perhaps resolve, the Helena/Alexis story
-- NLG: "You know, my very first role, when I came out here, was a hooker on 'Little House on the Prairie.' Oh, wait -- we've got one more, the little killer boy!" Enter Dylan Cash, who joined the other three on stage.

After a few more exchanges, Bernsen had to leave, but promised to see everyone at the next day's luncheon. As he left, he paused behind Cash's chair, grabbed him in a bear hug, and shook him around, saying, "One last question -- who's your granddaddy? Who's your granddaddy?"-- a fun moment for all (except, perhaps, Cash!).

"The DaVinci Code" was briefly discussed, with NLG commenting that, "I felt like it was speaking to me personally. Balance was taken away to demean women, and women were repressed by religion for thousands of years. What [the author] Dan Brown did made long strides towards equality for women; remember, after all, the women's rights movement is only about 50 years old."
-- CT: "It certainly made me look at The Last Supper in a different way! The book was phenomenal in that it piqued so many different levels of interest in people."

The conversation turned more serious, with NLG asking the audience to "Please give Jennifer [Bransford, nu-nu-Carly] a chance. They didn't cast by type. She's doing a great job, so just give her a chance."

A question from the floor for Dylan Cash regarding Michael's little friend Jodie prompted him to say, "I don't know if I can say this or not...," which led to some whispering between Cash and NLG. NLG then adamantly said, "No, he can't tell you." Spoiler squasher! Well, at the time of this writing, it has been revealed that yes, Jodie is a figment of Michael's imagination and a way to help him deal with the truth about A.J.'s death.

While on the subject of "spoiler squashers," one of the most notable things about the weekend was a definite lack of leaked story information. In years previous (so I've heard), the actors were a bit more loose-lipped. Obviously, someone had "speaks" with them all!

The Q&A session then broke up. NLG and CT were positioned at their own tables, and the 23 tables of attendees were then called in random order to line up in front of one of the tables for their face time, photo and autograph. Rick Hearst showed up as the autograph sessions with NLG and CT began, cuddled the CurlyBoo twins, read off raffle winners, and posed for some great pictures with NLG (but you'll have to read Kathy's recap for that!). Table 6 was called fairly early for Constance Towers, so Kelly and I headed over and took our place in line. When it was my turn, I walked up to her, hand outstretched, and said, "1977...Broadway...Gershwin Theater...you...Yul Brynner..."The King and I"...you were magnificent!" A warm smile spread quickly across her face, and we chatted about that great revival and how much she loved doing the show.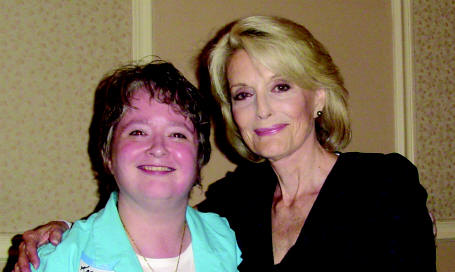 I then told her about EOS, and how we loved her portrayal of Helena, and she was pleased to hear that. She then signed my copy of "The DaVinci Code," the back of my GH t-shirt, and posed for the picture you see above. Lovely lady.

Next, NLG, who greeted me (and all) with outstretched arms, huge smile and a hug. She could not have been nicer. I told her about EOS, and a column I had done, in which I compared her to Fred Astaire. "As Fred Astaire could dance with a coat rack and make it look good, so did NLG act with a Christmas tree and make it look good." She liked that a lot, and we talked a bit more. Then autographs, picture, and I said goodnight. There were plenty of other people waiting their turn, and NLG had made a point of saying that she would be there until she'd seen them all. I believe she was.

One by one, the ladies of EOS dragged their tired selves to Twain's for a late snack and recaps of everyone's day. We planned to meet for breakfast at 6:45 the next morning, as we had to be at the Lodge to help check-in all the luncheon attendees no later than 8 am. Were we exhausted? You bet. But the promise of the next day's activities provided a jolt of adrenaline the next morning. And that's where I'll pick up this narrative...watch for it in a few days!