Note: The title is figurative. Sadly, Kate was handling family business and was unable to attend the Daytime Emmy Awards. *moment of reverent silence for how much Kate deserved to go to the Emmys*
I was out of town in a cable free zone last Friday night. Somehow I managed to survive without knowing who won what until getting home on Monday. Maybe that's because who wins is not that important to me. I gave up trying to make sense of who is pre-nominated, nominated and who wins years ago.
I am going to try to now watch my Emmy tape with a sense of Zen-like calm. We will see how long that lasts.
One downside to this year's Emmys is that they are on NBC. As we know, unless the awards show is on "your" network you will not be seeing many of actors from "your" shows as presenters. Sigh. I was hoping to see Vincent Irizarry in his tux. Or out of his tux. I can be flexible. On the other hand, not being on ABC means this year we may actually see more shots of actors than we do of Brian Frons.
Vanessa Marcil as host. Interesting choice. Felt a little last minute when it was announced. But at least they chose someone with real ties to daytime. I have to disagree with her comment that Oprah is the most important woman in television. Anyone who cooks knows that woman is Sara Moulton.
I agree with Vanessa's choice of dress though. It suits her. It's elegant but hip. And she is wearing the dress, the dress is not wearing her. Of course she is wearing it with lots of double-sided tape, but if I were her age again, it's something I might choose for myself. Hey, at least she did not show up wearing just those ruffled panties she wears around her house while playing with her son.
Kristin Alfonso and Peter Reckell look nice. Like a couple one would see at a country club. Or as extras on The O.C.
Ric Hearst wins and runs back to hug some mystery people. Since winners started doing that (I am talking to you Josh Duhamel!), I keep waiting for someone to stick their foot out and trip the runner. Why? Because deep down I am terrible person, that's why.
And thank you to ATWT for including a shot of non-contract player Trent Dawson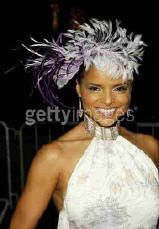 in your synopsis reel. If I loved his character Henry any more than I already do, it would border on obsession.
Ahh, Victoria Rowell. I cannot figure out if her headpiece was an homage to the flappers of the 20s or an homage to the Mummer's Parade. I am just happy not to be the person sitting behind her.
Well now here is an Emmy miracle. I am actually sort of happy that Cady McClain won. Which is not to be confused with being glad that the other nominees lost. For years Cady was one of my least liked soap actors. Now I enjoy her. All the things that drove me crazy when she played AMC's Dixie now work in her favor in portraying Rosanna. Go figure.
Unfortunately because she won, I have to listen to her acceptance speech. Her referring to daytime as a place where every day is like an unrehearsed opening night makes sense. Her referring to Agim and Peyton as daytime's future does not. ATWT has relatively few weak links and she has mentioned two of them. And her dresses never ever fit. They always have too much material for her body. Last year she was drowning in brown satin and this year it's Chinese orange/red. Cady, get thee to a fitter!
Vanessa is keeping things moving. And she may have started a trend by announcing that Tyler Christopher used to be her boyfriend. ("When the next presenter and I shared a dressing room, he was kind enough to share his porn collection with me". "Oh, man, one night this next presenter and I got so drunk doing shots that we woke up the in same bed the next morning. I have no idea if we had sex or not. Hey buddy, good to see ya.")
Well, props to Tyler for putting to rest that old saying about actors not being smart enough to walk and chew gum at the same time. Regrettably he then showed us he could talk and chew gum at the same time.
Couldn't Rocco "Mama's Boy" DiSpirito get a jacket that fit? It looked like the last time he wore that one was to his 8th grade graduation.
Ahh, Chad Brannon. An Emmy to go with his pink slip. He was smart enough to just talk about running up and down the aisle instead of doing it. And he remembered to include Amber Tamblyn in his remarks. Going from Amber's Emily to Natalia's must have been like going from the sublime to the, umm, recast. That's it, from the sublime to the recast!
Are those Lisa Rinna's real nipples or did she buy paste-ons from the back of Cosmo?
I have no idea who Jeff Corwin is, but it was nice to see his parents ecstatic that he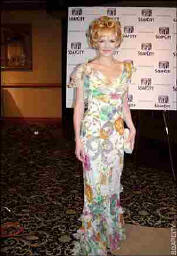 won.
Maura. Maura. Maura. Talk about the dress wearing the woman instead of the woman wearing the dress. You play a dress designer, couldn't you have gotten a real one to design your dress? And that little coronet of sausage curls, what were you thinking? And Michael, you handsome guy, the open shirt thing only works marginally better for me than the no shirt look. But at least you were not chewing gum.
So Jennifer Finnegan wins again. I do think Eden did a great job making a really unpalatable story bearable and making some truly horrendous dialogue believable. And while she may not have won the Emmy she did have the best earrings of the night. I crave them.
Tamara Tunie. Resplendent as always. And gracious while Maury flubbed his lines.
Best direction, General Hospital. Well, they do direct a good shoot out just about every other day. And no show does people tumbling down the stairs better. Still it sends chills up my spine whenever anyone thanks Jill Farren Phelps. I continue to believe that she has no respect for the soap genre and therefore brings little that is good to whatever soap she is currently destroying. Oops, I mean whichever show she is currently producing.
I seldom watch talk shows. The View is beyond irritating and Oprah has lousy taste in movies. Don't get me started on Dr. Phil. I tried doing his "10 Defining Moments In Your Life" and had one of my life's defining moments- I do not need Dr. Phil in my life. That said, I have always enjoyed Ellen DeGeneres' stand up routines and if they have to give an award for a talk show, I am glad it went to her.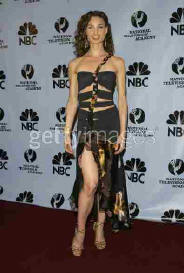 I see they are doing another season of Pimping for My Pops or as NBC chooses to prosaically call it, Who Wants to Marry My Dad? Proving once again that prime time is often slime time.
I cannot figure out Alicia Minshew's dress. A design student's interpretation of Sheena of the Jungle? Nor can I figure out why Cameron Mathison keeps shouting. Or why his shirt is still on.
Damn Greg Vaughn looks hot all dressed up. They should have him do that more often on GH.
A deserved win for ATWT in writing. Hogan does write some clunkers but overall the writing is sharp, warm, real and sometimes downright hysterical. And you actually see characters over 40 getting screen time. Real screen time. He does do one puzzling thing: in Oakdale mobsters are considered bad guys. What's up with that?
Finally, a spontaneous moment as Ricky Paul Goldin saves Beth Ehlers from tripping by carrying her to the podium. How gentlemanly. And he isn't chewing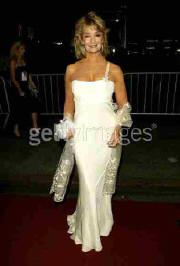 gum, either.
My second Emmy miracle. I actually like what Deirdre Hall is wearing. This may be the first time I have liked her outfit. A statuesque beauty who too often dresses as if she is a float in a parade, she hits it perfectly this time.
It's nice that they have the Lifetime Achievement Award but it would have been even nicer had they shown clips from each actor's decades of performances. Good memories for longtime viewers and a chance for new viewers to catch a glimpse of why these performers have had such longevity.
I remember when Audrey was the town tramp of Port Charles. Or at least her sister Lucy was concerned that's what people thought about her little sister. Remember when Joe almost cheated on Ruth? Or how Phoebe evolved from grande dame to great person? I am fairly new (3 years) to ATWT, but I really enjoy Nancy Hughes. What a pip! To hell with age, Kim and Bob are one of the best looking couples on daytime.
I wonder who will be getting the award 30 years from now? If soaps last that long.
How innovative of Meredith Viera to have had her high school tracksuit made in to a dress.
The people on the "service program" award panel clearly had a spanking fetish. That certainly would account for Suze Orman's win because she has always looked like a spanker to me. What do you think?
Tormented, desperate, angry, searching women with heavy hearts. Must be the lead actress category. Of the actresses I watch, I think Maura West gave the most consistently interesting performance of the year. Whether she is center scene or supporting the actor who is central to the scene, she is always good. And her Carly had a lot going on this year and was believable in all of it. Nancy Lee Grahn is always good but in previous years it has felt more like the Emmy should have been hers than it did this year. Tamara Braun works very hard, but I don't find her Carly particularly interesting. I often think if she were playing another role on another soap, I would enjoy her a lot more. I saw one episode of Y&R this past year and it featured Phyllis Stafford. She was so good it almost made me want to tune in again. Almost. If I ruled the soap world, the Emmy would have gone to Finola Hughes for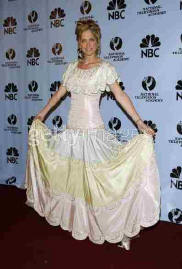 her scenes during her daughter's death and the dissolution of her marriage to David Hayward.
Poor Kassie DePavia. She obviously lost a bet. Why else would she be wearing that that that thing? It looks like something her husband's first wife would have worn during her days as a HeeHaw Honey. Trevor St. John looks bored, but I am, too, so how can I blame him?
Wayne Brady won. If you ever get a chance to catch a repeat of The Chappelle Show with Wayne Brady as the guest star, don't miss it. Trust me you will never look at him quite the same way again.
Best actor. Slapping myself to stay awake. I admit to being surprised Roger Howarth was nominated. It seemed to take him months to put his Todd-isms aside and make Paul his own. Now I quite enjoy him and figure if he sticks with ATWT there will be more nominations in his future. I got tired of Sonny and his portrayer Maurice Bernard a long time ago. Tony Geary is a gem. Like his character, Luke, he is an iconoclast. And who will ever be able to top an acceptance speech half spoken in Dutch? Still if I ruled the soap world, Vincent Irizarry would be taking an Emmy home for same stories that would have Finola Hughes carrying hers home.
Maybe it's the ridiculous Vegas story but I am so totally tapped out on Susan Lucci that I fast forward through her comments. Y&R wins for best show. Thanking the soap gods that I do not have to witness the adoration of Jill Farren Phelps by the GH cast, I turn my VCR off. (And for the record, of my soaps, ATWT is easily the best. Not my favorite, but the best. )
That was certainly a perfunctory no frills awards show. Rather like flying Southwest instead of Upper Class on Virgin Atlantic.
I cannot believe I am going to say this, but the Emmys left me yearning, just a bit, for the Soap Opera Digest Awards. Sure the SOD awards were tacky. Sure they were sloppy. But they sure were a whole lot more fun than this.