I don't care if ALL MY CHILDREN'S Jonathan really died or not. They had a chance to introduce a complex multiple personality story and blew it.
Soaps don't shock me all that often. Since I comb the Internet for spoilers to paraphrase for two columns I write (EOS & SZ; btw, I'm filling in for Max of "GH Chronicles" at SOAPTOWN for two weeks starting this week), shock wouldn't quite be the right description, maybe more like, resigned.
But ALL MY CHILDREN shocked me last week, when its writers blew Jeff Branson's Jonathan Lavery up in the cave, with Cameron Mathison's Ryan Lavery inside too. This, after Jonathan showed his hostages Ryan, Greenlee, Kendall and Lily the rotting corpse of Braden Lavery right under their noses (couldn't they smell?), a ticking time bomb strapped around the eldest brother's chest.
WTF????????????????????
What happened to strong rumors that TPTB so loved Branson and his Daytime Emmy nomination (for the last two days of the last year's work, no less), that the abusive character of Jonathan had been saved on the 11th hour, possibly due to a redemptive, HE DIDN'T DO IT BECAUSE HE HAS MULTIPLE PERSONALITY DISORDER! ??? Almost every AMC fan posting online believed Braden was really an alter of Jonathan's, including yours truly.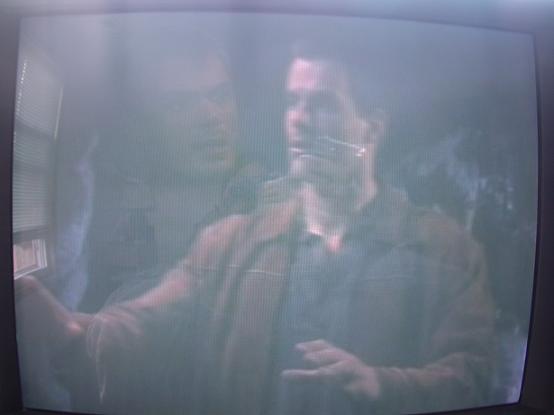 Face-off in the caves between
Superman and the Riddler, otherwise
known as, the best ABC Daytime can do.
I sat back, readying myself for some outstanding supporting acting from Branson, who would most surely put ONE LIFE TO LIVE's Bree Williamson (Jessica/Tess) to shame with his more convincing DID story, which will win him another Daytime Emmy nom next year.
Let's face it, Jessica's alter, Tess, provides several functions, the least of which is convincing DID. (I've been having a ball watching her though, it's as close to soft porn as I'm gonna get on daytime.) OLTL's writers are gonna blame Jessica's stupidity – in trusting one psycho after another over her own family and friends – on Jessica's bad girl, Tess, copout. They're also gonna take advantage of Williamson's obvious physical charms, through Tess's naughty adventures. And they'll feel justified in using this mediocre actress, apparently ABC Daytime's youth demo darling, in an increasingly lead role, by tacking on a serious mental illness to her character's stupid, slutty behavior.
Meanwhile, over on AMC, a better actor was about to put Williamson to shame. I thought.
All the signs were there. Jonathan sparked with Simone after Maggie, so TPTB [The Powers That Be] added more scenes between them, the sparks continued. Finally, Terri Ivens would be given something substantial to do, besides carry files and serve as Kendall and Greenlee's go-between, something to showcase her equally strong comedic and dramatic sides. (Frankly, I'm sick and tired of all the male bounty going to Kendall, and her cast-offs to Greenlee.)
For a second, it even looked like Lily saw both Braden and Jonathan arguing about what to do with Ryan when she went up to retrieve some Fusion files from Greenlee's apartment.
Tad, Aidan and Zach even saw Braden at the casino bar before he tussled with Jonathan in past videos the night Ryan was shot at.
Casting news a week prior confirmed everybody's suspicions, Joe Murphy (to play a corpse, it turns out) would take over the role of Braden, a role originated by Zen Gesner. So Jonathan definitely could be saved, if not DID, maybe Braden would be the fall guy.
Now, I wasn't completely let down. A shock is a shock, and I have to hand it to TPTB, they kept a lid tight on this cliffhanger but good (also contributing, spoilers about AMC are usually harder to come by). And really, they did allude to Jonathan as the guilty party to all the past crimes from the beginning: shooting Ryan, poisoning Greenlee, killing Edmund. Jonathan killed himself in the end, but he went nutty, not quite DID, but nutty, kind of an excuse. It was only a matter of backtracking with the requisite monologue by the culprit, typical murder mystery stuff.
Just a little too pat for my liking.
Had Jonathan and Ryan blown up together in the cave, presumed missing for days, AMC might've benefited with a tour de force lesson in grieving from Rebecca Budig's Greenlee and Alicia Minshew's Kendall, while stretching out the anticipation of the mystery of whodunit and why, especially why. The AMC of old, under creator Agnes Nixon, would've been more than capable of handling the consequences of Jonathan's DID; it had already paved new ground daily on such touchy, controversial, complex subjects, including abortion, rape and lesbianism. But under the simplistic, pandering pen of head writer Megan McTavish and the milquetoast confines of squeaky-clean-minded Daytime president B.S. Frons, Jonathan didn't have a chance in hell.
Yet, AMC has always delivered its villains in a cut-and-dried manner. Crime, even of the well-meaning misdemeanor variety, never pays in Pine Valley (as opposed to GENERAL HOSPITAL). Erica had to pay when she kidnapped Maria's baby daughter, Maddie. Krystal's paying right now, for basically keeping Bianca's baby from her – and taking the punishment for her own Babe.
The residents of Pine Valley never let any of the darker characters forget their questionable antics. Why, just the other Friday, Jackson stepped up on his holy throne to verbally smite Zachery for putting his girls (and all the other good people) in danger by copping to a murder (Edmund's) he didn't commit. Jack didn't just give Zach a tsk-tsk bad boy lecture, he iced the outsider in his most haughty head cheerleader to the school loner. Everybody in this town is worthy of my concern, except you Zach, Jack practically sneered, because you, Zach are a nobody, so you better leave our smug in-bred enclave before I kick your butt (more empty threats) straight to hell.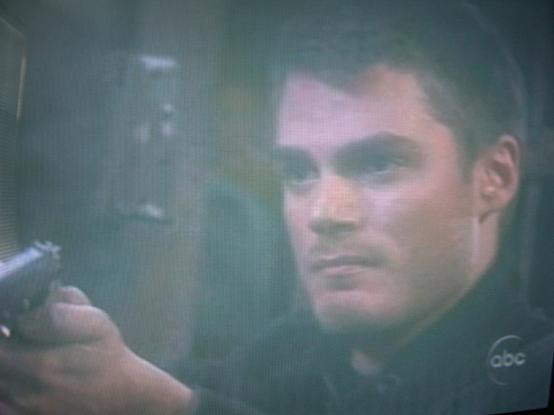 Please don't waste this man on a
simplistic plot device!
Tad can be a verbal and physical bully – witness him manhandling David over a presumption last week – but since he belongs in the small-town clique, he's treated like a conquering hero, while David's cleaning up other people's crap, literally, as his eternal penance for coloring outside the lines.
What's not shocking then, is the swift and sound condemnation of someone like Jonathan, a young man who thinks nothing of striking Maggie, a beloved friend of Bianca's, and threatening the hallowed Binks with her hallowed Madonna child Miranda, among his other assaults to humanity. On AMC, you glare cross-eyed at any of Jackson's own, and you can count the days till lock-up.
Of all the ABC Daytime soaps, AMC is toughest on crime, and expert on missed opportunities.
As far back as Kitty/Kelly, when Francesca James won fans over only to be killed off, only to be revived in an identical twin, only to be whisked off into the sunset with Lincoln, AMC has been disappointing me by failing to make the most of often sudden success in a character or pairing.
Janet should've been with Pierce, not Brooke. Edmund should've stayed with Brooke, not gone off with Maria. Erica and David should never have broken up, neither should David and Dixie.
But unlike its tendency in the '70s-'80s, the AMC of today doesn't make up for past mistakes. I doubt we'll be seeing Jonathan's twin any time soon. ABC Daytime honchos like the actor who played him with such gusto toward the end of his character's days, too much to let him go just yet; he may reappear on another of the network's soaps.
Hell, he may reappear next week on AMC, having survived the bomb. This could be one big nightmare of Ryan's for all I know.
I'm ready to be shocked again.