Each week, Katrina answers your questions about AMC, GH, OLTL,
Life, The Universe and Everything. Peace out, my friends.
We're doing a little revamping of Ask Katrina as of this week. I dropped the column for a while due to the fact that I wasn't receiving very many questions, but then a couple rolled in, so I'll give it another shot and will change over the column when new questions come. Meanwhile, here is a handful for you.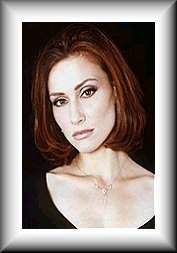 I have been having insane computer problems with mail programs installed, then reinstalled and uninstalled and installed again and I have managed to lose a couple of letters in the process, one of which asked about Skye and just what her deal was when she was on AMC. I crawled up the Tibetan mountain and consulted with our AMC guru, Kate Brown, from "A Cynic Soaps Up." She dutifully reported in as follows:
When she first came to Pine Valley, she was a singer who got a job in Tom Cudahy's (sigh) restaurant, The Goal Post. She did not announce she was Adam Chandler's daughter. It was clear it had been some time since those two had seen each other. Anyway, soon the truth came out. Skye and Adam have always had a difficult relationship but Stuart and Skye bonded immediately.

There was a lot of other stuff which I don't recall, except she did have a fling with Tad. Oh yes and wandering outside she was struck by lightening. I am pretty sure this is how she met Tad (he found her). I am fairly gosh darn certain this took place during Dixie and Adam's wedding.

Skye became involved with some hate group who terrorized people who had AIDS. At one point they set fire to the house where Stuart, Cindy and Scott lived. Something happened during the fire and Skye went into a coma. She came out of the coma only to discover her by now husband Tom Cudahy (sigh again) was interested in another woman, so she faked her coma-ness.

blah blah move forward a bit, she hated her half sister Hayley on site, believing that Adam liked Hayley more. In Syke's defense, it was clear that Adam and Hayley have a bond which Skye and Adam never had.

Skye's alcoholism was in full bloom. She left PV the first time to go dry out at a clinic in Mn (it was implied it was Hazeldon) While there she became a counselor.

Many years later she returned to PV (alas not played by Robin Christopher). She was married to the evil Jonathan Kinder who kept her a drugged prisoner.

Blah blah Kinder obsessed by Erica, Janet held prisoner by Kinder, Kinder bilks Marion out of all her money, blah blah Kinder dead

Skye obsessed with Edmund. Gets DNA tests switched to show that Dimitri, not Edmund is Maddie's father. Has to leave town just ahead of the law.

And I guess she went to Las Vegas where she married Ben Davidson (I mean who could resist?), but he is no Tom Cudahy (sigh)

Anyway AMC viewers have always thought the alcoholic tendencies came from Adam's side of the family. How convenient that Skye's biological father Alan has substance abuse problems.


Moving on from daughter to mother, another reader asks this:
Is Rae Cummings any relation to Felicia, whose last name was Cummings when she came to GH?
No mention has yet been made of the common last name of Felicia and Rae (snick: Tracey from "Tracey's Take" said, "The only thing Rae and Felicia have in common is my FF button."), but that doesn't mean that the writers won't keep that field ripe for harvest for as long as possible. Many assumed (ass/u/me) that it would at least be mentioned when Rae was looking for her long lost daughter, but the avenue was never pursued and no connect has been established as of yet. As far as logistics, it truly is a mere coincidence because Rae was first on OLTL as Gretel Cummings (not a Rae in sight back then), flunky assistant to millionaire, Adam Brewster, way back in 1978. The part was fairly forgettable, as was Dano in the role, until she went on to claim Soap Veteran status with her SEVENTEEN YEAR (1982-99) stint as Felicia Gallant on Another World. As an aside, Dano's birth name is Linda Rae Wildermuth, so I'm sure the "Rae" was thrown in by special request. Felicia hit GH in 1984 back when she was Kristina Malandro and back then, cross-overs just didn't happen. OK, sometimes, but it was a very rare event. So each show just happened to have had a Cummings character and Rae still sported the same last name when she returned to Llanview in 1999.
MISC
Husband + upright toilet seat = Grrrr. I'm tired of falling in. Help!
Ha! This is an easy one, sweetie. First, invest in a toilet lid cover. They are a little pricey, but thrift shops across the nation have decent ones for a buck or two. I'm talking about the things that look like a carpet and hug around the toilet lid. Phase two of operation "Put down the seat, dammit!" is to get a huge plastic cabbage rose, probably available at the self-same thrift shop where you got the toilet lid cover, just look around. Sew the cabbage rose securely to the top of the toilet lid cover and voila! The lid will now NOT stay up unless you hold it up because the giant cabbage rose will push it back down again. Ugly cabbage rose toilet lid cover: $3.97. Not having a cold wet butt following a quick fall down the porcelain rabbit hole: Priceless.
You're welcome.
See you next week!