What? She's here too? Where's Naomi? Click here.
Each week Katrina will answer your questions on ABC Soaps, Life, The Universe & Everything. All the things you always wanted to ask Katrina but were afraid she'd bite your head off about are now at your whim. Climb that Tibetan mountain (groan, shut UP, Wally!) and ask the EOS guru what you will but remember, heads taste infinitely better when seasoned with hats.
AMC
Didn't Maurice Benard (Sonny Corinthos, GH) used to play someone on AMC?

Why yes he did! Maurice played another tough guy, convict Nico Kelly, from 1987-1989.
The guy who played Noah Keefer was so fine. Whatever happened to him?

Keith Hamilton Cobb played Noah from 1994-1996 and hasn't done a lot since then that I can find. He currently is featured on the TV series, Andromeda (2000) with the yummy Kevin Sorbo (of Hercules fame). I can't tell you what the show is about because I was busy watching Noah and Hercules. It had something to do with a spaceship, I think. He was in the movie "Eyes Beyond Seeing" as a guy who proclaims himself to be Jesus returned to earth and another movie called "Orgasm of Hot Blood" which I felt best not to investigate further than the title (ew). You can find out lots more about KHC at his official website, www.keithhamiltoncobb.com.
GH
In the recent episode of GH where Luke was lost in the past and Laura was reminding him of when she returned from the island, he mentioned "You were wearing blue." I noticed that he was wearing a tux. What was the occasion?

Laura showed up right when Da Man was being inaugurated as Mayor of Port Charles.
How exactly did Stavros die (or not)?
Stavros was furious when he found out Laura had escaped the island and returned to Luke. He followed her, tied Luke to a bedpost and proceeded to rape Laura. Luke undid the bedpost, whapped Stavros on the head with it and while Stavros was bumbling around, disoriented from the knock on the head, he fell down a stairwell and broke his neck, which miraculously healed while he was frozen. I guess when the first aid books tell you to "put ice on it" when you injure yourself, they aren't kidding.
Katrina, what is the no BS on JFP being fired or whatever? In my opinion, she and Megan McTavish had ruined one show on ABC after another and I'm so upset that GH has been trashed the way it has. Is she going or what?

I have consulted with Sage, the RumorQueen, on this and he confirms that there are rumors flying everywhere about JFP and/of McT being let go soon. The no bones about it is that JFP's contract is up for review after one year, which concludes in December. She won't likely be fired before her review and at that time, the powers that be will assess her performance based on ratings and sponsor and fan input. Until then, anything is purely speculation and wishful thinking.
OLTL
The actress who has returned as Hank and Nora's daughter, Rachel, looks different than I remember. Is she the same one from before?
Ellen Bethea was the first of three actresses who played Rachel, from 1992-1995 and again in 2000. Mari Morrow did so from 1995-1996 and Sandra P. Grant 1996-98 . You can see pictures of the three on our EOS Site of the Month! Just click here and pan down to Rachel Gannon (ctrl F is a wonderful thing!).

Wasn't there another Max at some point, played by a different actor?
Yes there was. The current Max is portrayed by James DePaiva, who originated the role in 1987, left it in 1990 and returned again in 1992. Nicholas Walker portrayed Max from 1990-91. The difference in appearance was actually explained away in pure soap fashion: reconstructive surgery. Here are the two Max's: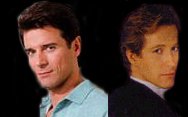 Depaiva (L) & Walker (R)
MISC
Any suggestions on getting the crusty stuff off of my stovetop?
No problem. Use a single-edged razor blade in one of those silver holders and a good amount of dry wall screening (available in the paint section of hardware stores and Wal-mart). Scrub, scrub, scrub, baby.
See you next week!