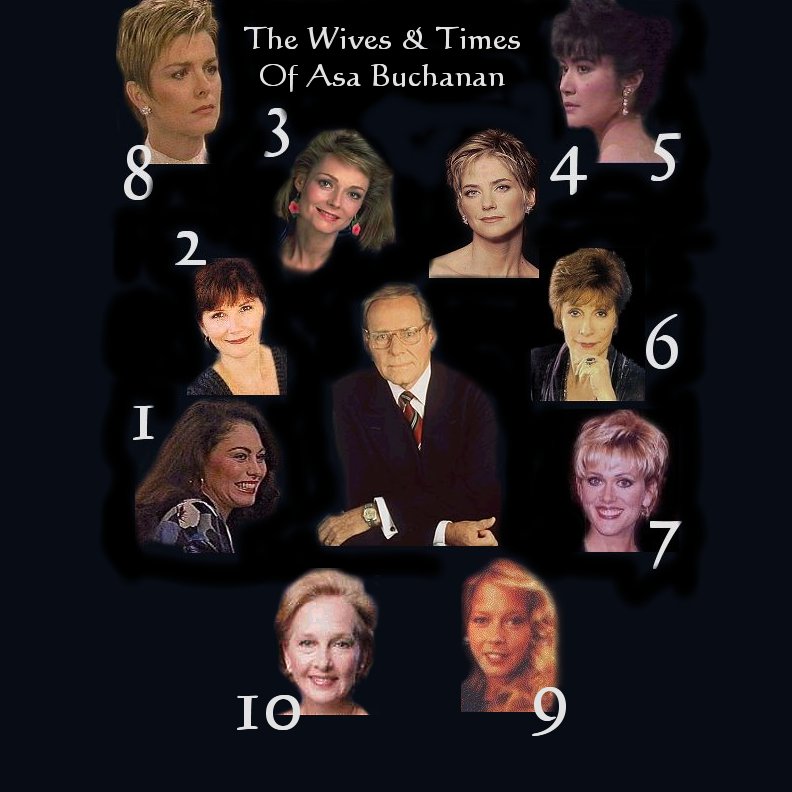 Yes, Asa has been a busy man in the matrimony department, both before and since coming to Llanview. The numbers above act merely as a legend through the wives, not a chronological report. That appears below:
When Asa came to Llanview, he was already married to (above) #10, Olympia, who'd had an affair with Yancy Ralston and ended up accidentally killing him. Asa found out and shipped Olympia off to Paris, told his sons she was dead and put Yancy's bones in her grave. When Olympia found Asa in 1981 and came to town to make trouble for him (she was pretty pissed off by then), he held her prisoner in a mansion called "Moorcliff" that he was giving to his soon to be new wife, Samantha Vernon (#9) as a wedding gift. Olympia escaped on Asa's wedding day and came gunning for him, only to trip and fall to her death. Samantha found out about Olympia and divorced Asa, moving on to later marry top cop Rafe Garretson.
In 1985, Asa set his sights on #1, Delilah Ralston (how's that for irony?). Delilah was in love with Asa's son, Bo, who was under the impression that he was the product of the affair his mother had with Yancy, making him and Delilah too related for a happy genetic marriage. Asa knew that Bo was actually his son, but kept mum about it. After their wedding, convinced that Delilah was having an affair with Bo, he faked his death in a boat explosion and showed up at his own memorial service. That was enough for Delilah, who divorced him. She did end up marrying Bo, who was determined to marry Becky Lee Abbott (#2 above), who was pregnant with his child (the late Drew). Delilah hedged her bets by telling Bo SHE was also pregnant with his child, so he married her, only to divorce her when her duplicity was revealed. She later went on to carry Samantha Vernon Buchanan Garretson's baby after she was shot and found dead in her hot tub. Didn't anyone tell her you aren't supposed to go into a hot tub when you're pregnant? Embryo transplant gave Rafe and Deliliah, who fell in love, their baby, "Sammie" and they moved to California.
Later that same year, Asa married #2 above, Becky Lee Abbott, to clean up the mess Bo made when he married Delilah and give his grandson the Buchanan name. Becky Lee lost her memory and ended up with some guy named Jesse Wilde who was her one true love. She left Asa for Jessie and returned to Llanview temporarily when Drew was grown and had come to check out his wayward dad, Bo.
In 1986, Asa went to the island of Malakava on business and that is when we learned that he had been married to #3 above, Pam Stuart, for ten years, posing as sea captain (away on some LONNNNGGGG voyages) Jeb Stuart. Pam came to Llanview when she learned about Asa's other life and demanded her place as the real Mrs. Asa Buchanan. She faked her imminent death to get him to marry her for real and became his actual wife. She divorced him in 1987, tired of his shenanigans and went back to her beloved island, taking Pete O'Neill with her as a consolation prize.
In 1988, Asa married his madam sweetheart, Renee (#6) in a double wedding with his grandson, Cord Roberts, and Tina Clayton. Ursula Blackwell (Opal from AMC) had a vendetta against Tina and rigged an exploding wedding cake, which ended up killing Max's brother and Gabrielle's ex-husband, Steve Holden, instead. Renee left Asa when she caught him fooling around with Blair Daimler (#4 above) who actually, back then, looked like #5 above because Mia Korpf was playing her instead of Kassie DePaiva.
In 1992, Asa married MiaBlair, #5 above, who was marrying him for his money and having a hot affair with Max. They even had sex on her wedding dress in the church rectory before the ceremony. Asa left Blair when she withheld his heart medicine from him.
In 1994, Asa married #7 above, Alex Olanov, for the first time in an elaborate Egyptian wedding, after which the bride was kidnapped by Bulge and Buck (Buck had a thing for Alex), who were dressed as nuns. It was later learned that Alex's husband, the nefarious mobster Carlo Hesser, was still alive and their marriage was invalid. They remarried in 1996 after Alex divorced Carlo. Asa divorced Alex when he caught her with Carlo and she bilked him out of some insane amount of money, like 3 mil or something. He got his revenge in 2001 when he pretended he wanted to forgive all and marry her again, but instead, used her as a ruse to marry Gabrielle Medina (#8) to get back at Max Holden for scamming him for months claiming to be his son with #6, Renee from their affair while Asa was married to #10, Olympia.
In 1999, with the Alex debacle far behind him, Asa and Renee revealed that they'd actually been having an affair for a long time, which he legitimized by planning to marry her again. Renee was eaten with guilt (which I guess didn't bother her the first wedding) over not having told him that they have a son together that she put up for adoption. She stopped the wedding and told Asa about it and although he was miffed, they continued on with the wedding. That was when the Max scam started, including his marriage to #4, Blair Daimler now Cramer, which he hid from them for a long time. Max divorced Blair when she shot him in the back and when she was prepared to marry Todd Manning (for the 3rd time), he announced to the congregation that Ben Davidson, not Max, was actually Asa and Renee's son. Asa hated Ben and had ordered a hit on him which almost succeeded. Renee found out about the hit and divorced Asa pronto.
Almost immediately after Renee served Asa with divorce papers, he started the seconds long courtship of Alex, #7, who thought she was marrying him right up until she was locked in her hotel room minutes before the ceremony. Max hurried to stop Asa from making so grievous an error as marrying Alex (at Renee's behest) and was shocked to find his ex-wife and mother of his son, Gabrielle Medina (#8 above) under the veil instead of Alex. The marriage proceeded with Max's jaw on the ground and the two remain currently married, scheming to frame Max for Asa's "murder" even though Gabrielle have fallen hopelessly back in love with Max and will probably end up double-crossing both Asa and Todd who is in this mix as well.
So what's the grand total here? Including multiple marriages to Renee and Alex, I'm counting 11, which doesn't even account for his engagement to Mimi King, his long time girlfriend when he came on the show who ditched him when he found out he was eyeballing Delilah and had sent her to California to get rid of her.
*whew* How was that?
What makes this even more fun is that according to Executive Producer, Gary Tomlin, all of Asa's living wives, that'd be #1, 2, 3, 4, 6, 7 & 8, will be showing up for a few weeks during November sweeps. Tomlin says, "They are all being played by the original actresses, with the exception of Blair (originally played by Mia
Korf) and the audience will be in for a treat there, because we are going to do something that will acknowledge the casting change." Sounds like fun to me!
Special thanks for incredible info to the awesome site, "One Life to Live, the Complete Family Tree" . . .and baby, I mean COMPLETE family tree! There's more wonderful OLTL info here than any person should ever be allowed to read and not get arrested. WHAT a brilliant site! Thanks!