Road to the Body of a Goddess
Photo Album
Click on the photos for a bigger version! I apologize for my crappy scanner.

Katrina at 17, already an old married woman with a child.
I was dressed, but was wearing a tube top, the style of 1979.
I weighed in at a hefty 119 in this shot.
Katrina at 26, getting up every day at 5am to run 3 miles.
I was holding my first crystal ball. :)
Check out those shiny sheer energy panty hose!
I was at about 125 pounds of muscle here.

Katrina at wedding #2 to the Goat, which was actual a
renewal of vows. This was in 1988.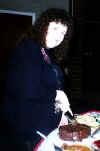 Katrina at her heaviest, 260, in 1995, with a BAD hairstyle,
guarding the dessert table (of course) at a Christmas party

Katrina in 1999, very pregnant with Nathan, the last baby
basking in the son at around 245 pregnant.
"Earth Mother"

Katrina after realizing that Eric snapped the above
unauthorized picture. Hell hath no fury like a fat woman photographed!

Katrina and son, Josh (18) in November of 2000

Katrina and family in December of 2000

Katrina at son, Joe's wedding, Dec 16, 2000
More pics will come as I progress. This is where I've been, where I am and I'll keep you updated on where I go!